Many of us look across the narrow muddy estuary that separates Macau from Hengqin Island and wonder, should I be investing in or buying property there, should I rent or move my office there? If so, what makes the best investment–an apartment or an office? How about a shop?  What are the buying hurdles, the tax implications? Can anyone buy or do I have to be a Macau ID holder? Is it better if I buy as a company or as an individual? If I buy, and then sell, how do I get my money out of China?
These are just some of the many questions the team gets asked these days as we start to see Hengqin's massive building projects come out of the ground. For the past couple of years at Ambiente Properties, in conjunction with our Hengqin-based partner, GW Investment Consulting, has led educational investor tours to help shed light on the enormous plans unfolding on Hengqin.
Hengqin Island is three times larger than Macau; the closest distance between the two sides is less than 200 meters. So close, yet so far away in terms of all the red tape in terms of buying property to understand and navigate. The so-called favorable policies offered to entice buyers or tenants can literally change from one week to another. Apart from the process of searching and finding a property, how does one actually get money in–and for that matter out–of China? What trusted legal, banking and real estate agency support is over there?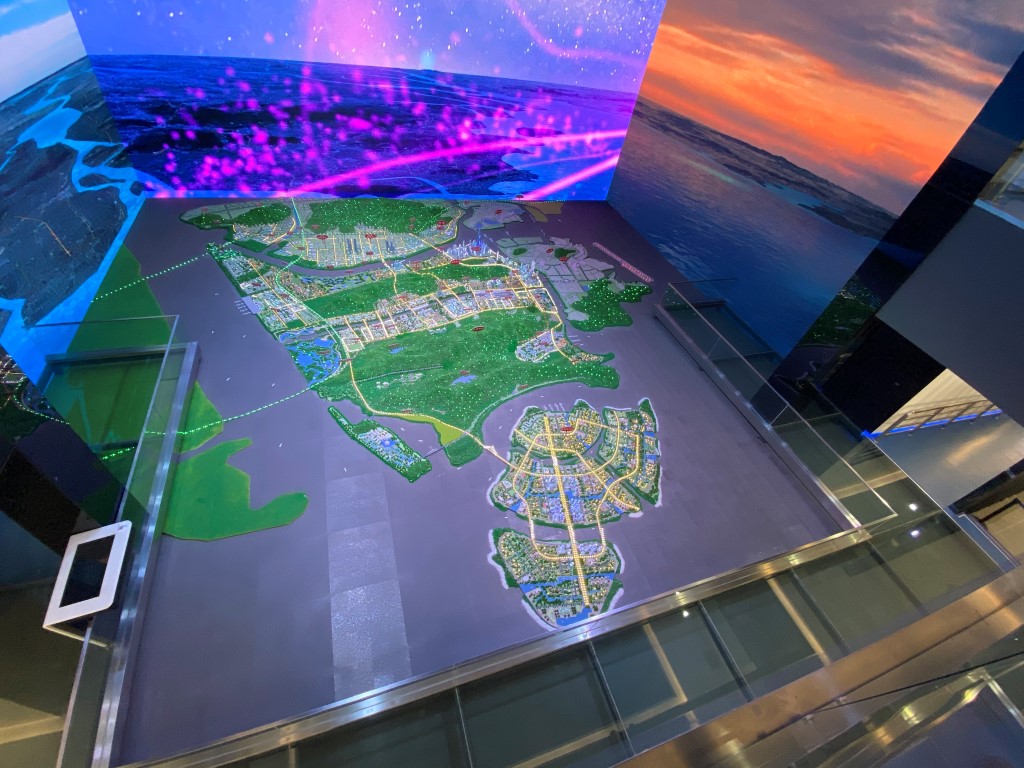 Let's take a step back a bit. Why invest in Hengqin in the first place? Well, for one thing, the island has been tapped by China's central government to be the next phase of Macau's growth story and its transformation into Asia's entertainment capital. The island will serve as a transportation hub for the western Pearl River Delta and be Macau's "new front door".  National highways, bridges, rail lines, and airport links will all converge in Hengqin.
With a combined China-Macau border checkpoint, sized for up to 80 million travelers per year, since March this year managed and manned by Macau, the speed and ease of movement between Hengqin and Macau will be greatly enhanced, something akin to traveling across the bridge between Taipa and Macau. Soon there will be three airports serving Hengqin, one of which is the new Zhuhai International Airport–the size of Shenzhen's huge airport. Plus, there's the plan to expand Macau-licensed car entry to Hengqin.
This is all great news for tourists, Macau investors working in Macau and living in Hengqin, and foreign workers commuting between work in Taipa and enjoying cheaper apartment rents in Hengqin. From this travel convenience, Hengqin becomes an attractive investment opportunity.
Then there's the availability of stock. Although the central government's ruling is that 70% of Hengqin is to be preserved as a green zone for recreation, hiking, and the like, there's still a lot more space available for building new commercial and residential real estate there and more supply generally means lower prices. Here are some examples:
Residential 
A brand new two-bedroom, 900 sq ft apartment above the rail stations will cost around HKD $4.5 million. In Macau, you could barely get a couple of car parks for that!
Another new two-bedroom, same size but in a non-rail station location will cost around HKD $3.5 million.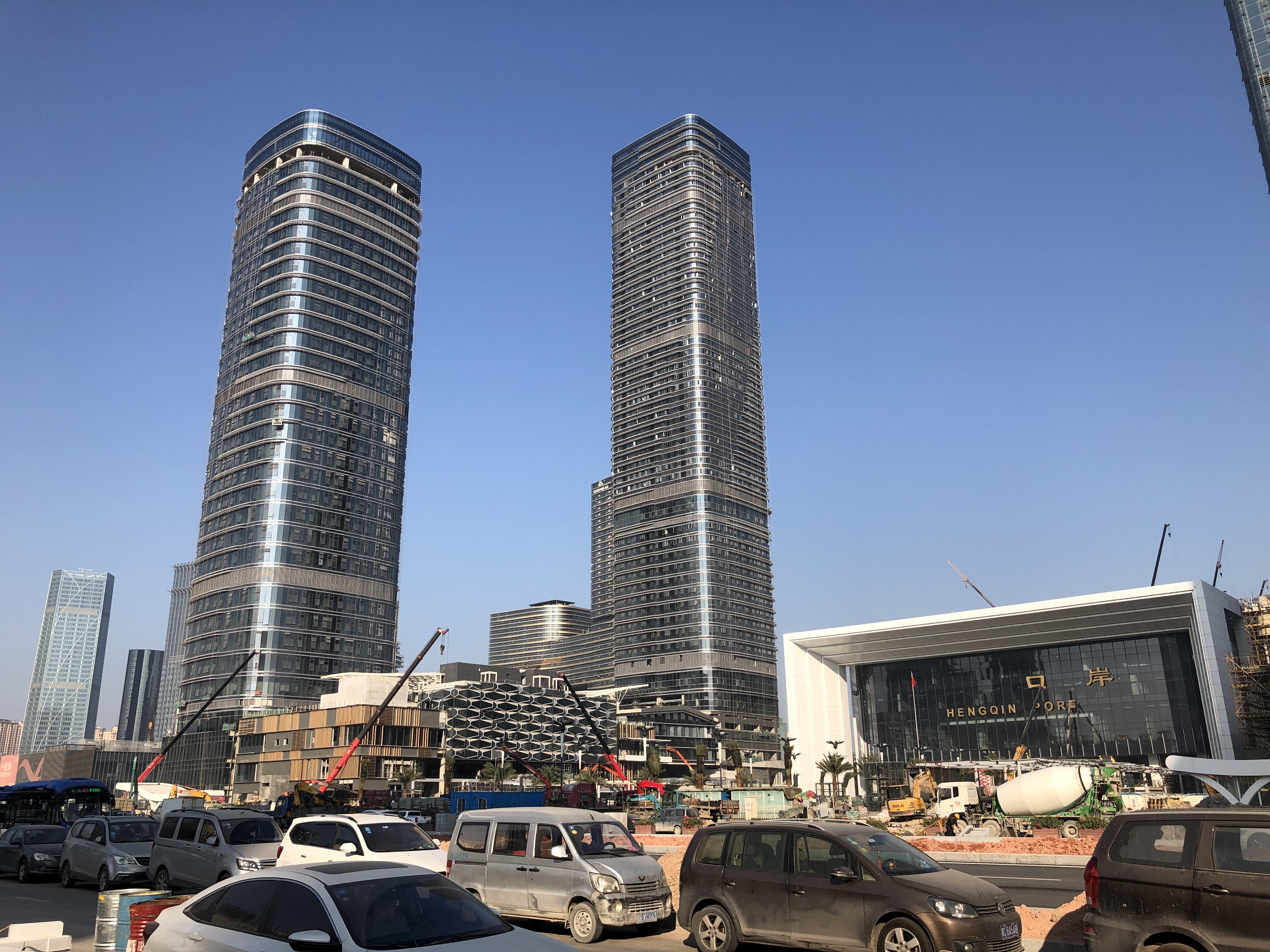 Offices 
On a smaller scale, Hengqin will do for Macau what Pudong did for Shanghai. "Financial Island" is a district that will add to Macau's Grade A office mix. Incentives to businesses to locate there include discounted tax rates, low rents, and business-friendly labor policies. In addition to the 12 foreign banks and 3,000 plus financial institutions that have already made a move in setting up companies in Hengqin; companies such as Sands China and PricewaterhouseCoopers have located some of their back offices there. On a forward-looking basis, rental yields will be far higher than in Macau or Hong Kong due to the sale prices being a fraction of the region's comparable markets. Costs to buy on Financial Island are around HKD $3,500 per sq ft. A location nearer the border to Macau will cost more like HKD $4,000 per sq ft.  Comparing this with Macau, it's less than half the price.
In April this year, 194,000 square meters of land on Hengqin were sold to Macau for the development of a residential real estate project for Macau locals living in Hengqin. The HKD $5.85 billion sale further highlights the push for deeper integration between Macau, Hengqin, and the Greater Bay Area. The so-called "Macau New Neighborhood", the cross-border residential project located at Central Avenue of Hengqin New Area, will provide 27 blocks comprising a total of 4,000 units with various business, education, medical and social facilities. All units will be sold only to qualified permanent and non-permanent Macau residents, with prices to be kept as close to cost as possible. Any future re-sale will also be limited to transactions between Macau residents. The plan is aimed at reducing the growing housing problem in Macau.
Another enticement to Macau buyers is that a world-class K-12 Harrow school providing high-quality international education will open in Hengqin New Area in September 2020.
Policy of the day is all-important. The China government is keen to offer preferential treatment to Macau and Hong Kong residents, as long as they have a "Mainland Travel Permit", previously known as the "Home Return Permit", (so permanent Macau and Hong Kong ID holder expatriates are excluded!) when it comes to buying residential properties–they have no restrictions, whereas other buyers need to prove residency in Hengqin and provide proof that they have been working there for the past five years, through producing social security payment receipts. There is, however, a three-year lock-in, so buyers need to wait for three years before they can sell their residential properties.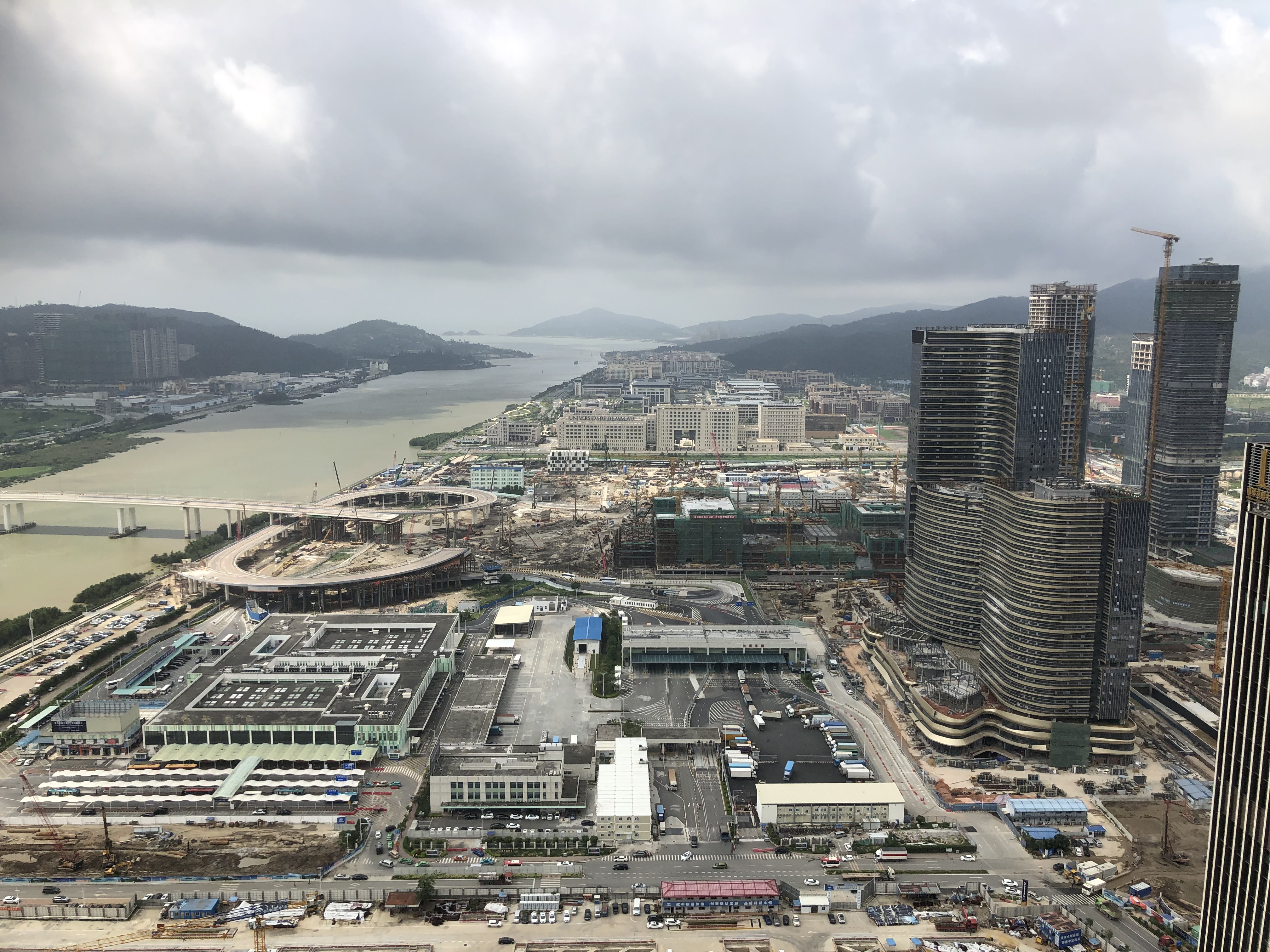 For foreign investors, unless they can prove that they live and work in Zhuhai, their options are limited to commercial properties–office and retail–where there are no such restrictions; anyone can buy and buy as many offices or shops as they wish, and there's no lock-in period. Do note that there's another category of "commercial apartments and studios" and these can be bought by anyone but are subject to the three-year lock-in.
Another option is investing through setting up a holding company; these have no restrictions for purchasing either residential or commercial properties. However, the bad news is that unless you are fortunate enough to find a buyer willing to buy the shares of your company when it comes to selling your investments, more than 50% tax is payable.
Taxes and fees on investments vary depending on the types of properties (commercial/residential), how many properties you buy on Hengqin, whether you are investing as an individual or via a company, the holding period of the investment, and the percentage of capital gains.
Below are two examples showing that if you invested in Hengqin residential or commercial properties two years ago, your investments gain, after-tax, would have achieved up to 36% and 45% respectively.
Example 1: Residential
Example 2: Commercial office

Property location: Hengqin Island

Property location: Hengqin Island

Property size: 120M²/~1200ft²

Property size: 200M²/~2000ft²

Property type: two bedrooms (residential)

Property type: open area without decoration

Buying price: RMB ¥4,000,000

Buying price: RMB ¥6,000,000

Selling price: RMB ¥6,000,000

Selling price: RMB ¥10,000,000

Property financial status: no mortgage

Property financial status: 50% mortgage for 10 years

Buying time: 11/2017

Buying time: 11/2017

Selling time: 12/2019

Selling time: 12/2019

Original owner status: Only property in Zhuhai City

New owner status: First-time buyer in Zhuhai City

Tax and fees by Seller:
Tax and fees by Seller:

Business tax: 1% of selling price=RMB ¥6,000,000*1%=RMB ¥60,000

Business tax: 5.8% of selling price (within five years)=RMB ¥10,000,000*5.8%= RMB ¥580,000

Land value increment tax: not imply for residential=free

Land value increment tax: 5% of selling price (within five years)=RMB ¥10,000,000*5%=RMB ¥500,000

Income tax=holding period of more than 2 years plus only housing property within the city= free

Income tax= 2% of selling price (within five years)= RMB ¥10,000,000*2%=RMB ¥200,000

Stamp duty tax: 0.5% of selling price=RMB ¥6,000,000*0.5%=RMB ¥30,000

Stamp duty tax: 0.5% of selling price=RMB ¥10,000,000*0.5%=RMB ¥50,000

Housing transaction fees= RMB ¥6 per M²=120 M²*RMB ¥6= RMB ¥720

Housing transaction fees= RMB ¥6 per M²=200 M²*RMB ¥6= ¥1200

Property registration fee: RMB ¥80

Property registration fee: RMB ¥550

Agency Fees: 2% of selling price=RMB ¥6,000,000*2%=RMB ¥120,000

Agency Fees: 2% of selling price=RMB ¥10,000,000*2%=RMB ¥200,000

Mortgage bridging fees: 1% of mortgage=RMB ¥3,000,000*1%=RMB ¥300,000

Total fees

: RMB ¥210,800=~3.5% of selling price

Total fees

: RMB ¥1,831,750=~18.3% of selling price

Total gain

: RMB ¥2,000,000-RMB ¥210,800=RMB ¥1,789,200=~44.7% gain in two years

Total gain

: RMB ¥4,000,000-RMB ¥1,831,750 = RMB ¥2,168,250=~36.1% gain in two years

In terms of mortgage leverage (down pay=50%=RMB ¥3,000,000): it will be double: 72.3%
Financing
Earlier this year ICBC (Macau) was awarded the opportunity to become the pilot for Zhuhai real estate cross border mortgage services. Under the scheme, Macau enterprises and residents do not need to complete the cross-border registration of real estate mortgages. This means that mortgage certificates can be processed in Macau by ICBC (Macau)–the first time in history that there is a merging of a Macau bank with the China housing system. Added to this, buyers from Macau can benefit from the lower interest rates and up to 70% mortgages offered by ICBC (Macau). So, for a RMB ¥2 million property, the 30% down payment of RMB ¥600,000 is very attractive to a first-time buyer, or for a retirement-holiday home. 
---
Ambiente Properties will shortly be conducting a series of seminars on Hengqin (initially in Chinese) to address the more "nitty-gritty" questions interested buyers may have on Hengqin. Stay tuned for further details!
Ambiente Properties 2F Edificio Comercial Infante, 17A Rua Do Dr. Pedro Jose Lobo, Macau, +853 2871 5713 (office), +853 6622 8541 (English), +853 6673 8001 (Chinese), www.ambiente.mo
Tags
Related Posts