Located near the Outer Harbour Ferry Terminal and Heliport but away from the hustle and bustle of the city, Macau Fisherman's Wharf is one of the city's best places to gather. Many know it for the replicas of European landmarks and most choose it as a dining destination or head there on Friday night for drinks and dancing. Truth is, Macau Fisherman's Wharf has an attraction for every soul. Read to learn the 10 best things to do at Macau Fisherman's Wharf.
Have a relaxing dinner at one of the restaurants
Macau Fisherman's Wharf's diversity is also reflected in its dining scene. Choose from Shanghainese cuisine at Jade Orchid, a Chinese fine dining experience at The Grand Palace, Portuguese specialties at Vic's Restaurante, or spicy Thai dishes at Talay Thai. Not only does Macau Fisherman's Wharf have plenty of restaurants to choose from, but several of them also offer some of the best al fresco dining areas in town. 
Also read: Macau Outdoor Dining Guide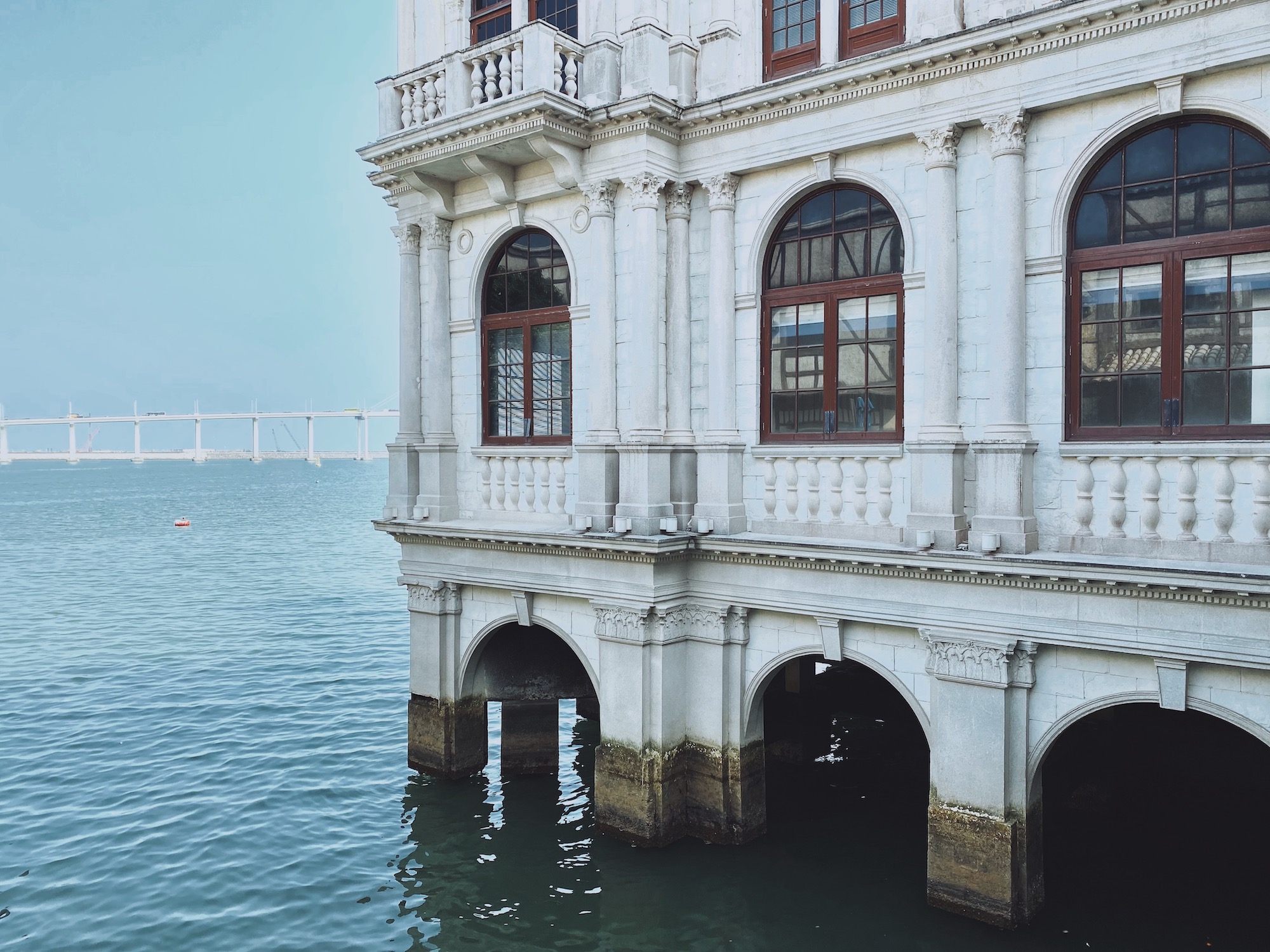 Explore the world without leaving town 
The area that Macau Fisherman's Wharf occupies today cannot boast a rich history as it only appeared on the map in 2016 as a part of the land reclamation plan. No historical sites? Not a problem! The Macau government decided to make the area a showcase of exemplary international architecture. You will find Macau's own Roman amphitheater, New Orleans' Creole-style townhouses, Amsterdam's canal houses, Venetian palaces, and more. Basically, you can sightsee around the world in half an hour. 
Although Macau Fisherman's Wharf's attractions can't compete with the original spots, nevertheless, walking amongst them will likely help to soothe some of your wanderlust. Besides, if you're planning a photo session, the Greek-style columns and colosseum will make a striking backdrop for your images!
Also read: Weekend Walking Tour of Macau Peninsula's Alternative Cultural Sites
Party all night
Fisherman's Wharf is where you head to a party after pre-drinks at one of Macau's fancy cocktail bars or humble pubs. After the popular D2 Club was closed this year, DD3 Disco became the only rave destination with electronic music, live shows, and theme parties. However, shortly after D2 shut its doors forever, DD3 got a new floor on top that offers an entirely different vibe, DD3 Verandah. It's a cozier space with a terrace that occasionally hosts music events, from live hip hop performances to instrumental concerts and DJ Nights. 
DD3 Avenida da Amizade e Avenida Dr. Sun Yat-Sen, Macau Fisherman's Wharf, +853 2871 1800, www.facebook.com/dd3disco
DD3 Verandah 2nd floor, www.facebook.com/dd3verandah

Shop (but not till you drop)
It might not be a shopping hub, but if you enjoy walking around, stopping by cute stores, randomly buying nice things, Macau Fisherman's Place is a perfect place for that. If you are on the hunt for an antique piece, visit Antique Galler to browse their catalog of vintage watches and European handicrafts made in the 17th and 19th centuries. More cool things for your home can be found at Lana Home Decor with Bohemian decor pieces from the Czech Republic. Also, there are several jewelry and jade stores to check out. So if you need a valuable gift for someone special, Fisherman's Wharf is the right location. 

Enjoy one of Macau's most tranquil sites 
There is no need to spend money or come to Macau Fisherman's Wharf with any particular goal, for that matter. Tucked away from the city's hectic streets and business neighborhoods, this site features a pleasant waterfront overlooking Macau's outer harbor. Buy a refreshing fruity bubble tea from a nearby truck and wander around gazing into the peaceful waters and listening to the birds. It's delightful during weekdays when there are fewer people in the area. 

Have a staycation 
When you miss traveling and work is stressful, you can substitute a trip with a staycation. Luckily, many hotels in Macau are happy to offer special deals and packages for locals. While the majority of the luxury resorts are in Cotai and NAPE, Macau's Fisherman's Wharf has a couple of hotels to stay at and unwind. For guests who prioritize tranquility over anything else, Rocks Hotel would be a true gem. Inspired by the Victorian era, this hotel transports you to a small European village by the sea with its cozy rooms and balconies with a waterfront view. Moreover, each room has a bathtub, so you can forget the world with a bath ritual before lounging in the comfortable king-size bed. In the evening, go down to the gorgeous Vic's Portuguese Restaurant for an exquisite dinner in the alfresco area. 
Should you prefer a bigger venue with more amenities, opt for the nearby Harborview Hotel with an indoor pool, well-equipped gym, multiple restaurants, and Art Nouveau decor. 
Rocks Hotel Macau Fisherman's Wharf, Avenida Dr. Sun Yat-Sen, +853 2878 2782, www.rockshotel.com.mo
Harbourview Hotel Macau Fisherman's Wharf, Avenida Dr. Sun Yat-Sen, Macau, +853 8799 6688, www.harbourviewhotelmacau.com 
Also read: Five Affordable Hotels in Macau

Dive into the virtual reality
When day-to-day reality seems uneventful, it's time to put on a pair of VR glasses and brace yourself for an adrenaline-filled adventure. VR Zone Macau is the first Japanese VR experience in town. With several exciting quests, this entertainment is excellent for adults and brave kids. Opt for a horror mission trying to escape from the abandoned hospital ward, embark on a ski rodeo sliding down the snowy mountains, or look for missing kittens at the 200m height, fighting the fear of heights. There are six exciting adventures to try so you won't notice how time flies while wearing the VR gear! And even the most skeptical gamers will admit it's a distinctive experience worth trying at least once. 
VR Zone Macau Shop 13A-18E, Convention and Exhibition Centre, Macau Fisherman's Wharf, Macau, +853 8299 3388, www.facebook.com/MFWVRZONEMACAU
Also read: Awesome Activity Classes for Adults in Macau
Celebrate Macau's cultural diversity 
Being a spacious site with many dining and entertainment facilities, Macau's Fisherman's Wharf often hosts festivals, celebrations, and live music gigs. Last year, it hosted the first-ever Lusofonia afterparty. Additionally, local live musicians often perform at Vic's, Soda Port, and DD3. When Chinese New Year comes to town, vibrant festive traditions, including the iconic lion dance, always occur here too. During major sports events like football cups and the Olympics, there is often a large screen installed so guests can enjoy live sports streaming and cheer for their favorite athletes.  
The list goes on! To stay tuned for all the thrilling events happening there, make sure to sign up for our newsletter and follow Macau Fisherman's Wharf on Facebook and Instagram. 
---
Macau Fisherman's Wharf Avenida da Amizade e Avenida Dr. Sun Yat-Sen, NAPE, Macau, +853 8299 3300, www.fishermanswharf.com.mo
Photo credit: Ksenia Kuzmina, Macau Fisherman's Wharf, Rocks Hotel, DD3
Tags
Related Posts