Establishing itself as the World Centre of Tourism and Leisure, Macau is a destination that you cannot miss anymore. This glittering city lying on the southern coast of China may be small in size but packs in a lot of culture, experiences, and excitement.
Flying to Macau from nearby regions is easy. However, the Macau International Airport's capacity is limited and your best bet is to fly into Hong Kong and then take a ferry to Macau. It's a simple process and this article will be your guide to navigating the Macau Outer Harbour Ferry Terminal (not to be confused with Taipa Ferry Terminal).
One of two terminals in Macau, this ferry terminal also serves as a heliport where visitors can opt for air travel or board the fleet of TurboJET ships. Helicopter services are available from Hong Kong and Shenzhen to Macau if you prefer a quicker route. Sea routes approximately take 1 hour from Hong Kong and 1.2 hours from Shenzhen. For hassle-free travel, the Macau Ferry Terminal has seamless transfers from Hong Kong and Shenzhen airports with their partnered airlines thus easing immigration and custom formalities upon arrival or departure.
Once you arrive at the Macau Outer Harbour Ferry Terminal you'll see it has three levels.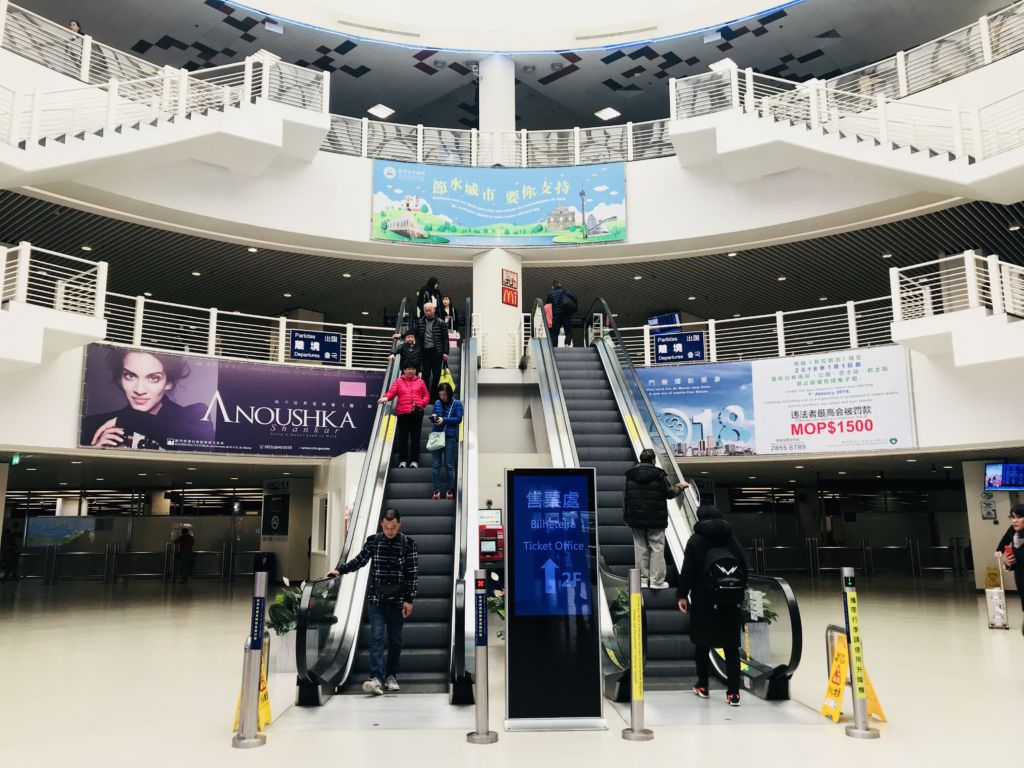 First Floor
The Arrivals level is located at this floor. Passengers who've arrived in Macau will be greeted with a tourist information booth after immigration. Helpful staff are present to assist with your needs in navigating the city and provide maps for directions and flyers to keep you up-to-date with the latest happenings. There are tons of people trying to offer you hotels, sightseeing packages, etc. but please keep in mind, these are overpriced and often not necessary as Macau is an easily navigatable city.
If you wish to be connected 24/7, vending machines are available for purchasing SIM cards that provide Macau-Hong Kong unlimited data plans so you don't need to worry about scouting for wifi in the city, although there are a lot of free wifi hotspots at popular tourist locations around the city.
Banks, ATM machines, and money exchange counters are also found on this floor. Additionally, there are local travel agencies that can help you with planning your trip by offering travel packages.
Macau has two main modes of transport: taxis and buses. Taxis are the most convenient way to get around but be aware about taxi drivers contracting fares. This is not a legal practice so be sure the driver has the meter on. If you're on a budget, taking a bus is just as easy. There are plenty of options at the Macau Ferry Terminal bus stop to bring you to your destination. Bus stop kiosks at the terminal have information about all Macau buses and its' routes.
Apart from buses and taxis, the best ride to get is a hotel shuttle bus lined up across the street. You can hop on a shuttle bus of your choice for free making it convenient for everybody to reach the hotel's premises.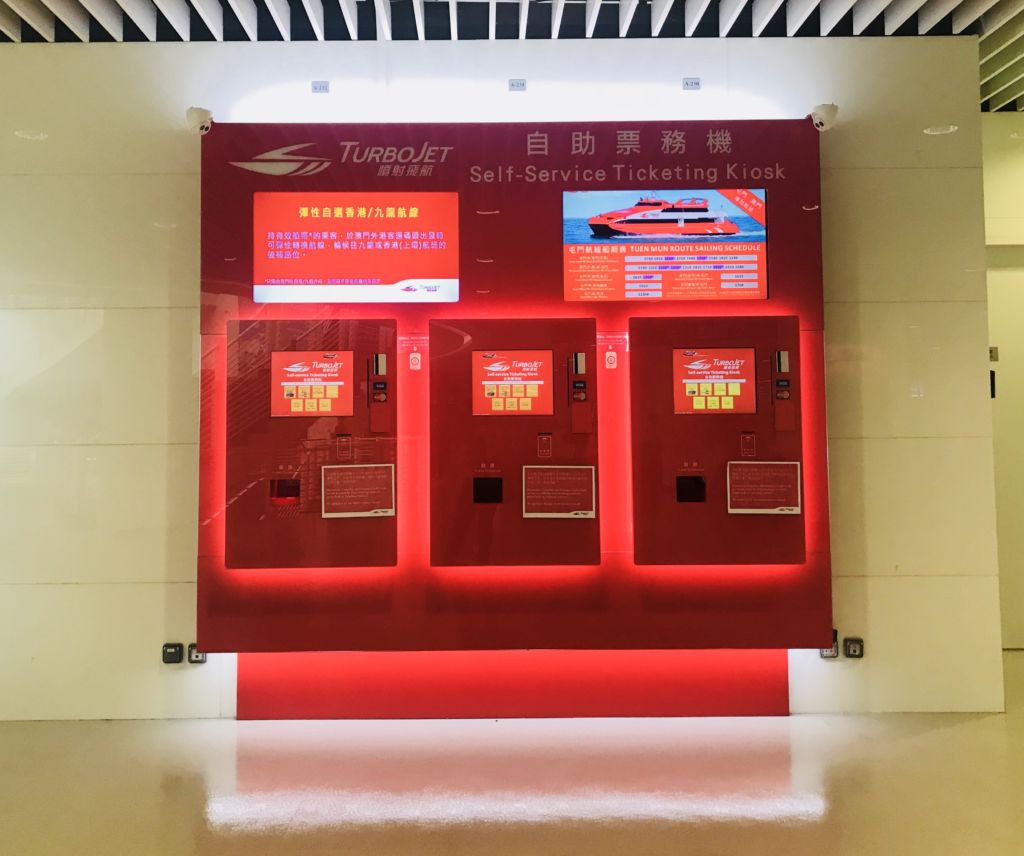 Second Floor
The second floor is the departure level. Travelers can purchase their tickets at the designated ticket counters depending on the class that caters to your needs. Self-service ticketing kiosks are readily available for travelers' convenience and can be purchased with credit cards (VISA & Mastercard accepted). You can also collect pre-booked tickets (online booking and mobile app reservations can be 45 days in advance and 60 days in advance for airport routes).
The Macau Ferry Terminal also has a luggage service counter on this floor charging MOP$ 20 per piece/hour operating from 6:45am-12:00am.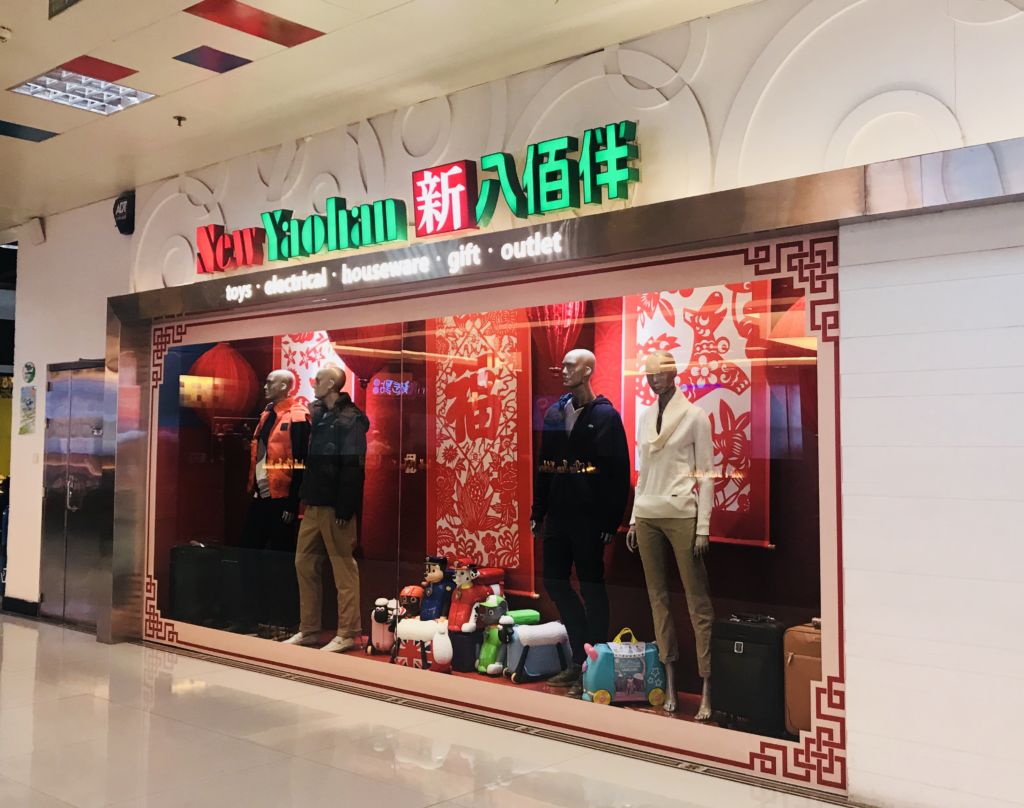 Third Floor
The last floor is devoted to shopping, dining, and doubles up as a waiting area for passengers where you can enjoy free wifi service that covers most areas of the terminal. And if low on battery, there is a mobile charging station too.
Sip on some hot coffee or grab some sandwiches and fresh fruits at Palacio Lisboa. Or if you crave for a quick bite, McDonald's will always be a safe and easy option.
If you want to begin your trip with shopping or spend on some last minute buys, New Yaohan is a mini mall offering toys, electrical and houseware appliances, gifts, and a clothing outlet.
The Macau Ferry Terminal is the ideal port to arrive in if you're staying at the Macau side or if you're looking to explore the older parts of the city like St. Paul Ruins or Senado Square. Meanwhile if you're staying at the Cotai Strip, we suggest the Taipa Ferry Terminal as your arrival port which we will be talking about in another article. Whichever terminal you arrive in, Macau is an easy city to get around. Enjoy your stay and make sure it won't be your last.
---
For online booking and more information on the Macau Ferry Terminal, visit their website at www.turbojet.com.hk
Tags
Related Posts