Featured image: Baikal Oscietra Caviar Tea Set
Collaborations with fashion brands, beauty afternoon tea sets, Christmas, and Chinese New Year sets–it feels like there is no limit to Macau hotels' creativity when it comes to this relaxing middle-of-the-day ritual. To create its own interpretation of this century-old tradition, The St. Regis Macao went back to its roots and introduced the 100 Years Afternoon Tea, inspired by both Caroline Astor's elegant parties and Great Britain's best assets. We reserved a table, dressed up, and came to taste the afternoon tea at The St. Regis Macao Bar– British tradition served at the trendiest bar in town.
Inspiration 
Great inventions are not always a result of hard work and research. Sometimes they come out of boredom and… hunger. A perfect example is afternoon tea, an essential part of British culture but not an ancient concept. It is believed that the idea was created during the 19th century by Anna, the seventh Duchess of Bedford. Spurred by hunger between lunch and late supper, she invented an afternoon ritual of tea with light snacks, which she enjoyed in the company of her aristocratic friends. 
Some decades later, across the ocean, another sophisticated socialite decided to brighten her days with this traditionally British event. That was Madame Caroline Astor, the mother, and wife of the prominent Astor family, The St. Regis Hotel's founders. She was also known as the reigning queen of New York society who made afternoon tea her VIP party where she only invited an exclusive group of New York's rich and famous. 
Also read: From New York to Macau: History of The St. Regis
100 Years Afternoon Tea
To honor the origins of the timeless tradition and Caroline Astor's memory, The St. Regis made afternoon tea an integral part of the brand's hospitality, and The St. Regis Macao is no different. Its 100 Years Afternoon Tea was launched after the bar's grand reopening and became such a popular event that you'd need to book a table in advance to taste it. 
Setting the scene 
When it comes to afternoon tea, gastronomic pleasure is important, but it's just one of the factors that matters. The presentation, ambiance, and extras that come with the set also significantly contribute to the experience. With plush seats, marble tabletops, art deco elements, and a curated art collection, The St. Regis Bar is one of Macau's most vogue spots. Moreover, flawless service guarantees that you will only need to focus on savoring the food, enjoying good company, and taking cool shots for your 'gram.  
Among the most stunning assets of the afternoon tea at The St. Regis Macao Bar is the tableware it's served in. The choice fell on Royal Albert, a quintessential English fine bone china with floral patterns and more than a century-long history. Savory and sweet snacks are served on a customary three-tiered stand, accompanied by a pretty butter dish with a honey bee on top and three mini-jars of honey, strawberry, and blackberry jams. Try them with freshly baked scones! 
Also read: The St. Regis Bar Macao: The Hottest Spot in Town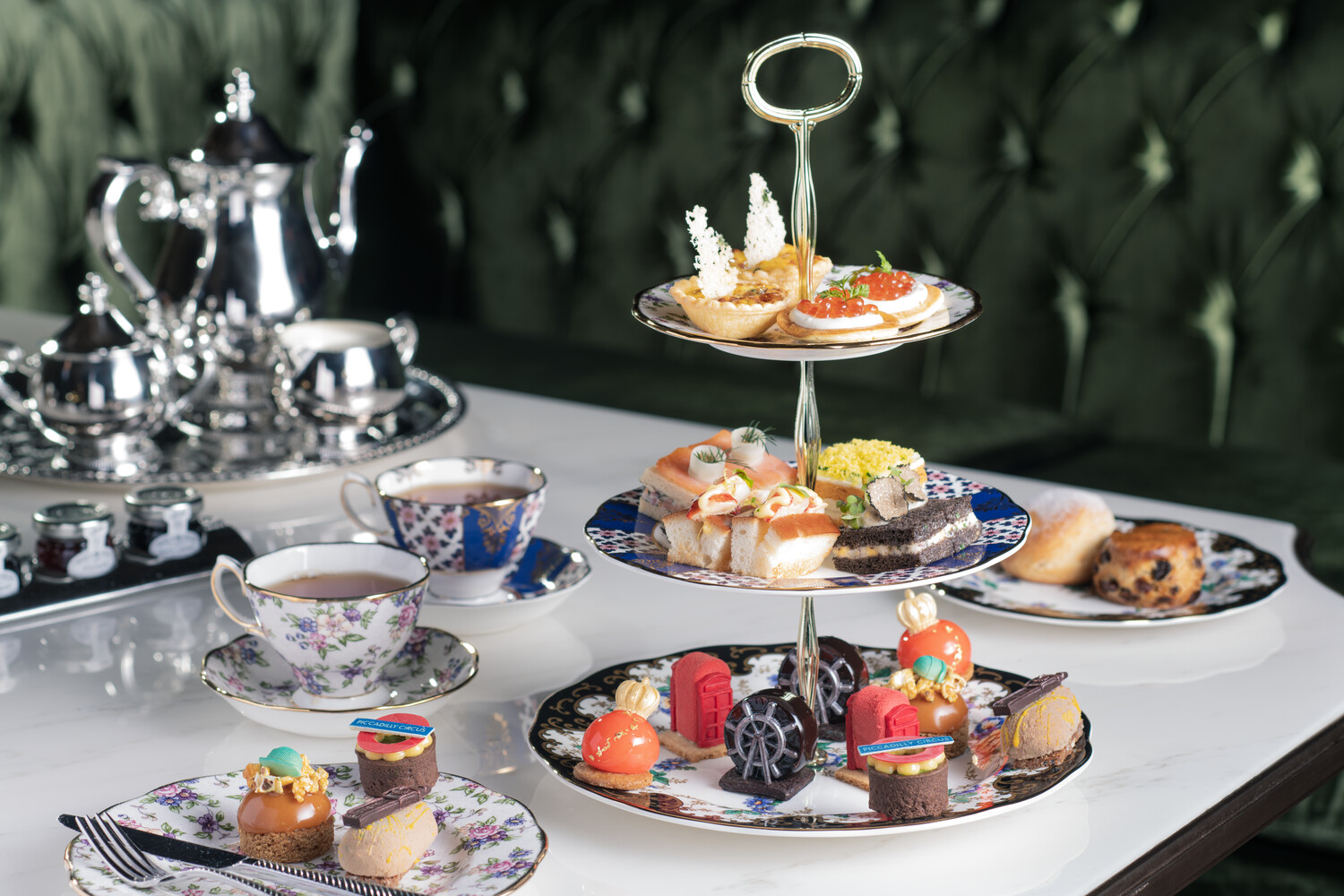 What's the tea? 
But let's take a closer look at the snacks selection. The upper tier features creamy comté cheese and thyme quiche and smoked salmon roe blini with crème Fraiche and chives. Typically, no afternoon tea happens without cute mini-sandwiches. At The St. Regis Bar, these are some good-looking classics like English cucumber rye-bread sandwich with minted cream cheese, truffled egg mayonnaise with microgreens, and a Scottish smoked salmon sandwich with capers and lemon butter. While all the above-mentioned savory treats are phenomenal, our favorite must be Boston lobster slider with lemon vinaigrette, a combination of glazed bun, juicy poached lobster, and delicious sauce. 
If you partake in afternoon tea for the sweets, 100 Years Afternoon Tea would be a treat! The inspiration for the tiny desserts comes from Great Britain's capital and its world-famous landmarks. Can't travel to see Big Ben? Well, take a bite of the Big Ben cake with orange crémeux and earl grey mousse–not too sweet and yet very yummy! Indulge in The London Eye-shaped chocolate cake with chocolate mousse and caramel cream. For the fans of chestnut cakes, there is a red Phone Booth dessert. Two shiny glazed cakes are Victorian cheesecake and a British Toffee sponge with toffee cream and popcorn. One more sweet delicacy is a cake with Asian flavors of green tea and yuzu crowned with the iconic Picadilly Circus tube sign. 
Champagne Tea 
(See featured image)
You can stick to your tea, especially when the one offered at the bar is from TWG. Or turn the afternoon tea at The St. Regis Macao Bar into even a fancier one by upgrading it to a champagne tea. Guests can choose to add two glasses of Billecart-Salmon Champagne or Baikal Oscietra Caviar Tea Set. The latter also includes two glasses of bubbly. Served in splendid champagne flutes, this highly regarded sparkling wine will please the tastebuds even of the most spoiled champagne snobs. Established in 1818, Maison Billecart-Salmon is one of the most prestigious champagne houses and a member of UMC (Union des Maisons de Champagne). The light and subtle Brut Reserve served at The St. Regis is the flagship champagne of the house, a blend of Meunier, Pinot Noir, and Chardonnay grapes.
Stay for more 
If you prefer cocktails to wine, opt for original tea and gin-based cocktails: fruity peach bramble, refreshing earl grey gimlet, or umami matcha sour. This way, your afternoon tea can smoothly transition into evening drinks enjoyed to the tunes of live jazz performed by a talented duo of Aaron Lo and Jandira Silva. If you happen to stay for Astor Hour, you can take advantage of the tempting drink offers and give The St. Regis' in-house-made fruity punches a try. 
Also read: Show Me the Way to: Macau's Best Cocktail Bars
---
The St. Regis Bar Macao 2F, The St. Regis Macao, The Londoner Macao, Estrada do Istmo, s/n, Cotai, +853 2882 8898, www.thestregisbarmacao.com
Brought to you in partnership with The St. Regis Macao
Tags
Related Posts