On a foggy Saturday evening we were out for a drink with the girls. Eager to try a new place, we headed out to Broadway for the new Duffy's Irish Pub. An Irish pub for a girls' night out? We admit it, we were skeptical at first. We wanted to catch up over nice cocktails, not shout to make ourselves heard over sports on TV, drinking whiskey and beers by the pint. But we discovered that Duffy's has so much to offer, and we had a blast.
Duffy's Irish Pub is on the Broadway Food Street; conveniently located right across from The Roadhouse—they share the same owners. We recommend Duffy's outdoor seating for a night with nice weather, but this time Macau's humidity sent us straight through the doors. A step inside brings you into a welcoming Irish pub setting. The décor is authentic, with cozy dark wood, memorabilia-filled walls, a traditional long bar, and plenty of TVs showing sports. This a great place to watch a game with friends.
There are several seating options, but we were lucky to find the coziest corner, perfect for our plan that night, The Snug—a more private seating area. Traditionally, "the snug" was a small, very private room with access to the bar. It was the place where the ladies would sit in Victorian pubs, while men would sit at the bar. This seating area was exclusive for VIPs, so it traditionally had doors and frosted glass windows so nobody could look in and see the drinkers. The Snug at Duffy's has that private look and feel, but you don't miss any of the fun. It has its own TV screen so you can tune into your favorite games. It also has a window with direct access to the bar and the convenience of a bell to call the bartender when you need another drink.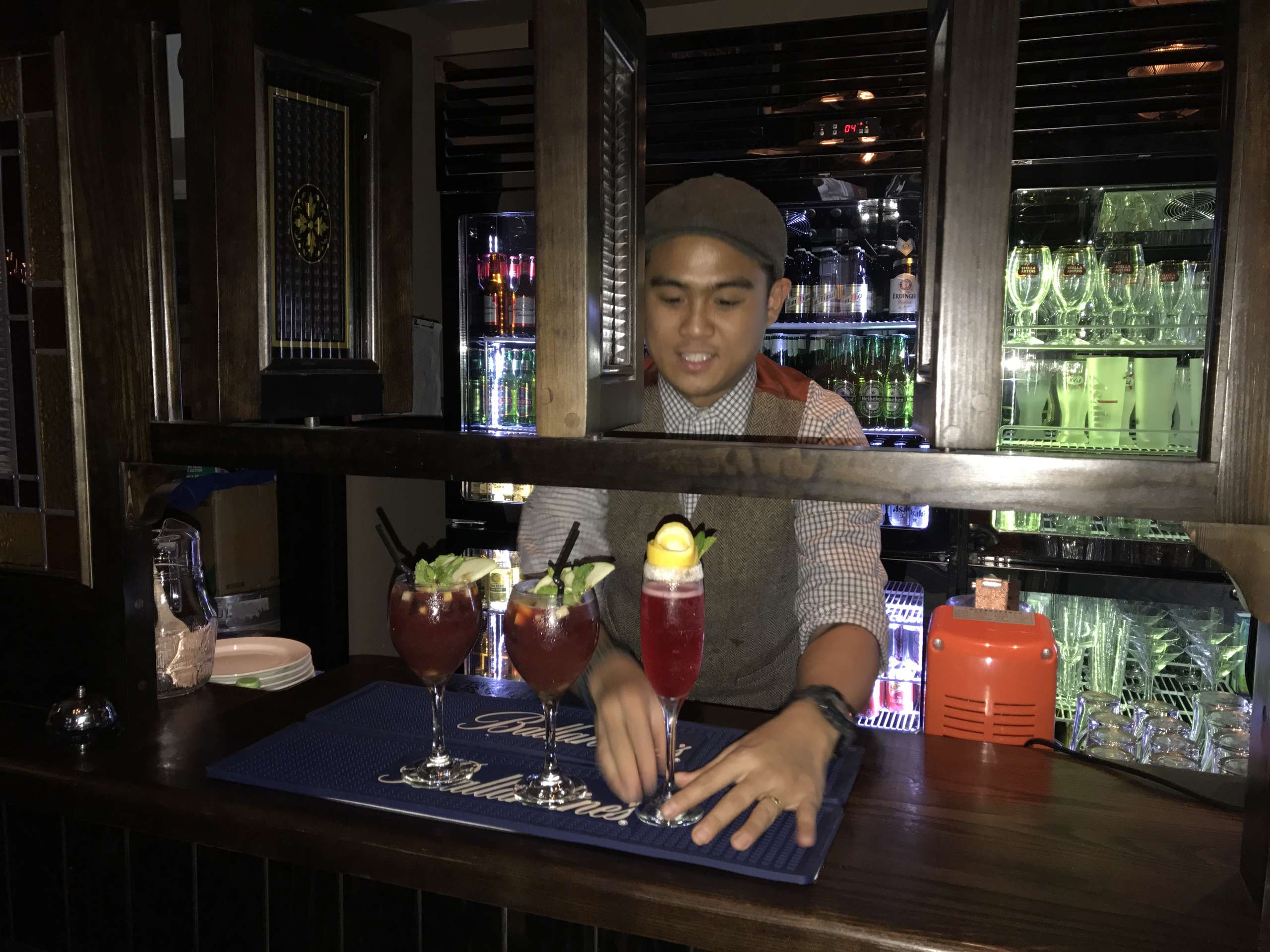 Speaking of the bartender, let's talk about the great drinks! Of course, the lengthy drink list includes many of the usual suspects: Guinness and other beers, and whiskeys from many different countries, but you have to try one of their specialty cocktails. Paulo, their lead bartender, makes well-balanced drinks, changed monthly, and inspired by the season. We tried the Passion and Power, created specifically to celebrate Women's Day. It was sweet, but strong and colorful, and garnished with a flower made of lemon peel. We can't wait to try some of their summer creations and lucky for us Duffy's Irish Pub now has happy hour buy one get one free everyday from 5pm to 8pm on selected beers, wines and spirits.
When it comes to food, they serve traditional Irish fare like lamb stew, cabbage and corned beef, but you can also order from The Roadhouse menu. The food service was fast and everything we ordered was tasty. We are definitely going back soon!
Duffy's Irish Pub Macau Broadway Food Street, C-GO02 – GO04, Macau, +853 2884 5212, www.facebook.com/duffysbarmacau
Open daily 5pm – 2am
Tags
Related Posts