Buffets are one of the easiest, most affordable, and fun ways of trying a whole bunch of different dishes and cuisines at the same time. But do you know where this dining practice started? Well, it actually comes from the 16th century in Sweden! Upper classes would gather for huge big feasts and they'd start off with "smörgåsbord", small side tables featuring petit foods such as schnapps, hor d'oeuvres, and more. However, the word itself comes from the French language and was used to describe a piece of French-style sideboard furniture where those kinds of foods were served. There's something truly special about buffets and we're not sure if it's the fresh seafood corner, grill station, sushi selection, or the chocolate fountains. One thing we do know is that buffets are the best when it comes to variety. Some of them even have weekend editions with exclusive specialties, while others commemorate new seasons with new products. We've made a selection of the best buffets in Macau and we're sure you will find this list as tasty as we do!
Grand Buffet, Grand Palace Lisboa
(See featured image above)
This Grand Palace Lisboa's restaurant is keen on presentation, but also variety. Here, you won't have to choose between quality and quantity, so be sure to try it out! Grand Buffet features 18 live-cooking stations focusing on Asia's vibrant street food scene and where food enthusiasts can find a bit of everything, from Cantonese delights to Thai foods. There's also fresh seafood and a gorgeous desserts bar. Grand Buffet also has another amazing detail: an outdoor seating area where guests can also enjoy a BBQ pit with freshly grilled meats and other foods. You can also have a wide selection of beverages–including signature and assorted fruit-based mocktails, Chinese teas, and much more.
Opening hours: Wednesdays–Mondays, 12:00pm–3:00pm and 5:30pm–10:30pm
Grand Buffet Grand Palace Lisboa, Grand Lisboa Palace Resort Macau, Rua do Tiro, Cotai, Macau, +853 8881 1800, www.grandlisboapalace.com
Belcanção, Four Seasons Hotel Macao, Cotai Strip
Situated in Four Seasons Hotel Macao, Cotai Strip, Belcanção boasts an incredible dining room with all kinds of foods for everyone to savor. Very popular among locals and tourists, Belcanção has buffets for all times of the day, including breakfast and lunch. With different foods and freshly brewed drinks–such as coffee and tea–these meals are something to crave for. Breakfast includes fluffy pancakes, fresh fruit, and many other classic items, while lunch features delicacies such as fresh fish and seafood, grilled meat, and many different cuisines, including Portuguese and Macau-inspired dishes. You can even find homemade egg tarts here!
Opening hours: Daily, 7:00am–10:00am (breakfast), and 12:00pm–2:30pm (lunch)
Belcanção at Four Seasons Hotel Macao, Cotai Strip Estrada da Baía de Nossa Senhora da Esperança, S/N, Cotai, +853 2881 8811, www.fourseasons.com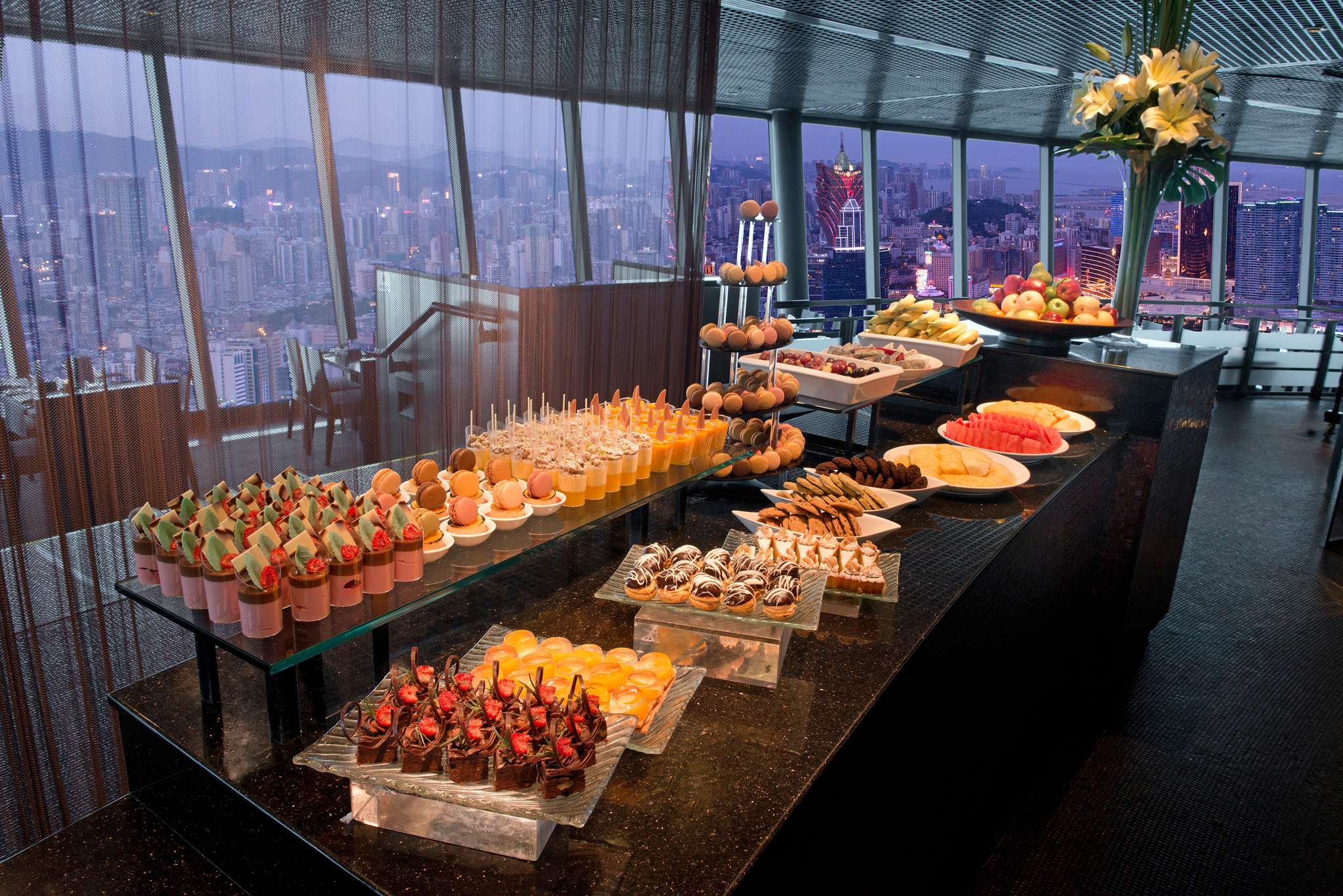 360º Café, Macau Tower
Looking for a place where you can have a sumptuous buffet while overlooking Macau's skyline? Well, there's one place that combines both features! 360º Café is located in the Macau Tower's 60th floor is called so because it allows guests a 360º view over the city. Besides lunch and dinner, they also serve a high tea buffet. Their mid-afternoon delight includes goodies such as creamy salmon custards with Parmesan, or raspberry swirled cheesecake, freshly brewed coffee, tea, and much more! One of their savory items includes baked scallops with herbs and an apricot and rosemary cream with hazelnut crumble.
Opening hours: 11:30am–1:00pm and 1:30pm–3:00pm (lunch), 3:30pm–5:00pm (afternoon tea) and 6:30pm–10:00pm (dinner)
360º Café 60/F, Macau Tower Convention & Entertainment Centre, Largo da Torre de Macau, Macau, +853 8988 8622, www.macautower.com.mo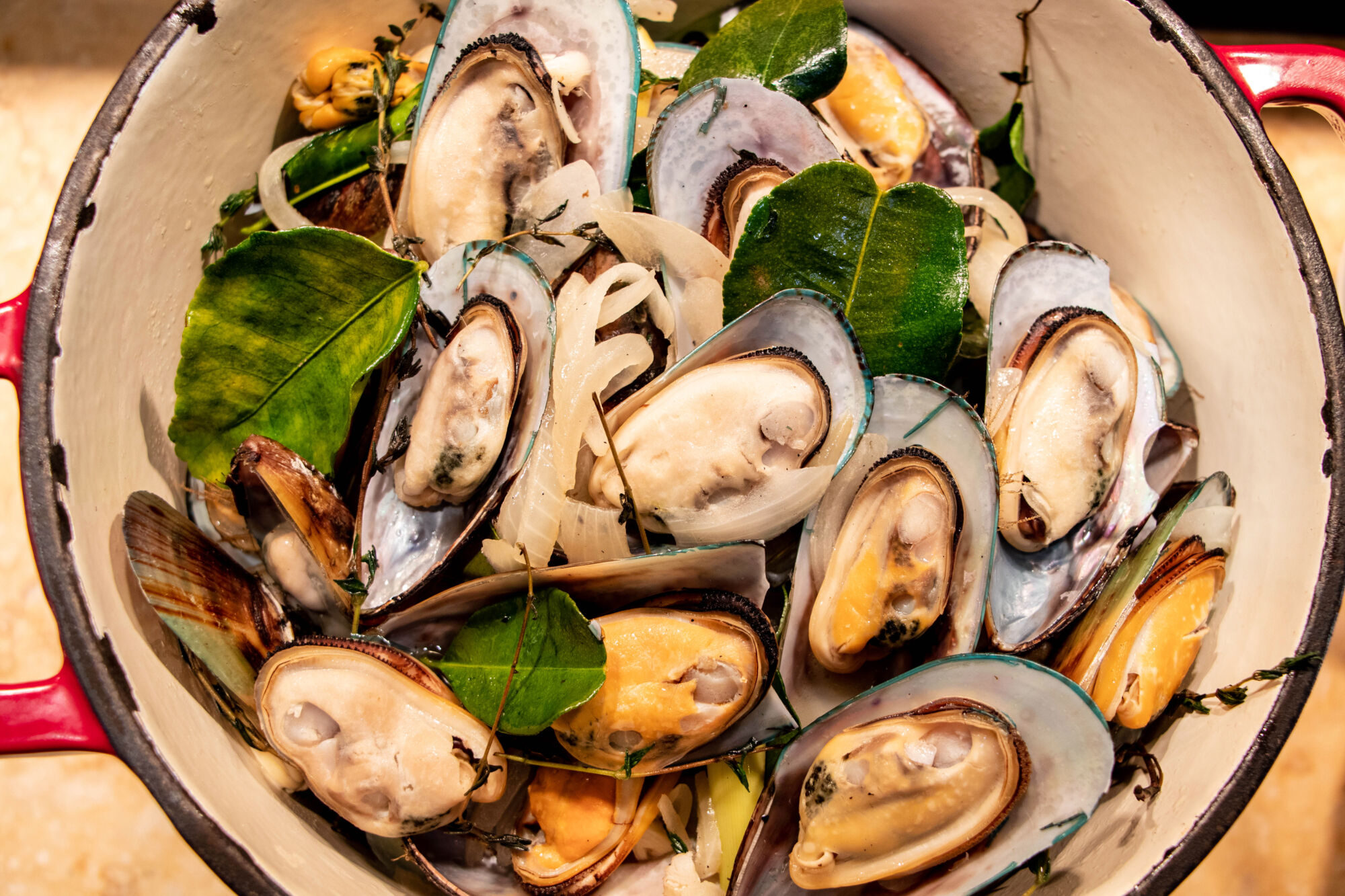 Mistral, Sofitel Macau At Ponte 16
This is a great place to savor a buffet-style meal if you're looking for fun and bliss with friends or family. Freshly shucked oysters, cooked mussels and other seafood items, sushi, Indian food, Macanese delights, a grill station and even a free flow of wine and beer is available at Mistral. Set on the hotel's 6th floor, this restaurant also features a gorgeous terrace area where people can relax over drinks and food. Overlooking the swimming pool and mainland China can be really calm and peaceful.
Opening hours: Monday–Friday, 7:00am–10:30am, Saturday and Sunday, 7:00am–11:00am (breakfast), 12:00pm–2:30pm (lunch), 6:00pm–9:30pm (dinner)
Mistral 6/F, Sofitel Macau At Ponte 16, Rua das Lorchas e Rua do Visconde Paço de Arcos, Macau, +853 8861 0016 www.sofitelmacau.com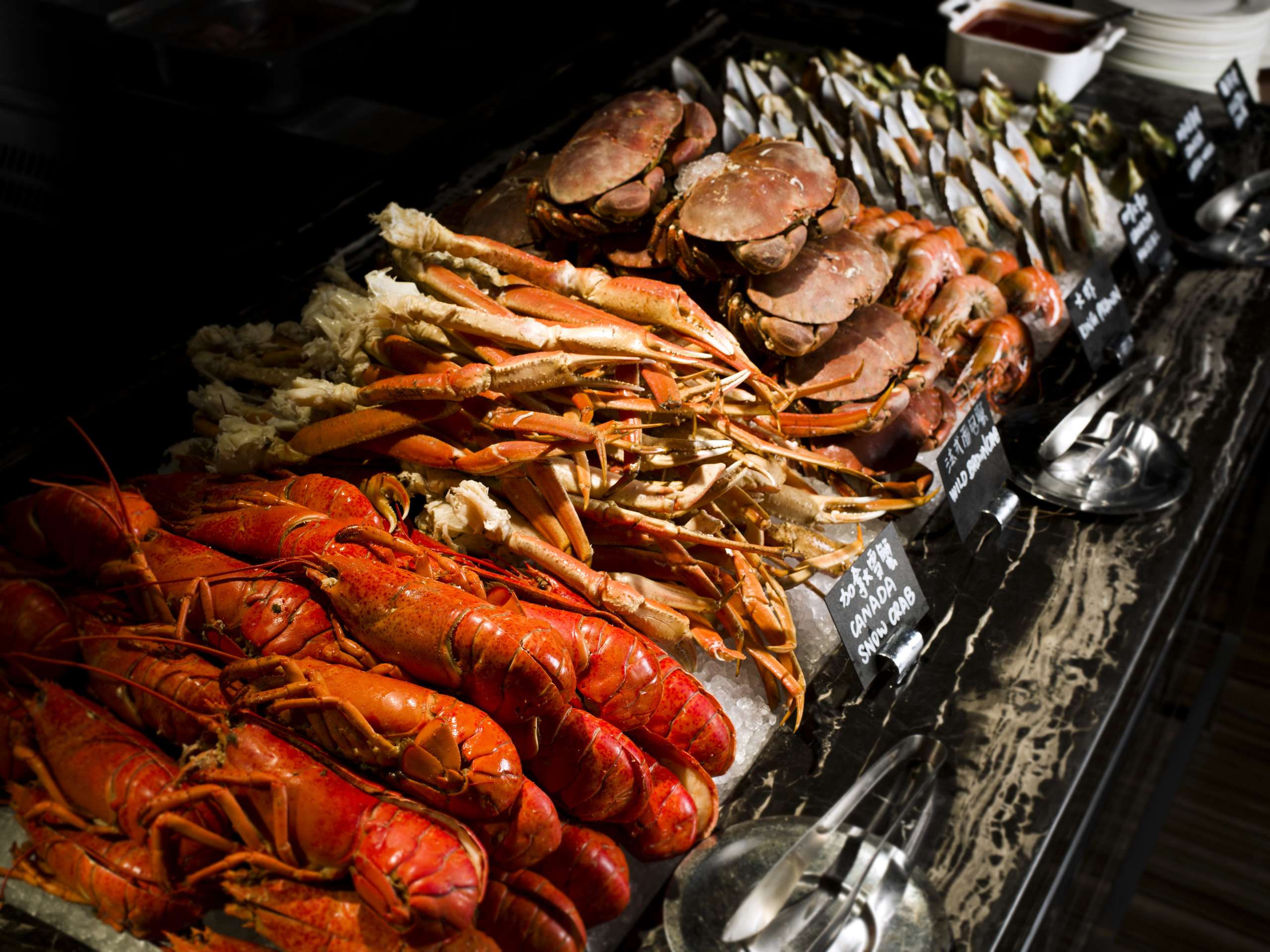 Urban Kitchen, JW Marriott Hotel Macau
Who doesn't like freshly cooked food? At Urban Kitchen, you'll be able to have this and much more for an incredible price! If you're looking to take the kids out for dinner, this restaurant is a great choice for the whole family. Besides, Urban Kitchen serves two exclusive items for everyone to experience: their roasted Peking duck and slow-cooked premium steak is amazing and can only be tasted here! They also feature unique seasonal selections to celebrate festive times, including Christmas, and Chinese New Year. Urban Kitchen also includes fresh seafood, wine, beer, fresh fruit juices, desserts, and other things.
Opening hours: Thursdays–Tuesdays, 6:00pm–9:30pm
Urban Kitchen 1/F, JW Marriott Hotel Macau, Galaxy Macau, Estrada da Baía da Nossa Senhora da Esperança, Cotai, +853 8886 6228, www.galaxymacau.com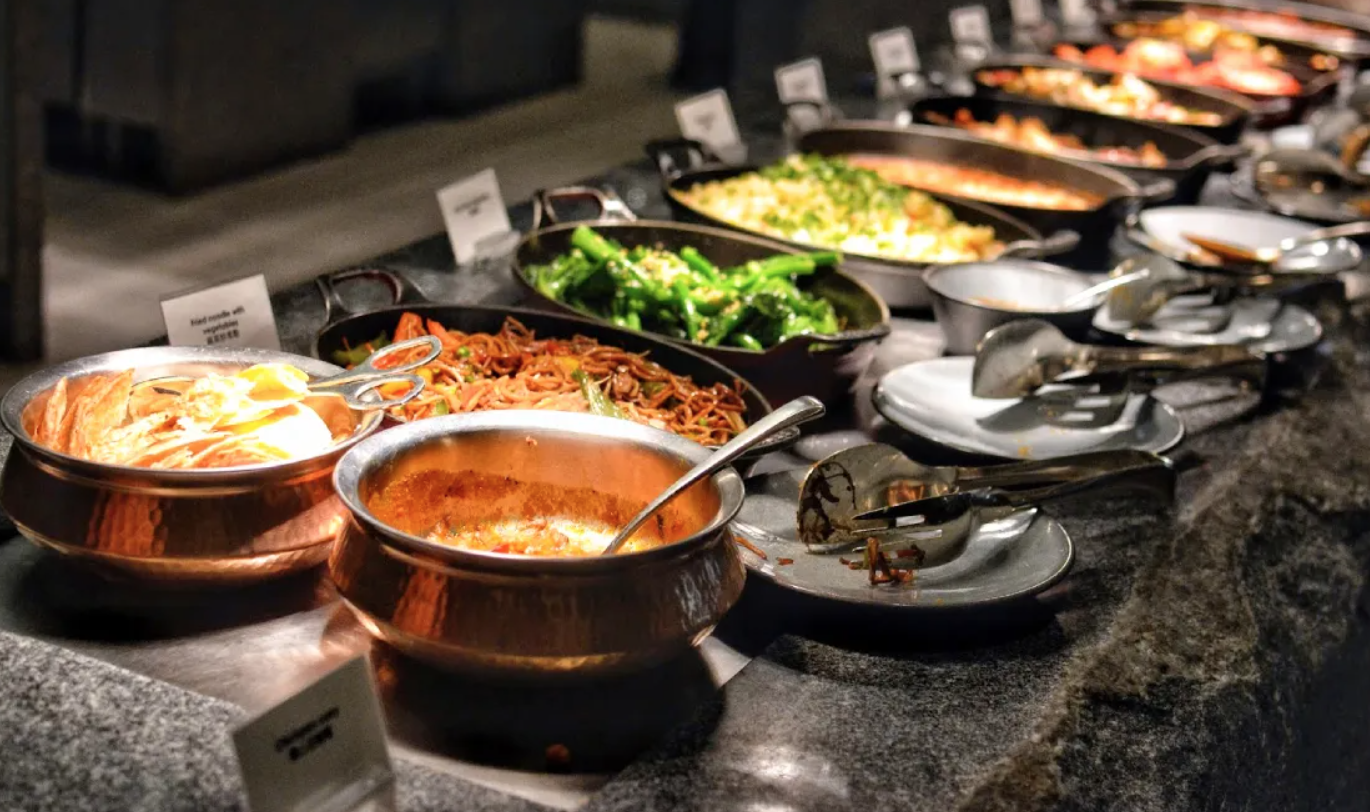 Spotlight, Studio City
With a cinematic vibe and modern interiors, Spotlight is the to-go buffet for everyone to have fun and lots of scrumptious foods. The best thing about this buffet is the fact's that it's served all day long! From international dishes to fresh seafood, desserts, and many other surprises, Spotlight really is a place where all the guests can shine. You can head to each station, choose the foods you want, but also ask the chefs to prepare you some freshly cooked goods like roasted meat, shucked oysters, among other items.
Opening hours: Daily, 6:00am–11:00pm
Spotlight Shop 2113, Level 2, East Wing, Studio City, Estrada do Istmo, Cotai, +853 8865 6668, www.studiocity-macau.com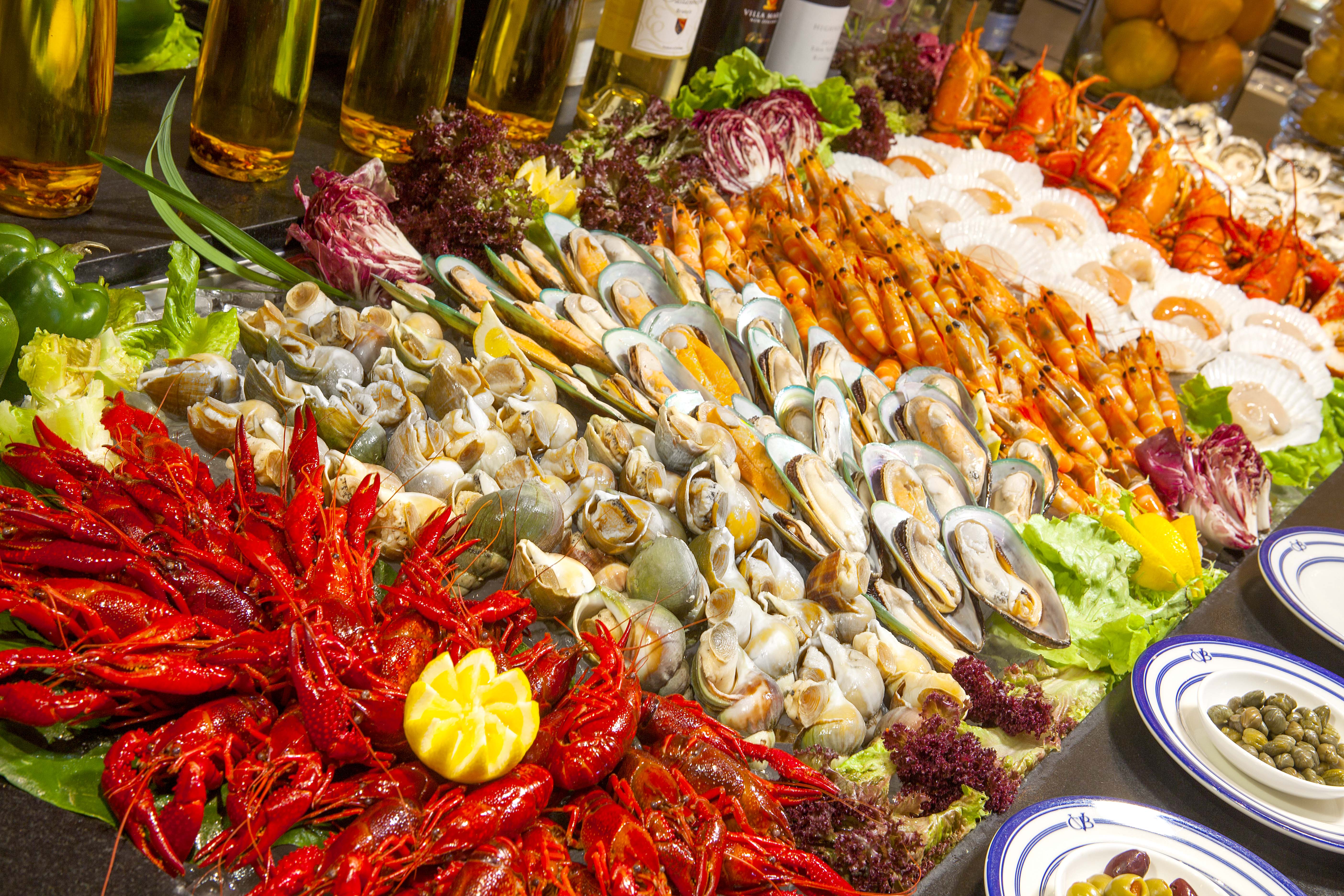 Café Bela Vista, Artyzen Grand Lapa Macau
With lots of appealing dishes, Café Bela Vista is a beautiful restaurant nestled in Artyzen Grand Lapa Macau. Although they serve countless internationally-inspired foods, their focus is Portuguese and Macanese specialties and that's why it's so popular amongst locals and the Portuguese community living here. Café Bela Vista serves semi-buffet during lunch and dinner, so be sure to check it out because their sets are one-of-a-kind. They also feature a Surf & Turf seafood dinner buffet, where guests can enjoy a feast of sensations from 10 different stations.
Café Bela Vista Artyzen Grand Lapa Macau, 956-1110 Avenida da Amizade, Macau, +853 8793 3871, artyzen.grandlapa.com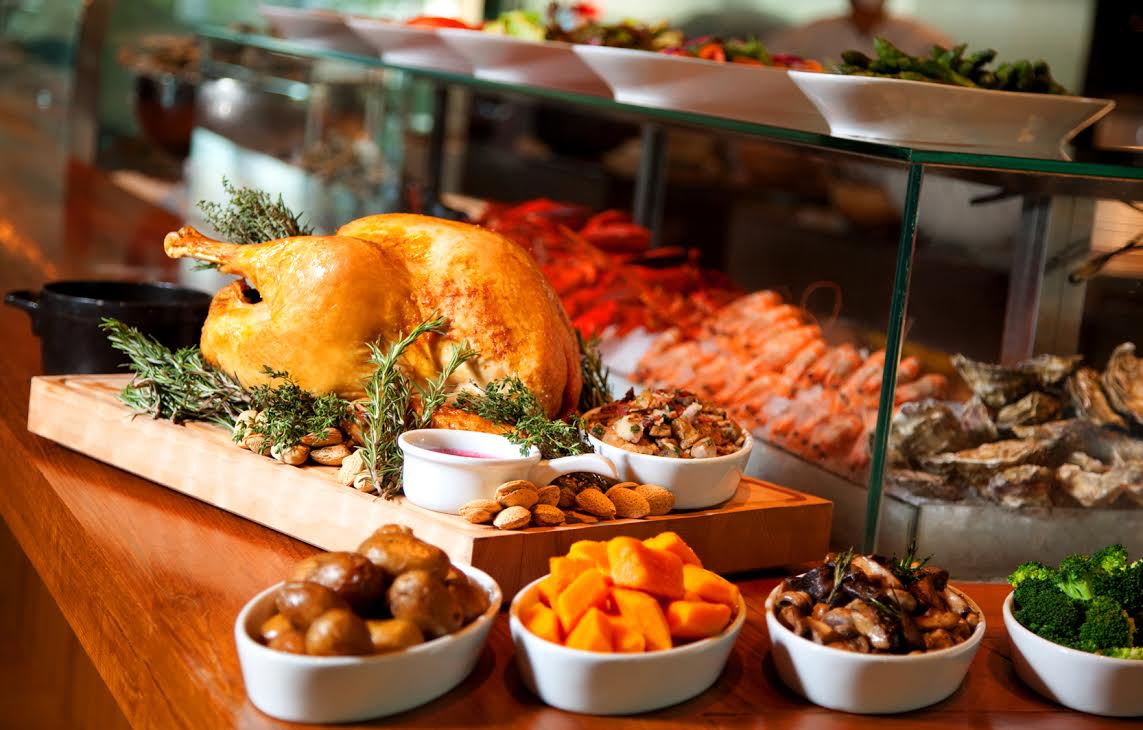 mezza9, Grand Hyatt Macau
Grand Hyatt Macau is also a great place to have a buffet dinner with friends and family over drinks! If you're thinking buffets are overrated and filled with warm food and crowded tables, then you haven't tried mezza9's dining experience yet. This buffet will surely bring out your five senses with their beautifully put-up stations, freshly cooked food, exclusive ingredients, fresh products, and meals tailored to the guests' desires. Sound great, right? Now the only thing you have to do is try it!
Opening hours: Wednesday–Sunday, 6:00pm–11:00pm
mezza9 Grand Hyatt Macau, Level 3, Grand Hyatt Macau, City of Dreams, Estrada do Istmo, Cotai, Macau, +853 8868 1920, www.cityofdreamsmacau.com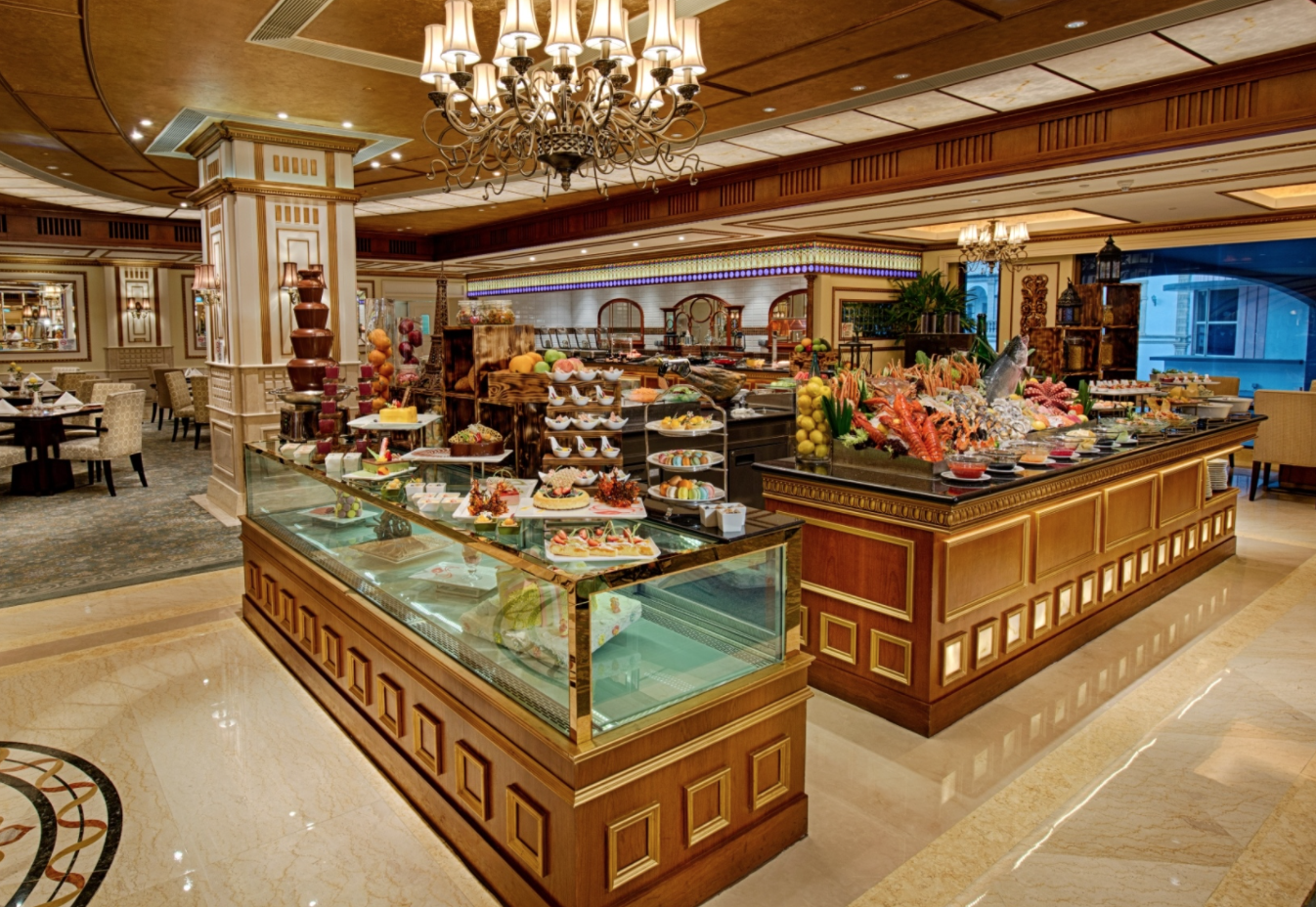 Praha Restaurant, Harbourview Hotel Macau
Fisherman's Wharf is the to-go place in Macau for fun and entertainment. Be it for a dinner gathering or clubbing, this spot has it all, including a sumptuous buffet. Served at Praha Restaurant, this meal is filled with amazing dishes made with fresh products and ingredients. International cuisine and Asian dishes make this a great place to try different types of cuisines. Family-friendly and beautifully decorated, Praha Restaurant also serves an a-la-carte menu so you can also head there with people who aren't big fans of buffets.
Opening hours: Daily, 6:30am–midnight
Praha Restaurant Harbourview Hotel Macau, Macau Fisherman's Wharf, Avenida da Amizade e Avenida Dr. Sun Yat-Sen, NAPE, +853 8299 3300, +853 8299 3581, www.harbourviewhotelmacau.com
Tags
Related Posts