You'd be surprised, but award-winning Chef Vicky Lau didn't come from a culinary background. Having worked as a graphic designer, Chef Vicky had to dive deep into the world of the food and beverage industry when she opened Tate Dining Room in 2012. With vision, hard work and dedication the recognition followed and in 2013 the restaurant was awarded one Michelin star and as of 2020, it has retained this status.
A rare female success in the male-dominant world of fine-dining, in 2015, Chef Vicky Lau was named Asia's Best Female Chef by The World's 50 Best Restaurants. But stars and awards won't stop her, as she keeps on perfecting Tate Dining Room and supporting other females through events and collaborations and makes sure to spare time for things that matter–staying grounded and spending time with her daughter.
You opened your restaurant Tate Dining Room in 2012 and it's been an exciting eight years! What are you looking forward to in the new decade?
I believe we must once in a while review what it is that we are doing, whether we are following our roots and revamp ourselves. And it seems like the year 2020 will be one of the years that is a good time to do so.
With nearly 100 restaurants in the 2020 edition of Michelin Guide Hong Kong Macau, you are the only female chef. How does that feel?
Given the number of times I have attended these events with the same turnout, it is a bit disappointing to see no other female chefs. Gender equality in the kitchen has shifted in recent years but of course, I hope to see more and more following their passion and joining the ranks.
The social value of how chefs are viewed in Asia is not very positive. A kitchen job to the older generation may be viewed as if you lack skills or you're not academically strong. It is a job or career that someone would not choose by choice. Maybe this has to do with the working conditions of most Chinese restaurant kitchens. Chinese kitchen equipment is heavier than western ones and some may view it as no place for a woman. But nowadays with better working conditions in kitchens, more females are comfortable with the kitchen environment. Also, with the increasing profile of celebrity chefs, more awards and recognition over the past few years, more female chefs are not afraid to join.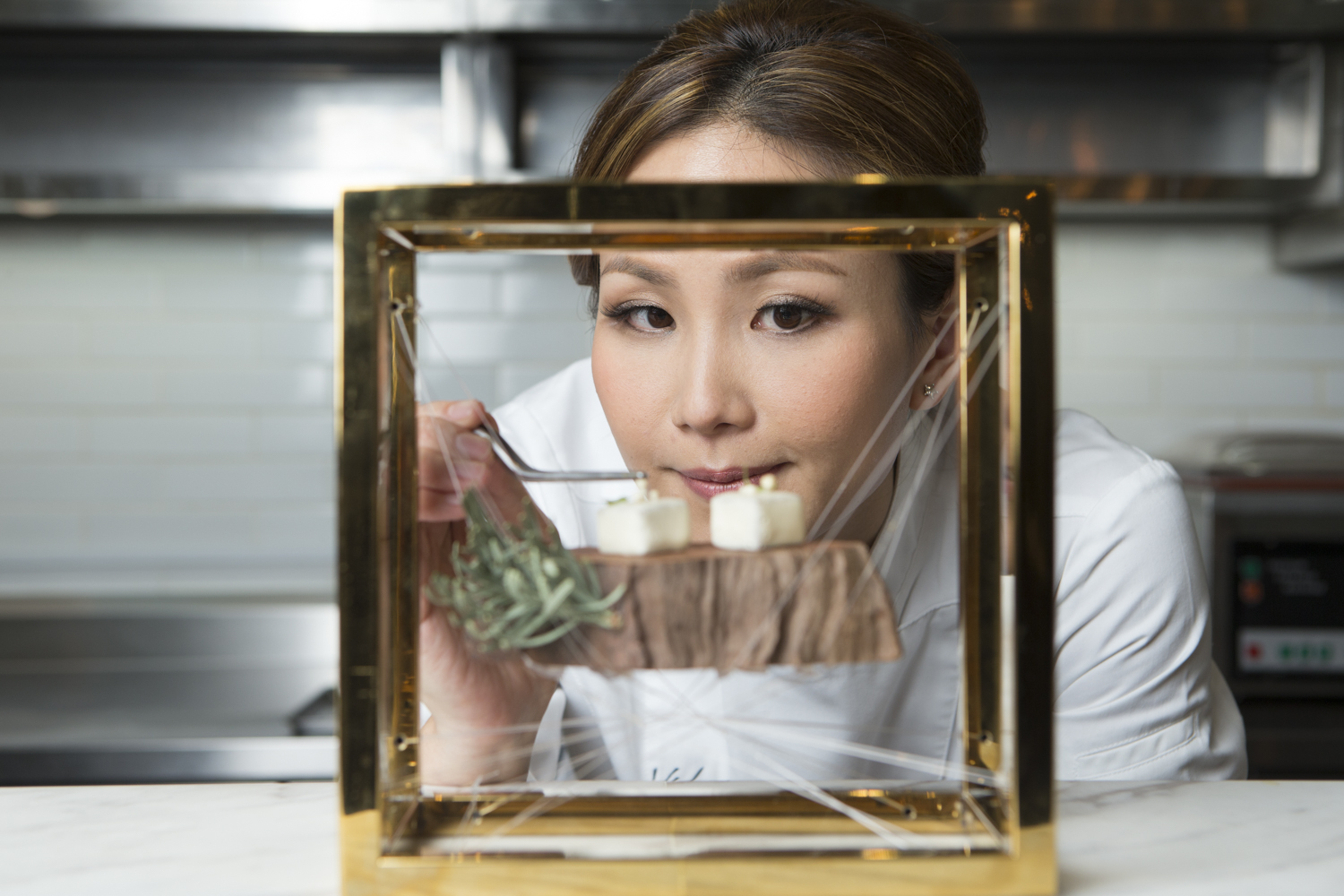 These days working in the fine dining industry is so much more than just cooking. One needs to think about gender equality, sustainability, plant-based menus, and whatnot. What is important to you and how do you balance all the external industry and social demands?
I personally think that this is happening because we all strive to be more conscious every day and as a leader, we have the responsibility of thinking for the future. Thinking and reacting positively to all the issues is important. On a daily basis, I already think and crave to research and answer these issues naturally so there really isn't any extra effort in doing so. As for the social demands, no one can do it all, you just have to pick topics that are dear to your heart and be involved in those.
When I decided to become a chef, it never crossed my mind that the female title would play a prominent role in my work life. Now that I have been named Asia's Best Female Chef (in 2015 by The World's 50 Best Restaurants), I have a responsibility to educate and motivate more women to follow their passion no matter which field they are in–this has become my drive at work.
How has your professional and personal life changed since being named Asia's Best Female Chef 2015 by The World's 50 Best Restaurants?
Being named Asia's Best Female Chef in 2015 has brought a lot of new opportunities from attracting new clients to working overseas and having the chance to promote more about Hong Kong and Chinese food.
So many amazing events have happened after, from cooking in Japan to Europe and inviting chefs from New York to speaking about the female chefs in Shanghai–all these are great opportunities to learn and get more conversations going. This year, in particular, we have four female chefs with us at Tate Dining Room and its just fun to synergize together.
As for personally, it has given me the confidence to do more and also the synergy to achieve more.
These days young people are seeking short-pathed success and aren't particularly attracted to in-kitchen careers as it takes time and hard work. With many years behind the apron, why do you think it's worth it after all?
I can't say that I did had a lot of years behind my apron when I first started Tate Dining Room, some of the hard work that I had done was back when I was a designer. I did take the time and a lot of effort into understanding food and the food & beverage industry in every aspect from being a chef to the business side of it. At the end of the day if you want to open a restaurant it is a business and you are not just a cook in the kitchen. I think this is a very important point to focus on for youngsters that eventually want to start their own restaurant–to not forget to learn every day on what is around them, what happens in society, arts and culture as all these things are interrelated.
Growing up in Hong Kong, what childhood food memories are you fond of?
Growing up in Hong Kong is just the perfect place to experience a lot with food. I have so many fond memories of dining in a variety of Chinese restaurants as well as Asian and Western. Live seafood restaurants in Sai Kung is for sure one of my favorite experiences as well as the traditional dim sum on Saturdays. I love how one will never find the food scene boring in Hong Kong. Even home cooks like to explore different varietals of Chinese food as well as western.
And now, if you have to show the Hong Kong food scene in one day, where would you take your guests?
I think I will start them off with some comforting fish congee in Sheung Wan for breakfast, then some live seafood in Sai Kung and then The Chairman for dinner.
You are a chef, a business owner, and a mother. How do you keep balance in your life?
I think no one in life can focus on everything at the same time and be perfect at it. What I have come to terms with is that there will be parts I am not good at and each year I will shift focus on some aspects and hope to improve on it. Other than that, meditation helps me to be more grounded and keeps me from going insane. I have studied a few meditation courses and there are some great online resources. I like Mind Valley's meditation course by Emily Fletcher and also Dr. Shefali's conscious parenting.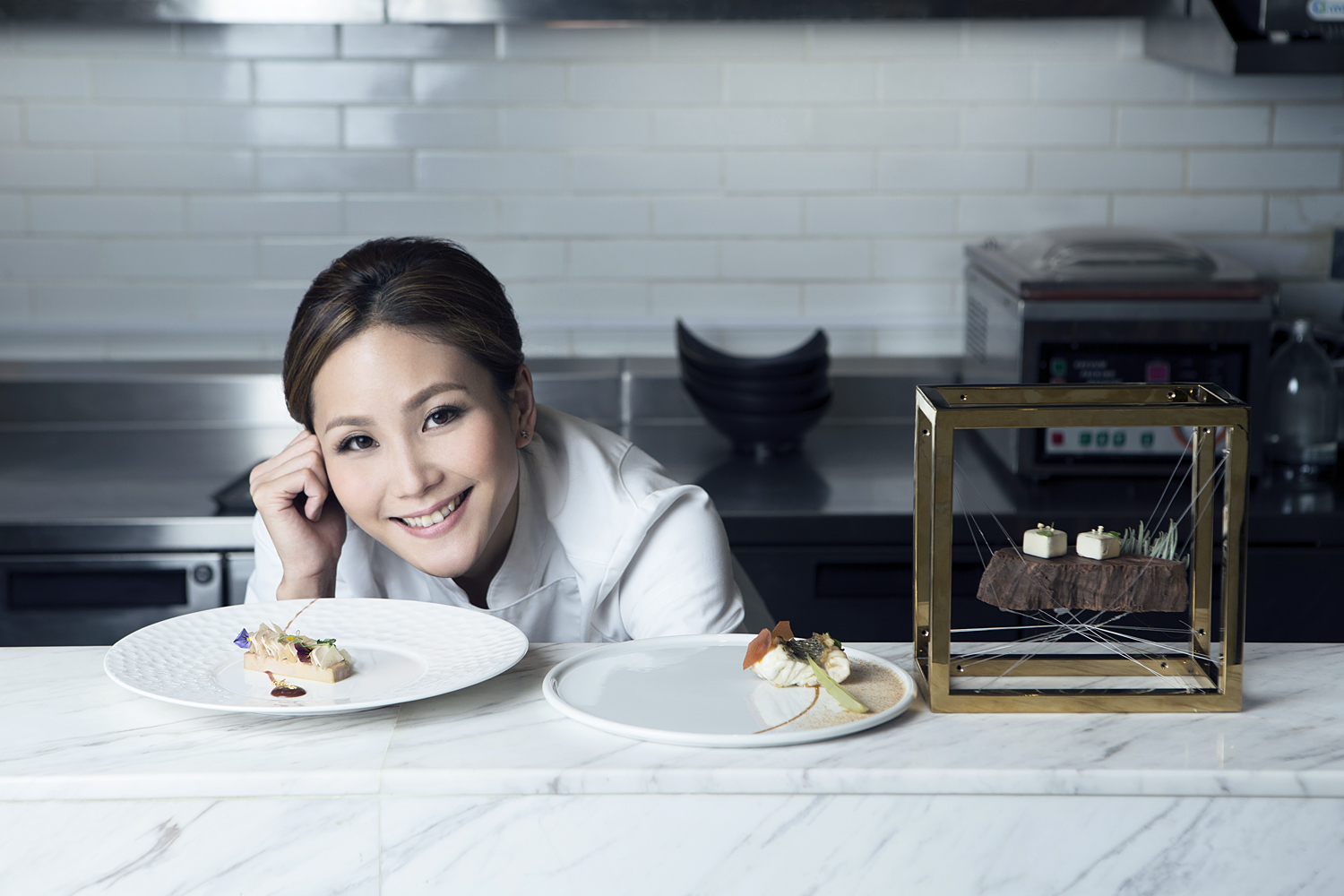 As a mother of a daughter, what values and principles do you strive to pass on to her to become a happy and thriving young woman?
For me finding purpose and passion in life is important for confidence and having the right crowd of friends and family around you is maybe the key to being happy.
With my daughter, we enjoy baking and traveling together. I believe "When you parent, it's crucial you realize you aren't raising a "mini me," but a spirit throbbing with its own signature." Therefore I play a role to assist in developing her "self" and do a lot of regular daily activities together other than work.
Every March, the world celebrates International Women's Day. The 2020 global campaign theme is #EachforEqual, what does it mean to you?
An equal world means an enabled world. Each one of us has responsibility for our thoughts and actions even if no one is asking or watching. Only with this together as a collective, we can help to achieve global gender equality. Much like the kitchen, even if no one is asking or watching we should individually also try to deliver our best then collectively as a team we can create beautiful dishes every day, every service.
---
Follow Chef Vicky Lau on her Instagram @chefvickylau
Learn more about Tate Dining Room and book your dining experience on their website
Tate Dining Room 210 Hollywood Road, Sheung Wan, Hong Kong, +852 2555 2172, www.tate.com.hk
Tags
Related Posts