There is always an unexplained joy brought by a satisfying dessert at the end of a meal. Meeting pastry chef extraordinaire, Fabrizio Fiorani who was recently recognized as Asia's Best Pastry Chef held great meaning and understanding of that intricate part of the kitchen world. They say we eat with our eyes first, but listening to Fabrizio talk translates flavors into visions. With dessert trends constantly changing, he highlights many contributions to ever evolving culinary movements. We talk to the creative and skilled chef to change the way we think about food presentation today and his colorful journey in the gastronomical sphere.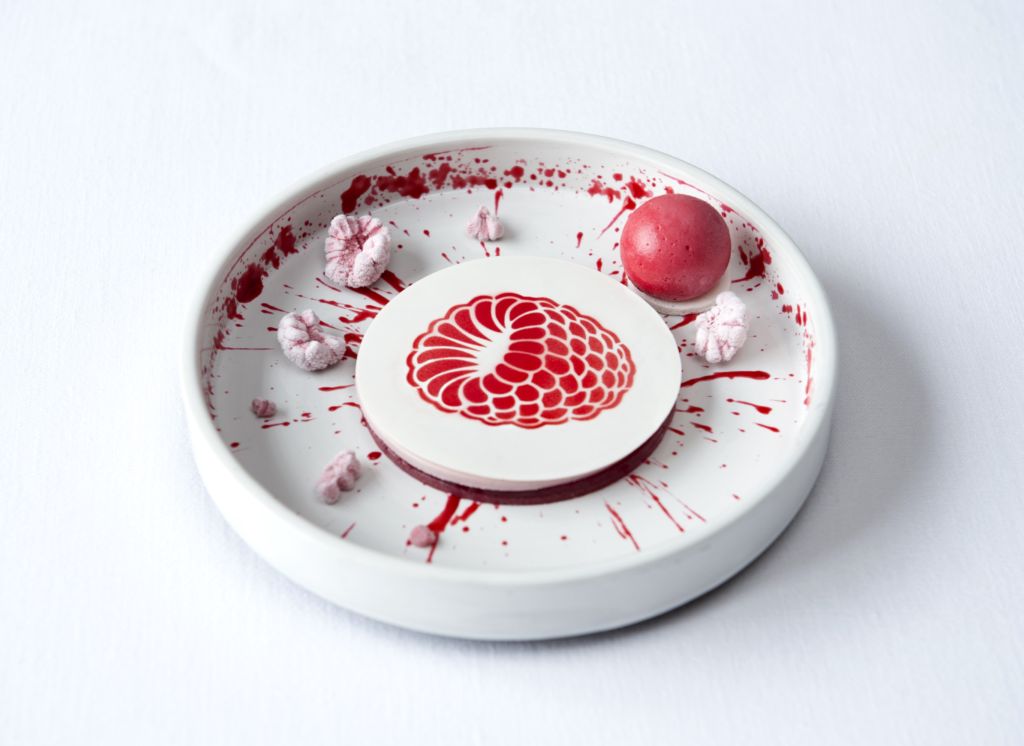 Congratulations on your recent achievement. How did it feel to be awarded the title of Asia's Asia's Best Pastry Chef of 2019?  Has it changed you?
It's been unbelievable to receive such great recognition. It meant a lot for me and my team. However, to be honest nothing has changed. The mission is still important just like everything else because I work for the customer and they are the priority. My philosophy in pastry has not changed at all. It was indeed a very rewarding accomplishment. We worked hard for it for a long time and that was serious dedication and commitment.
You started working in Michelin starred restaurants since the age of 17, what was that training and environment like? 
It was a strong start for me. I think I was able to do so many great things and learn a lot from my early experience. If you learn early in that kind of prestigious restaurant at that age, you feel like you can be the best and that was what I felt. I feel truly lucky to be able to work and create desserts. It wasn't easy in the beginning but I was crazy excited. No job is too small for someone who wants to succeed.
Do you have any culinary idols?
My mother and father have always been great inspirations. They taught me how to eat good food at nice places. I learned about quality of food and that's how you learn how to cook and create. One of the people I admire a lot is Richard Ekkebus who is an amazing person. Everybody knows Amber is amazing. That restaurant is just breathtaking and the food is beyond this world. Umberto Bombana is another person I admire. He is just a good human being and very humble. His mission and passion is inspiring and I like talking to him. That says a lot about a person and not just his stature in life.
Did you always know you wanted to be a pastry chef? How did you get started on your culinary journey?
I used to work during my school holidays in a gelato shop. I was interested in the egg, cream and the art of making gelato. I was curious and inquisitive. Can we put cookies or cake on it? I am really blessed to have worked in beautiful places that tapped into my interests. I was 14 years old back then and I learned everything through experience. I believe that it's important to have basic knowledge of everything, even language, science, geography and then eventually technique. You need to learn about life and have the right tools, not just pure focus on food. I feel like I am at a truly good moment in my life and for that I feel grateful.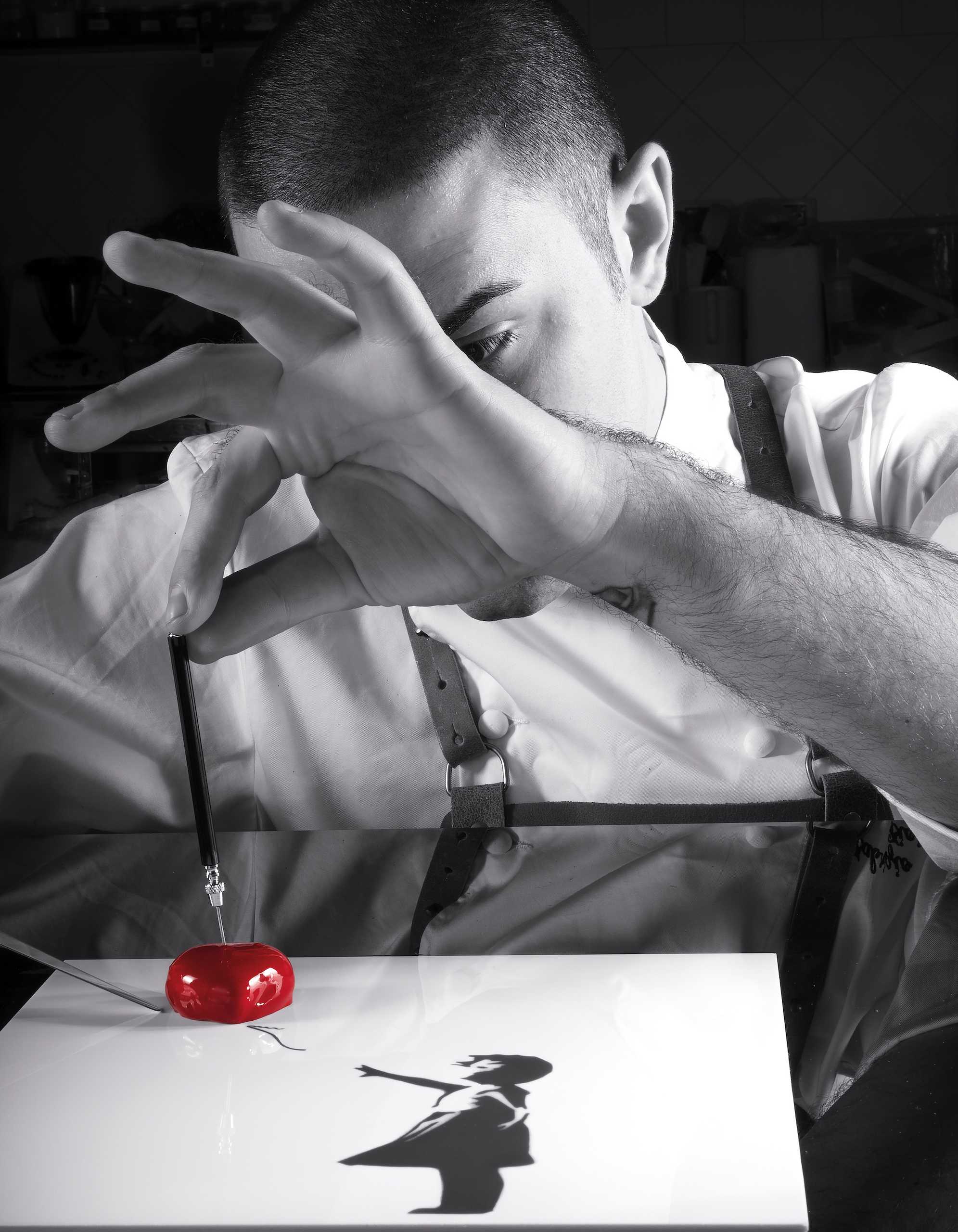 What was the first dessert you learned to make?
The tiramisu with mascarpone is a classic Italian dessert. Made with fresh cheese and espresso coffee makes it stand out from many desserts. The composition of mascarpone is a different story. While many new flavors have risen when we talk about tiramisu, I like the classic and authentic take on tiramisu that I learned from the beginning.
What is your favorite dessert to eat and why?
I am a morning person so I love having a pain au chocolat. I like the crispy and creamy combination.
What makes your pastries and desserts unique? How would you describe your "style'?
It's Italian! There is a story behind every thought. One must remember that our dishes always arrive at the end of the meal and that is a tough position. It's important to captivate the attention of guests and customers or they will simply ignore it and treat it as an end to a meal. The goal is not only to taste great but to look pleasing and presentable. My style if I can characterize it, is Italian, tasteful and contemporary.
How has Japan influenced your taste?
I've worked with many talented people during my stay in Japan. I acquired great ideas and learned about diverse ingredients. I think it was one of the keys to being bestowed the honor of Asia's Best Pastry Chef not just, of course, that but amongst many factors. As a person, you evolve, grow and need to change just like the shell of a lobster and Japan portrayed a significant role in mine.
You've worked with some of the leading hotels, chefs and restaurants around the world. What are your favorite culinary destinations? And what's on your bucket travel list?
Singapore is always one that stands out. I've had an amazing experience there. My favorite would be Amber in Hong Kong. The dining experience is always great, fantastic food, philosophy, and service. I want to return to New York again–that is something I am looking forward to amongst many destinations.
You have been to Macau a few times, what do you think about the city and its desserts? Have you tried any? 
There are a few great places in Macau. Passion by Gerárd Dubois, Pierre Hermé Paris amongst a few amazing places. I also like Jade Dragon, which is an incredible restaurant. The Galaxy Macau is a great location as well.
What's coming up for you this year? 
I will be traveling a few times to Shanghai and Taipei and maybe Hong Kong again in November. Honestly, I won this award for Asia and that's incredible. I'd also like to say thank you for everyone who voted for me. This year, I'm looking forward to more travel, masterclasses, collaborations and sharing it the rest of the world for them to taste my creations. The goal is always another goal. Let's see what happens since I am a dreamer (smiles).
---
For more information on Asia's 50 Best Restaurants 2019, click here or check out San Pellegrino's website here
Follow Fabrizio's culinary adventures on his Instagram page @fabrizio.fiorani
Tags