Hailing from a small seaside town in Devon, famous for its fresh produce, Chef Kirk Westaway developed an early appreciation for premium produce and how they play a huge role in our dining experience. His culinary style focuses on enhancing the natural flavors of each unique ingredient and putting them together into dishes served at JAAN by Kirk Westaway, a one Michelin star restaurant in sunny Singapore. We spoke to Chef Kirk Westaway on his childhood, his journey halfway around the world, to being bestowed a Michelin star, every chef's dream.
Tell us about growing up in a house with vegetarians and some of your earliest childhood memories of food?
Where I grew up in England, I spent a large part of my growing up years harvesting home-grown organic fruits and vegetables with my parents. This was what sparked my early interest in the culinary scene and what continued to keep me focused on maintaining nature's perfection with the use of different produce. My mother cooks a lot at home and one of my favourite childhood dishes is the summer salad with vegetables picked fresh from our gardens. 
How did you start out as a chef? Do you have any culinary idols?
I started out as a dishwasher at one of the restaurants in Devon. A kitchen staff had called in sick one day and I was appointed to help out in the salad section. I worked my way up and thereafter, enrolled in culinary college and completed a three year culinary course in the city of Exeter. I have never looked back since! Chef Christopher Kostow of The Restaurant at Meadowood in Napa Valley is someone I look up to immensely. His approach to modern American cuisine is based on building a long established relationship with artisans, foragers and growers. This philosophy takes me back to my childhood in England, where I would harvest organic fruits and vegetables with my parents, and is something that resonates deeply as I believe that should be presented with the finest produce that nature has to offer.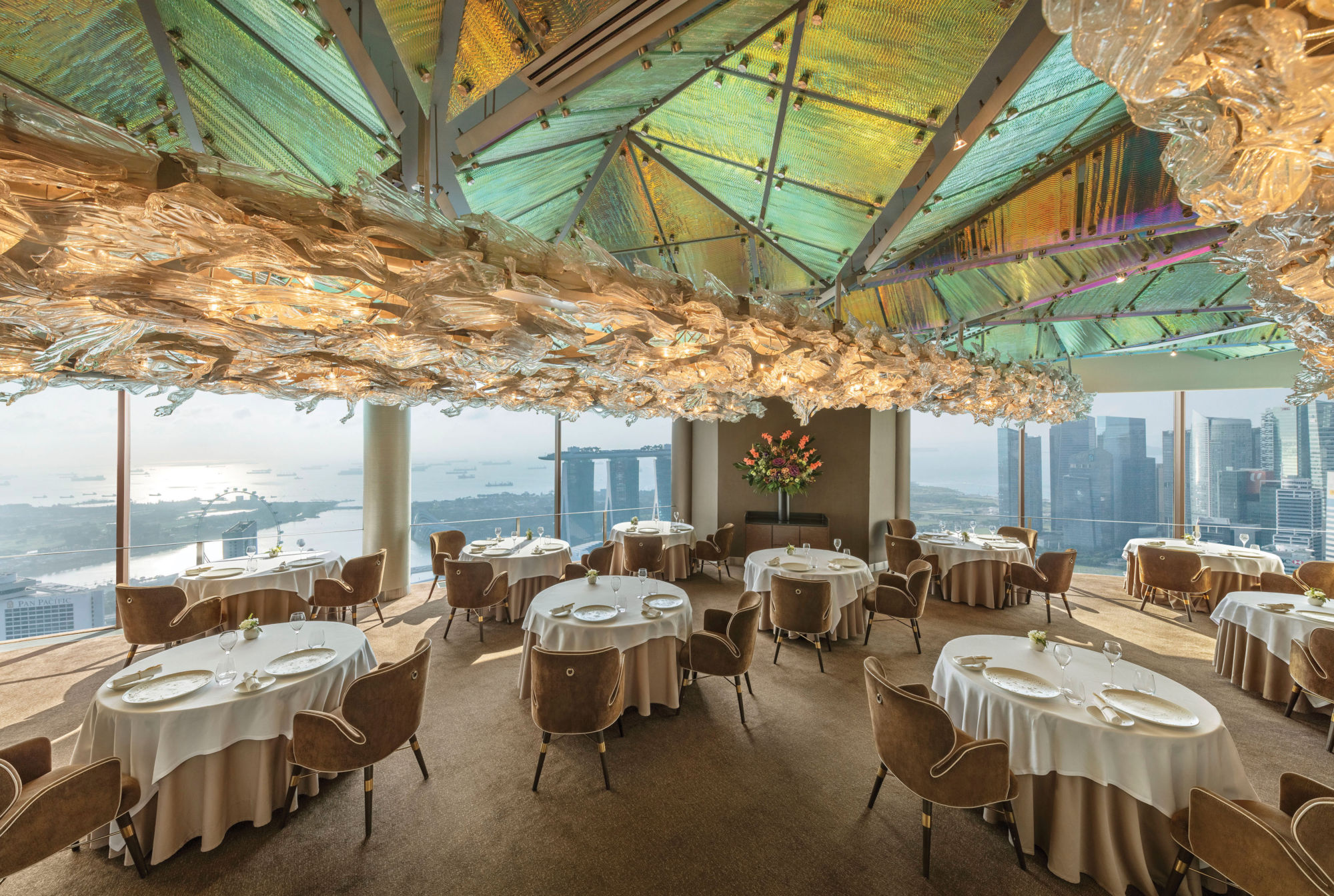 How would you describe the dining experience at JAAN by Kirk Westaway? How has it changed since you took over and what can diners come to expect? 
The dining experience is an all-encompassing, exceptional gastronomic experience as one also takes in the panoramic view of Singapore's skyline from the 70th floor of Swissôtel The Stamford. Since taking the helm of the kitchen in 2015, JAAN by Kirk Westaway has steadily evolved to become more British-inspired, culminating in the launch of the Reinventing British menu philosophy in July 2018. Diners can expect well- crafted dishes, made with ingredients sourced from organic and artisanal farms in Devon, as we continue to pioneer British-inspired menus through the seasons.
You have said you are reinventing British Cuisine. What exactly is contemporary British cuisine?
It is about reinterpreting UK-inspired dishes through a modern and innovative culinary lens. Diners can expect simple yet refined complex tastes.  
How do you, as an Englishman in Singapore unite both cultures in your food?
 JAAN by Kirk Westaway, we want diners to experience this unity of light and delicate flavors coming together in our exquisite dishes. Most of our diners are Singaporean and I feel that the light profiles and tastes are much appreciated by the  locals.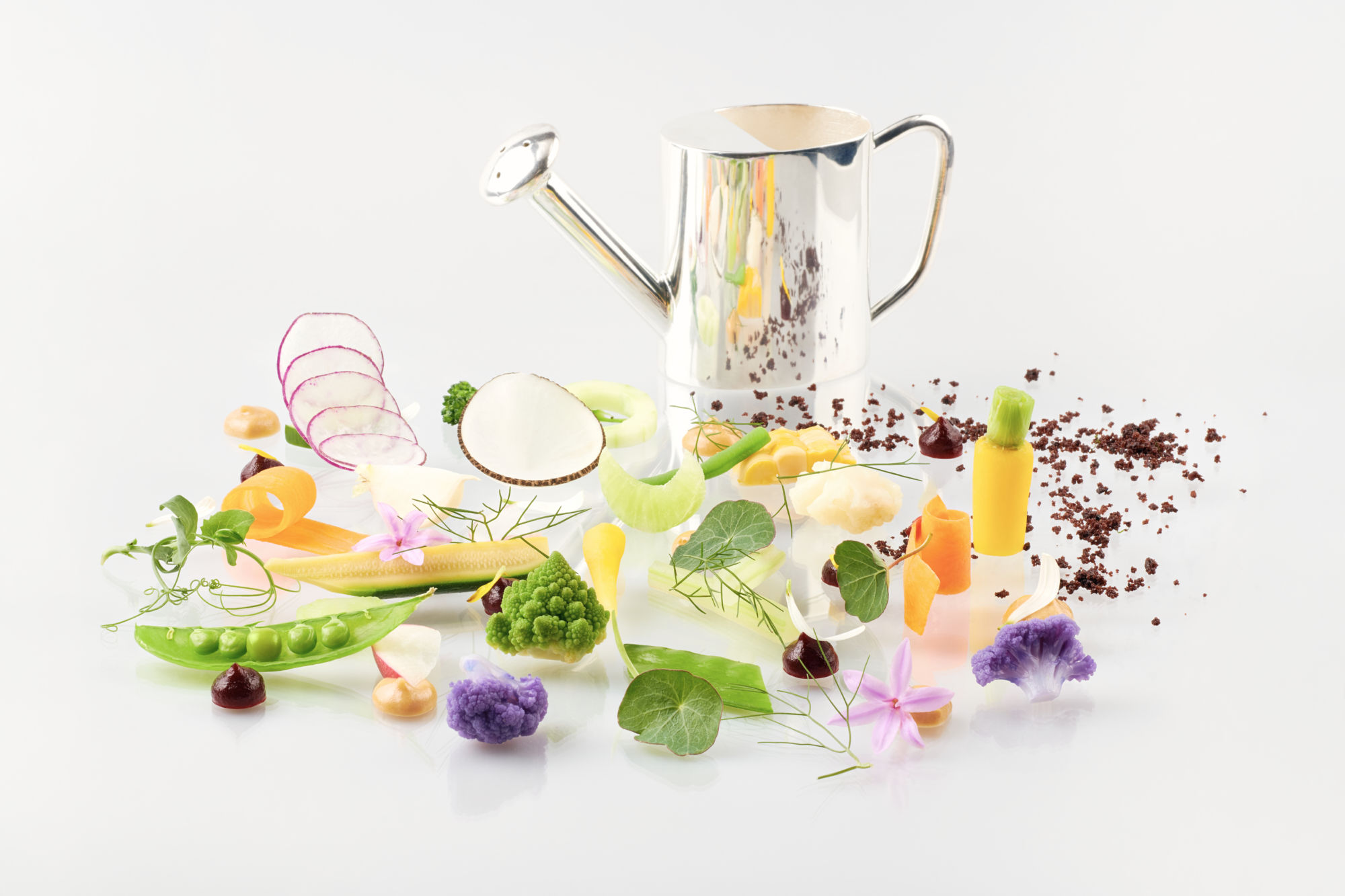 Can you tell us about one of your signature dishes, The English Garden?
The English Garden has more than 30 vegetables and herbs, creating a symphony of vegetables that share the same fresh flavors and crunchy textures. It was inspired by my childhood memories of growing up near the Devon country side, constantly surrounded by lush greenery and vibrant flowers. The dish is served with a Scottish kombu and herb broth presented in a custom made watering can. 
How did it feel to be awarded a Michelin Star? How did you celebrate?
It is a lifelong dream to be awarded with a Michelin Star, and the team was elated when we first received the award.  We celebrated over a BBQ session with friends, family, current and ex-staff of JAAN. I felt that it was important to involve the ex -staff as they played a significant part too in contributing and leading JAAN to where we are today. 
You are number 42 on Asia's 50 Best Restaurants in 2017. What does being on this list and receiving this recognition mean for you as a chef? Has it changed you?
It is a humbling and proud moment to be on a list recognized by the world. Being on the list has not changed me at all; instead, it has spurred me to deliver an even more impressive dining experience to guests.  
Who is your dream dinner guest and why?
My fiancée. She has a sharp palate and we always have great conversations. Due to conflicting schedules, we do not spend enough time together so it's always nice to share a meal, with just the two of us.   
What's the one dish you've created that you'll always love?
It has to be the Heirloom Tomatoes. A vine-ripened heirloom tomato is cooked sous vide in a tomato consommé to intensify its flavors and then stuffed with a mixture of cubed Oxheart tomatoes, gherkins, capers and oregano. I have fond memories every time I recreate the dish as it was the first dish that I created after taking over as Executive Chef. 
Do you have any advice out there for anyone wanting to be a chef?
Be focused on your aspirations and work towards it. Also, it will be good to have a thought about the type of cuisine, and which chef you would like to work with in future. Be sure to stay with a restaurant for at least a year so that you can work your way up and learn as many things as possible.
What's coming up for you this year?
Nothing major is planned for the year. We are continually sharpening ourselves to keep focused at presenting the best dishes and menus to diners. 
---
Follow JAAN by Kirk Westaway on their Instagram @jaanbykirk for updates
JAAN by Kirk Westaway 2 Stamford Road Swissôtel, Level 70 The Stamford, Singapore 178882, www.jaan.com.sg
Tags
Related Posts