Japan has always been at the forefront of culinary tourism for its diversity and attentive ingredients sourcing. Japanese food and presentation may seem simple at a glance, but there's a deep sense of intricacy and skill behind every dish. This is why it is so popular and treasured around the world. In Macau, it's no different. Being one of Asia's best dining destinations, it offers some superb Japanese restaurants to explore. Read on to discover Macau's best Japanese restaurants, each excelling in selecting ingredients, the techniques they use, and their innovative approaches.
Tenmasa
(See featured image above)
Nestled in the award-winning five-star Altira Macau, Tenmasa has an appealing minimalist interior with tatami seating, private dining rooms, and a sushi and sake bar. Its breathtaking panoramic views on the Macau peninsula make it an ideal spot for a romantic date or a celebration.  
The master chef in charge at Tenmasa is Takenori Noguchi, who always makes sure that every dish served here is culinary perfection. The secret behind it is the ingredients flown in directly from Japan at least five times a week, flawless techniques, and profound mastery of the cooking team. 
Opening hours: Thursday–Monday, 6:00pm–10:00pm; Saturday–Sunday, 12:00pm–2:30pm
Tenmasa Altira Macau, Av. de Kwong Tung, Macau, +853 2886 8868, www.altiramacau.com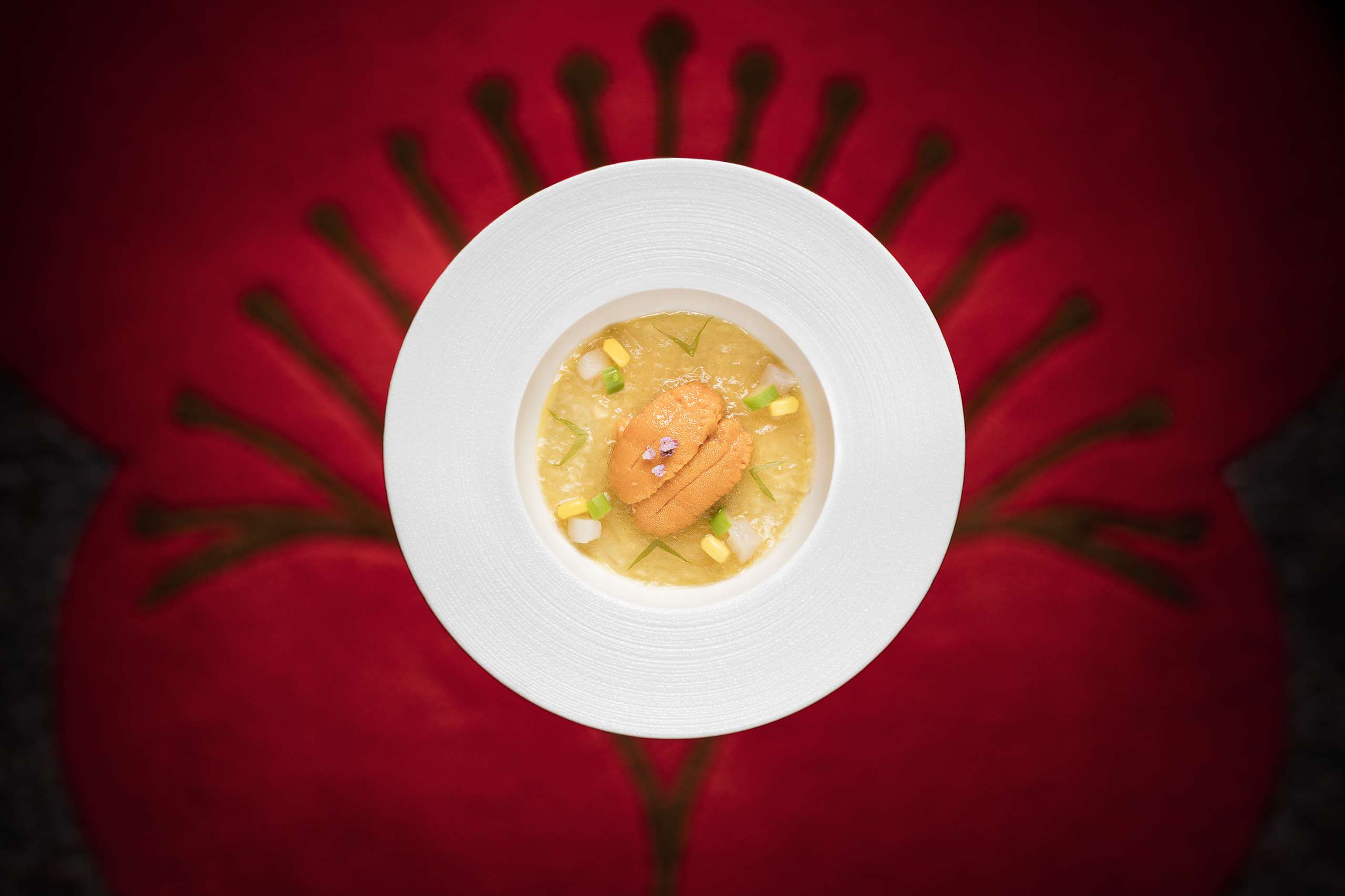 Mizumi
Unquestionably, Mizumi is a journey of all senses and a remarkable dining experience. Its bold and beautiful design with bright red, golden colors, and striking wall art pays tribute to Japanese culture. Additionally, the tantalizing dishes at this Michelin-awarded restaurant borders on art. 
At the helm of Mizumi is Chef Maeda, a master in the art of kaiseki (small plates Japanese style), and multi-discipline Japanese cuisine that has earned him prominence. You'll savor exceptional sushi and tempura, creatively crafted teppanyaki, luscious cuts of Japanese wagyu beef, and other choices that hail the best of Japanese cuisine. 
Opening hours: Friday–Sunday, 5:30pm–10:30pm
Mizumi Wynn Macau, Cidade de Sintra, Rua Cidade de Sintra, NAPE, +853 2888 9966, www.wynnmacau.com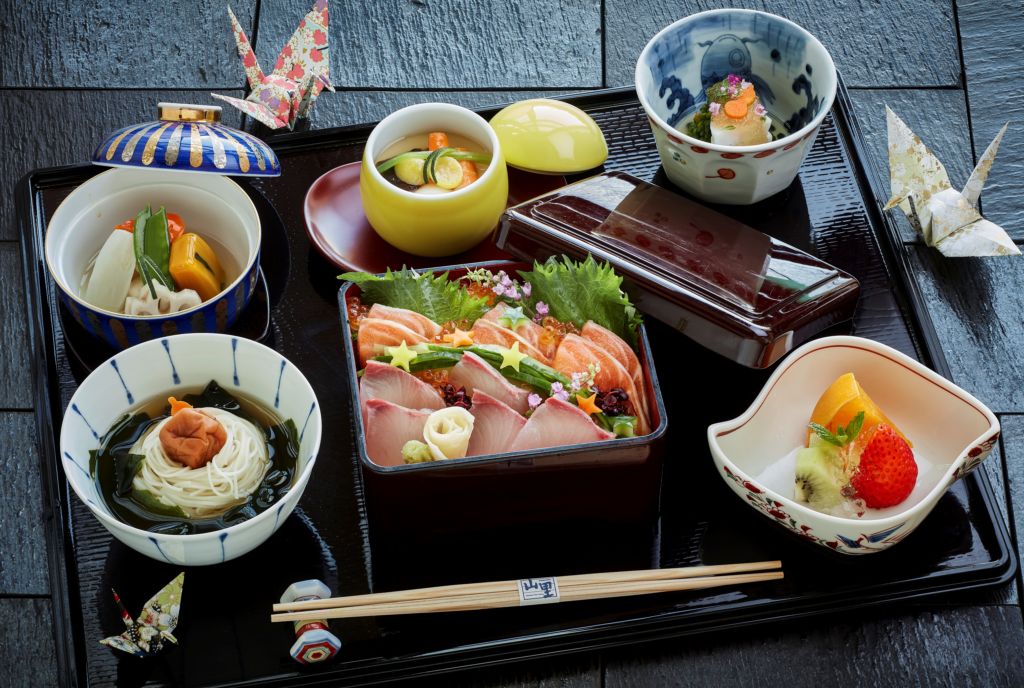 Yamazato
For a traditional Japanese affair, look no further than Yamazato at Hotel Okura. Situated on the 28th floor, this Michelin-recommended restaurant features a magnificent view of the gardens of Galaxy Macau. Here, guests can choose from the main dining area, a stylish sushi bar, and an additional private dining room for intimate celebrations of up to 12 guests. 
Yamazato's culinary team perfected the techniques of pretty much all kinds of Japanese dishes, including tempura, sushi, grilled, and fresh seasonal seafood dishes. A must-try is their famous kaiseki meals for impressive techniques focusing on top food preparation and execution of cooking.
Opening hours: Tuesday–Sunday, 5:30pm–10:00pm 
Yamazato Japanese Restaurant 28F, Hotel Okura, Galaxy Macau, Estrada da Baía de Nossa Senhora da Esperança, Cotai, +853 888 5127, www.hotelokuramacau.com

New Furusato
Boasting a wide variety and Kaiseki concept, New Furusato at Hotel Lisboa is a hotspot for true Japanese food fans. Diners can choose one of the sitting zones to enjoy their meal. There is the tempura bar, teppanyaki counter, and also the main dining area. Do try New Furusato's wholesome kaiseki menus with fresh and flavorsome sashimi and sushi. Sake aficionados will appreciate the restaurant's immense collection of over 50 labels too.
Opening hours: Daily, 11:00am–7:00pm
New Furusato at Hotel Lisboa, 2/F, East Wing, 2-4 Avenida de Lisboa, Macau, +853 8803 3677, hotelisboa.com/dining/new-furusato

Yoshimori Teppanyaki
The art of teppanyaki has earned fans beyond the Japanese borders (especially in the USA), both for the flavors and an interactive element. At Yoshimori, guests can order from a wide range of carefully sourced ingredients–Scottish razor clams, foie gras, lamb, wagyu beef, Boston lobster, and more. Then, they are welcome to sit back and enjoy the mesmerizing food preparation process while chefs showcase their skills in front of them. Food cooked on a griddle pan to perfection, smoky and juicy, goes exceptionally well with an ice-cold Japanese beer. 
Opening hours: Daily, 11:30am–2:30pm, 6:00pm–10:00pm
Yoshimori Teppanyaki G117, G/F, Galaxy Macau, Estrada da Baía de Nossa Senhora da Esperança, Cotai, www.galaxymacau.com/yoshimori-teppanyaki

Hiro by Hiroshi Kagata
A vibrant restaurant with a stylish design and an extensive menu of Japanese cuisine, Hiro by Hiroshi Kagata takes its spot in the list of Macau's best Japanese restaurants. The man behind its excellent food and the restaurant's name is the executive chef Hiroshi Kagata. With 35 years of experience, chef Hiroshi is an expert in traditional Japanese cuisines like Kyoto's kaiseki and Tokyo's Edo. 
Whether you crave sushi, sashimi, robatayaki (Japanese barbecue), or tempura, you will find it at Hiro. Their ramen menu is worth checking out, especially when looking for an affordable meal. 
*Temporarily closed 
Hiro by Hiroshi Kagata Shop 1048, Level 1, The Venetian Macao, Estrada da Baía de Nossa Senhora da Esperança, Cotai, +853 8118 8822, www.venetianmacao.com/hiro

Edo Japanese Restaurant 
You may find many Japanese restaurants that have "Edo" in their names. And that is because "Edo" is an old name for Tokyo. Moreover, it also stands for the prosperous Edo Period (beginning of 17th century), where the routes of modern Japanese cuisine grow from. 
Edo Japanese Restaurant chain in Macau has five branches–at The Venetian Macao, The Londoner Macao, City of Dreams, Hotel Lisboa, and One Central Macau. Get ready for a wide range of traditional Japanese dishes prepared with high-quality fresh ingredients. Sushi and sashimi imported from Japan are their forte. But everything from the grill, tempura, soups, and rice dishes is more than satisfying. For an abundant feast, don't miss out on their signature Hida Wagyu Teppanyaki and deluxe sushi selection. 
Opening hours: One Central, 10:30am–11:00pm; The Londoner Macao, 11:30am – 11:00pm; The Venetian Macao, 11:30am–9:30pm; Hotel Lisboa, 11:00am–4:00am; City of Dreams, 11:30am–11:30pm
Edo Japanese Restaurant Shop 236–238, One Central Macau, Avenida de Sagres, NAPE, Macau, +853 2872 2829, www.onecentralmall.com.mo/edo-japanese-restaurant
Shop 1027, Level 1, The Londoner Macao, Estrada do lstmo, Cotai, +853 2885 2918, www.londonermacao.com/edo-japanese-restaurant
Shop 110, Gondola Street, Level 3, Shoppes at Venetian, The Venetian Macao, Estrada da Baía de Nossa Senhora da Esperança, Cotai, +853 2882 8321, www.venetianmacao.com/edo
G/F, Hotel Lisboa, Old Wing, Macau, +853 2871 3888
Shop 1101, Level 1, The Boulevard, City of Dreams, Estrada do Istmo, Cotai, +853 2882 4818, www.cityofdreamsmacau.com/edo-japanese-restaurant
This article was originally written by the Macau Lifestyle team in November 2018  and updated by Ksenia Kuzmina in August 2021.
Tags
Related Posts