Whether you are a vegetarian or simply feel like going meatless for a while, there is no need to say no to a burger! A diverse world of vegetables opens up endless avenues of plant-based recipes that are not only healthy but also delicious. Whoever says vegetarian burgers are boring and lack taste, have probably never tried a good one. To spare you any disappointment, we have done all the research for you and created a list of Macau's best veggie burgers!
Veggie Castle
(See featured image)
A small cozy vegetarian cafe two minutes away from the Ruins of St. Paul's, Veggie Castle has a decent variety of plant-based food. Once you've discovered it, you'll keep coming back for the food and for the ginger cat that welcomes you at the door with a loud "meow". Cruelty-free food and a cute cat–how do you beat this combination? Veggie Castle has one burger with a proud name: Green Giant. A vegetable patty, made of broccoli, green peas, and quinoa, is tucked between lettuce, fresh tomato, tempeh, sprouts, and two spinach, hence green, buns. By the way, if you are vegan, you can ask for the vegan coconut-milk cheese. This is not that "I can't believe that's not meat" burger which doesn't make it any less tasty. All the ingredients are carefully selected and fresh: the veggie patty is well-cooked, tempeh gives some crunchiness and extra protein, while the salad dressing makes it juicier. They serve their burgers with potato wedges and a fresh garden salad on the side. Pair that with a herbal tea and that's how you get a guilt-free healthy dinner!
Veggie Castle 8 Patio Fu Van, +853 682 96348, www.facebook.com/Veggie-Castle

Puffin Café
Bright green walls generously decorated with portraits of puffin birds will be the first thing you see when entering Puffin Café. A welcoming spot for those of us who prefer a vegetarian patty to beef is a mere hundred meters away from Veggie Castle. Unlike Veggie Castle though, this cafe does have some meat on the menu. However, the vegetarian and vegan section has many options to choose from. That includes three different veggie burgers–a regular one, a cheeseburger, and a portobello cheeseburger. All of them are made with a crunchy falafel patty (chickpeas, carrots, herbs), homemade vegan mayo and plenty of fresh vegetables. You can also have a vegan, coconut milk-based cheese instead of a regular one. We strongly recommend the portobello burger as the mushroom does make a difference, adding more flavor and a different texture to the dish.
Puffin Cafe San Wan building, 16A Rua de Santo António, Macau, +853 2883 6663, www.facebook.com/PuffinCafe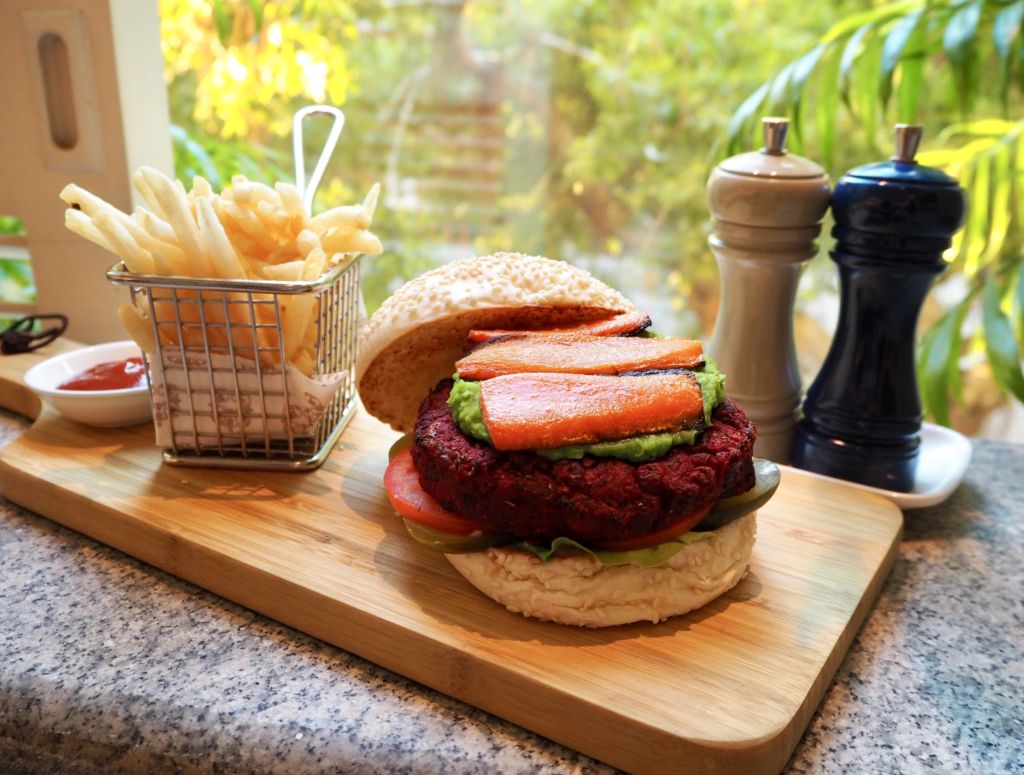 Café Bela Vista
The colonial-style cafe at Grand Lapa, Macau is charming and sports a spacious and inviting dining room filled with natural light. Café Bela Vista is well known and a common stop to many but not everyone knows about their delicious vegan burger! Beetroot lovers will love this hand-crafted patty, made out of beetroot, bean and chickpea. The three flavors match beautifully. This veggie burger is served along with roasted carrots, and a creamy pea puree, which adds both color and flavor. It makes for a filling and deeply satisfying meal. Café Bela Vista's vegan burger comes with a side of finger-licking hot fries to dip in ketchup that you won't be able to stop eating!
Café Bela Vista Grand Lapa, Macau, Avenida Da Amizade Macau, +853 8793 3871, www.grandlapa.com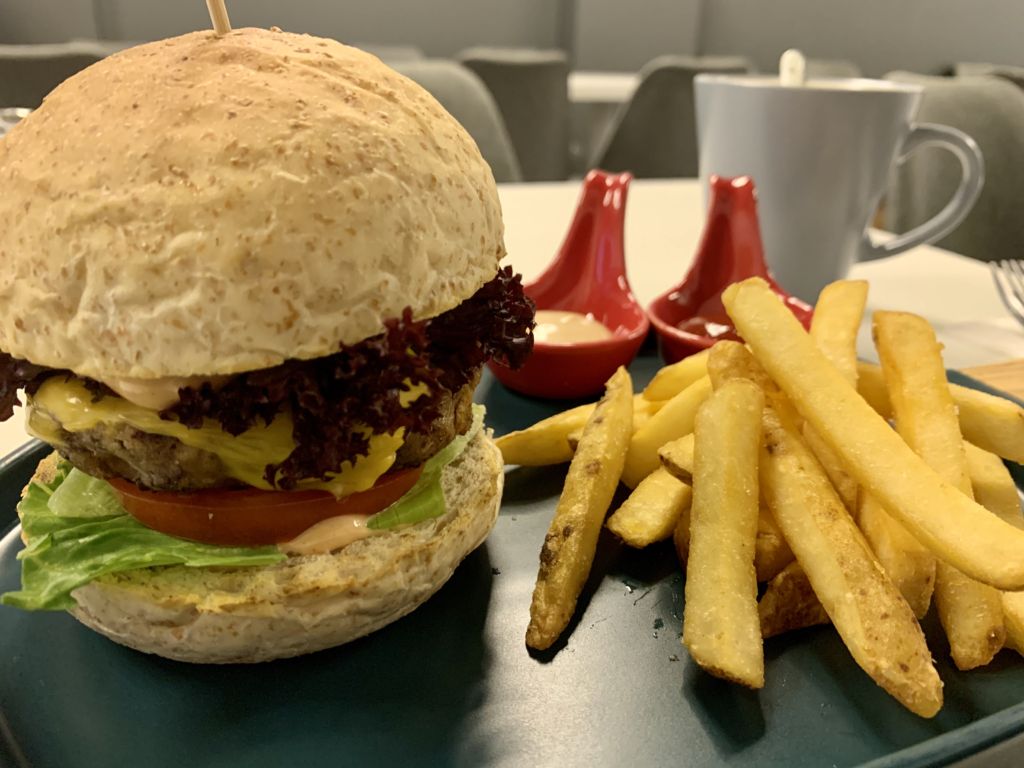 Veggie Macau
Veggie Macau recently changed its location from Rua do Tap Seac to Estrada de Coelho do Amaral. Their new space is modern, simple and inviting and it feels extremely tranquil if you consider the hustle and bustle of the city life going on outside the door. This eatery has a vast menu of vegetarian dishes, including delicious burgers in vegetarian and vegan options. Homemade tofu cheese, beetroot cheese, and mushroom cheeseburgers all come with a side of fries and dressing (ketchup and thousand island). We tried the latter and besides tasting wonderful, it comes in just the right portion, filling without making one too stuffed.
The homemade patty, made out of mushroom and red bean, has a perfect consistency. If you're a veggie burger expert you'll know that this is what so many veggie burgers don't deliver, a nice consistency. The patty lays between layers of melty cheese, tomato, Romaine lettuce, and a thousand island dressing. The combo is served on a soft whole wheat bun with a side of fries to dip in ketchup and a little more thousand island dressing. All the flavors combine beautifully to make this vegetarian burger one of our favorites.
Veggie Macau Estrada de Coelho do Amaral, 28A-28D, Edf. Chun Seng, R/C, Macau, www.facebook.com/VeggieMacau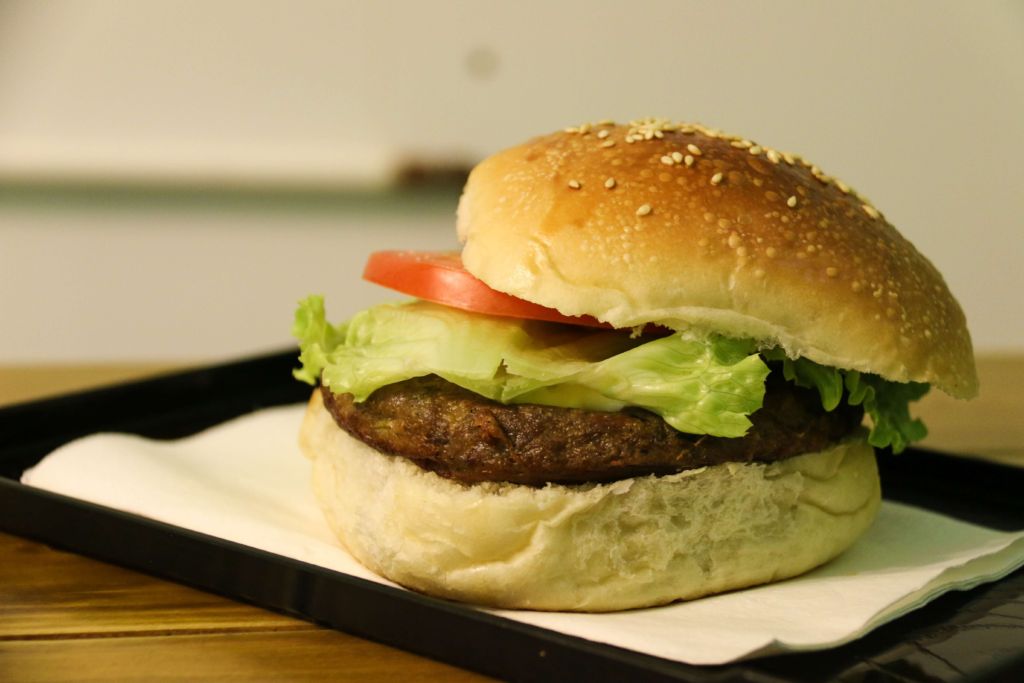 Ting Ting Café
With two shops in the Macau peninsula, Ting Ting Café offers a chunky homemade veggie burger made with mushrooms, herbs, and pepper. If you are looking for a wholesome meal, filled with vegetables and a healthy flavor, this is the place to go! Try their kiosk: usually with long queues, it offers a great location to eat alfresco in the city center. They also have other burgers, vegetarian sushi, rice combos, among other healthy options. Ting Ting Café's fresh juices are also to die for and for something hot, their Nespresso coffee is just the ticket!
Ting Ting Café Restaurant 4 Beco das Caixas, Macau, +853 6698 3483
Ting Ting Café Kiosk Praça de Jorge Álvares, Macau, +853 6387 7345, www.facebook.com/TingTingCafe
Tags
Related Posts