We can eat out just about anywhere, but dining at a restaurant with a great view is a quintessential Macau experience that can really make a meal memorable. These are some of our favorite places around town for enjoying a nice lunch or dinner against the backdrop of the city.
Privé at Sofitel
The signature French restaurant at Sofitel offers some of the best views of Macau! Located right in the downtown on the west side, it only has six–seven tables, so this is as close to private dining in Macau as you will get without the hefty price tag. We were lucky enough to grab a seat by the window to enjoy our meal with a backdrop of the city lights. Privé serves classic French cuisine with both a la carte and set menu on offer. We tried their dinner set menu and were pleased with the generous servings. The beautiful presentation of the dishes matches the flavors and standards one comes to expect when dining in both a French restaurant and at the Sofitel. The cozy interior and romantic setting make for a great date night or other special celebration.
Privé at Sofitel 16 R. do Visc. Paco de Arcos, Macau (6F), +853 8861 7213, www.sofitelmacau.com/dining/prive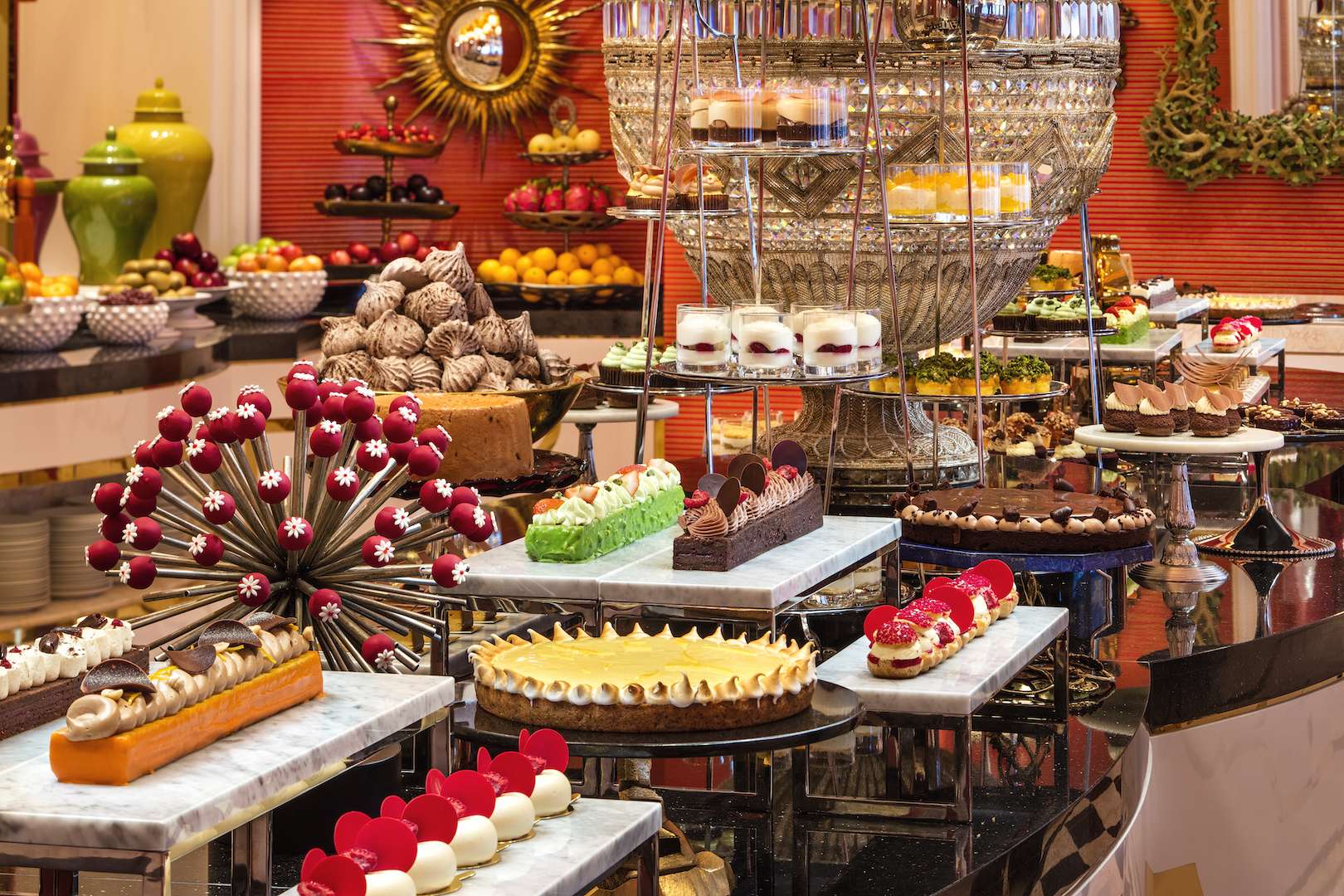 Café Fontana at Wynn Palace
Located on the ground floor of Wynn Palace, Café Fontana is a wonderland for the senses, with beautiful colors and delectable scents and flavors. If Alice from Wonderland needed a place to refuel, this would be it. The plush chairs and beautiful open windows with a perfect view of the dancing fountains make you want to stay forever. The lavish lunch buffet spread, which features fresh seafood, quality roasts, Asian dishes, soups, cakes, ice cream, cupcakes and much more is frankly one of a kind. During our lunch experience the staff was attentive, but unobtrusive. If sweets were a religion, the dessert spread at Café Fontana would be a place of worship—it's amazing. Not just for a special occasion, any time of year it's worth a visit.
Café Fontana at Wynn Palace Av. da Nave Desportiva, Cotai, +853 8889 3663, www.wynnpalace.com/fontana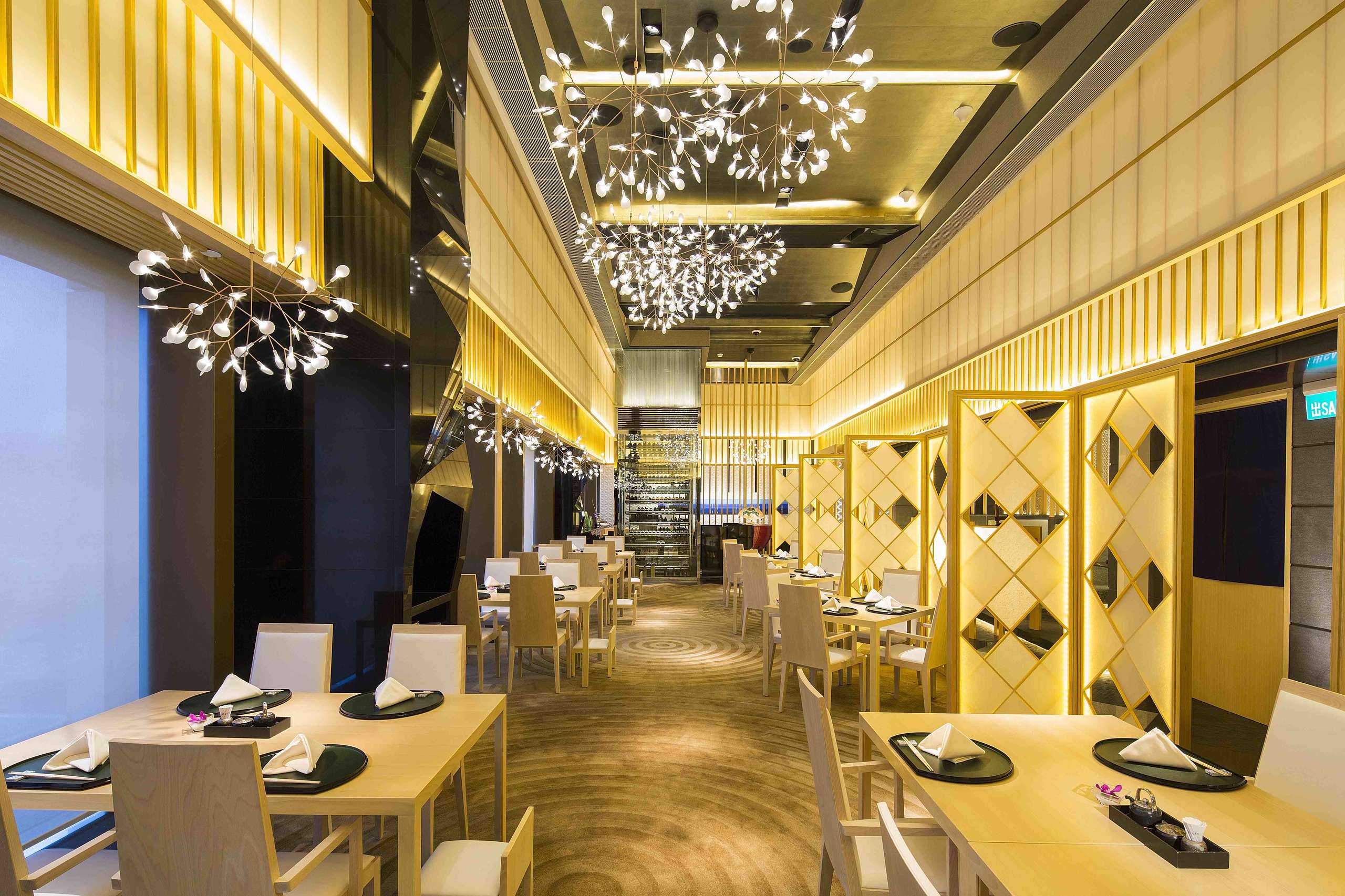 Yamazato at Hotel Okura
The cozy interior and mind-blowing views over Taipa and Galaxy Macau offer guests a dining experience of luxury and comfort. Situated on the 28th floor of Hotel Okura, Yamazato serves up authentic Japanese cuisine under the leadership of its head chef, the lovely Mr. Hayashi from Kyoto. It's a great place for a date or, if you are looking for a weekday treat, they have value lunch sets. To keep the dining experience fresh and exciting, the kaiseiki menu changes seasonally throughout the year.
Yamazato at Hotel Okura, Galaxy Macau, Cotai, +853 8883 5127, www.hotelokuramacau.com/yamazato
La Gondola
Hidden from Macau city and what often feels like a world away, La Gondola is located in Check Van Beach in Coloane. A regular local hotspot, its authentic but very casual Italian cuisine makes for a great Sunday afternoon lunch spot or weekend dinner destination. Thanks to the view out over the beach, with swimming pools and the surrounding mountains, La Gondola offers a scenic backdrop for your dining pleasure. We love their oven-fired pizza, focaccia bread, and large salads. Dining either inside or on their large outdoor terrace makes for a relaxing and enjoyable meal.
La Gondola 41 Escadaria da Praia de Cheoc Van, Coloane, +853 2888 0156, www.facebook.com/ristorante-la-gondola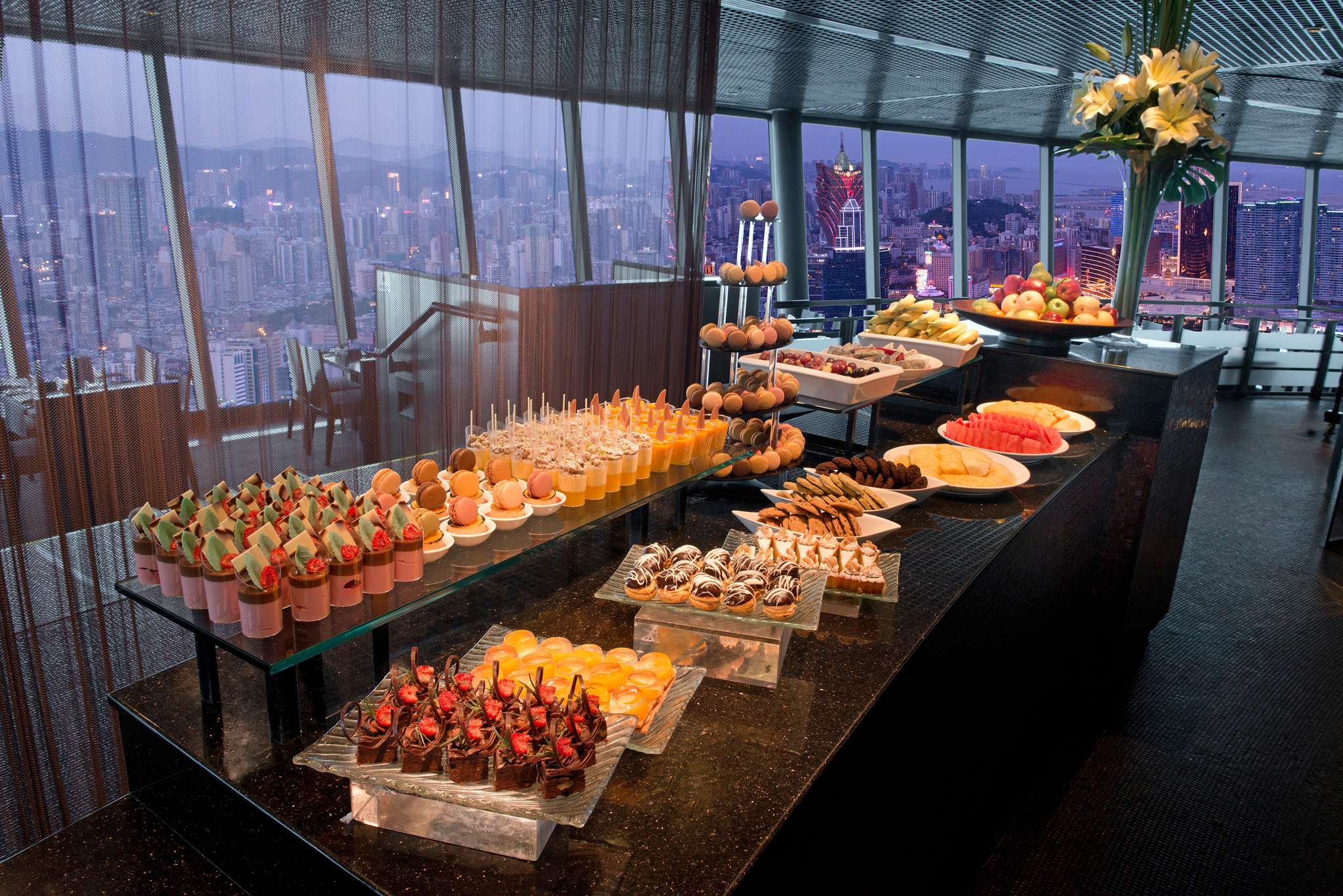 Macau Tower 360° Café
The 360° Café at Macau Tower is the only restaurant in Macau offering a unique dining experience in a revolving tower. Diners are promised a panoramic view of the stunning harbor landscape, the bright lights of many casinos and hotels, and views of Taipa and neighboring mainland China. The large buffet on offer is generous and has a range of offerings to meet all tastes. For those traveling to Macau for the day and looking for a good meal while enjoying stunning views of the city, this is one place you cannot miss.
360° Café Macau Tower, Largo da Torre de Macau, +853 8988 8622, www.macautower.com.mo/360-cafe
Tags
Related Posts