Alain Ducasse opened his first fine dining restaurant in Macau at Morpheus Hotel in 2018 with Head Chef Pierre Marty. Alain Ducasse at Morpheus took home two Michelin stars within the first six months of its opening day, an impressive accomplishment and this restaurant has been high on our list of "to try" establishments. The French contemporary restaurant is located in the stylish Morpheus Hotel in the City of Dreams complex.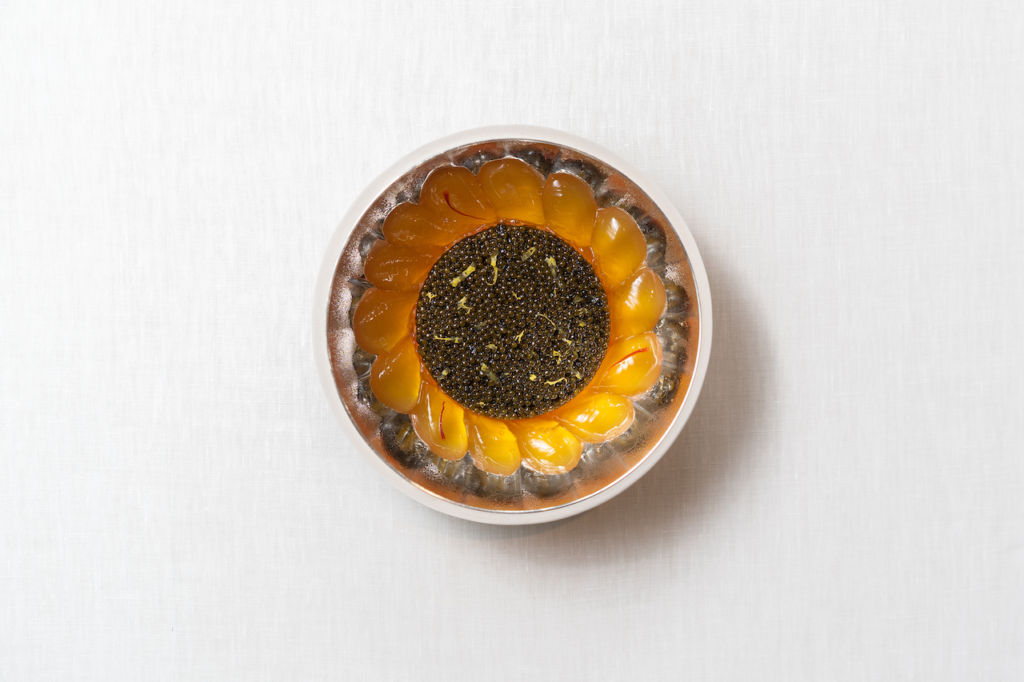 Fantastic Food
We were welcomed by their friendly and attentive team, given a glass of champagne and two canapes; marinated sea bass on a rice cracker and a basket of barbajuans–a wonderful start before we have even sat down. Our table was well set, spacious and while it is an open-plan restaurant, it offered privacy. The dinner menu begins with one of Alain Ducasse's most celebrated signature dishes, Mediterranean gamberoni, delicate gelée, and crystal gold caviar. This dish is only available in three of his Michelin starred restaurants around the world and makes for an impressive starter. The tiger prawns sit perfectly on top of a rockfish gelée covered with Kristal Gold caviar that is harvested in China–the photo above is really how it looks–and it's just as delicious as it is picture-perfect. Depending on the menu and season, what you are served will vary slightly. We also tried their red mullet on scales with braised fennel and kumquat, an interesting flavor pairing and the fennel had a fabulous taste. We also had the farm veal chop, white asparagus and citron which was served sliced and very tender.
To wrap up the meal, executive pastry chef Nicolas Dolbeau created a decadent selection of impressive desserts. We went for the rum baba like in Monte-Carlo, a classic staple across Alain Ducasse restaurants, and besides Monaco, Paris and London, this is the only Ducasse location outside of Europe where it can be found. And the best part? All guests leave with their own gift, a gift box of rich chocolate cake made with the chocolate from Alain Ducasse's manufacturer in Paris. Yum!
As you look around the restaurant, there are incredible things you can ever so discreetly notice. Like the impressive bread options (including gluten-free) to the butter tower which is eye-catching and mesmerizing at the same time. The classic salted butter is from Pascal Beillevaire, who originally started off their long-time partnership by delivering cream and milk to the famous chef's door. This is one place where you don't say "no" to the bread and butter offerings.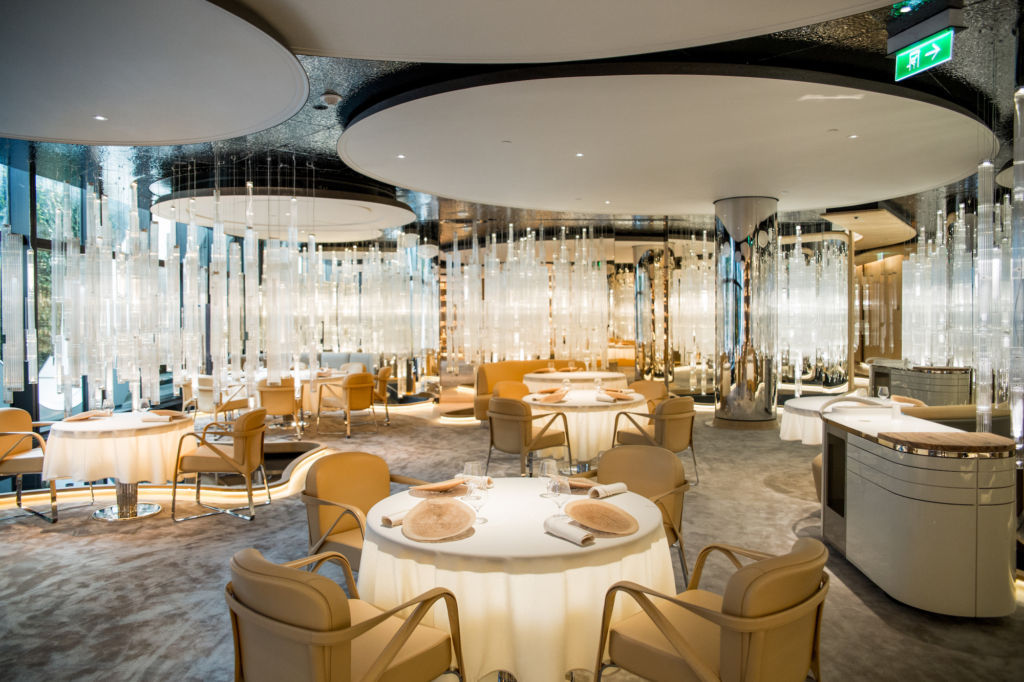 Sumptuous interior
The interior is beautifully designed with incredible sophistication and attention to every detail. Alain Ducasse at Morpheus' interior design was executed by Jouin Manku, who were also the design geniuses behind three of Alain Ducasse's three Michelin-starred restaurants. They have created a very private but inviting atmosphere for diners. However, Ducasse's signature touches can be seen everywhere across the restaurant's menu, interior décor and interesting collection of kitchenware on the shelves. We were particularly captivated by how the chandeliers were shaped to resemble a waterfall of light and elevated the interior. As one would come to expect at a fine dining establishment, service is discreet yet present and well-managed par for the course of any two Michelin star restaurant in Macau. Dining in a Michelin starred restaurant is an experience in itself, and it was a pleasure to watch the quality of service at Alain Ducasse at Morpheus. It was like a well-orchestrated symphony where everyone is working in rhythm together, sweeping in and out and around the tables. There is also a chef's table and private wine cellar which can host private gatherings or events and is well worth a short visit for a quick look after dinner. The glass-walled chef's table is set right in the kitchen, seats up to eight and it's hard not to imagine yourself seated there the next time you visit!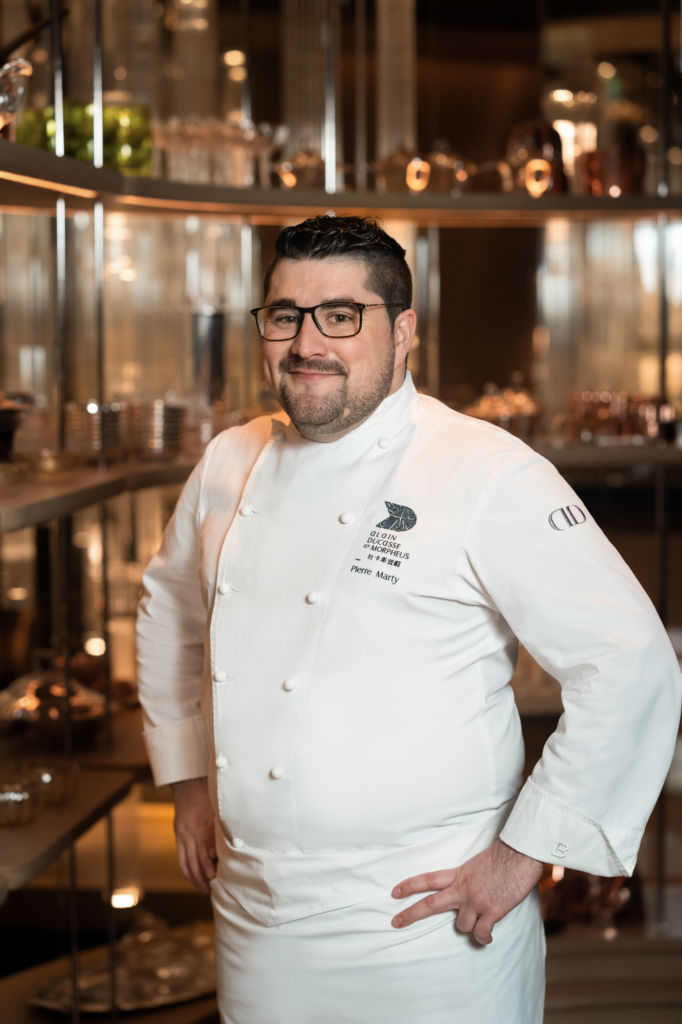 Chef Pierre Marty
Alain Ducasse at Morpheus–helmed by Chef Pierre Marty, who has been a part of Ducasse's team since 2008–pays homage to the great traditions and savoir-faire of French gastronomy. Chef Pierre Marty's role and exceptional talent and skill in executing an unparalleled fine dining experience resonate in the region. We asked the chef a few questions to learn more about himself, his craft and life in Macau.
Tell us about yourself and how you came to work for Mr. Ducasse? 
I grew up in the southwest of France near Bordeaux, I started working for Mr. Ducasse as soon as I graduated from school when I was 18. My first job was at his three Michelin star, Le Louis XV – Alain Ducasse à l'Hôtel de Paris in Monte Carlo. It was a lot of pressure but an incredible opportunity. I might not be where I am today if  I didn't take that opportunity. I started off doing so many small things but they were important and it taught me to respect the products which are the basics of the cooking of Mr. Ducasse.
In your bio, it states that you have a sentimental approach to cooking. Can you elaborate on this?
I cook from my heart. I always have my mum and grandmother's cooking on my mind. All the first dishes I tried when I started out, what I tried and tested at Le Louis XV – Alain Ducasse à l'Hôtel de Paris, was part of my cooking and what shaped me as young a chef. Now, they are very important for me as it's the base of my cooking where I can give a lot of love to what I'm making.
What do you think makes a dining experience at Alain Ducasse at Morpheus unique?
What we offer is something you can't find in Macau. The style of cooking, service, the ambiance of the restaurant, all of the attention we have to the guest, this is an experience you can't find anywhere else in Macau. In a way, we are taking certain elements together from some of the best Alain Ducasse's three Michelin star restaurants around the world and putting that into one experience right here in Macau. It's a fine-dining contemporary French cuisine experience.
What has influenced your cooking style the most?
We follow the direction and vision of Mr. Ducasse and, most importantly, he continuously challenges and pushes us to be better. It's important for me to explore, discover and find out more about our guests. I put a lot of effort into sourcing our produce, and our longstanding relationships with our suppliers ensure that we can have access to the best seasonal ingredients. I also go to the local markets to see what is popular and maybe this can influence what we are creating. We can try in the kitchen–sometimes it works, sometimes it doesn't, but we always try.
Do you have a favorite dish or ingredient to work with or to prepare and why?
I don't really have a favorite ingredient as I have access to so many and it often changes. But recently we had yellow free-range chicken on our menu and for me, the chicken growing up that I ate was yellow chicken. I can remember my grandmother making great yellow chicken and I always loved eating it. It's now on my menu and I'm really happy about it. My favorite dish that I love creating is crab broth infused with hibiscus and it's something we only created for this restaurant here–I really love it.
What has been the influence of the Michelin Guide on your kitchen and the way you work?
Awards and accolades are a representation of our hard work and dedication, however, most importantly is that our guests leave with a feeling of sentiment and emotional connection. The culture of the kitchen is to be disciplined and have a high level of focus, and we strive for excellence on a daily basis. Certainly there is pressure that comes from maintaining these standards and being focused, but we wouldn't have it any other way. The team worked hard from the beginning and we will all continue to work hard moving forward, so in that way, I haven't changed my management style or the team. It's something we can't change, we need to continue to work hard.
How do you like living in Macau? Do you have any favorite spots or restaurants you like to go to?
Macau is a great place to live because it's quite quiet but also relaxing at the same time. When I have free time, I like to go out to the beach or to the market and buy some products and cook at home. As for favorite restaurants, they are very difficult to select as there are lots of different places to go but I like Fernando's Restaurant.
Who would you love to cook a meal for and why?
Every day I cook and prepare dishes and it's a pleasure but my parents are so important to me and my life so I'd love to prepare them a meal.
Macau has an extensive list of impressive restaurants to try and Alain Ducasse at Morpheus should be on top of that list. Our hats off to Chef Marty as it is a huge task to deliver the sophistication of the Alain Ducasse brand without losing its essence along the way. We can't wait to see what they get up to next year!
---
Alain Ducasse at Morpheus Level 3, Morpheus City of Dreams, Estrada do Istmo, Macao, +853 8868 3432, www.cityofdreams.com
Tags
Related Posts