Taipa, especially the old neighborhood of Taipa Village, is becoming one of Macau's most exciting foodie districts. From street food to fine dining, one can find almost anything while walking through these little artsy alleys. Although Rua do Cunha is busy all the time, the surrounding areas are quiet and ideal for those looking to explore the city without being disturbed. In a corner building in traditional, narrow Rua do Clérigos sits Barcelona.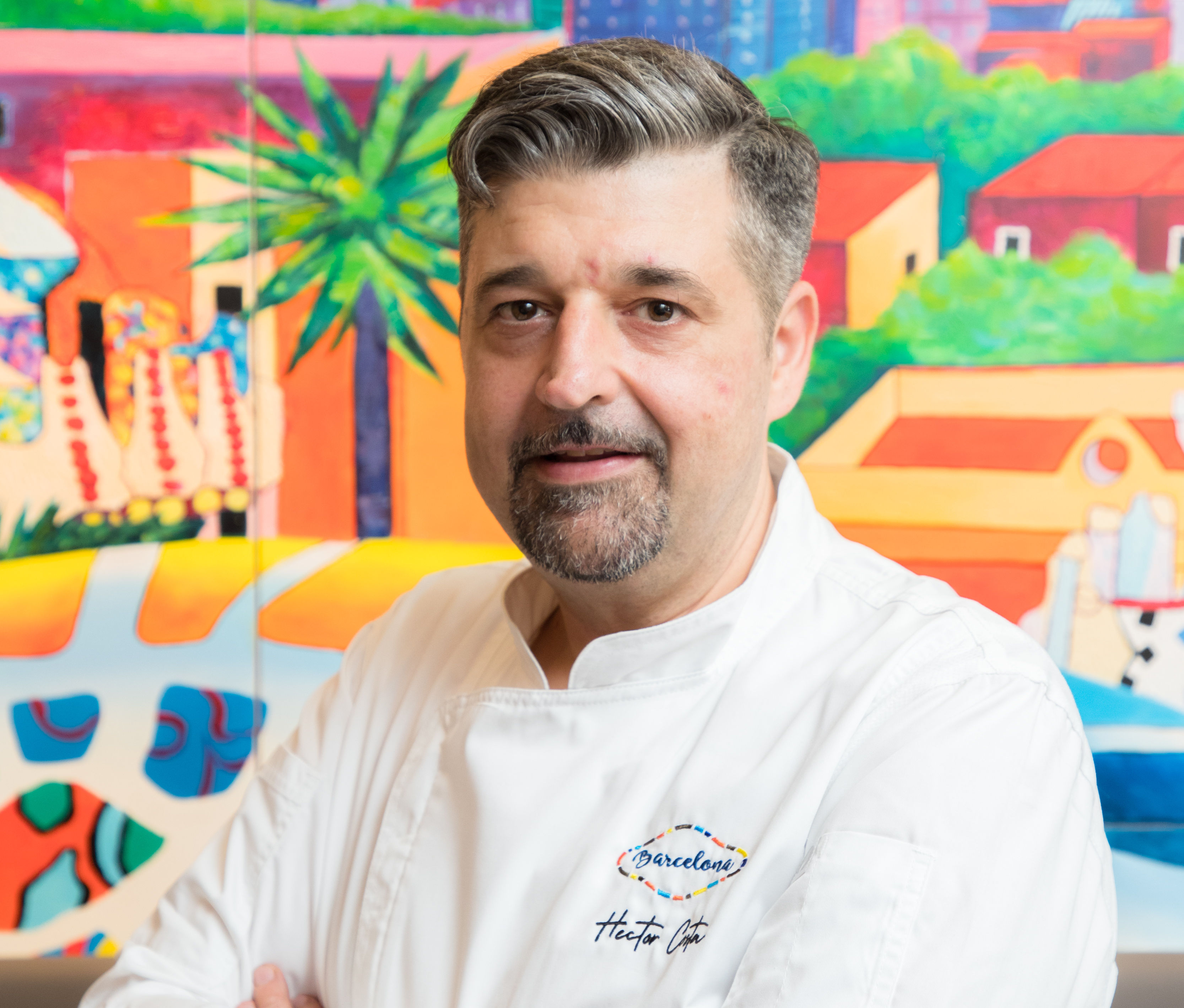 Spanish Chef Hector Costa
This Spanish tapas restaurant has been around town for more than a decade and now sits in a new location, with a revamped menu including traditional dishes with a twist. Owned by the talented and locally known Chef Hector Costa, the restaurant features an incredible rooftop with great views of Taipa Village, but also two other dining halls with a romantic and inviting atmosphere.
Start big with small portions
We'll let you in on an important secret to properly savor Spanish tapas: go small rather than big. Most restaurants in Macau serve huge portions of food so people can share amongst friends and family. However, a considerable amount of food might go to waste because it's so much one can't try different foods. The secret for tapas is to order several entrées so you can have fun tasting all there is on the menu!
Start with a platter of 36-month cured Iberian ham and make your way through some "croquetas". Go for the classic creamy croquettes with ham and chicken or experiment with the modern twist from Chef Hector: mushrooms, spinach and pineapple. If you are a fan of ceviche, Barcelona's is a must-try. Instead of typical raw salmon or tuna, here it's done with scallops, resulting in a happy combination of the sweetness of the seafood with the tartness of the lemon. Flavors are balanced with a nice beetroot foam and some strawberries.
And because bread is an important part of Iberian cuisine, the next dish is a must-order! We guarantee different sensations at each bite of their bikini de queso y trufa! This Spanish Iberian ham, cheese, and truffle toasted sandwich melts in your mouth, leaving a creamy and salty aftertaste. Barcelona is also very family-friendly with some great options on the menu for the little ones. On a cold winter's day, why not go for the creamy pumpkin soup with scallops and crispy pork belly? This traditional dish with a twist is quite welcoming and flavorsome. There are other dishes worth a try such as the green peppers from Spain usually known as pimientos Padrón, but also a kind of omelette with chorizo and fries (huevo frito con patata y chorizo casero), mini pies and more.
Pork & paella: the perfect couple
Suckling pig is present in several cuisines around the world. In Macau, we're used to seeing it on menus from Portuguese and Cantonese restaurant. Although it's the same type of meat, the means of preparation and taste can be quite different. The Portuguese have roasted suckling pig while in Chinese cuisine, it's made as "char siu", with lots of honey and hours of cooking. In Spain, suckling pig is also roasted, but with incredible softness and crispiness on top.
This is also a must-have at Barcelona: topped with apple purée and berries, it's a dish to share as well since there are a lot of other delicacies to savor at this place! If you're into the duck liver pate craze, then don't miss their millefeuille with foie gras, perhaps followed by some Iberico pork secretos.
Next up is one of their signature dishes–and an incredible one, we might add: the mighty paella! Cooked in a very Catalan way, it boasts giant prawns, other kinds of seafood, meat and good old Spanish rice. Ideal for three to four people, this is definitely a dish to share again and again. The suppleness of the "al dente" rice contrasts with the seafood flavors mixed with the meat juices, delivering a simple, yet exquisite experience. There are other options in the rice and noodles section, such as seafood noodles with sea urchin oil, Andalusian-style codfish rice and special black rice with squid, cuttlefish and Spanish pork ribs.
Barcelona's Sweet Touch
Desserts are the best way to end a meal and this is no different at Barcelona. For all you chocolate fans out there, this one's a no brainer: go straight for the warm chocolate bunuelos with vanilla ice cream, but do consider Barcelona's signature dessert, Catalan cream. The latter is Chef Hector's own take on this very typical dessert from Catalonia: with a strong cinnamon flavor, it's a soft explosion of scents and tastes that is not too sweet. Topped with raspberries and cookies, it has the ideal crispiness, creamy texture, and sourness.
Head to Barcelona and experience the true taste of Catalonia with these sumptuous dishes. Try booking a table upstairs for some fresh air and relax while overlooking one of Taipa's busiest areas. The restaurant is opened until late (2:00am), so even if you're not into food, why not try one of their cocktails or just go there for a drink with friends and family, instead of heading to the same old places?
---
Opening hours: Daily, 12:00pm–2:00am
Barcelona 47 Rua dos Clérigos, Taipa Village, +853 2845 5168, www.taipavillagemacau.com/directory/barcelonamacau
Tags
Related Posts