Spain has long been hailed for its vibrant and passionate food culture. From its renown wine and tapas to its peerless dining establishments, it is evident that the Spanish have mastered the art of food or simply living the good life.
We can also experience Spanish cuisine in our very own city. Just beside Areia Preta's fire station is Macau's first ever Spanish gastropub, BarCelona Tapas & Rice located on the second floor above its sister restaurant L.B. SuperPollo, which also serves Spanish food but with a casual dining concept.
Just imagine it: Chef Hector Costa, with twenty years of experience in the kitchen, personally preparing the dishes for you. Once you arrive, you are greeted with a dimly lit restaurant with a modern and contemporary décor. Sure to get your attention is a treasure of Spanish cuisine, a large Iberico ham, displayed on their bar. After being seated, we ordered Sangrias in anticipation of the food to come.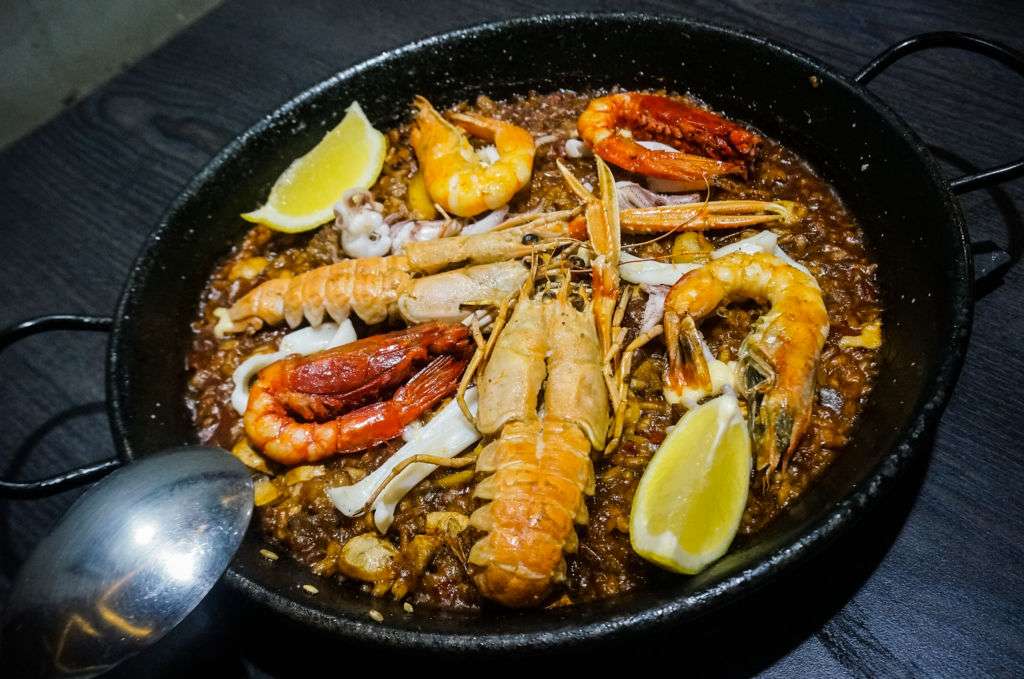 To start, we were served pan con tomate ajo y aceite. A Catalan pastry that's unlike any other called coca imported directly from Spain served with tomato, garlic, and olive oil. Crisp and chewy at the same time, it's perfect to pair it with a plate of delicately sliced Jamón Iberico, the same ham displayed on the bar. This ham cured (preserved in salt) for 48 months is beautifully marbled, rich, extremely flavorful, and tender which was truly incomparable.
Then we had Spanish croquettes filled with ham handmade by the chef, and cannelloni with Catalan truffles, a Spanish take on this famed Italian dish minus the tomato sauce.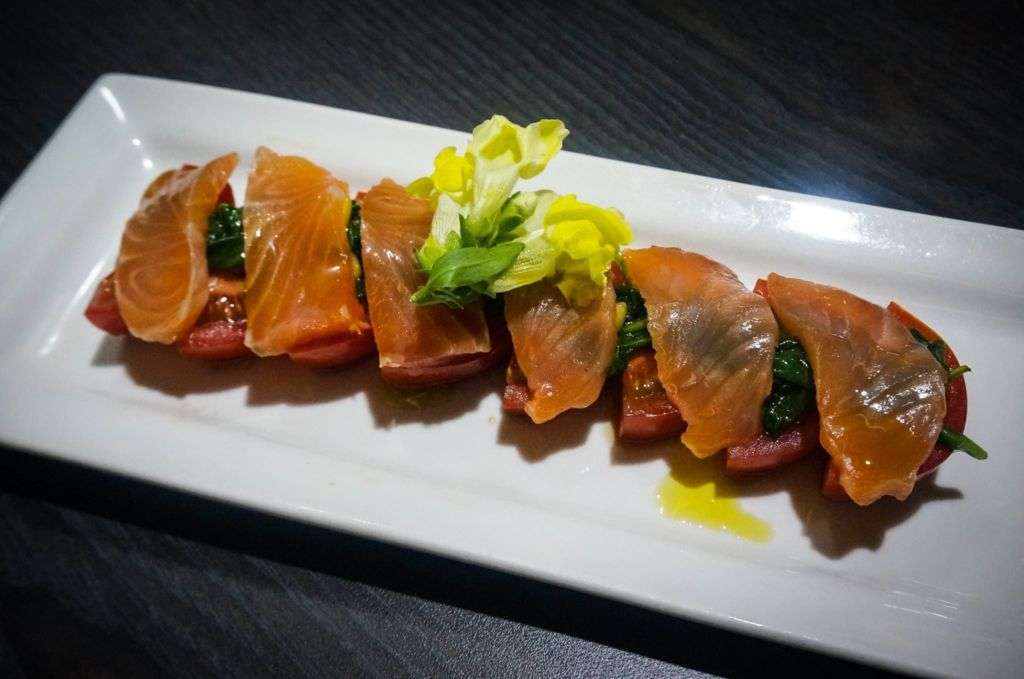 Next came vibrant dishes decorated with edible flowers like pieces of art to compliment the monochromatic restaurant. The organic tomatoes with fresh salmon marinated for 48 hours was a light dish and the tomatoes themselves were heavenly. We can't remember tomatoes tasting this good. Really sweet, firm, and juicy! We also tried their tender octopus with paprika served atop potatoes, and squid served with roasted garlic which was as tender and flavorful as anything on their menu.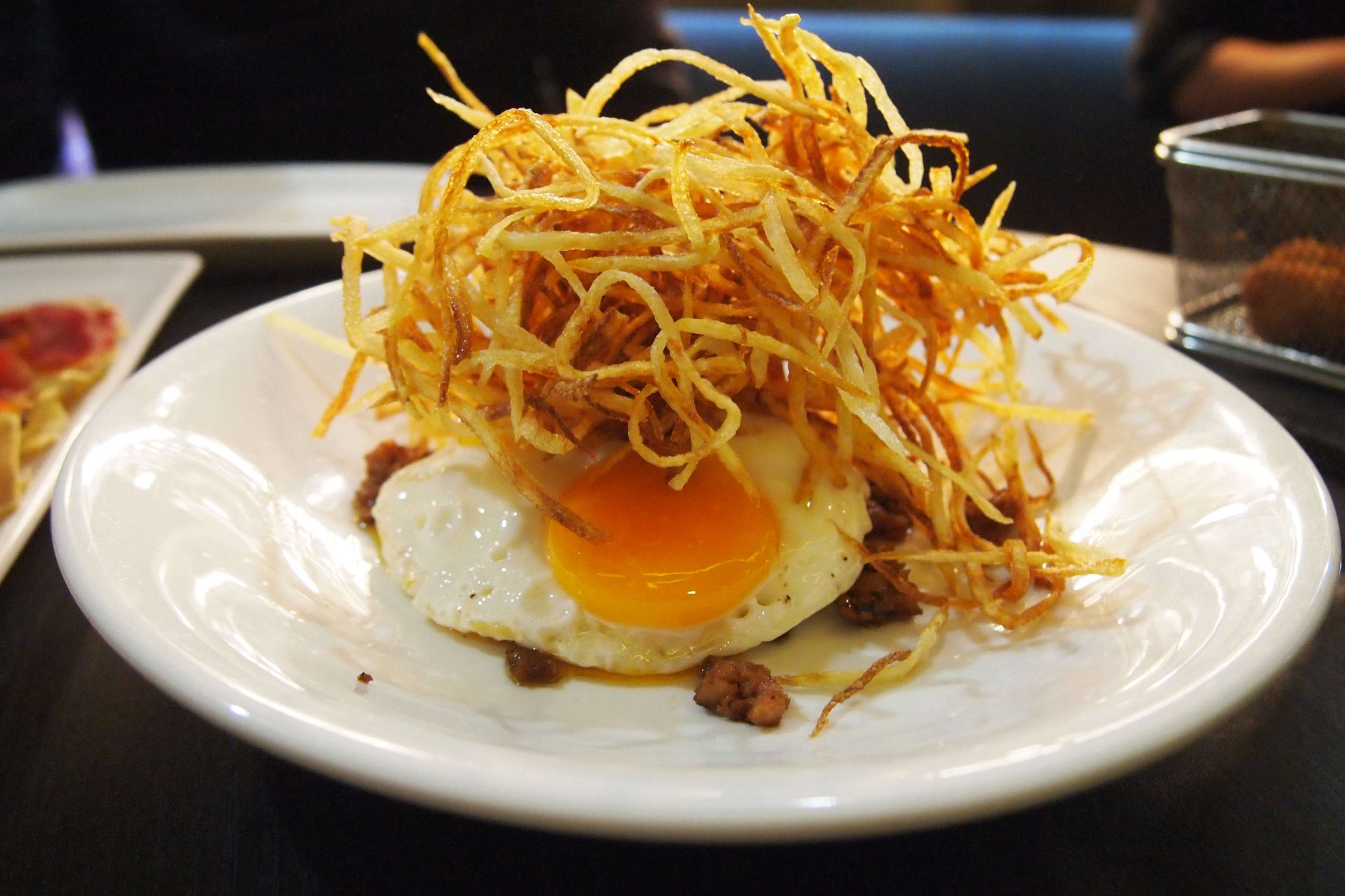 The dishes kept coming. Potatoes arrived, sliced even thinner than shoestring fries and sitting on top of an egg with chorizo underneath. This is popular with regulars, and the server mixes the dish for you table side. It is deceptively simple, with different textures and flavors delighting the palate.
Lastly, grilled Iberico pork skewers arrived at our table. We marveled at how the pork could be packed with such an intense and smoky flavor while the meat was so tender.
And then dessert. A typical chocolate lava cake may be good for dessert at some restaurants but for not for BarCelona. Here it is buñuelos, a deep fried chocolate dough with a warm chocolate filling served with vanilla ice cream.
The whole experience was nothing short of stellar. The ambiance, warm and friendly service, and most of all the food: BarCelona was amazing in every way which is why I wonder what are you still doing reading this? Start making your way there and spoil yourself with some seriously good food!
…and take us with you.
BarCelona Tapas & Rice Rua de Venceslau de Morais, No 16, 999078, +853 2872 1084, www.facebook.com/Barcelonatapasandrice
Share
Tags
Related Posts