Having a strong historical connection with Portugal, Macau's gastronomy incorporates its influences greatly and when it comes to dining, you may notice a number of restaurants and cafes with one of two items on their menu with a style or rendition of their own Portuguese style of cooking. In search of the most authentic Portuguese cuisine, we head over to Taipa Village, which is a wonder in every turn. There are mysterious alleys that you can never know what lies at every turn you make. And to our astonishment, we took a turn and immediately had a pulling force of attraction to this beautiful yellow, three-story eatery. We found ourselves at Portugália and their ceramic tile host man did a perfect job of inviting us over to their doors where we found ourselves on their premises.
As we got to our table we noticed how accented their decorations were on their ceramic tiles which we later found out is called Azulejo, a form of Portuguese painted tile work apart from that its lovely structured windows that let the sun's ray in so perfectly and creates a wonderful ambiance in the restaurant. We quickly grabbed their menu and began to order because a moment like this needs to be accompanied by great food.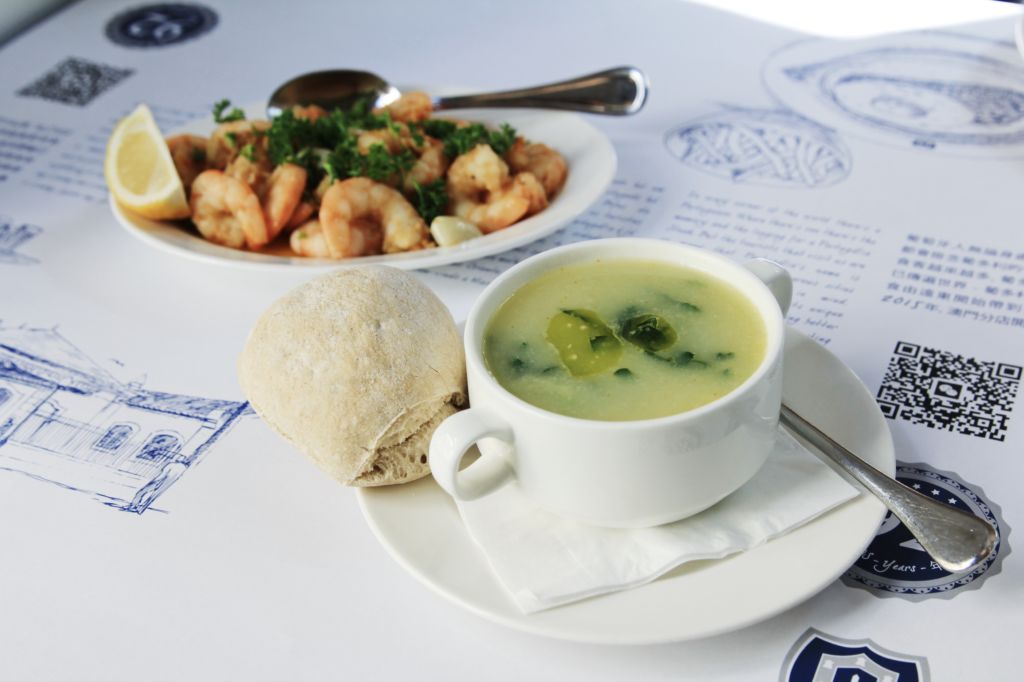 Portugália is known as the country of bread, it isn't surprising at all how amazing the taste of their carbs are, served fresh on your plate and enjoyed with butter, go messy and try dipping it in your caldo verde (MOP $58) – a traditional potato and green cabbage soup with a little surprise coin of chorizo floating on top, a perfect refreshment to keep you warm in this cold season. Our appetizer followed up, shrimps "à lá guilho" (MOP $125)  consisting of fried garlic prawns, with a balanced flavor of garlic and butter, we love its smooth and soft texture of the shrimp. You just find yourself going in for another bite, again try dipping that same bread in the sauce, honestly just dip it in everything and it'll taste amazing.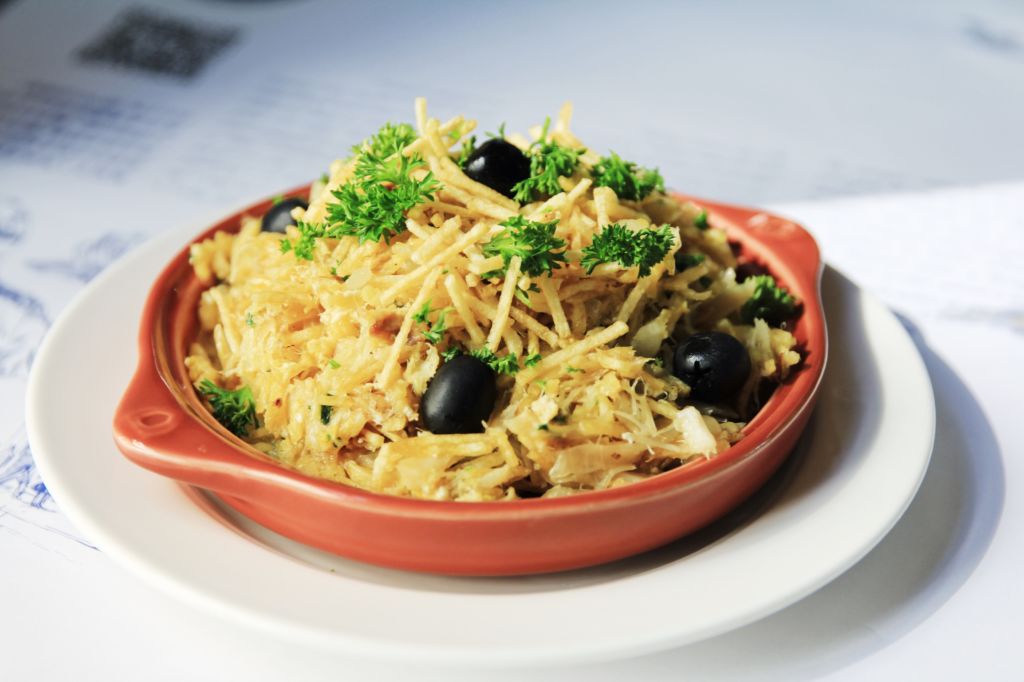 And what would a Portuguese meal be without Bacalhau? We knew we had to order the most famous codfish in Portugal and Bacalhau "à Braz" (MOP $180) had the perfect name. Presented in a small skillet was this dazzling dish almost similar to a hash brown but even better with eggs, fried potatoes and onions dress with a shredded codfish to add that traditional feel. It is said that this dish is loved from far and wide of the motherland. Don't let the saltiness of the codfish fool you, it's the eggs that hold the flavors all together.
And for our next entrée, we would like to introduce the king of dishes and is the name of the restaurant behold, Steak "à Portugália" (MOP $198) (see featured image). It's a gorgeous sirloin steak cooked in a perfect medium rare swimming in butter and the perfect sunny side egg garnished on top. We were given a choice of rice, veggies or fries of a side and we obviously went for potatoes because who doesn't love fries? And the enchanting meal is all about dipping! So we went ahead and dipped our fries in the valley of butter which tasted absolutely amazing, the butter melts the fries in your mouth and the same goes for the steak which you find yourselves sighing in delight at every bite.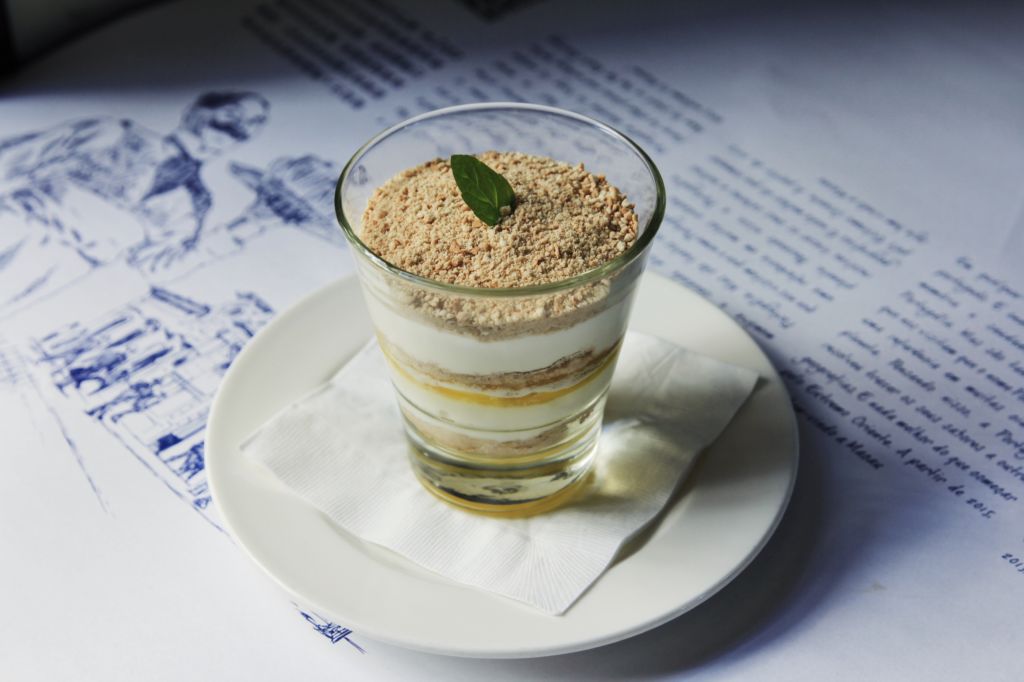 Did we have any desserts you may ask? Of course! There is always room for dessert. Picking the classics we sampled the Serradura (MOP $55) which is very well known in Macau. Portugália's take on this traditional dessert starts with the basic fillings of fresh cream and ground biscuits, their version is adding egg syrup right in between the two layers which transport you into heaven after consuming each layer. And, if there is an entrée dedicated to the restaurant, there surely is a dessert representing the house and that is their egg pudding (MOP $55), simple, soft, caramelized and a hint of their wine that just makes the whole package a great hit!
We definitely recommend you to head over to their restaurant and taste for yourselves the true traditional Portuguese beerhouse with a twist. Be sure to catch their manager – Diogo Vieira who is always available to answer any of your questions and give you some insights about Portugália. You certainly can expect an exceptional service from all attentive staff that's ready to serve you to your satisfaction. So, what are you waiting for?
Portugália Rua dos Mercadores No.5, Taipa Village, Macau, +853 6280 3992, www.portugalia.com.mo
Tags
Related Posts