If you follow news from the gourmet world, you've probably seen fine dining venues team up with upscale brands to create unique dining concepts and exclusive events, such as themed dinners and afternoon tea sets. This collaborative trend benefits both brands involved, builds a balanced symbiosis, and brings in guests who want to sample the goods – it's a win for all. The latest one to arrive in Macau is a collaboration between the high-end hotel and casino resort Wynn and the renowned Swiss jeweler, Chopard. These two luxury brands have come together to create a stylish 'Chopard Diamond Afternoon Tea'.
It's presented at various venues at Wynn and Wynn Palace, two properties who always strive for the very best in design, service, dining and experience. Wynn's executive pastry chef Yoann Mathy literally added flavor to Chopard by creating a unique afternoon tea set that embodies the DNA from both brands and reminds us that the high tea tradition is not only about food, but also about an elegant ritual.
Before heading down to sample these handcrafted bites take a moment to carefully explore them and take your pick. The sweet bites adorn the top of trays of the tea set, and they depict the Chopard time line. Every sweet piece is inspired by iconic precious creations from Chopard and tells the brand story chapter by chapter.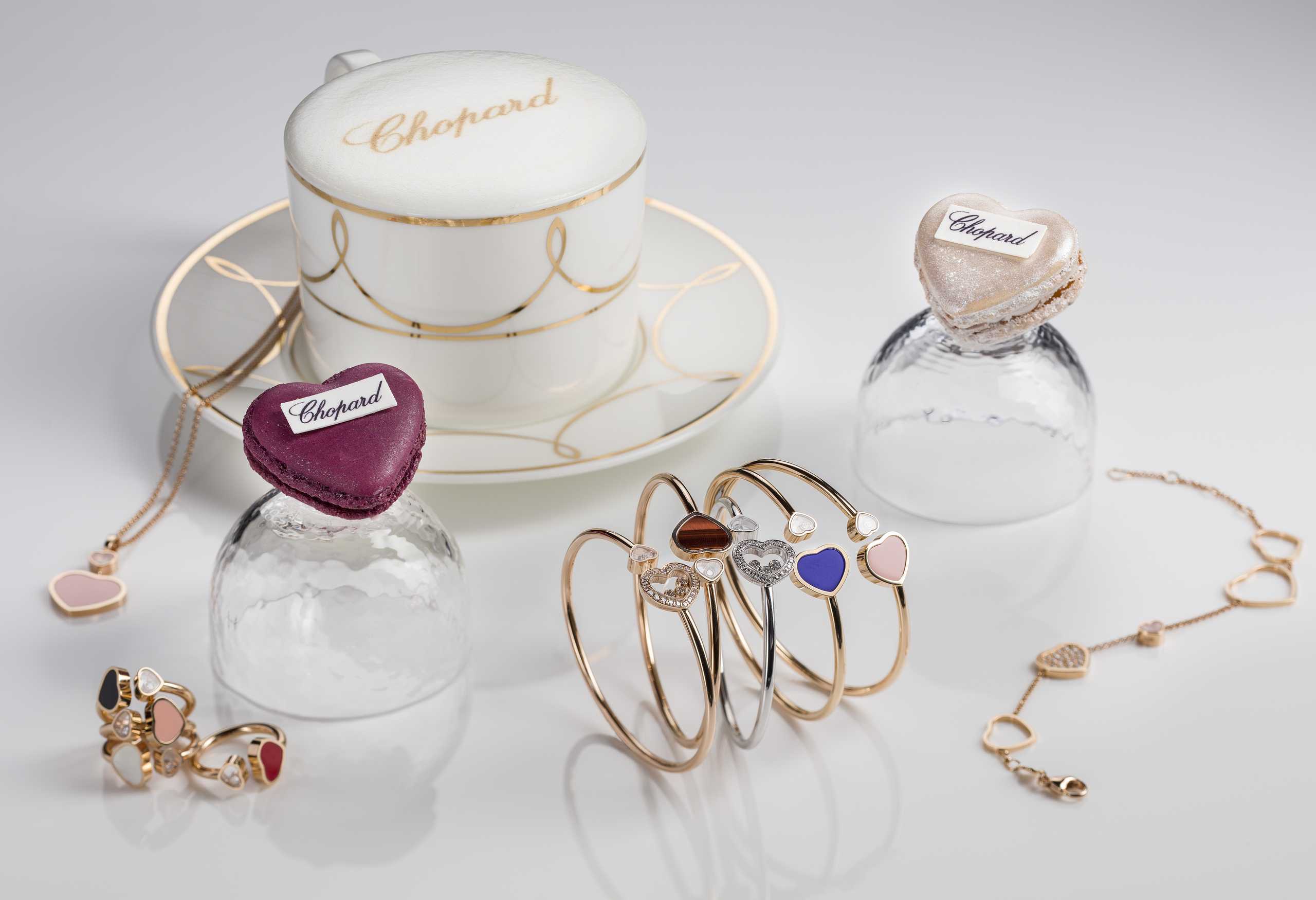 Happy Hearts Chocolate and Coffee Cake, Blackcurrant and Yuzu Macaroons
The Big Heart is Maison's emblem that represents all women with a big heart, women of generosity and altruism. Being a key element of their Happy Hearts jewelry collection, it also appears in many brand creations. So it's only logical that three out of the six sweet treats were inspired by this meaningful symbol. The heart-shaped macaroons and a bracelet-crowned chocolate and coffee cake not only look visually perfect, but they also taste like a dessert fit for a queen. The featherlight macaroons with sweet berry feature an acidic Japanese grapefruit hit, which goes perfectly with a glass of sparkling wine. If you are a chocolate aficionado, you will love the chocolate and coffee cake too.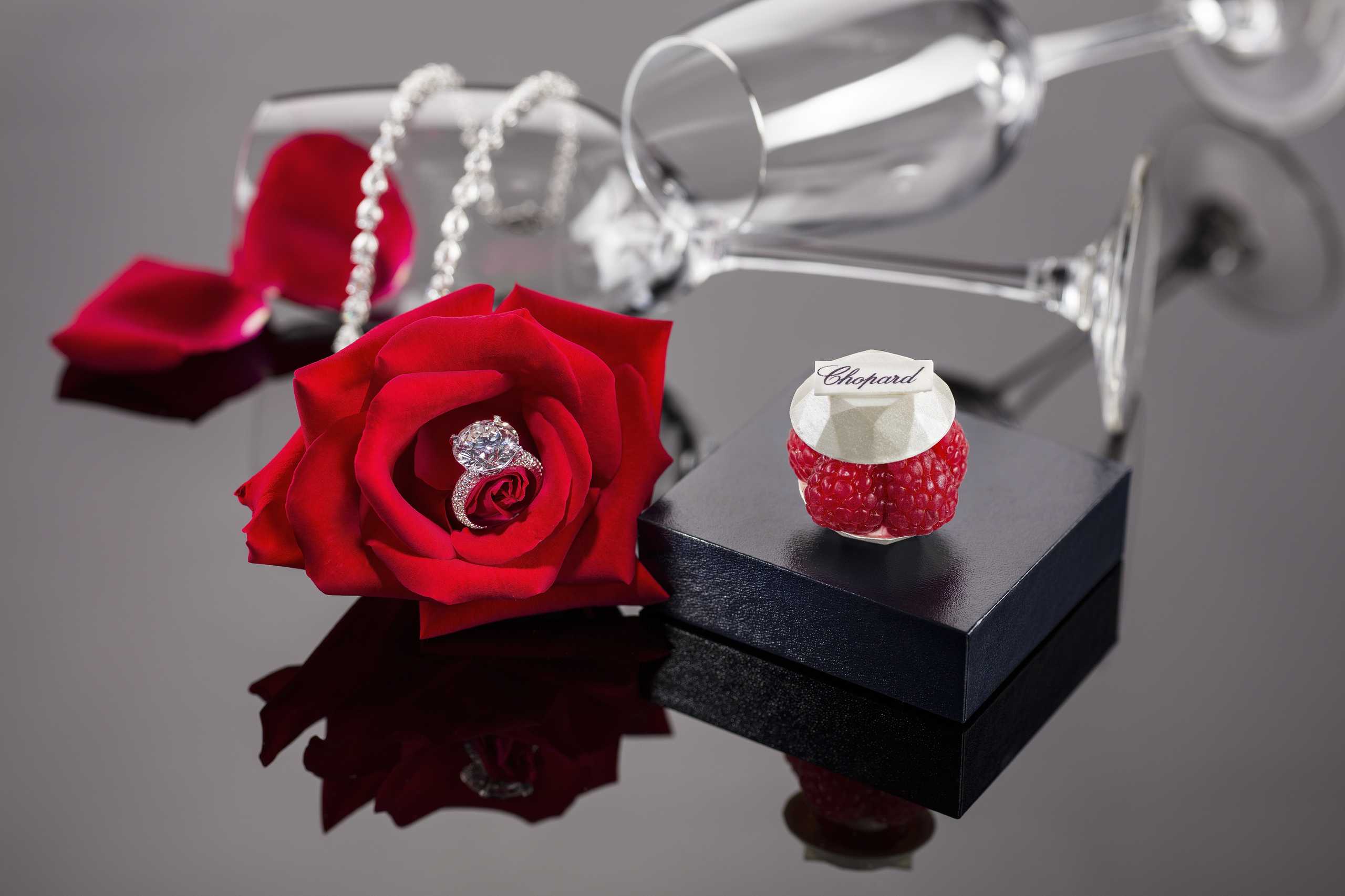 Chopard Diamonds Raspberry, Mango and Coconut Chocolate
"These diamonds are happiest when they are free," exclaimed Karin Scheufele, the Artistic Director and Co-President of Chopard, when she saw the diamonds in movement on the first Happy Diamonds watch. Since then, this distinctive concept has become part of the brand's signature style. And this raspberry, mango and coconut chocolate dessert shines brightly on the tray just like the dazzling chronological diamonds. Sweet white chocolate, tropical mango, and juicy raspberries come together in a perfectly balanced marriage of flavors.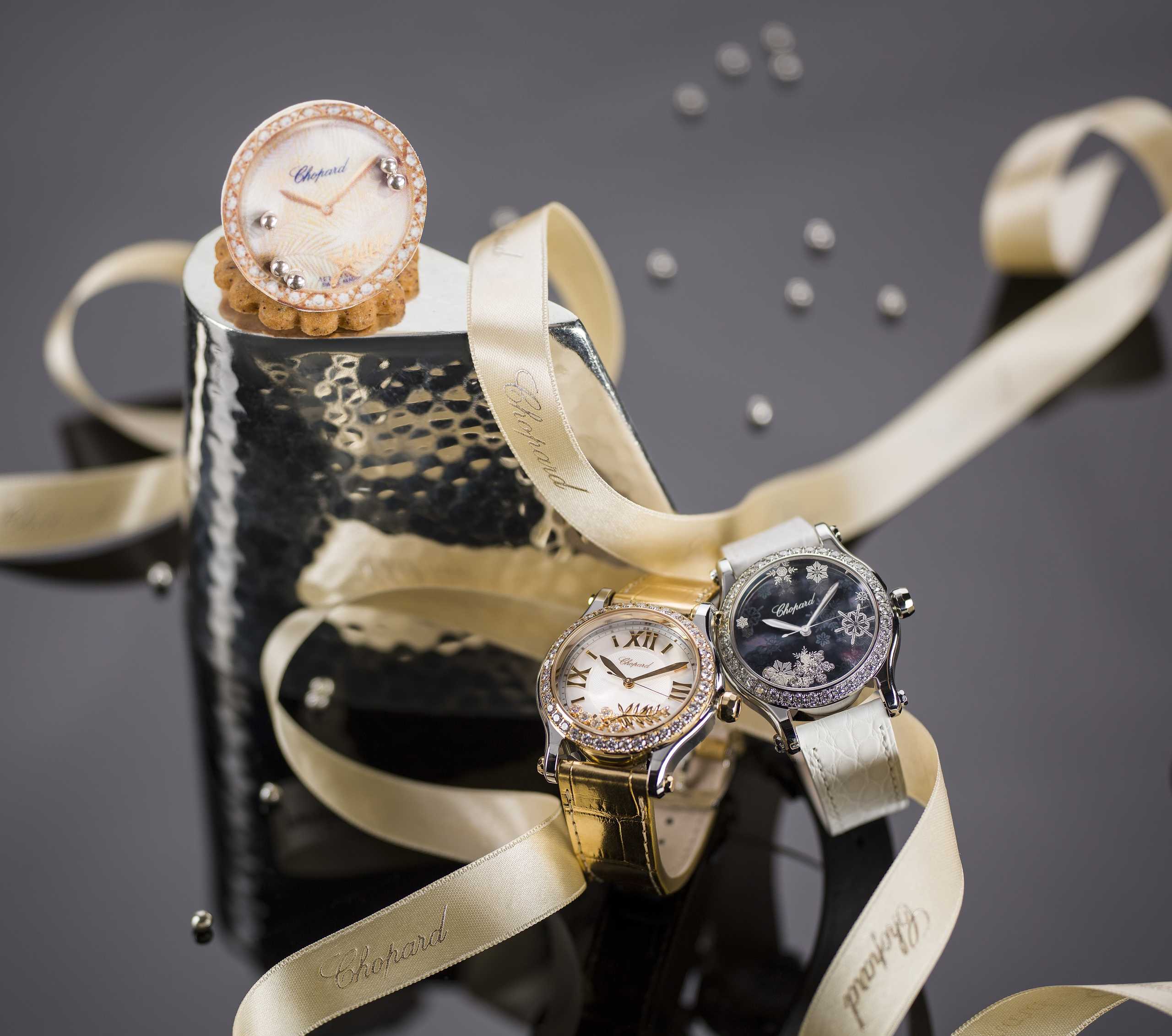 Happy Sport Hazelnut Gianduja Shortbread
Chopard quickly became one of the leaders among European watch-makers and cemented their position by becoming a provider of Tsar Nicolas II's court at the end of the 19th century and beginning of the 20th century. Throughout the years their position only strengthened with every watch collection. To pay tribute to one of the Chopard's stories of success, the Happy Sport collection, Chef Yoann re-imagined gastronomic luxury in the form of a beautiful crispy shortbread. It feels almost like a crime to touch it, but do not hesitate, as the nutty flavor combined with white chocolate will make the destruction of this beautiful bakery masterpiece worth it.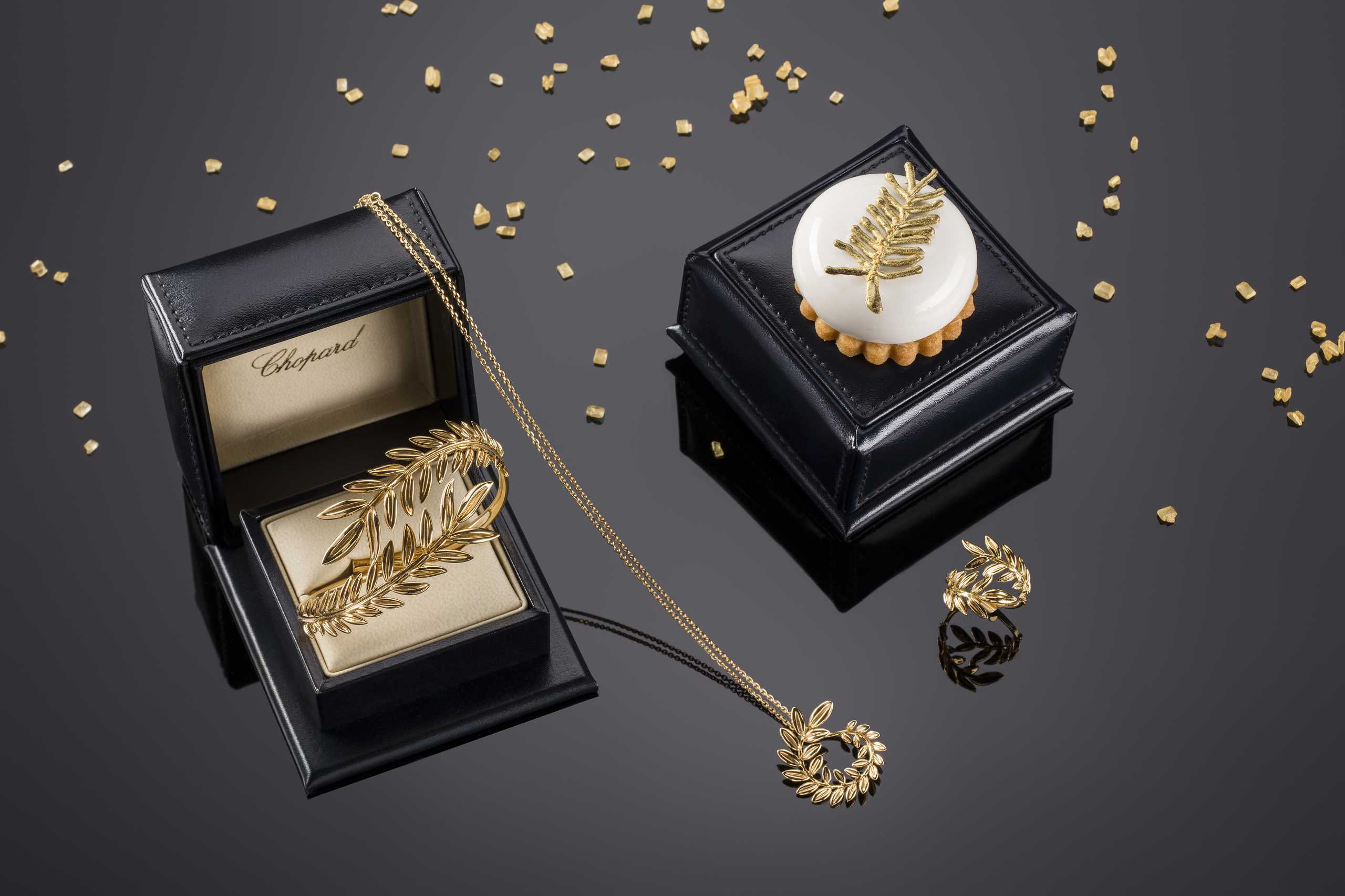 Palme D'Or Vanilla Cheesecake
The last sweet star on the tray is the vanilla cheesecake. A fragile golden leaf, meticulously handcrafted by the chef, rests on a pillow of delicate cake. Minimalistic and glamorous, this delicacy is a treat for the eyes and for the mouth – it will melt in your mouth and your taste buds will love it. The recognizable golden palm leaf symbolizes the strong partnership between Chopard and the prestigious Cannes Film Festival.
It appears luxury is not only about heritage, which Chopard has lots of, but it is also very much about details, which this tea set has. The more we explored this 'Chopard Diamond Afternoon Tea', the more we noticed how much thought had gone into it. Like the precision that goes into jewelry inspired by decades of Swiss Maison craftsmanship, this exclusive tea set has been made possible thanks to talents of the Wynn pastry team and the true genius of chef Yoann Mathy.
---
Wynn and Chopard – Diamond Afternoon Tea
Date: August 1–October 7, 2018
Time: 3:00pm–5:30pm
Where:  Wynn Palace: Ground Floor, Fontana Buffet and West Esplanade; Wynn Macau: Ground Floor and Café Esplanada
Price: MOP $588 for two paired with champagne
Tags
Related Posts