The Artyzen Flair at Artyzen Grand Lapa Macau is just what we need this December. This year, the hotel is crafting unbelievably unique and exclusive offers for everyone to spend this season in grand style. Counting down to 48 hours, Vasco Bar & Lounge will be re-open with its newly curated cocktail program and beverage experience, celebrating the rich spices and ingredients that inspired his trade route to India. In a toast to his travels, the bar made a contemporary and textured menu that invites you on each step of his journey. From the artisanal cocktail experience to the activations of the bar, every detail is designed to provide an elevated drinking experience for all.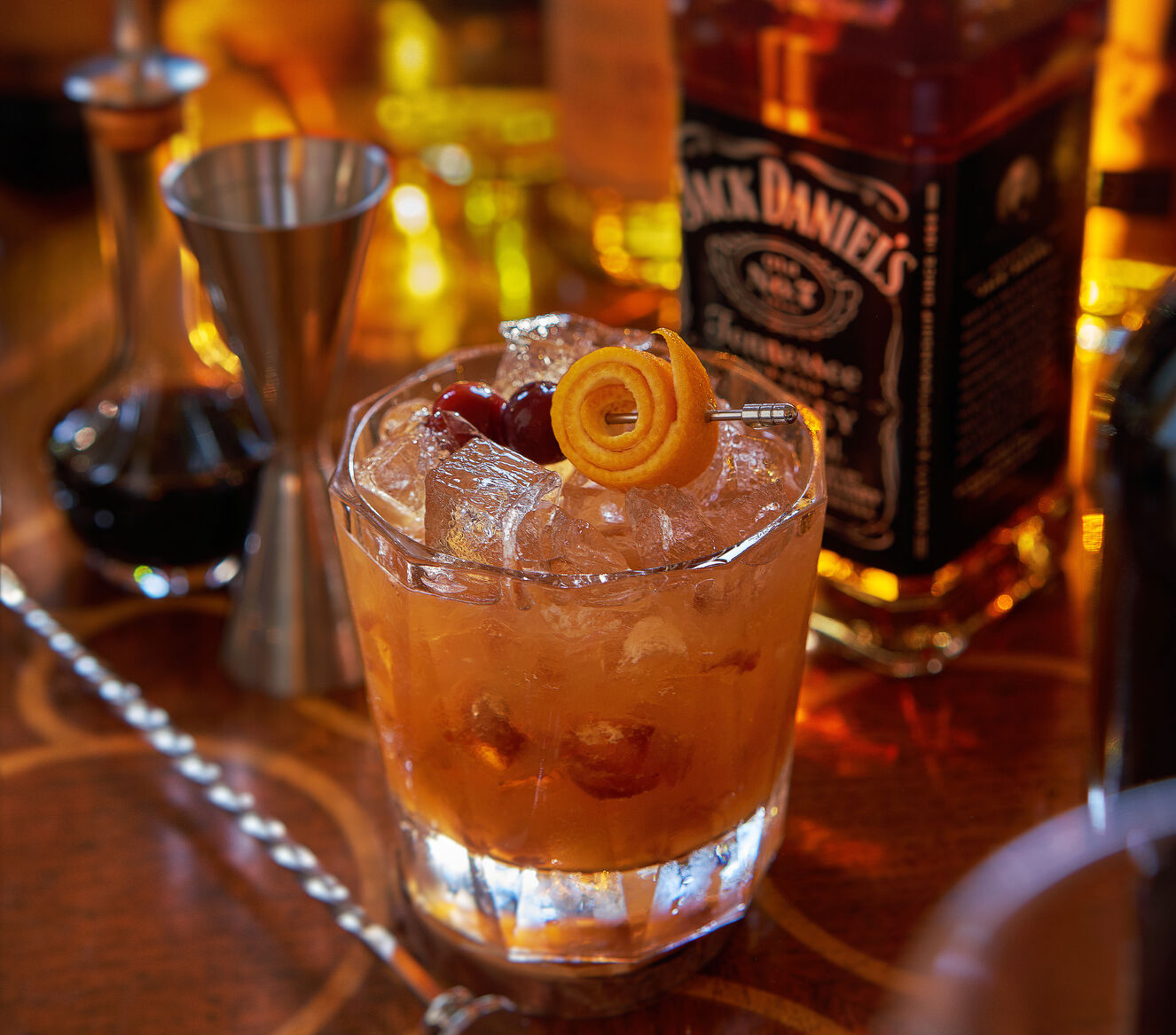 Celebrate this season with new cocktails from Vasco Bar and Lounge
'Tis the season to share the joy with family and friends. We are all grateful that the beautiful and classy Vasco Bar and Lounge will be reopening in 48 hours, with a newly designed cocktail program promising to deliver great and exclusive mixology to every guest. From designer bars to epic programs, Vasco Bar & Lounge is the place to see and be seen. Named in honour of Vasco da Gama, this explorer found new routes to India, bridging the East with the West in the Age of Discovery. Now, more than 500 years later, Macau exemplifies this perfect blend of two extraordinary cultures.
This December, get together with friends and head there to experience a unique vibe with DJ Ted pumping the beat every Friday night. On December 18, 20, and 25 (starting at 9:00pm), the bar is also having exclusive performances by the duo band, Riya and Ray. However, the fun doesn't end here! Vasco Bar and Lounge will also have live entertainment on Saturday nights and the very exclusive and special Smoke & Bubbles on Tuesdays, where ladies get a free glass of champagne. On Wednesdays, guests can expect the 'Friends of Vasco' happening, with numerous discounts for members of the Macau hospitality industry and spirits flights. Thursdays are dedicated to all the night owls out there, with special prices for drinks from 10:00am till late. Also, don't book anything for January 8, 2022, as Vasco Bar and Lounge will be the place to be with the performance of the local band, The High Rollers.
Capturing the true essence of the Portuguese Discoveries, the bar is a homage to the eponymous navigator Vasco da Gama. Their drinks are now filled with spices and exotic flavors, and signature cocktails include The Contender, which is a mix of strawberry gin, mandarin, cucumber, and pickled jalapeño. Some of their other beverages have been revisited and the passionfruit poncha–made of white cane rum, honey, fresh lemon, grapefruit, and passionfruit–is one of them. Their "Flights"–spirit offerings–are meant to take guests across the globe through sensorial travels.
To celebrate the re-opening of the bar, 30% off re-opening cocktail offers will be launched on December 17 after 9.30pm! Friends of Vasco-don't miss it!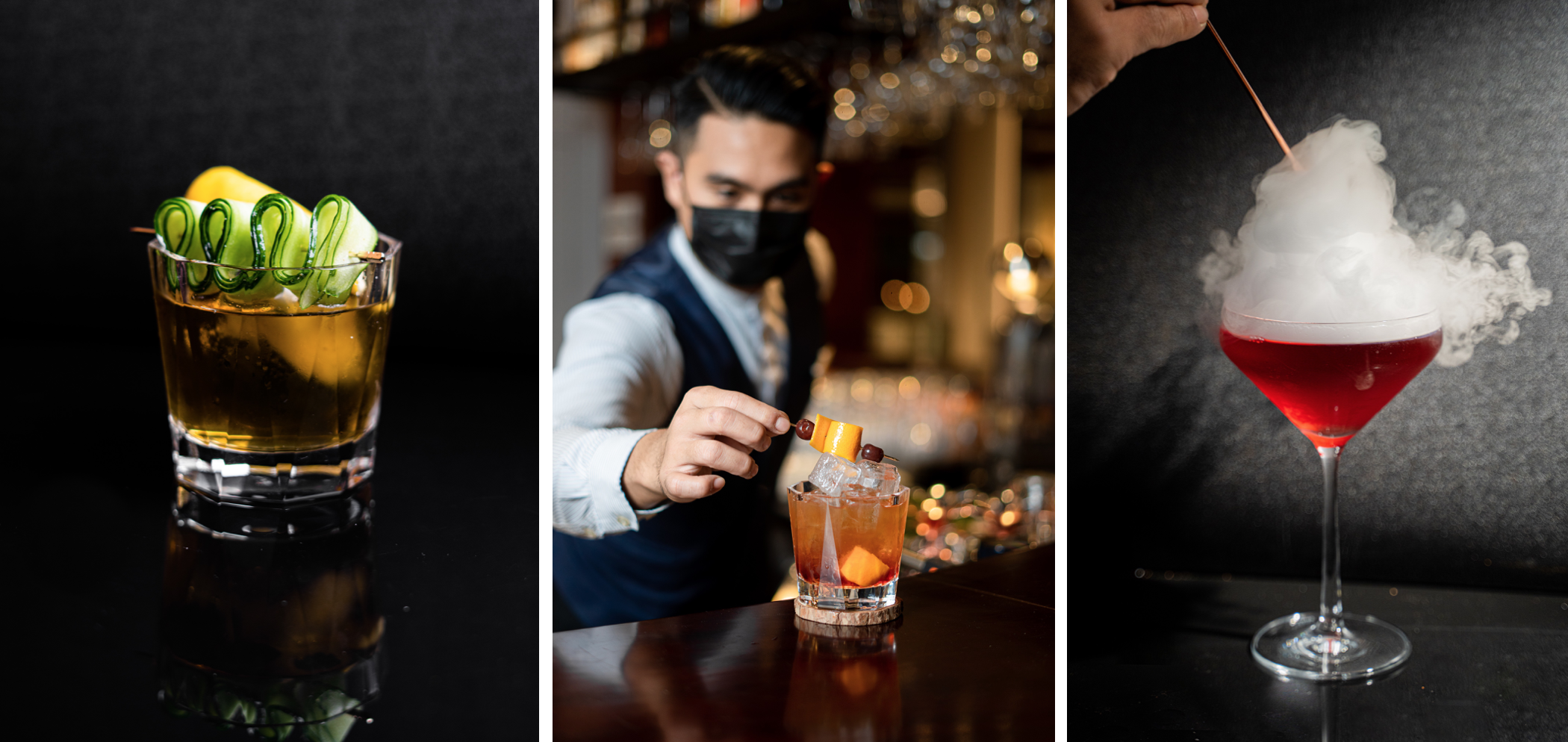 A flair for love this Christmas & New Year's Eve with food & crafts
One of the things people most love about Christmas is also the themed foods. The Artyzen Flair is bringing Festas Felizes (Portuguese translation for Happy Holidays) menus so guests can experience the true Christmas spirit. These sets–semi-buffet lunch and dinner, weekend dinner buffet, Blessing Specials at NAAM, the Christmas Eve dinner buffet, Christmas lunch, and dinner buffet, among others–are meant to bring the whole family together for some truly festive meals.
The Christmas Eve dinner buffet includes delicacies such as shrimp-orange-pomegranate-fennel salad, chicken liver with truffle parfait, a foie gras terrine, but also root vegetable terrine, duck rillettes, hot appetizers like seafood paella, seabass, shrimps, calamari, blue mussels, scallops, chicken, smoked chorizo, lemon wedges, green pea, parsley, and saffron-tomato lobster broth. Their semi-buffet menus are stuffed with delicious dishes like grilled peach and halloumi salad with cranberries and orange dressing, cheese and cold cuts stations, salmon, and a series of mains to choose from: crispy-fried green bean tempura with tofu, portabello mushrooms, tomato rice, and lemon, crispy-roasted suckling pig with chorizo rice, orange salsa, and creamy peppercorn sauce, but also deep-fried Atlantic Ocean octopus tentacles, tomato rice, and lemon.
These menus will surely bring your Christmas spirit to the maximum, so be sure to book your table for lunch, dinner, or both. We are certainly going to be part of this feast!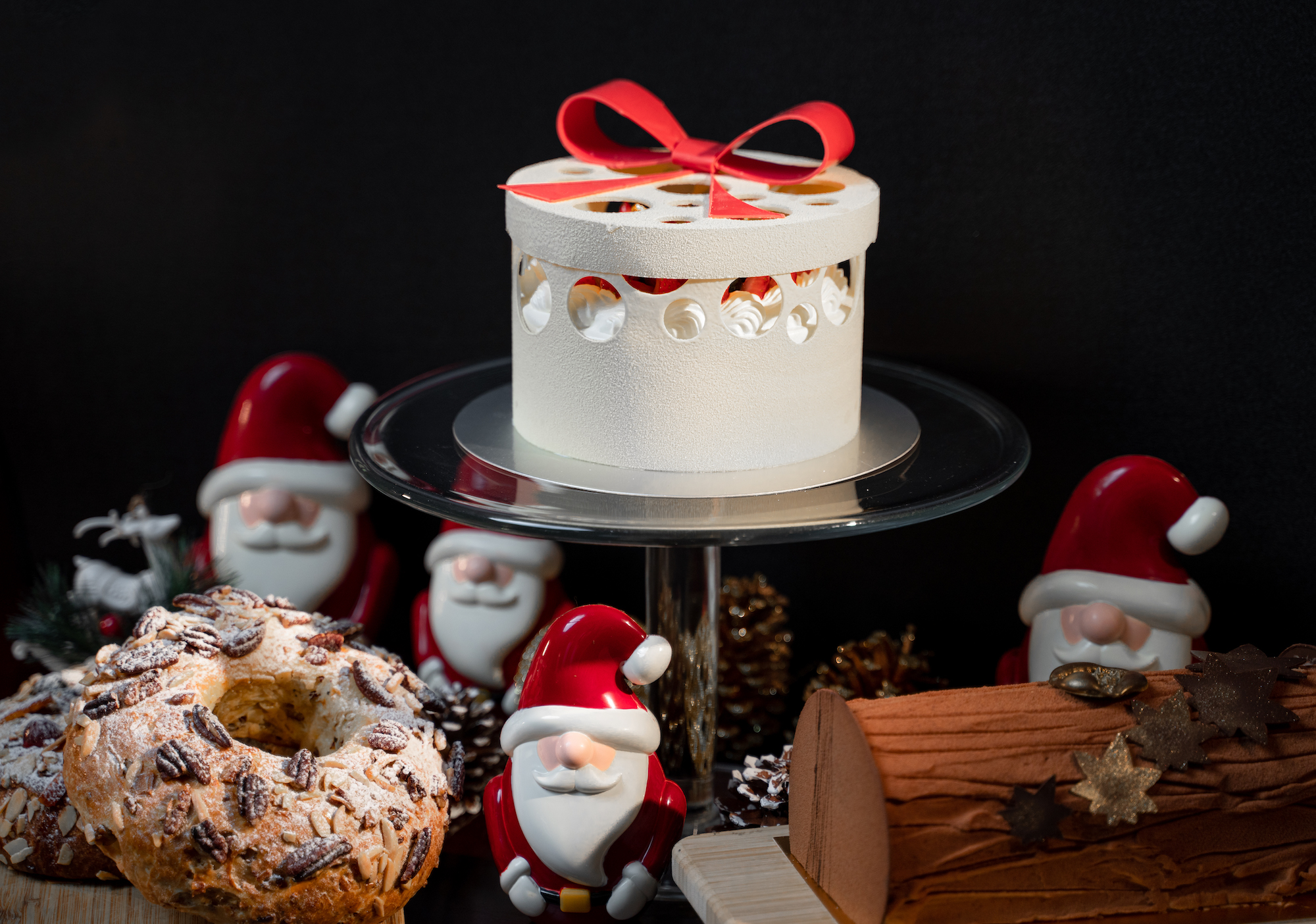 Artyzen Grand Lapa Macau's Christmas will have some surprises this year when it comes to sweets, as their new pastry chef, Norihito Muranaka crafts exciting recipes. "I recently joined Artyzen Grand Lapa Macau and got a sense of its atmosphere, which reflects its history and ties it with tradition and culture. I wanted to bring that into my pastries", he told us. "That's why I made, of course, the Portuguese bolo rei and rainha, British rum pudding or fruit cake and the French stollen cake and my signature Christmas cake, which is made of strawberry shortcake and shaped like a Christmas gift box". This cake, he explains, is inspired in his home country, Japan. "In Japan, everybody has strawberry cake on Christmas. We have that element from Japan, and also the stollen from France", where Muranaka worked for years. The pastries are filled with spices to enhance the wintry feel of this season: "the Christmas pudding has a lot of spices like cinnamon and nutmeg, dried fruits like raisins, apricots, and nuts, so the flavors of the season are very present in all cakes", the chef tells us.
When creating these pastries, Muranaka felt these would be the ideal delicacies to share with family, adults and kids included and because "Christmas is the time for families to gather and share. If they choose our pastries to enjoy together, that will make us very happy", he added. The chef's recommendations include his Christmas gift box, but also the stollen and the traditional Portuguese bolo rei. We're truly excited to be part of this Artyzen Flair and surely recommend it to everyone who's looking for a great time amongst loved ones.
There are also a series of takeaway goodies–both sweet and savory–for people who prefer to celebrate Christmas at home surrounded by loved ones. The list includes countless items such as the traditional roasted whole turkey with apple-sage stuffing, new potato, orange-honey chestnut, chorizo brussel sprout, and sauce. There are also other options such as smoked ham with garlic roasted leg of lamb, mint-pea, rosemary sauce, baked sweet potato, chorizo Brussel sprouts, and orange-honey chestnut. Sweet delicacies include Portuguese cakes Bolo Rei and Bolo Rainha, or Buche de Noel (Christmas log cake), fresh fruit cream cake Christmas box, Christmas plum pudding, among other things, and more.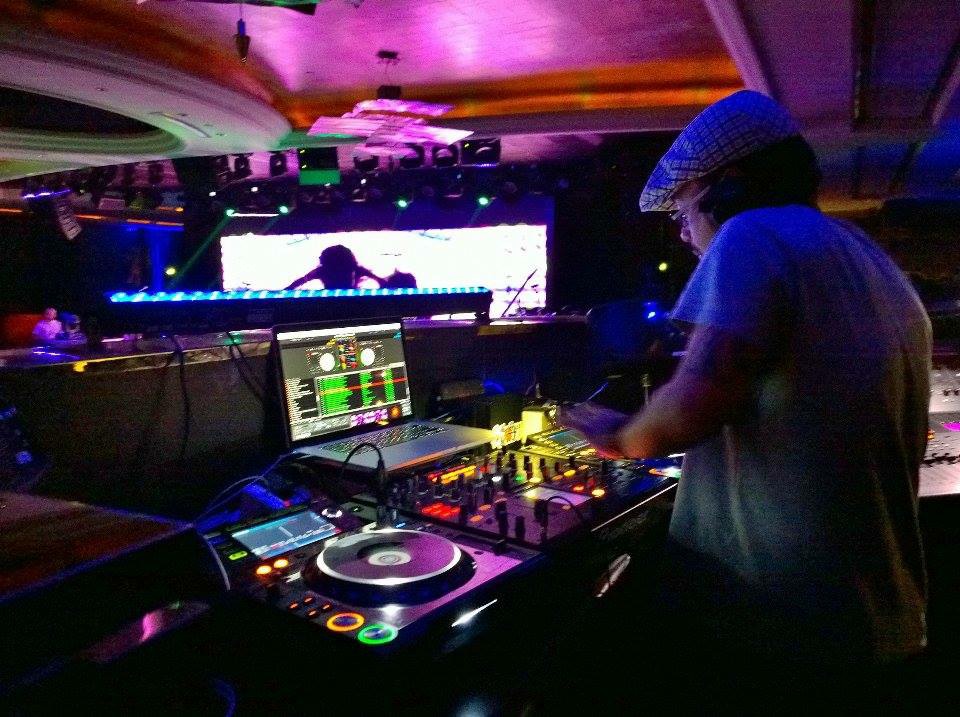 As part of The Artyzen Flair, Artyzen Grand Lapa Macau is also offering the "Scent of Christmas" afternoon set, launched throughout December at Café Bela Vista with a special edition served in the birdcage at the mezzanine. This experience includes sweet and savory delicacies for all to have wonderful moments while sipping on drinks and eating delicious creations by their pastry team. Café Bela Vista is also a great location for pictures.
If you're still trying to figure out where to spend New Year's Eve with your friends, look no more! Artyzen Grand Lapa Macau is crafting unmissable offers for everyone. Their New Year Eve's lawn BBQ dinner will surely be an unforgettable party. Made for the whole family–kids can play around the outdoor area–it features grilled meat, fish, and seafood, but also lots of other surprises for people to enjoy food before midnight. When the clock starts to approach the new year, the lobby is the place to be! The hotel's entrance becomes a wonderland for those looking to party all night long with live music by DJ Ted, but also drinks, and friends. The BBQ dinner goes from 6:30pm to 9:30pm while the New Year countdown party lasts from 9:30pm to 1:30am.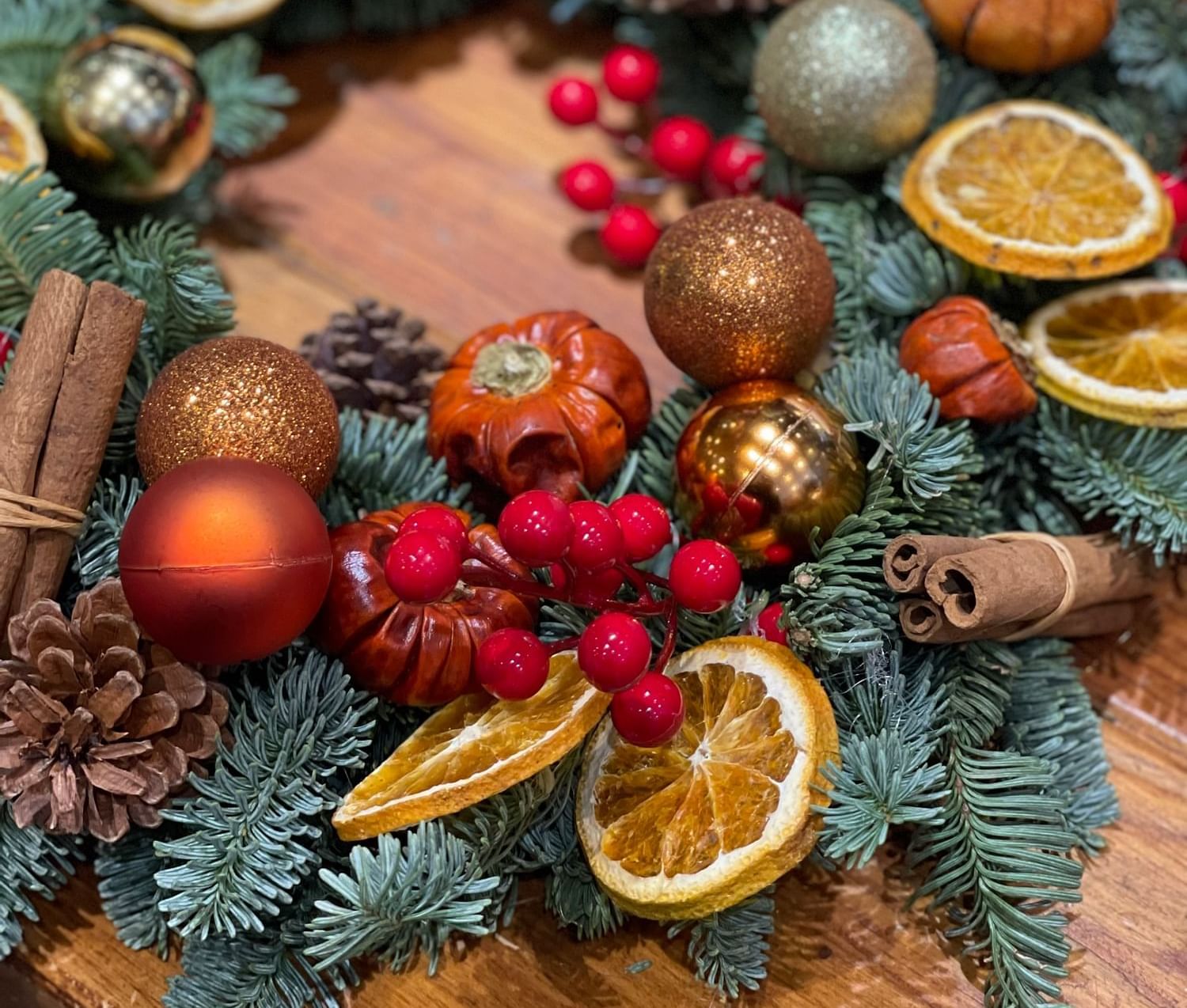 Taking home your creations
Christmas decorations really do make a home cozier, don't they? What if you could craft your own decorations? Well, now you can, at Artyzen Grand Lapa Macau! A series of noble fir Christmas wreath workshops will be offered to guests to create their own wreaths, decorated with the most exquisite seasonal foliage, scented herbs, festive dried oranges as well as cinnamon sticks for a sustainable Christmas. This is also a great gift idea: sustainable, beautiful, and personal. Workshops are available from 4:00pm to 6:00pm on December 11, 12, 18, 20, and 21, 2021. Each session costs MOP $420 per person (original price MOP $880).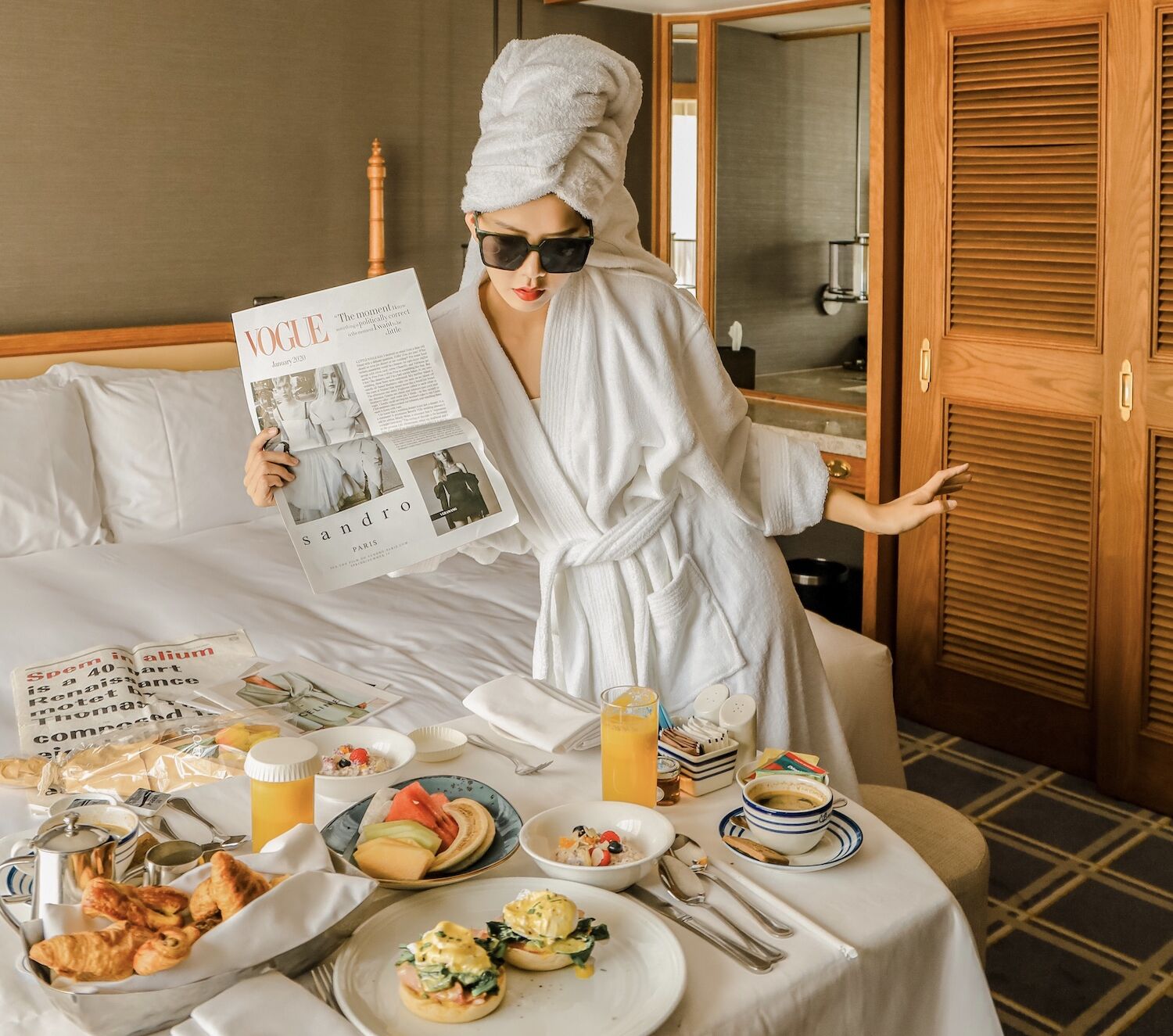 A "Boa Vida" Festive Staycation
The Artyzen Flair is also offering a time-limited staycation package valid from December 23, 2021, to January 3, 2022. This is meant for those who love the festive vibe at Artyzen Grand Lapa Macau and their Christmas staycation is packed with incredible surprises! Spend Christmas or start 2022 at a wonderful hotel boasting views across the city.
Besides including one night at a deluxe room with breakfast for two, it also offers a semi-buffet lunch and dinner for two with an oyster station, seafood on ice, and some sweet temptations featuring Portuguese bolo rei, Christmas cakes, traditional yule log cakes, and more. The NAAM Thai Blessing Specials are also one of the highlights and feature grilled tiger prawns, turkey clear soup, and durian delight with Monthong durian cheesecake, durian sticky rice, coconut-durian mochi, and durian ice cream.
---
For more information and bookings, call +853 8793 3871 or check the event's official website
Artyzen Grand Lapa Macau 956-1110 Avenida da Amizade, Macau, +853 2856 7888, artyzen.grandlapa.com
Tags
Related Posts