Chinese cuisine is diverse and rich and is more like a collective term to unite all the regional cuisines in the country and abroad. From Cantonese in the South, spicy Sichuan in the Southwest to Jing in the capital, the variety of ingredients, cooking methods and traditions are immense. Being one of the gastronomy capitals of China, Macau has restaurants representing the majority of regional cuisine. When it comes to Cantonese and Macanese food, the abundance of dining spots is overwhelming and it's hard to choose the best. However, it's not that hard to pick a restaurant that serves some of the best northern Chinese food in town. We are talking about Bejing Kitchen at Grand Hyatt Macau and here are some reasons why.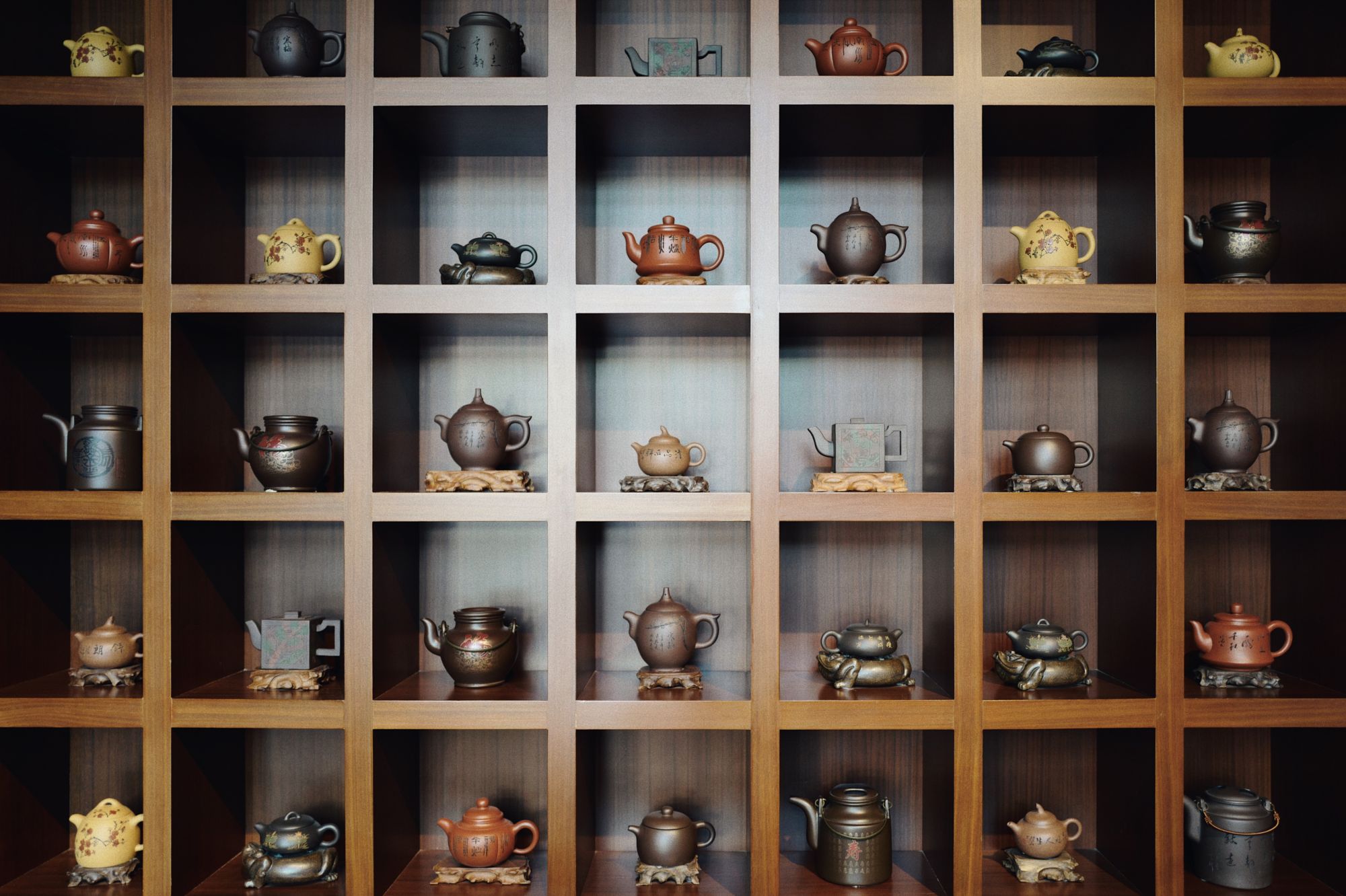 Years of Excellence 
Beijing Kitchen is one of the signature restaurants at Grand Hyatt Macau. Throughout ten years of its operation, it has gained a huge crowd of fans and loyal customers who choose this place both for casual dining and celebrations. With excellent cuisine, a wide selection of wines, and private dining rooms, Beijing Kitchen is an exquisite spot for all occasions. 
The interior is both elegant and cozy. An array of Chinese teapots and tea caddies at the entrance, a gigantic red dragon hanging from the ceiling, open cooking stations, and charming black and white photos of the capital on the brick walls–all of these details immerse diners in an authentic atmosphere of northern China and get geared up for an unforgettable culinary journey. 
The Science of Duck
First and foremost, let's talk about Beijing Kitchen's highlight–traditional Beijing-style duck. It is indeed one of China's most renowned dishes abroad, so when friends and relatives visiting you in Macau wonder "Where are you taking us for some Beijing duck?", head to Beijing Kitchen without any hesitation. Here, the duck's preparation reaches scientific precision, with every step of the way being crucial. 
The process starts with choosing a duck. All the ducks are carefully selected and imported to the restaurant all the way from Beijing. When the time comes, the duck is prepared for roasting in five steps. First, it gets cleaned from the inside. Afterward, the chef inflates the duck with an air system. Then, they coat the duck with sugar and hang them up on hooks (you've probably seen these golden brown ducks more than once in Macau). To tighten up the skin for extra crispiness and make sure it's not too oily, a chef would evenly pour boiling water from the duck's neck and leave it hanging for four hours.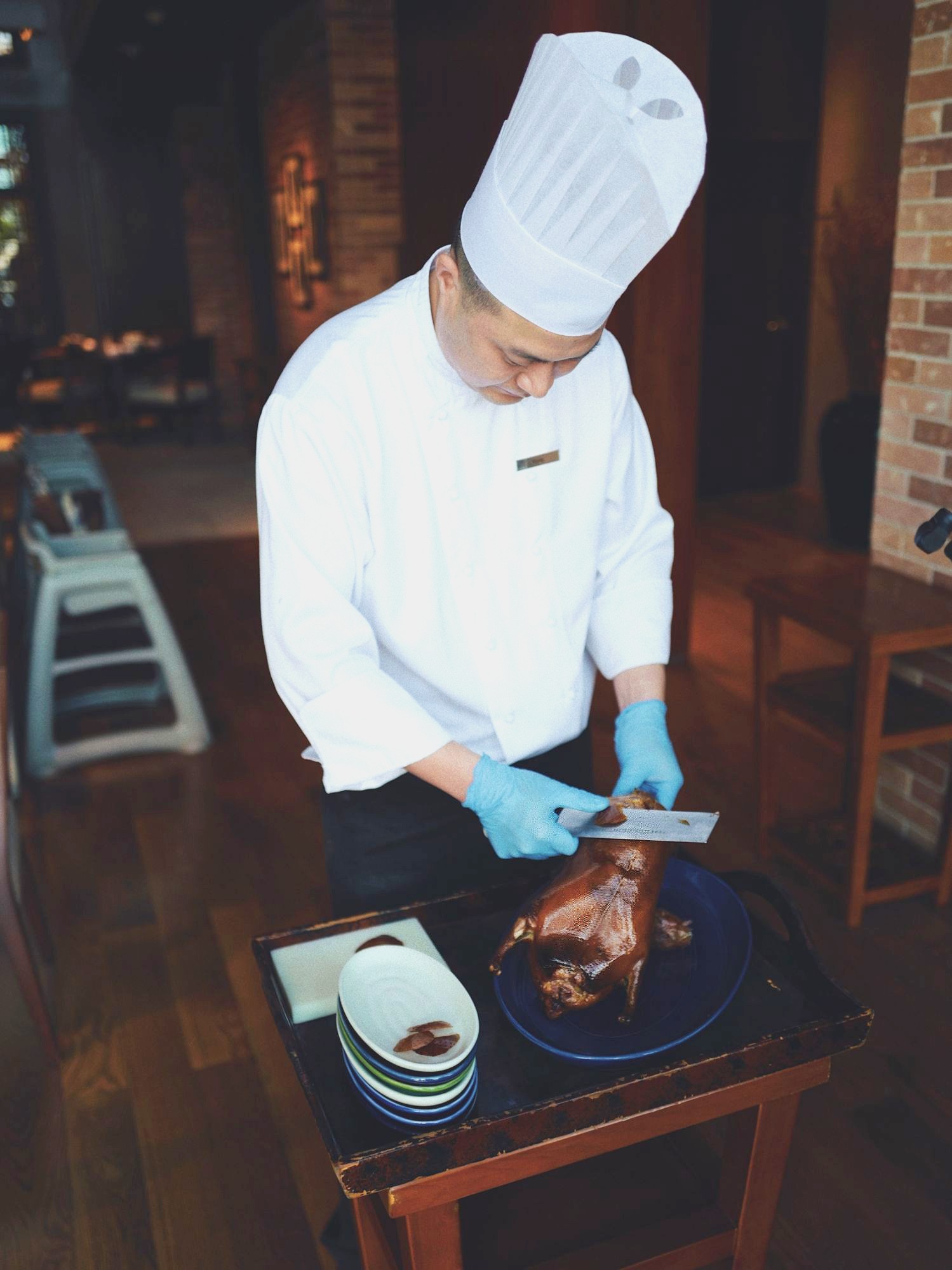 After these long meticulous steps, the chef prepares the oven. Beijing Kitchen uses traditional burning ovens with jujube wood which is an important element of success for this dish. When the right temperature is reached, the duck is placed in the oven to roast for more or less an hour. Throughout the whole cooking process, the chef needs to carefully control the temperature. Meanwhile, magic is happening inside the oven–the duck fat melts and merge into the meat and jujube wood enhances the meat with its subtle aroma. As you can see, preparation of this dish takes a while, so do make a reservation for Beijing duck at least an hour in advance. 
Finally, the traditional Beijing-style duck is paraded to the table accompanied by condiments such as julienned shallots and cucumbers, pancakes, sugar, and two sauces–sweet soybean and garlic. Get ready for a mesmerizing presentation as the chef masterfully slices the duck. Every part–the skin, leg, and breast meat–is expertly carved and separated into three plates. The reason for doing this is that each part of the duck has its own traditional way of savoring. Dip the perfectly crispy skin into sugar; breast meat should be paired with cucumber, shallot and soybean paste; wrap the leg meat in a pancake with cucumber and both sauces. Learning traditions that come with a dish is a way to fully understand food culture. However, don't worry even if you forget this because it won't make the flavors any less delectable.
A Flying Squirrel?
But why would you stop at one signature dish when there is the majestic crispy Mandarin fish in sweet and sour sauce on the menu, a legendary dish of Jiangsu cuisine. There is no need to resist the temptation. This fish is not only an explosion of flavors but also a showcase of the chef's exceptional skills and expertise. Its peculiar look is achieved with a highly complex deboning and cutting technique so when the fish is cooked, it looks like a squirrel in a flight, or so they say, hence, it is often called "squirrel-shaped fish". However you see it, this dish definitely looks festive and irresistible. 
To make the sauce, the chef uses several fruit juices such as watermelon and sea buckthorn, tomato sauce, and some secret ingredients. The perfectly balanced sweet and sour flavors complement the subtle and tender freshwater fish. In Chinese cuisine, the balance of textures is just as important as the flavor profile, so the softness of fish flesh must be balanced with the crispiness of the skin. 
Something casual 
Needless to say, Beijing Kitchen doesn't only have celebratory dishes and ones that need hours of preparation. For a casual lunch and dinner, there are dumplings, hand-pulled noodles, and a large selection of dishes representing northern Chinese cuisine. One of their most famous and definitely most photogenic plates is pan-fried pork dumplings with yellow chive, a set of nine identical dumplings surrounded by a crispy lattice. Moreover, there are set menus, including vegetarian and gluten-free options so there is definitely something for everyone. Whether you choose from their noodle or dumpling lunch set or order ala carte, you're sure to have a good time surrounded by traditional flavors made with care. 
---
Beijing Kitchen Grand Hyatt Macau City of Dreams, Estrada do Istmo, Cotai, +853 8868 1930, www.cityofdreamsmacau.com
Tags
Related Posts