This year, the Macau Jazz Week takes place at the end of December and will feature artists from Singapore, Taiwan, Macau and Hong Kong. The Jeremy Monteiro Generations Band (Singapore) will open the festival. Jeremy is the internationally renowned "King of Swing" from Singapore and has performed with jazz greats like James Moody and Ernie Watts and many others in his illustrious 42 year career. The Macau Jazz New Forces Concert series by local groups debuted in 2015, as the largest jazz platform in Macau. Macau Anglican College Big Band will join as well as other student groups, with the lately established Macau Jazz Orchestra.
December 19, 2018 is reserved for the Rich Huang Jazz Trio, hailing from Taiwan. Rich Huang, known as "The King of Drums from Taiwan", has established a professional career in Taiwan and Asia for over 50 years. Huang played in some important musical eras of Taiwan, including the American Military Club era, TV station big band era, and golden eras of soundtrack and record. Other than countless performances, a record of over ten thousand tracks recorded has been made by Huang, who received the honor of Outstanding Contribution Award at 7th Golden Indie Music Awards in 2016.
There will also be a talk by Tony Abelardo conducted in Cantonese, about his 50 years as a Macau Jazz Band leader. Composer and pianist Tony Abelardo was born in the 40s and moved to Macau when he was employed by Hotel Estoril in 1965, and began his job as the music director at Hotel Lisbon in 1970. Even with decades of experience as a full time performance, Abelardo had higher artist ambitions and took on more advanced studies at Berklee College of Music, one of the most profound halls of jazz studies in America, and graduated Cum Laude. Being the most authentic first generation jazz musician in Macau, Abelardo has witnessed the evolutions and changes of Macau and jazz culture, and he will be sharing his experience and thoughts.
Abelardo will have a tribute concert as well on December 21, 2018. He returned to Macau in 2004 and performs frequently while devoting himself to music education, and a number of young music jazz lovers have been deeply influenced by him. Abelardo was also the teacher of many founding members of Macau Jazz Promotion Association.
The Macau Jazz Week ends with a jam session. Local musicians will perform with guests, Jazz Roaster, from Hong Kong. Join to have a laid-back Saturday with music and no boundaries!
The Jeremy Monteiro Generations Band
When: Monday, 8:00pm, December 17, 2018
Where: Dom Pedro V Theatre
The Macau Jazz New Forces Concert
When: Tuesday, 8:00pm, December 18, 2018
Where: Dom Pedro V Theatre
Rich Huang Jazz Trio
When: Wednesday, 8:00pm, December 19, 2018 (Wed), 8:00pm
Where: Dom Pedro V Theatre
Talk 50 years of Macau Jazz
When: Thursday, 7:30pm, December 20, 2018
Where: Dom Pedro V Theatre Mirror Hall
Tony Abelardo Tribute Concert
When: Friday, 8:00pm, December 21, 2018
Where: Dom Pedro V Theatre
Jam Session
When: Saturday, 4:00pm, December 22, 2018
Where: Orient Foundation
All events are free entry – for more information, visit the event's official page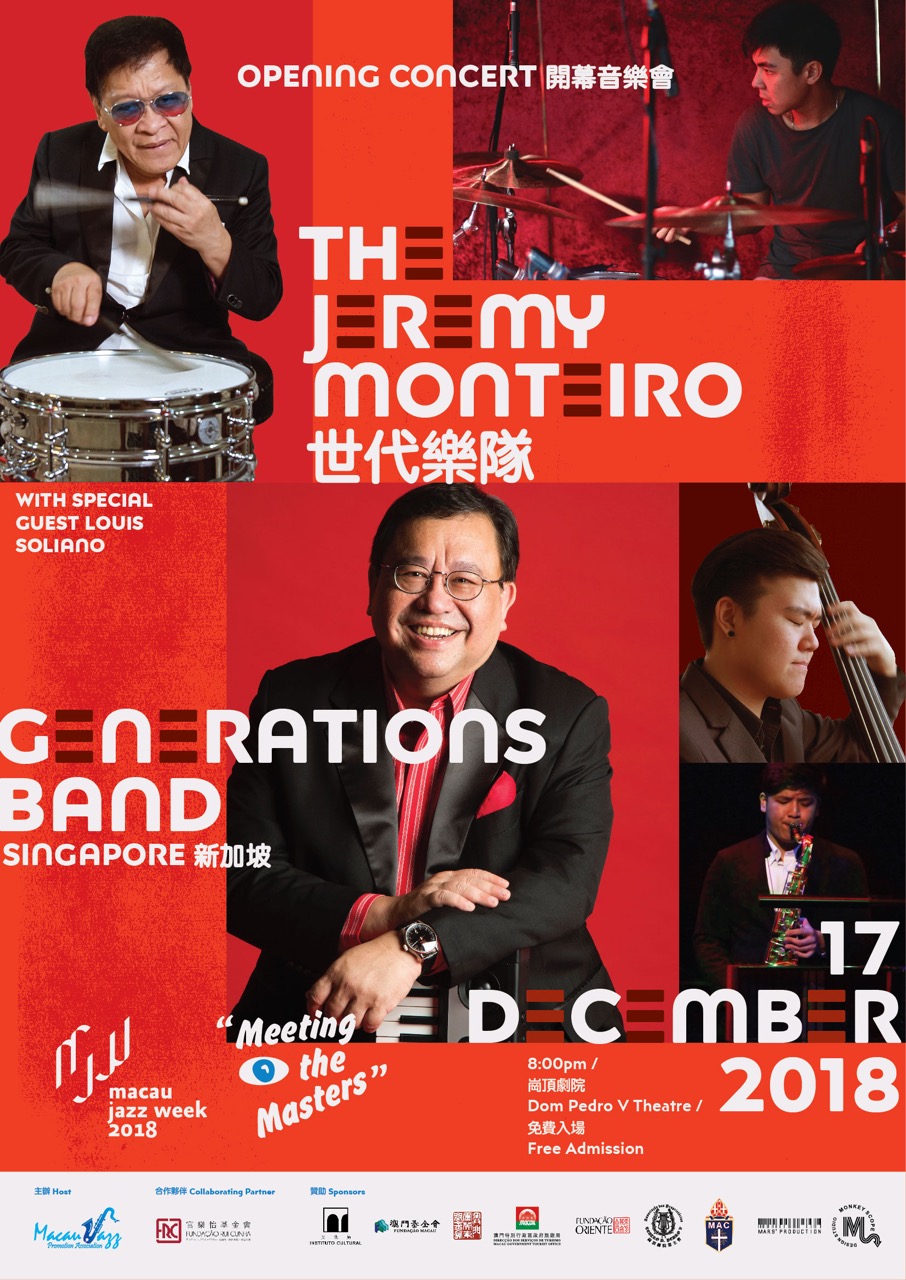 Tags
Related Posts