Mariana de Oliveira Dias and Andreea Apostol in partnership with Sheraton Grand Macao are launching Macau's first Wanderlust Staycation, from the community to the planet as a new and never-seen-before experience coming to the community. With the objective of offering to the Macau Community an opportunity to reconnect with yourself in a complete destination-like retreat and in the comfort of your own city, the hosts are involving the local wellness communities and businesses as much as possible in order to give them the chance to showcase what they know and do best. They are working with local learned experts and brands deeply respected in their fields and committed to eco-sustainability.
Committed to bring you the perfect holiday spirit and to give you the power of time and choice  Mariana and Andreea have created a unique and detailed program destined to support the  Reconnection with yourself and/or with your partner. A carefully curated list of selected physical,  mindful, and creative nature-based activities, healthy plant-based menus, workshops and classes, outdoor cinema, night market, music, dance, and more are put together in order to give every guest the opportunity to travel, explore, slow down, relax and reconnect "at home".
When traveling, food is such a big part of the overall experience, appealing to so many of the human senses and contributing to the enjoyment of a new culture. This Wanderlust staycation includes Andreea's–from rawlicious–menu design focused on a perfectly calibrated mix of raw and cooked ingredients and the contribution of carefully selected sponsors such as itspureproduction, Goodees, Indipopfood, Rawlicious that are complementing the dining experience prepared by the talented team of in-house chefs.
To promote the habit of starting the day with simple mindful practices, the hosts are dedicating 30 minutes of the morning for a ritual combined with a morning elixir on both Saturday and  Sunday followed by activities. The staycation is designed for everyone above the age of 16 and previous experience is not required. The program is divided into three days and each day comprised of different activities that suit both beginners and more seasoned participants.
In collaboration with CBM Canoe Club, guests are given the opportunity to try SUP and canoe classes at Hác Sa beach, with the opportunity of heading to the Coloane trails and embark on a meditative walk in case the water activities are not a choice for you that day. Once finished, the guests return to the hotel, freshen up, and enjoy a scrumptious plant-based meal at their own pace.
For the staycation and particularly Saturday night, hosts are bringing together a unique selection of Macau-based sustainable brands in one place as a one-stop-shop for those looking to make more mindful conscious purchases. There's also a night market, kicking off at 6:00pm the same day at the Sheraton Grand Macao Tiki pool deck.
When: Friday–Sunday, April 23–25, 2021
Where: Sheraton Grand Macao, The Londoner Macao, Estrada do Istmo, s/n, Cotai
How much: MOP $5,388 (Single Deluxe Room package) including taxes, two nights, all meals, and the reconnect program for one person; MOP $9,688 (Double Deluxe Room Package), including taxes, two nights, all meals, and the Reconnect program for two people
For bookings, send an email to [email protected] or register here
Also read: Mariana de Oliveira Dias: Empowerment Through Encouragement & Education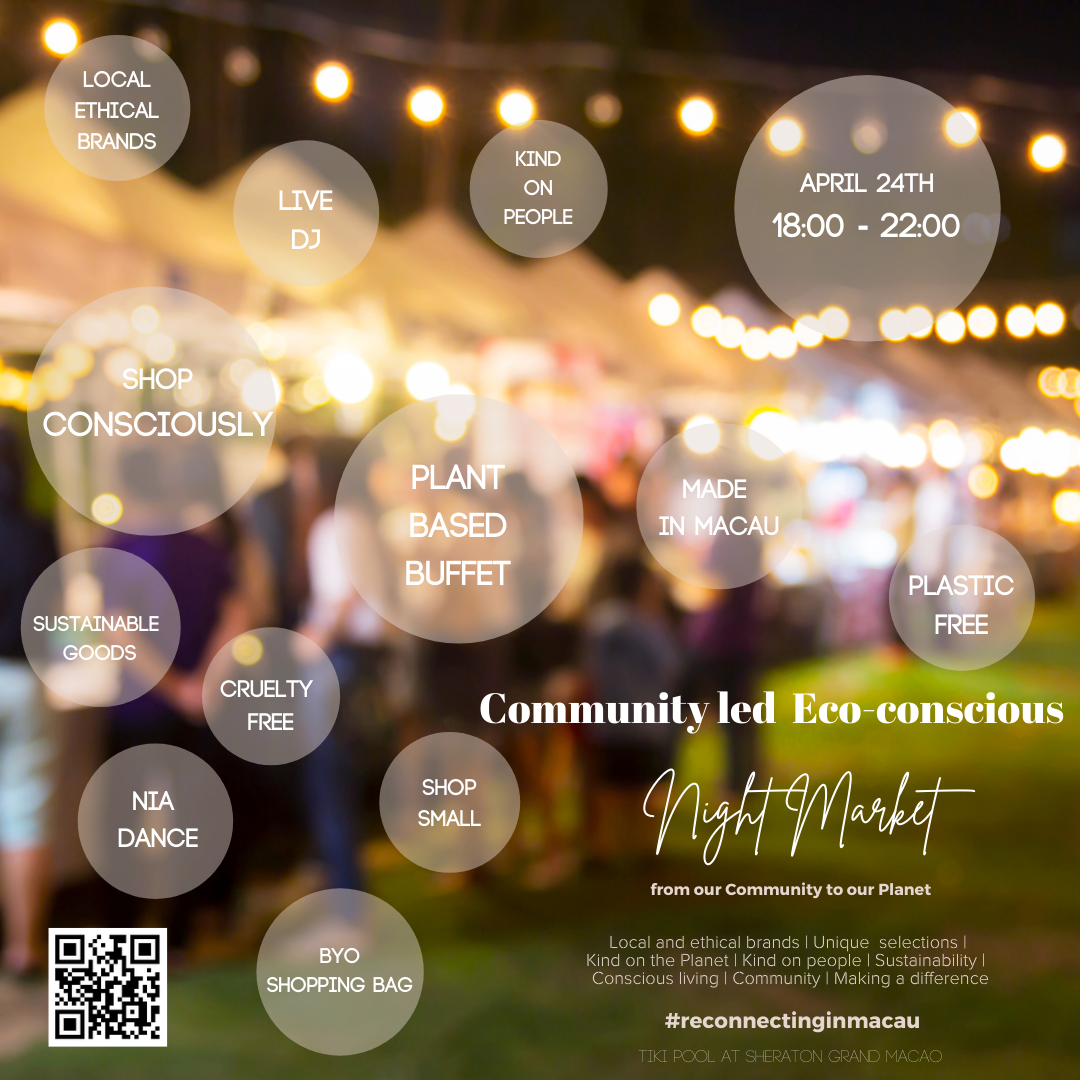 Tags
Related Posts