Arriving at The St. Regis Hong Kong is an experience in itself and perhaps what sets the bar high for our stay. All guests are met at the porte cochère by their personal butler and then taken straight to your room for in-room check-in but there is lobby check-in available for those who prefer that. There is a certain level of luxury and expectation that comes with a welcome like that and when you arrive at the second floor and see the floor-to-ceiling structures of the lobby and The Drawing Room are breathtaking. André Fu was tasked with overseeing the hotel's aesthetics and he definitely delivered. The hotel's 129 rooms and suites were carefully designed and created as a luxury destination that would make John Jacob Astor IV and his mother, very proud.
With a rich and profound history, The St. Regis brand is steeped in legacy well known to deliver the best. The brand originated in New York in 1904 when John Jacob Astor IV opened the first St. Regis Hotel. The Astor family was one of the richest families in America and opened the hotel because their own house was too small to cater to the parties Mrs. Caroline Astor (his mother) was throwing. They even brought over the butler from their own house to serve in the hotel, hence starting this butler tradition.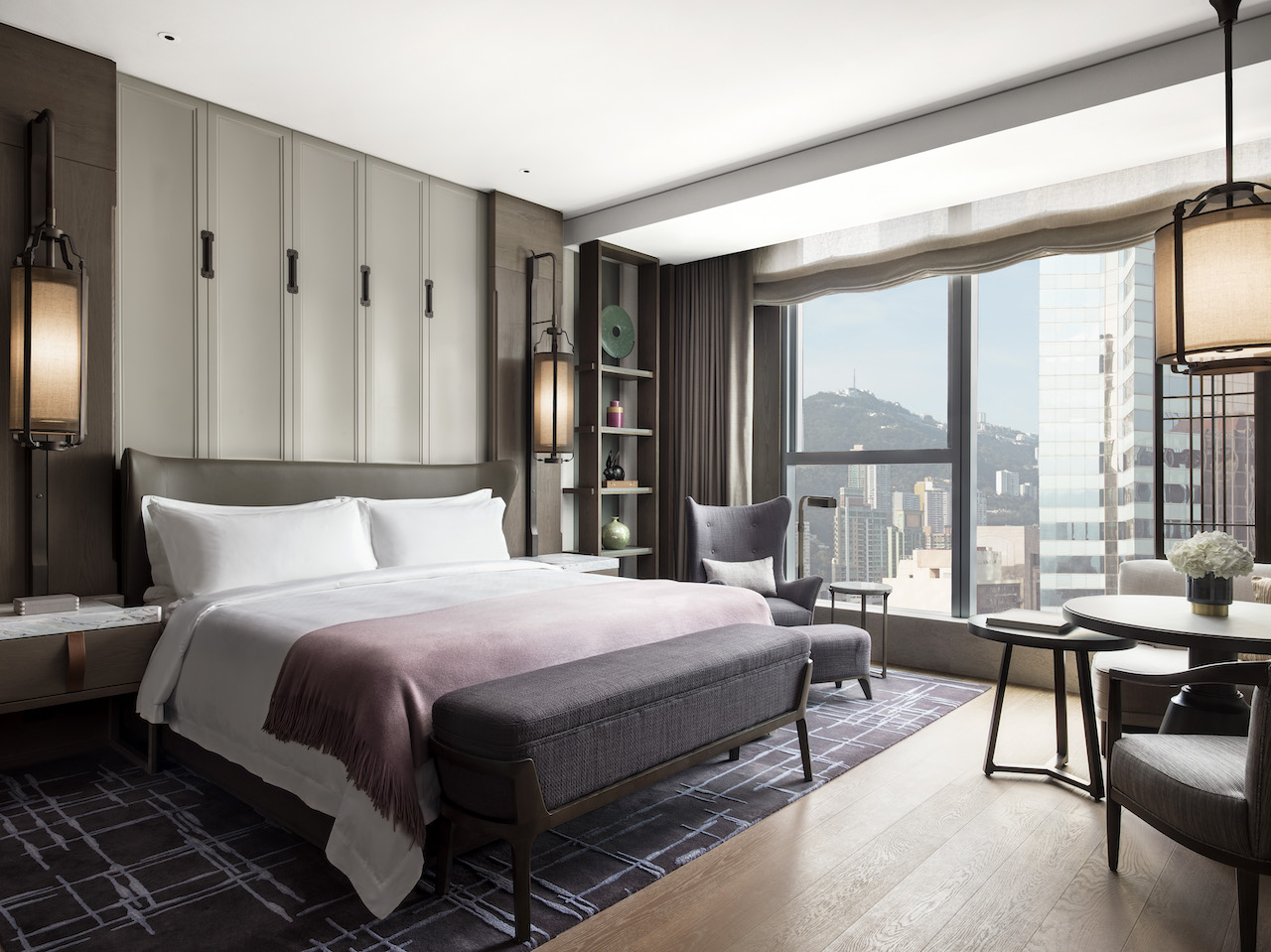 Rooms
Entering the Premier Harbour Room, the first thing you notice is how unlike a hotel room it feels. Crossing the threshold feels like you've entered into your own private home mansion. The layout of the room is thoughtful, modern and spacious. The East-meets-West design elements are impressive and oh so subtle. Design maestro André Fu's touches are everywhere. From the lantern-shaped lamps above the bedside tables to the large white shutters above the bed–similar to those seen in old Chinese homes, to the desk area created to make you really feel like you have your own workspace which also doubles as in-room dining. The room comes with a comfortable king-size bed and a cozy armchair for reading, city gazing or to enjoy a drink. Another signature feature of the room is the bar area. There's a dedicated cabinet full of everything you would need to make a drink for yourself or if you were to entertain anyone in your room. Each room has their own Nespresso machine with an incredible latte milk option (your butler can bring you fresh milk if and when you need it) and the minibar is stocked with the best St. Regis Rum, Vodka and Gin, all distilled exclusively for St. Regis from a distillery in Paris. These are available in the room and also to purchase! The room was fitted out with some very thoughtful technological additions. From the double charging ports on either side of the bed, the touch button curtain to the easy to use lighting panel.
For those of us used to Hong Kong-sized bathrooms, the huge marble bathroom at The St. Regis Hong Kong feels like a dream. It features double vanities, a spacious separate rain shower and a large bathtub with its own television! The amenities are by French brand Rémede–bonus points for their sustainability efforts with their bamboo toothbrushes. Their sheets, robes, and slippers by the luxury Italian label Frette are divine and it took a lot of willpower to leave without them. The signature 24-hour St. Regis butler service is one of the best parts of our stay and we took every opportunity to try out all of their signature services, including having a bath drawn to coincide with returning from dinner.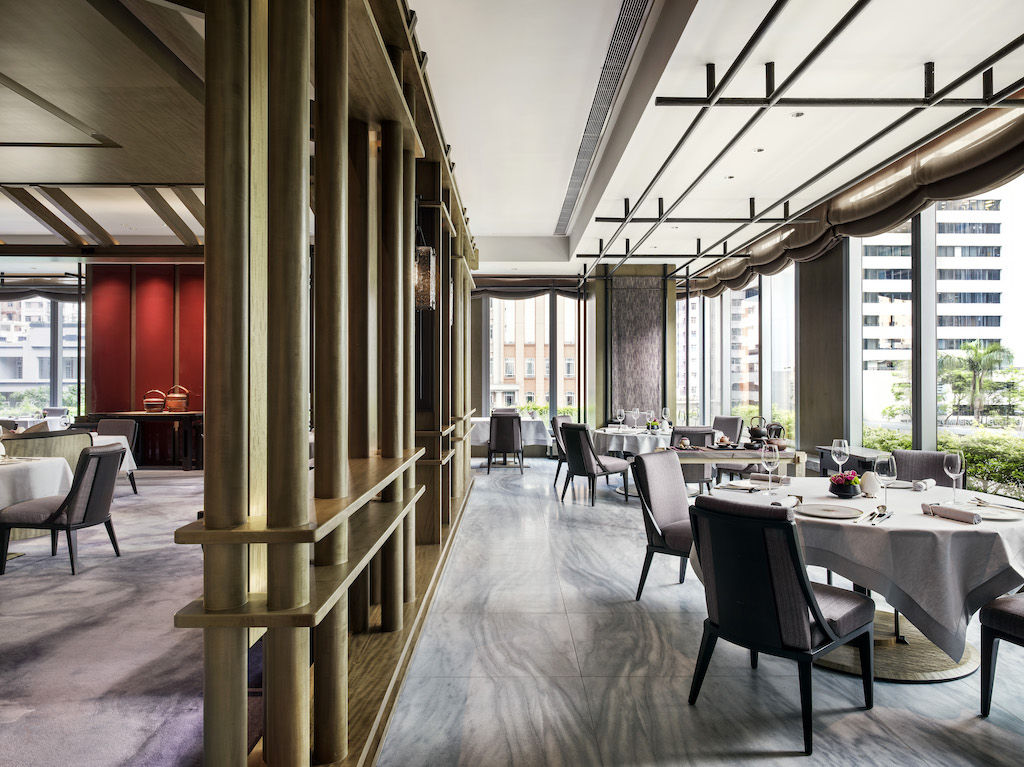 Dining 
The hotel's signature Chinese restaurant, Rùn, is led by renowned local chef Hung Chi-Kwong, previously at The Mira and, most recently, Man Wah at the Mandarin Oriental Hotel, Hong Kong before moving over to Rùn. Rùn has a modern setting inspired by a traditional Chinese pavilion and the food is best described as a modern interpretation of Cantonese cuisine with the chef's own personal touches. Cantonese cuisine is something that isn't a mystery but we were pleasantly surprised to try a few new dishes! Kezia the restaurant's tea sommelier is very knowledgable and can suggest an array of different tea and tea blends to pair with your meal. If you are a curious type of diner, she can even school you in the many types of teapots (clay, iron and others), brewing methods, organic teas, how to blend and how to decide water temperature! Staff were friendly, professional and always with a smile. Their other signature restaurant is European French fine-dining restaurant L'Envol, led by acclaimed chef Olivier Elzer who also comes highly recommended and we hope to try it out soon. Its elegant interiors, large open kitchen, and cheese and wine cellar make for an impressive environment. Special mention to their sommelier Tristan who had so much to share with us on their wine selection on a very busy Saturday evening despite not actually dining in the restaurant.
Afternoon Tea at The St. Regis is a famous tradition loved by Mr. Astor's mother Caroline but here you will find a reinterpretation of traditional afternoon tea. Served in The Drawing Room, guests can select their choice of savories and sweets based on their preferences from a dim sum-inspired trolley. Not a big sweet fan? Take more from the Savoury Trolley. If you haven't noticed already, The St. Regis Hong Kong is a hotel of traditions, and fantastic ones at that. One that can't be missed is their Champagne Sabering. Held every evening at 5:30pm on the dot to mark the transition from day to evening, the tradition dates back to the battles of Napoleon Bonaparte who famously opened champagne with his saber. This isn't just any sabering, the sword used in this tradition at The St. Regis Hong Kong is an exact replica of Napoleon Bonaparte's sword. The attention to detail throughout this hotel and every element of it was so deeply considered and thoroughly thought about. There is a meaning behind everything that has been done here and it's these details that are redefining the luxury hotel experience for guests.
Breakfast is served at Rùn but it's interesting to see how they managed to transform the space from one type of restaurant to the next. The signature jam tray, different table setting and the smell of freshly baked pastries transformed this space beautifully. The semi-buffet menu is small but sufficient and very tasty, with healthy items available such as a smoothie bowl and freshly squeezed green juices. Non-dairy milk options were also available and much appreciated. Chinese hot foods, cereals, fresh fruits, cold cuts, and cheese are also available as part of the semi-buffet. There is also breakfast available in-room if you prefer.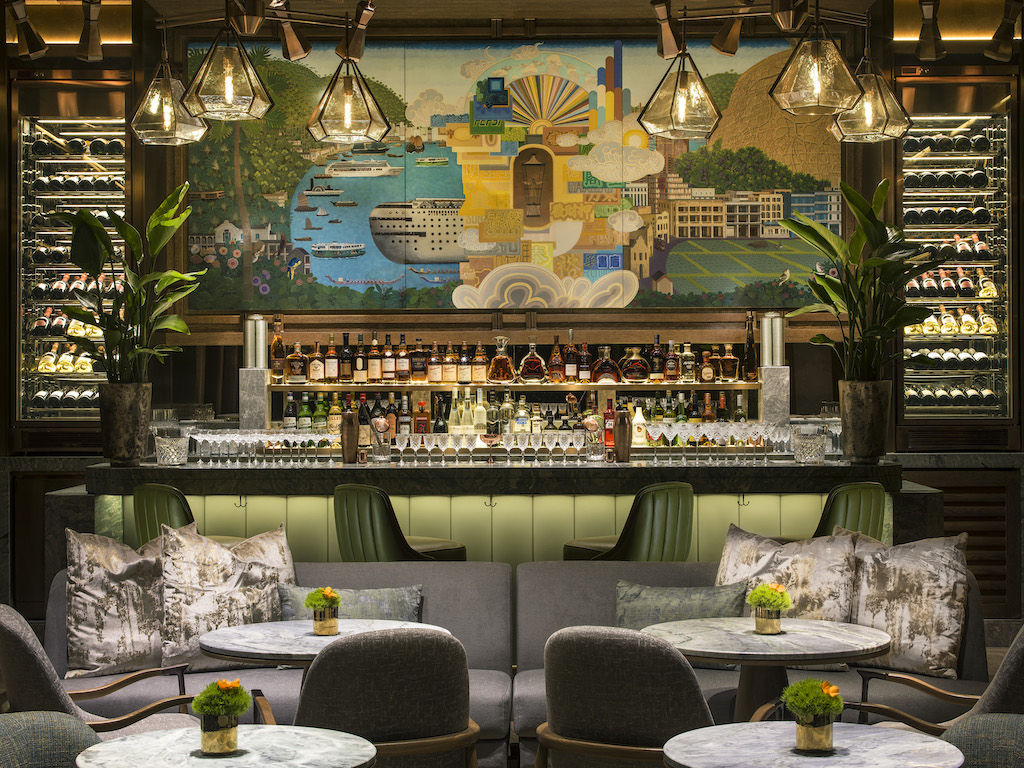 The St. Regis Bar
Located on the second floor next to The Drawing Room and Terrace is The St. Regis Bar. A small but cozy place, this bar shines with timeless elegance and impressive interiors. The first thing you notice is the incredible mural placed behind the bar. Hand-painted by Beijing artist Zhang Gong, it depicts many of Hong Kong's most well-known areas such as old Wan Chai, the Hong Kong Star Ferry, Victoria Harbour and colorful street scenes set against the old buildings. There is even a hidden message within the mural, that only the bartender knows. Pop in for a drink and find out for yourself.
Their signature cocktail menu was created to evoke a tale of two cities–blending New York's subway and Hong Kong's tram system, both launched in 1904, the same year that The St. Regis New York was founded. Olivier Zatka, Director of Food and Beverage and Andrea Minarelli have gone to impressive lengths to create the ultimate bar experience for their guests. From the small details like the cashew nuts with oregano to the range of different olives and napkin linen that accompany your glass, every last aspect has been considered. There are diamond-shaped accents everywhere throughout the hotel but most noticeably in the bar where their customized glassware shines. There is an impressive range of over 100 labels of unique liquors and spirits that have been sourced from their own lists of contacts around the world. Every St. Regis hotel around the world comes up with their own signature "Mary" and The St. Regis Hong Kong have delivered a unique cocktail with the "Canto Mary". The Canto Mary is mixed with chang pei (dry tangerine peel), Kowloon soy sauce and Chinese five-spice. The most interesting part is that there are three varieties–Red, Yellow, and Green. What makes them different? The color is based on the type of tomato juice used. We highly recommend trying a sample of all three and taste the difference when a different tomato juice is used. Our favorite was the Green Canto Mary which was so good, we ordered a few after checkout on Sunday. Every evening, guests are also treated to live jazz performances.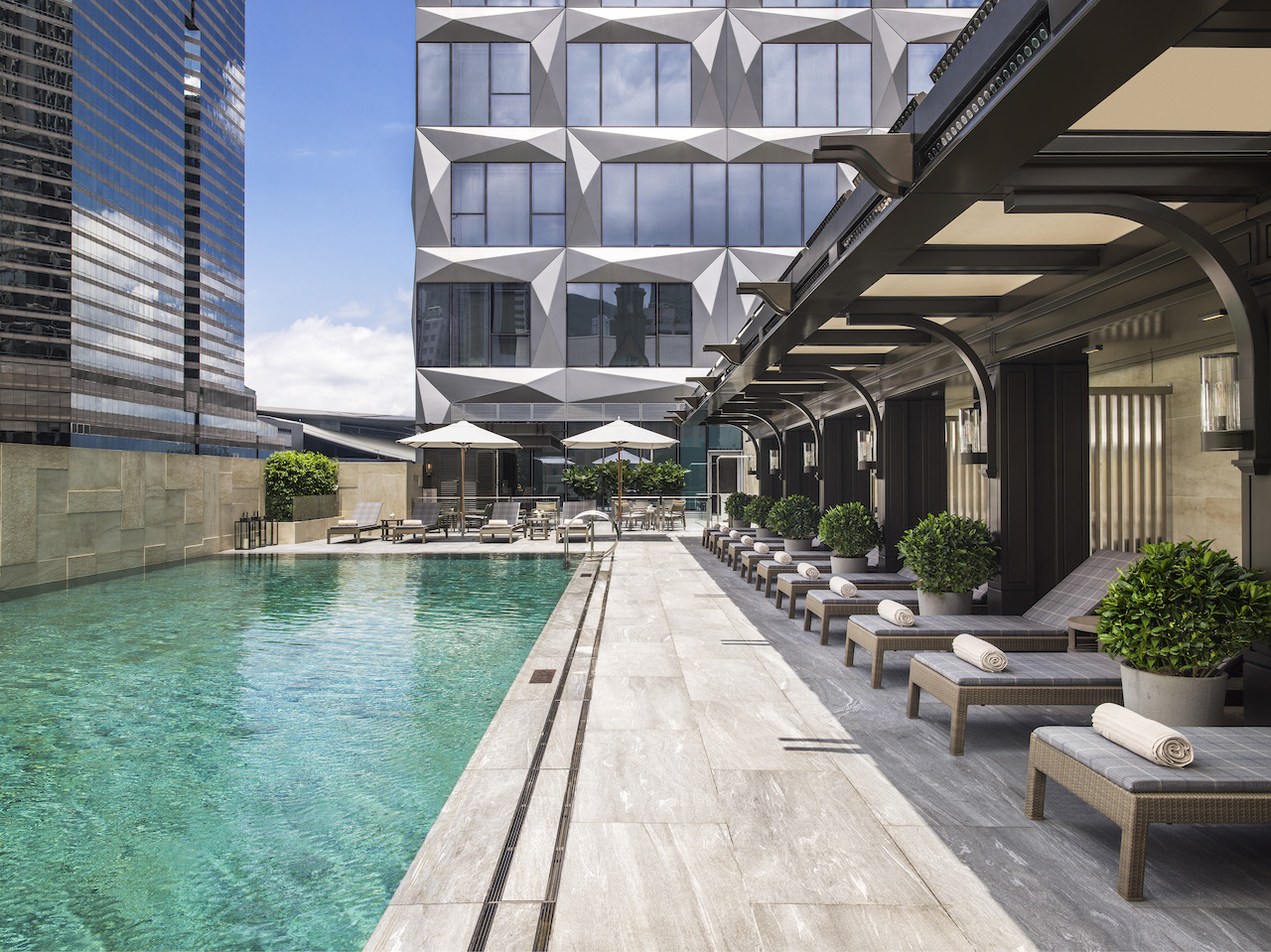 Facilities 
The hotel's Fitness Center offers state-of-the-art cardio equipment, machines and some serious space for a workout. It has a weights area, yoga, and stretching area, pretty much everything you need for a full workout including one-on-one personal training for guests as well as regular fitness classes. Their outdoor swimming pool is on the small side for a hotel, but it is a serene space with plenty of chairs and shade. Staff are attentive but not intrusive where drinks and snacks are available poolside should you need. We didn't have time to try out their spa but we are confident that it is just like every other aspect of The St. Regis Hong Kong–absolutely fabulous!
Complimentary Breakfast for Two package
For any room type, guests will receive up to two complimentary breakfasts per room! This is alongside The St. Regis' butler experience which includes packing and unpacking, ironing, tea and beverage offering, and insider tips on your trip. This offer ends on December 20, 2019 (rate from HKD $4,100++). For further details on offers and packages, check their website.
The St. Regis Hong Kong is located in the heart of Wan Chai and walking distance to the Wan Chai Ferry pier and Wan Chai MTR station.
---
The St. Regis Hong Kong 1 Harbour Dr, Wan Chai, +852 2138 6888, www.marriott.com
Tags