The Upper House Hong Kong has become an icon of the city of Hong Kong and is well-deserving of its worldwide reputation as one of the best luxury hotels in Hong Kong. While the definition of luxury is changing and evolving, at The Upper House Hong Kong, you experience what real luxury is, at every turn. This year, they celebrate their 10th anniversary, a fantastic milestone for a property that truly makes each guest feel like they are the most important person there. Still one of the most recommended luxury hotels for visitors to Hong Kong, we decided to explore the hotel and all its offerings.
The Upper House Hong Kong has four room categories and even their most basic offering, the Studio 70 room, is more than impressive. While we were lucky enough to stay in their Upper Suite, one of the first things you notice for all the rooms when you enter is the epic view. It's just unbeatable. Its location in the heart of the city doesn't mean you only have impressive urban views. For rooms from the 38th–48th floor, those lush green hills near the peak and harbor views are well within sight. You would not think this hotel has been here for a decade and it really is an example of " timeless design". Designed by the now very well known Andre Fu, it is clear that 10 years ago he was so forward-thinking that his designs and ideas have held up so well into the present.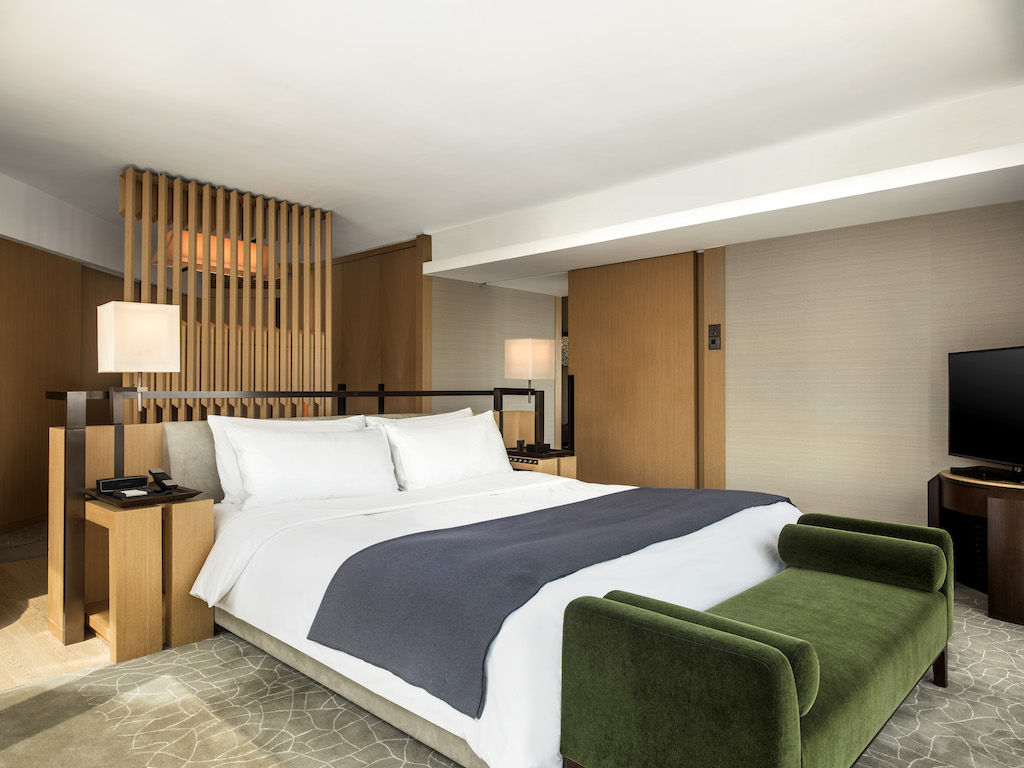 The Room
The rooms are modern and very spacious; the design and layout of the room are very practical, intuitive and has everything you need. The color tone throughout is very balanced, warm, and there really is this feeling like you are at home. The living room is set out with a working desk area and chairs, an L-shaped sofa, and cushions along the window. We spent a lot of our time on the window seats taking in the views of the city and snapping a few pictures. In addition to freshening up our social media feeds, we also indulged in their selection of in-room books. The Upper House Hong Kong's 10 Year Journey room package has reading material curated by TASCHEN, publisher of books on art, architecture, design and photography. Spending just an hour flipping through their books gave us a lot of new ideas and perspectives. We're told that the rest of the magazines available in-room are also welcome gifts tailored based on what the hotel knows about their guests and preferences. Now that's another level of hospitality–personalized reading materials!
The bedroom is fitted out with a large flat-screen TV, and huge bed with silky, custom made 400 thread count Egyptian cotton, that once we got in, we seriously didn't want to get out of. Shout out to their amazingly plush and soft bathrobes which were also custom made and available for purchase upon request! With epic views, come large windows and at bedtime, the double curtains block out any trace of light emanating from Hong Kong's pulsing nightlife, and this made the room extra cozy. Best is that there's only one simple switch for lights out.
The bathroom is huge, where the first thing you'd notice is the large, deep bath that is surrounded by beautiful views, a spacious separate rain shower, double vanity sinks and another area for dressing and makeup application. Their amenities are by Bamford, a brand created by Lady Bamford in England and it's such a wonderful surprise to discover a new brand when staying over at a hotel and just in case you want to take some home, the products are available for purchase at the gift store.
Something that you don't see everywhere is the complimentary minibar offerings, where everything but wine and champagne is replenished daily and this was a simple but fantastic touch. All in-room dining menus and hotel information are on the TV system and very easy to use. We loved the artwork on the walls and the generous amount of coffee table books to read through. Even though the property has no spa, in-room massage service is available. In fact, they have a whole spa menu with services such as body massages, facials, nail treatments and styling sessions all available in the privacy of your own room. Their gym is well equipped and open 24 hours a day–you just need your room key to swipe in. We highly recommend the Energy Class – which is held on Wednesday 8am, or their Yoga Class held on Friday 8am, Saturday & Sunday Yoga Class at 9am which is available daily for stay-in guests only.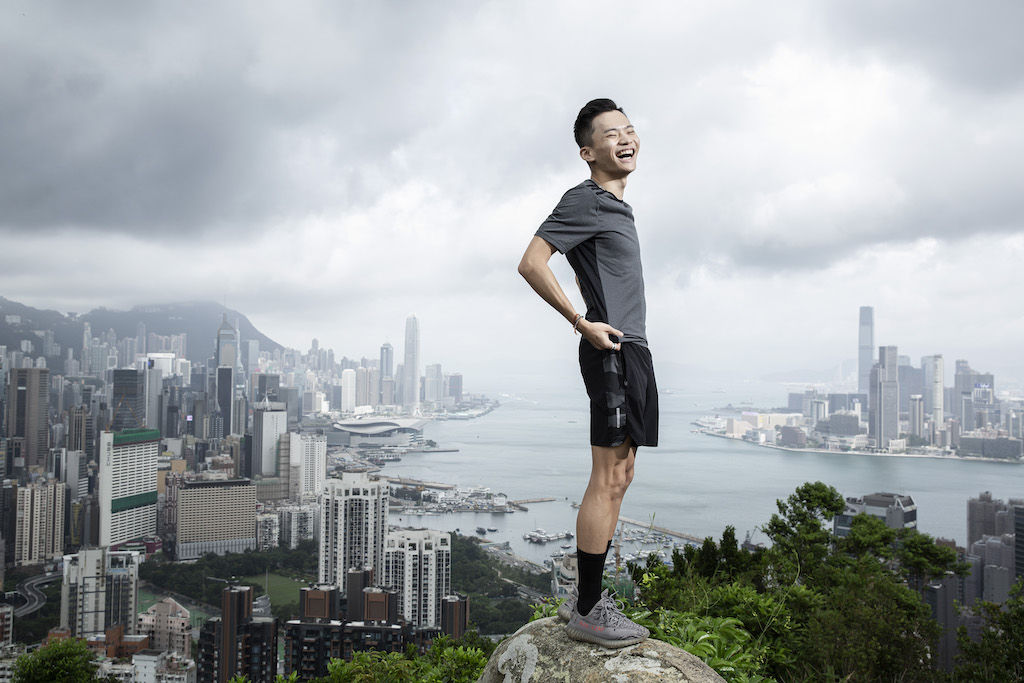 The Guest Safari Experience
The guest experience team at The Upper House is there to make sure you get the most out of your stay and " Welcome to our house" were the first words we heard while entering the arrival area. We were whisked straight up to our room for a quick in-room check-in and room tour. As part of their "#our10yearjourney" room packages, we were welcomed with thoughtful gifts laid out on the table waiting for us when we arrived. The guest experience team's efforts to provide us with the most personalized and memorable stay was impressive and didn't feel at all forced. They also don't wear name tags, which further adds to the idea of really getting to know the people around you because you don't wear name tags in your home, do you?
As part of their 10-year anniversary celebrations, The Upper House Hong Kong has taken their guest experience team offerings to loftier heights. The team is now offering "Hong Kong Safari with Guest Experience" when you book one of the "#our10yearjourney" room packages. A curated tour lead by a terrific guide (one of the guest experience members) shows you around the city with a focus on how you like to enjoy the city. There are five, three-hour Hong Kong safari options–The Food Guru, The Shopping Diva, The Local, The Explorer, and The Connoisseur. All tours include access to The Upper House's car to bring you around town and the best part? It's like having your own personal guide around the city.
The Explorer, for example, lead by Patrick Tai will show you some of Hong Kong's best hiking routes but also those off the beaten path routes that not many people know about. "So many people don't know that they are in an urban jungle with nature just a short walk or car ride away". If cultural immersion is how you like to explore a city, then head onto "The Local" tour with Tommy Chan, who recommends "jumping on the Star Ferry and exploring the districts of Sham Shui Po and Diamond Hill."
That being said, for other guests, they are more than welcome to book these excursions as well at a cost. If you do book an excursion, you won't regret it! Every single member of staff who we came across during our stay was friendly and helpful. The hospitality experience here was unlike any other with the staff seeming to be able to anticipate our every need and want.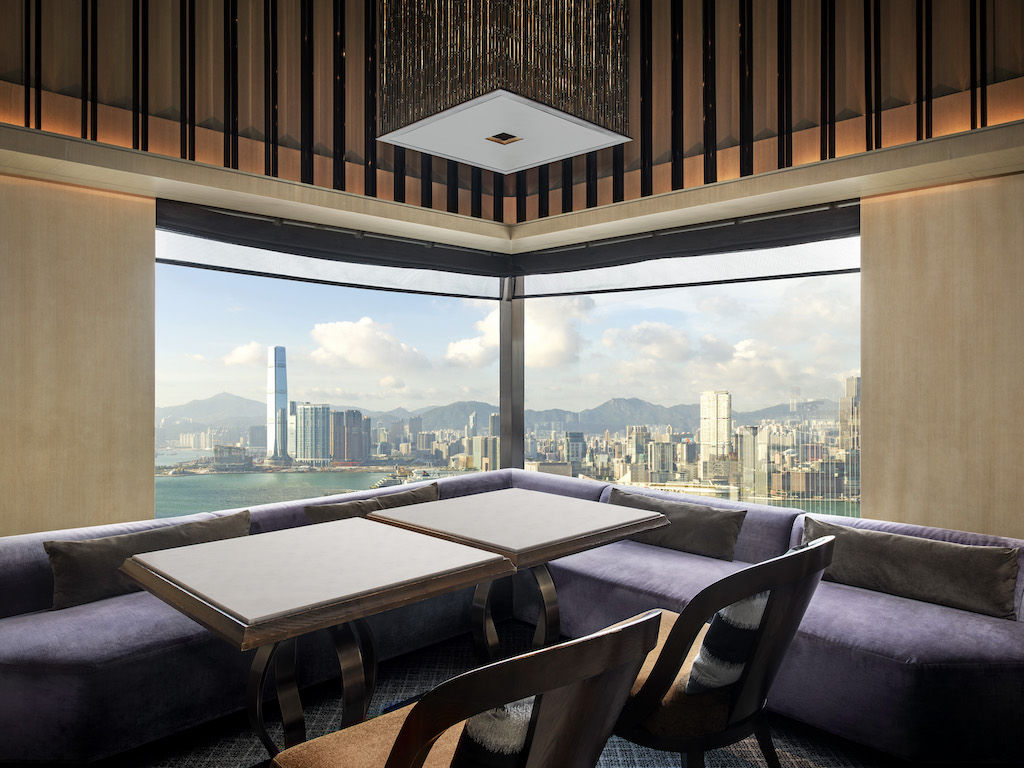 Dining
Café Gray Deluxe has a modern European menu with delicate and impeccable flavors. From an open friendly lunchtime vibe to an intimate evening space, they manage to transform this area fantastically. Around the corner near the bar, which you should reserve a spot for in advance, their cocktails from the Autumn Cocktail range are a great way to kick off an evening. The bar staff are all very knowledgeable and all played a hand in giving their ideas for the creation of the new autumn cocktail menu. Bar manager Jack insists on making sure all members of the bar staff are given an opportunity to contribute to the innovation of the cocktails. Recently launched, there are eight new creations but our favorites were "Applewood", Woodford reserve bourbon, chartreuse green, maple, lemon, apple, celery bitters, and pale ale. Another favorite was the "Tale of two grapes". Their bar snack menu is legendary and no matter what you choose, you won't be disappointed. We loved their tarte flambee, which was topped with Iberico ham, zucchini and za'atar and their tenderloin tips. Their grilled shrimp toast with kimchi aioli, nori and sesame is a new addition to the menu and equally tasty. To end the meal on a sweet note, we were served the signature The Upper House chocolate chunks. There're Swiss milk and dark chocolate as well as candied puff pastry served at the end of every meal!
Breakfast at The Upper House is served at Café Gray Deluxe and the options are endless. Eggs any way you like them, açai bowls, muesli, fresh fruit, avo toast–the list goes on. They cater for all dietary requirements and the staff are very attentive. One mention to one staff member that we were lactose intolerant and it seemed that every member of staff on the floor that served us would let us know if a dish had dairy in it. They have both a set menu and ala carte breakfast options available. Breakfast here has a really laid back relaxed vibe with sweeping views of Hong Kong to relish as you sip your cappuccino.
Café Gray Deluxe is more than just a cafe inside a hotel, it's rightfully a destination on its own and this is further confirmed by the number of locals who frequent it for its incredible cocktails, afternoon tea, and dining menu. Our stay was made all the better with the staff's upbeat attitude, incredible thoughtfulness and of course, first-class service. We absolutely loved our stay at The Upper House Hong Kong and it was truly difficult to fault anything.
---
The Upper House Hong Kong Pacific Place, 88 Queensway, Admiralty, +852 2918 1838, www.upperhouse.com
Tags
Related Posts