Hong Kong has already established itself as a top culinary hub in the region. There are so many restaurants to choose from and the dining scene keeps transforming each year. This month, we help you discover the best and finest when it comes to food. Bookmark this page and get the location sorted out for your outings with family and friends.
Henry at Rosewood Hong Kong
(Featured image above)
The list of top-notch dining in Hong Kong gets longer each year. This just proves how incredibly diverse and flavorful the restaurant scene in the city has become. This year, the Rosewood-conceived concept, Henry is a must-try for residents and visitors alike. Henry re-imagines the Southern states' American barbeque and steakhouse tradition. The fascinating kitchen is equipped with live-fire ovens, charcoal grills and world-class meat lockers at the butcher's shop. We sampled an array of delicious starters, mains, and desserts. We loved the butcher's shop terrine with cherry and peach chutney and the cold smoked steak tartare with egg yolk purée, and toast to start with. Moving onto mains and Henry's mixed grill was a crowd pleaser with so many choices. The mixed grill featured Elysian Fields lamb chop, Brandt bone-in ribeye, Becker Lane pork chop, seven pepper brisket, butcher's shop sausage, and house-cured bacon! We also tried the 44 Farms bone-in ribeye, 90 days aged in Woodford Reserve bourbon and ash which had great flavors but was a bit too much to finish alone. There are also seafood options as well for those who aren't feeling as carnivorous. The sides were show-stopping and complemented the meat dishes perfectly. Plenty to choose from such as kale, corn, fire-roasted salad, broccolini, mashed potato, and corn grits. If you can still fit in anything after this feast, don't miss out on the baked Alaska.
Chef Nathan Green who is at the helm of the kitchen reinvents dishes to provide the city with an ultimate destination for meat-loving epicureans. With a sleek and stylish setting set to attract Hong Kong's food fanatics, you'll find a relaxing leather-swathed banquette seating, polished brass hardware, and smoky glass, offset by the streamlined, marble-clad bar. The best part of it all, there is a terrace that overlooks the Kowloon panorama that's perfect for enjoying a glass of wine or a fine cocktail to end a beautiful dining experience.
Henry Level Five, Rosewood Hong Kong, 18 Salisbury Road, Tsim Sha Tsui, Hong Kong, +852 3981 8732, www.facebook.com/henrygrillhk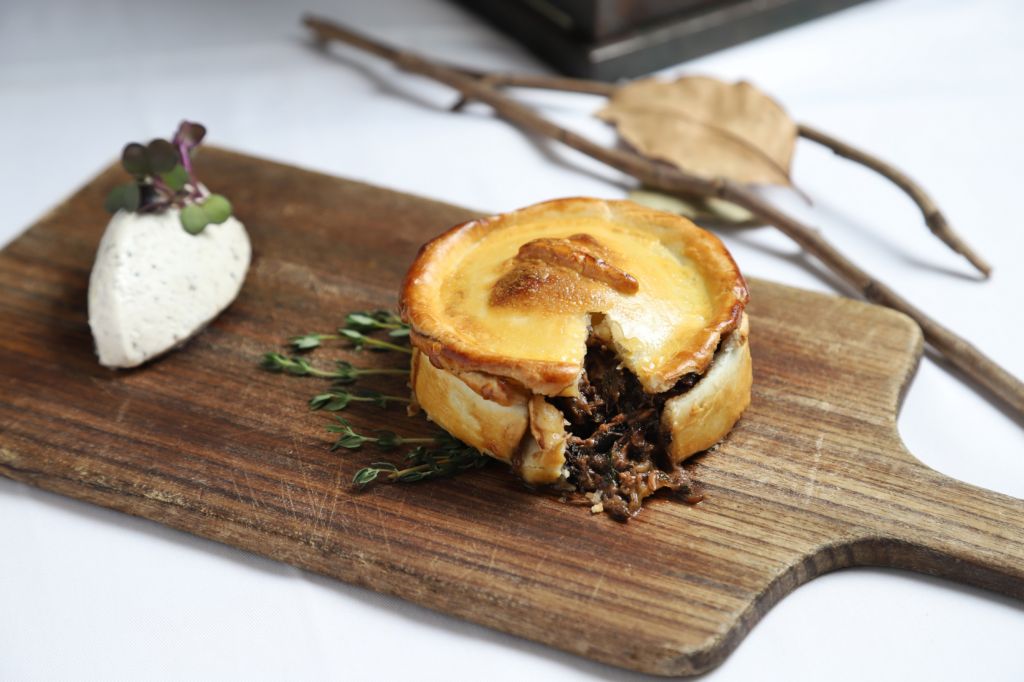 Casa Lisboa
Hong Kong gourmands won't need to head over to Macau to taste true Portuguese cuisine. Casa Lisboa located at Wyndham Street in Central presents authentic traditional Portuguese dishes that will sate your tastebuds. It's a well-known fact that autumn and wintertime is the best time for the Portuguese to go out for traditional hunting activities. This hunting tradition also has a profound impact on its food culture. The Portuguese combine the meat from hunting with a variety of ingredients that are abundant in autumn and winter to create a variety of traditional dishes and unique cooking techniques.
Master chefs Jesus Pascual and Fábio Pombo have designed brand new Portuguese dishes that will captivate the senses. It includes partridge pie with wild mushrooms priced at HKD $190, wild boar and chestnuts stew priced at HKD $280, Portuguese hunter duck rice priced at HKD $310, and poached egg, wild mushrooms, sautéed foie, Solera Périgord sauce priced at HKD $170. Try these seasonal dishes with the whole family!
Casa Lisboa 2/F, Parekh House, 63 Wyndham Street, Central, +852 2905 1168, www.casalisboa.com.hk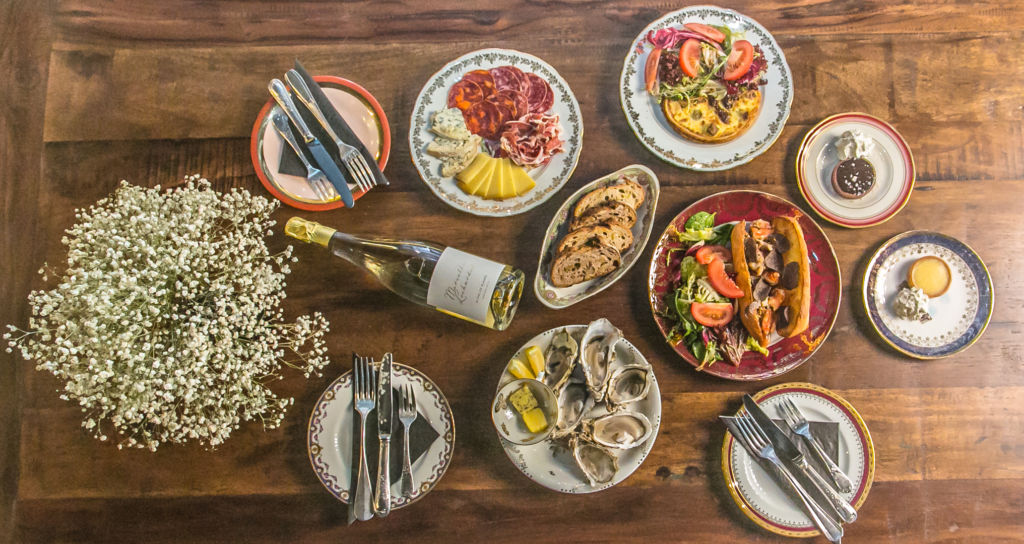 ThinkWine
Fancy a one-of-a-kind dining experience to kickstart your year? ThinkWine has introduced a brand new experience of wine and food pairings at the heart of Hong Kong. Try the ThinkBrunch at ThinkWine! Guests will embark on a wine-friendly selection of gourmet bites by artisanal producers such as Royal Caviar Club, Alexandre Polmard, Pata Negra House, The Cheese House, and Sweet Fashion House. The special brunch begins with a delectable French platter, a grazing plate of fine aged cheeses from France along with slices of acorn-fed 100% Spanish Iberico ham from Pata Negra House.
The main course is a Mediterranean quiche, a fresh-baked egg tart with dried tomato, olives, and feta cheese. The dessert course is a treat by French Patissier Gaël Majchrzak of Sweet Fashion House, featuring the rich chocolate tart and zesty lemon tart. The three-course ThinkBrunch menu begins at HKD $290 plus a 10% service charge per guest. You can opt to add a two-hour free-flow wine package valid until 5:00pm for an extra HKD $290 plus 10%.
ThinkWine 2/F, LL Tower, 2 Shelley Street, Central, Hong Kong, +852 2886 3121, www.thinkwinehk.com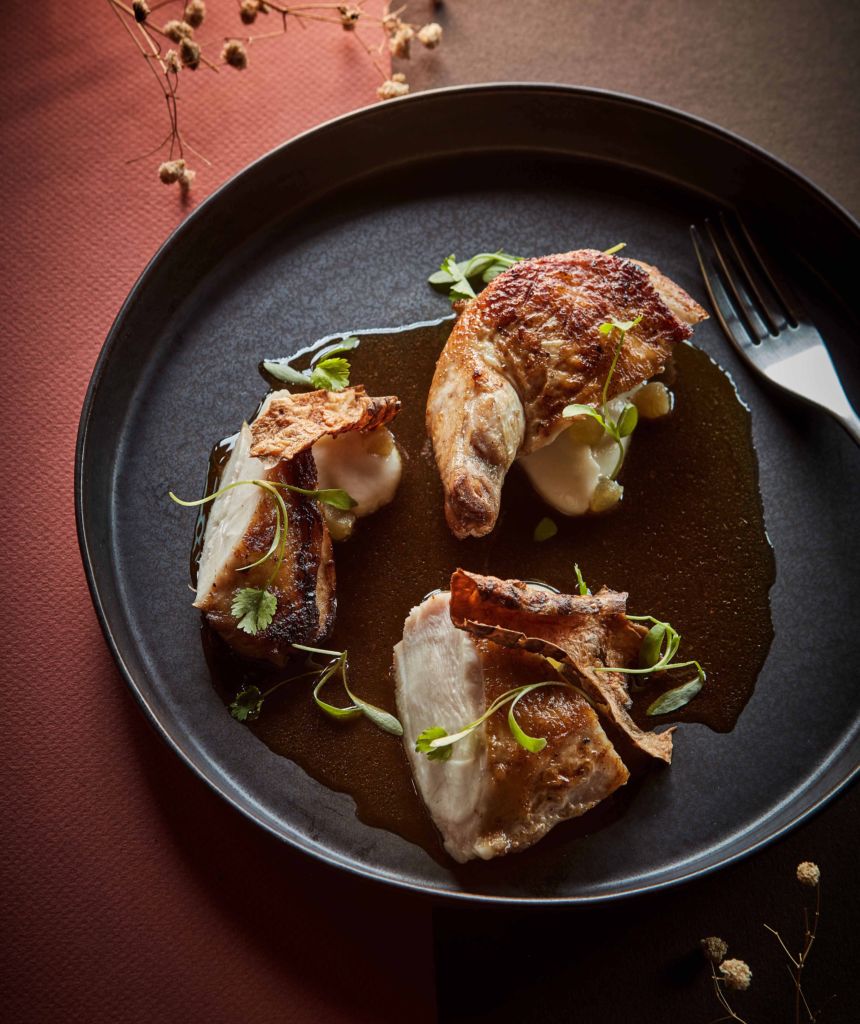 Amelia Hong Kong
If there's one restaurant that should be on your bucket list this year, it should be Amelia Hong Kong. The celebrated Michelin-starred restaurant from San Sebastián has opened its doors in Harbour City with a monthly-evolving menu of modern European cuisine imbued with Italian elegance. Amelia's founder and Executive Chef Paulo Airaudo's progressive approach earned a Michelin star for Amelia within just six months of its opening in San Sebastián. Amelia Hong Kong is a continuation of Airaudo's culinary philosophy making it a must-try destination for the city's food lovers.
Don't miss these exquisite dishes that include scorpionfish, tomato, crème fraiche, dill, in which tomato essence is extracted into a translucent jelly to pair with the raw scorpionfish. The grilled eggplant, hazelnut, stracciatella, kalamata olives are a heartwarming dish that smooths the palate. You'll discover the eggplant slightly burnt and peeled before being marinated and glazed with honey, with dukkah-sprinkled hazelnuts adding a distinctive nutty taste. Amelia is open seven days a week for lunch, afternoon tea and dinner. This is one dining journey that should be on your 2020 calendar.
Amelia Hong Kong Shop OTG63, G/F, Ocean Terminal, Harbour City, Tsim Sha Tsui, Hong Kong, www.facebook.com/ameliahongkong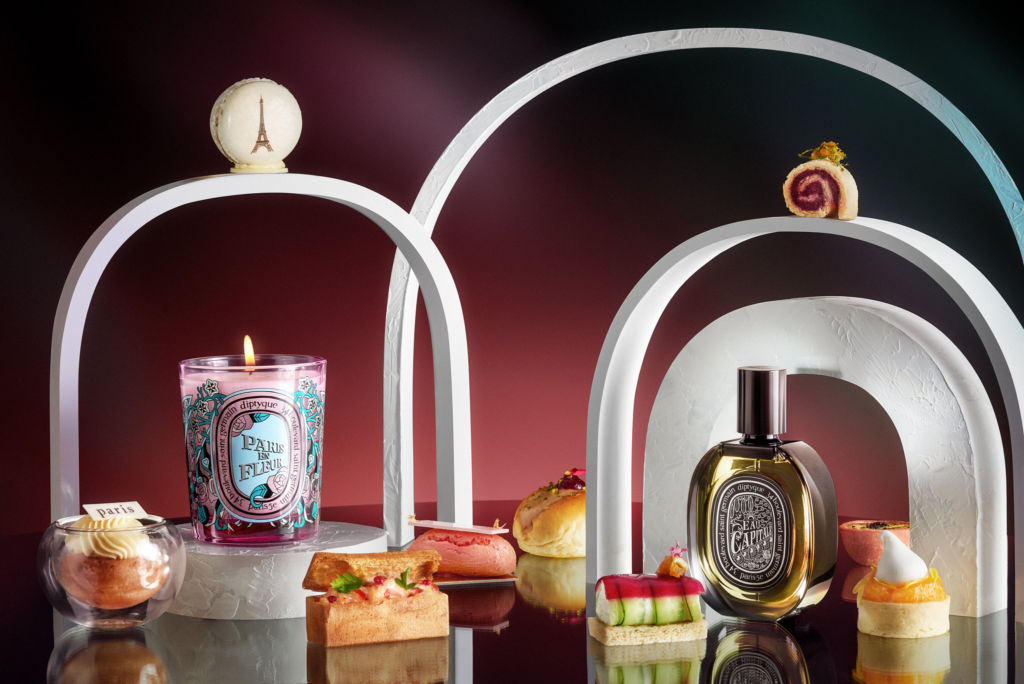 InterContinental Hong Kong 
Catching up with friends after the New Year is simply mandatory in Hong Kong! Begin the new year at InterContinental Hong Kong over Parisian inspired afternoon tea in collaboration with diptyque Paris. You'll discover the first fragrance of diptyque's Chypre family, Eau Capitale. Be captivated by an enchanting blend of rose, bergamot, patchouli and pink peppercorns, and the limited edition Paris en Fleur. Both are an ode to Paris, the chic home and essence of the house of dipytqye.
Inspired by diptyque and the sensory pleasures and delights of its Parisian home, InterContinental Hong Kong's Executive Chef Maxime Luvara and Executive Pastry Chef Christian Gonthier have created a delectable Parisian inspired tea set with ingredients and flavors reminiscent of the City of Light. The afternoon tea set is served with a selection of fine mariage frères tea or coffee priced at HKD $688 for two persons +10% service charge. It is inclusive of two pieces of deluxe samples of diptyque's eau de toilette as well as a gift card and more. The afternoon tea set is available from January 6 to February 29, 2020.
InterContinental Hong Kong 18 Salisbury Rd, Tsim Sha Tsui, Hong Kong, +852 2721 1211, www.hongkong-ic.intercontinental.com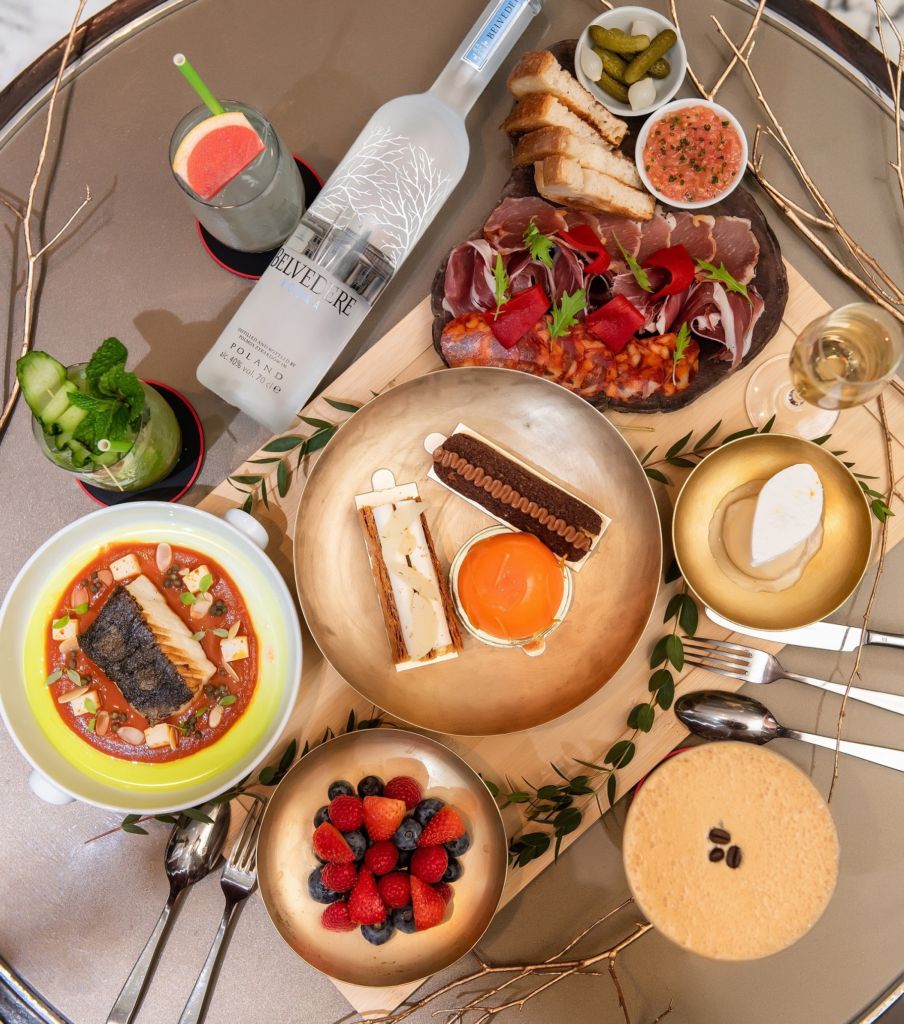 MO BAR at The Landmark Mandarin Oriental
Who doesn't love a good brunch? Head to MO Bar at The Landmark Mandarin Oriental for their sparkling new Belvedere Brunch. The Belvedere Brunch offers a choice of starters, main courses, side dishes and finishes with MO Bar's dessert feast, all of which are perfect for sharing. The menu features some all-time favorites and new offerings with plant-based options–the fresh yellowfin tuna tartare, classic Dungeness crab cake eggs "benedict", roasted black cod, pappardelle and more.
MO Bar's dessert feast is heaven on earth with treats that include clementine gingerbread sphere, pear and tonka bean mille-feuille, XL eclair, pear vacherin, and mixed berries. It's available on Saturday and Sunday from 12:30 pm to 3:00 pm. The MO Bar weekend brunch comes with two formulas–Belvedere Brunch, priced at HKD $598 and Vintage Brunch, priced at HKD $688 with free flow of Moët & Chandon Grand Vintage 2012. The four hours after-brunch package is available at HKD $418 per person.
MO Bar The Landmark Mandarin Oriental, Hong Kong, 15 Queen's Road Central, Central, Hong Kong, +852 2132 0077, www.mandarinoriental.com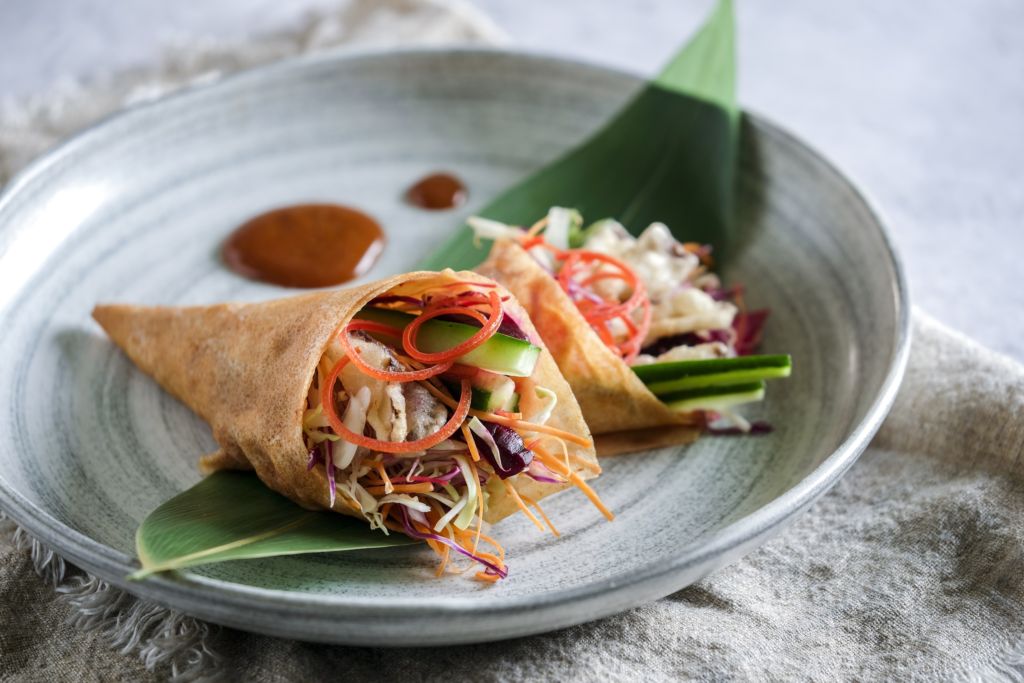 Miss Lee
A stylish new dining spot has opened its doors on the Sheung Wan corner of Wellington Street. Miss Lee presents modern Chinese vegetarian cuisine in a fun environment that promotes healthy eating. With a plant-based philosophy that places fresh vegetables at the forefront of every homemade dish, the menu embraces vegetarians, vegans, and flexitarians alike. The beautifully plated dishes are sure to be a hit with picky eaters! It is inspired by flavors found in Chinese cooking, full of aroma and texture, to ensure that every diner, even carnivores, are fully satisfied. We recommend the Chef's Signature Menu priced at HKD $288 for a three-course set menu. It is available with juice pairing for an additional HKD $128 or wine pairing for an additional HKD $138.
The à la carte menu also shines with dishes such as smoky quartz priced at HKD $72. It's a gluten-free combination of king oyster and shiitake mushrooms, and asparagus skewers housed in a small, wooden box with applewood smoke wafting through the air. The menu offers an interesting combination of dishes that are pleasing to the eyes and delicious in taste!
Miss Lee G/F, The Wellington, 198 Wellington St, Central, Hong Kong, +852 2881 1811, www.misslee.hk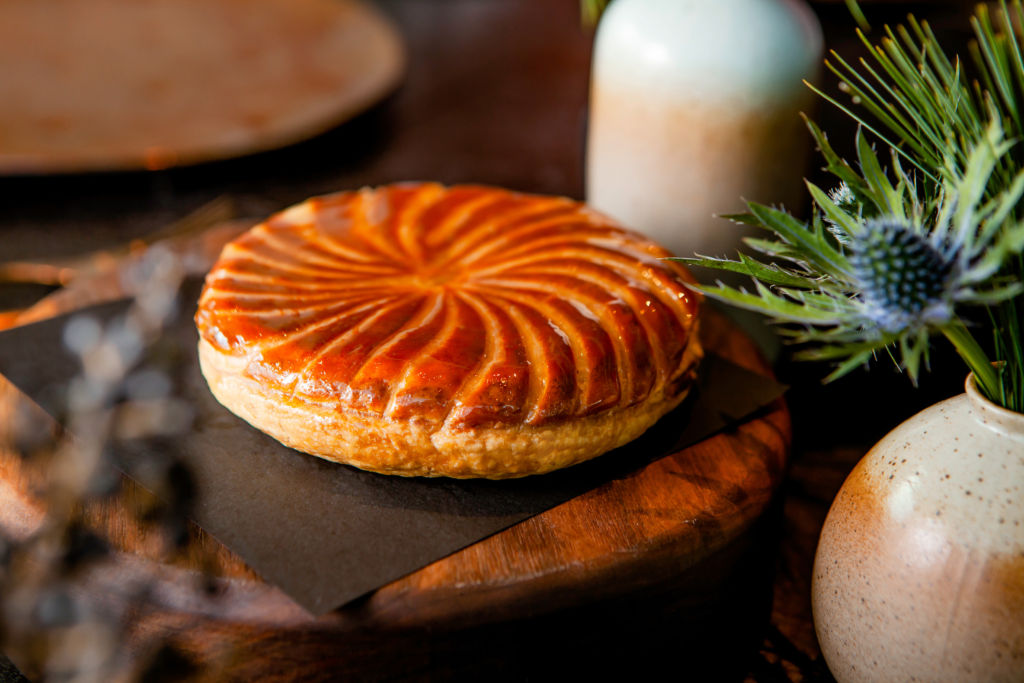 ÉCRITURE 
Two Michelin-starred Écriture is a firm favorite for food connoisseurs. To mark the end of the festive season the galette des rois is a must-try at this divine dining destination. Indulge in the traditional French pastry that is typically enjoyed during the first week of the New Year. At Écriture, Chef Maxime Gilbert and pastry chef Cyrus Yan have come up with their own interpretation of galette des rois, or "King's Cake".
From January 1 to 31, 2020, guests will be able to purchase galette des rois at Écriture to join in on the indulgent French tradition. Celebrate L'Épiphanie with Chef Maxime's flaky, decadent and highly irresistible pastry creation with friends and loved ones. Galette des rois is available in two sizes, small for HKD $288 per tart and large for HKD $488 per tart. Orders must be made 24 hours in advance and picked up directly at the restaurant.
Écriture 80 Queen's Road Central, Central, Hong Kong, +852 9229 4627, www.facebook.com/ecriturehk
---
WATCH OUT FOR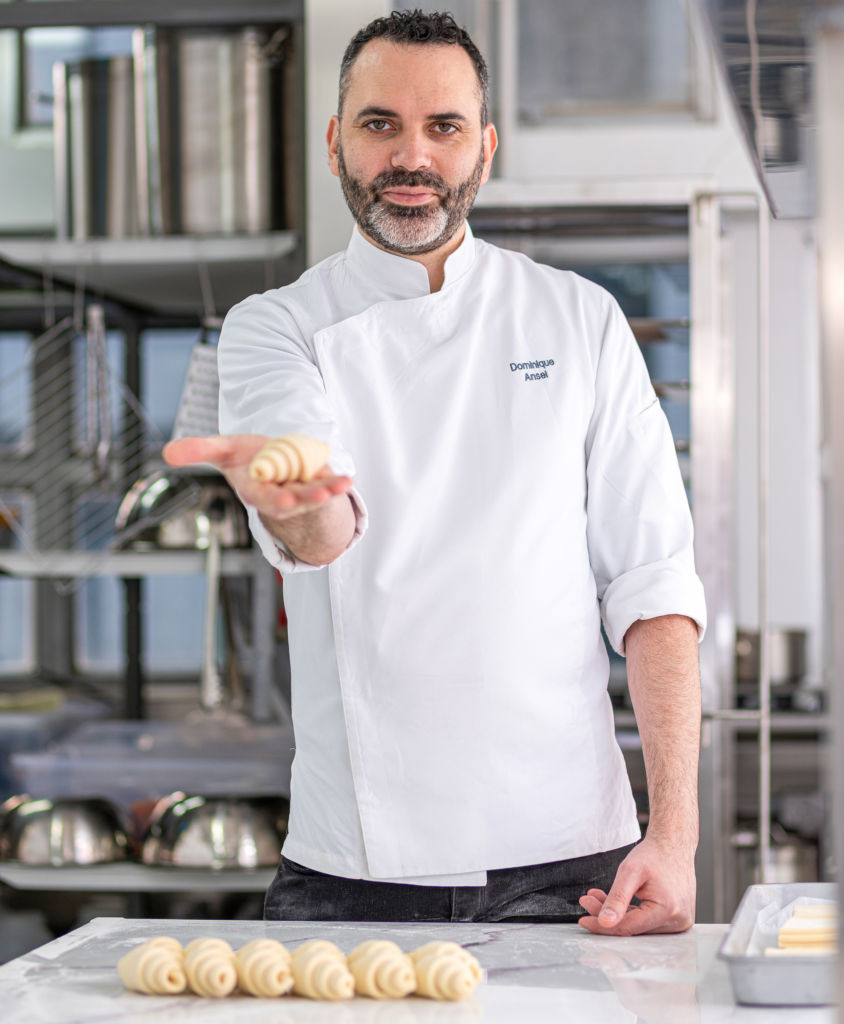 當文歷餅店 by Dominique Ansel
Chef Dominique Ansel who has been named World's Best Pastry Chef by the World's 50 Best Awards is thrilled to announce the launch of 當文歷餅店 by Dominique Ansel. The highly-anticipated shop in Hong Kong will open at Harbour City on January 7, 2020.
The menu will feature delicate desserts exclusive to Hong Kong so watch out for an array of special treats. Made-to-order specialties include a selection of desserts such as red bean ice cream "fish balls" torched until caramelized. The classic French viennoiserie, on the other hand, showcases the artisanal craftsmanship of traditional French viennoiserie baked fresh each morning. Take your loved one to 當文歷餅店 by Dominique Ansel this joyous January.
當文歷餅店 by Dominique Ansel Shop OT G63A, G/F, Ocean Terminal, Harbour City, 3-27 Canton Road, Tsim Sha Tsui, Hong Kong, www.instagram.com/dangwenlihk
Tags
Related Posts