There's always something exciting brewing in Hong Kong when it comes to eating and drinking. Maybe it has something to do with the city's ability to adapt and innovate no matter what societal changes may occur. This October, pay tribute to the metro's beautiful dining scene that's unlike anywhere else in the world.

Nectar by Peggy Chan 
Peggy Chan's resilience on her continued advocacy for Hong Kong's eco-conscious dining scene is simply remarkable. Her focus on transitioning from Grassroots Pantry into Nectar is also commendable. The high-end dining concept features a progressive, seasonal tasting menu using locally-sourced and often overlooked ingredients. Nectar's guests have the option of a five, eight or 12-course tasting menu all carefully designed to reduce carbon emissions and support sustainable dining.
Embark on an incredible dining adventure that will change the way you see everything around you. The 12-course menu called the "Edible Solutions Tasting Menu" is priced at HKD $1,380 per person highlighting dishes such as staple trees with banana blossom and betel leaves. Prepare to be captivated by unique and unusual ingredients that will surprise your palate. Peggy explains that "Our experiential multi-course tasting menus feature nutrient-dense ingredients that nourish the mind and body, spark curiosity and protect the environment."
NECTAR G/F, Centrestage, 108 Hollywood Rd, Sheung Wan, Hong Kong, +852 2873 3353, www.facebook.com/nectarhk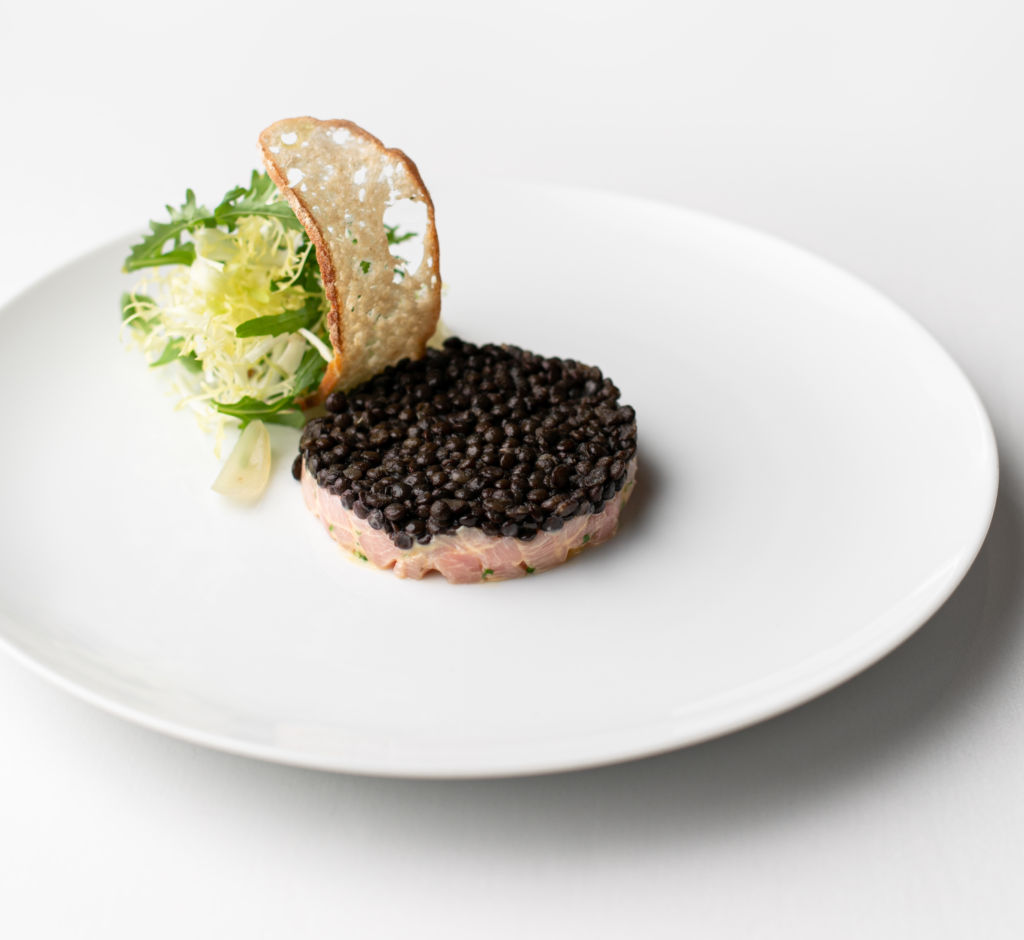 Octavium 
Chefs Umberto Bombana and Silvio Armanni of Michelin-starred Octavium proudly share a slice of Italy with a memorable Saturday lunch meticulously curated to evoke the weekend vibe until the end of the year. Tucked away in One Chinachem Central, Octavium serves refined Italian cuisine in an elegant setting. We adore the home-like setting and are amazed by the handmade Venetian water glasses and beautiful Cassina Cab Chairs by Italian designer Mario Bellini. It's not just a restaurant but a place to create cherished memories.
The new four-course lunch menu every Saturday is a gastronomical delight of Italian fare and culture, incorporating fresh ingredients from veal tartare and summer tomatoes to Australian quail. It's priced at HKD $780 taking you and your loved ones on a soulful experience of good food and wine with good company.
Octavium 8/F, 22 Des Voeux Road, Central, Hong Kong, +852 2111 9395, www.facebook.com/OCTAVIUM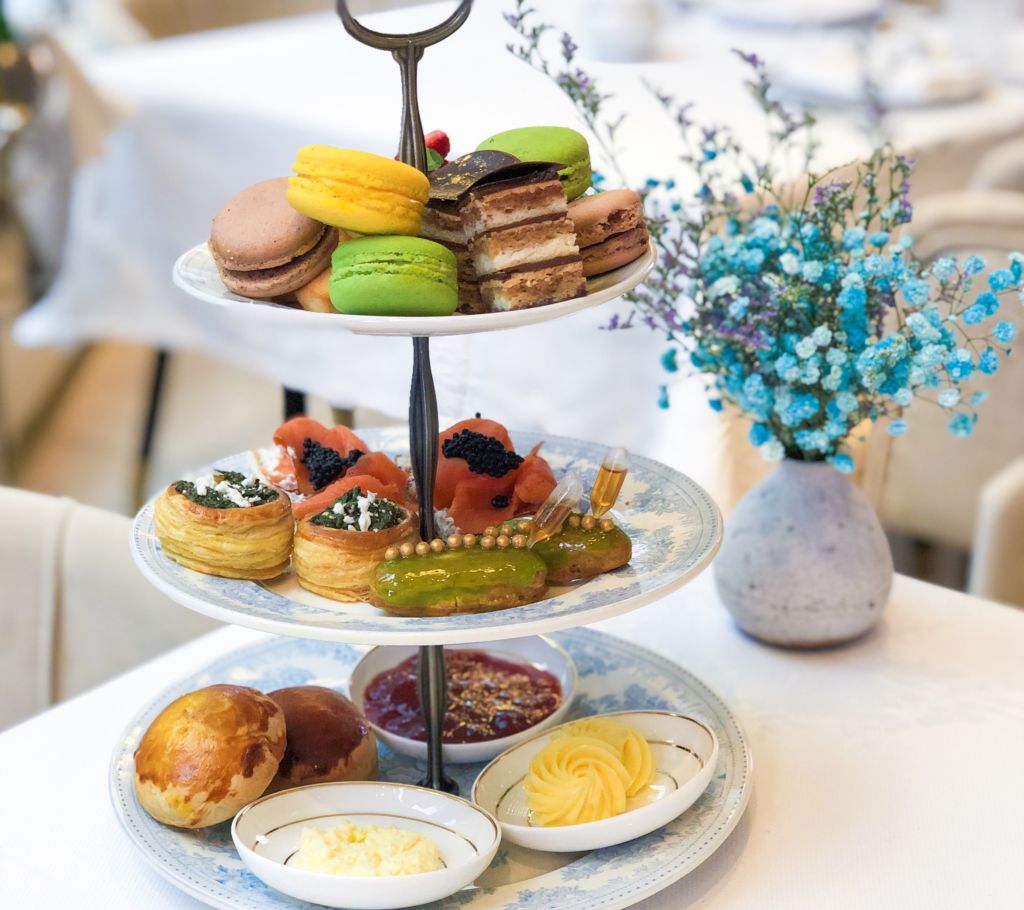 Estiatorio Keia
Greek food is arguably one of the best cuisines in the world. With a culinary tradition of some 4,000 years, it's time to explore the beauty of this delightful food. Prepare to be transported to the Aegean seaside with an all-new and extended Grecian afternoon tea. Enjoy the tradition of late afternoon relaxation, followed by a Greek coffee and small dessert, lavishly reinvented with a modern twist at Estiatorio Keia.
Partake in fresh seafood and authentic pastry dishes led by Greek celebrity pastry chef Marinos Kosmas. Enjoy a variety of savory and sweet dishes perfect for relaxing away an afternoon in Mykonian surroundings. It's priced at HKD $288 for one, or HKD $488 for two. The three-tier tea set starts with the classic Greek spinach pie but in mini form and takes you on a lovely dining journey to Greece.
Estiatorio Keia 2/F, H Queen's, 80 Queen's Road Central, Central, Hong Kong, +852 2677 7737, www.keia.com.hk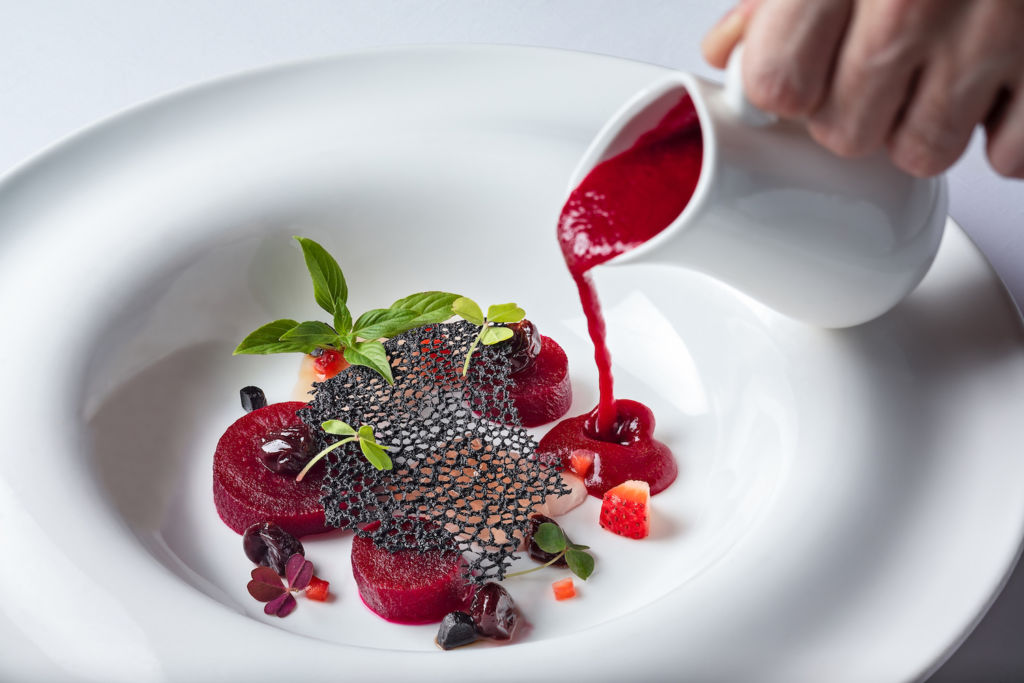 aqua
Our admiration for aqua has grown upon learning that they are home-growing their own Italian and Japanese herbs, something that we've never tasted before in Hong Kong. The herbs are hand-picked at their peak of freshness and served in six delicious new homegrown dishes specially created by aqua's chefs to bring out the amazing flavors and freshness. Not just a dining experience but you'll feel close to nature with a visit to this fantastic place.
Discover the magic of oxalis, a European herb that's introduced with a chilled beetroot, champagne jelly and summer fruits gazpacho priced at HKD $228. This creative dish boasts a blend of flavors that will surprise your tastebuds. On the other hand, mitsuba has subtle peppery notes. This Asian plant is used in the photogenic and vegetarian lotus wood, avocado and fig sushi also a delicate dish priced at HKD $298. Try these wonderful dishes this month at Aqua.
aqua 1 Peking Road Shopping Arcade, Tsim Sha Tsui, Hong Kong, +852 3427 2288, www.aqua.com.hk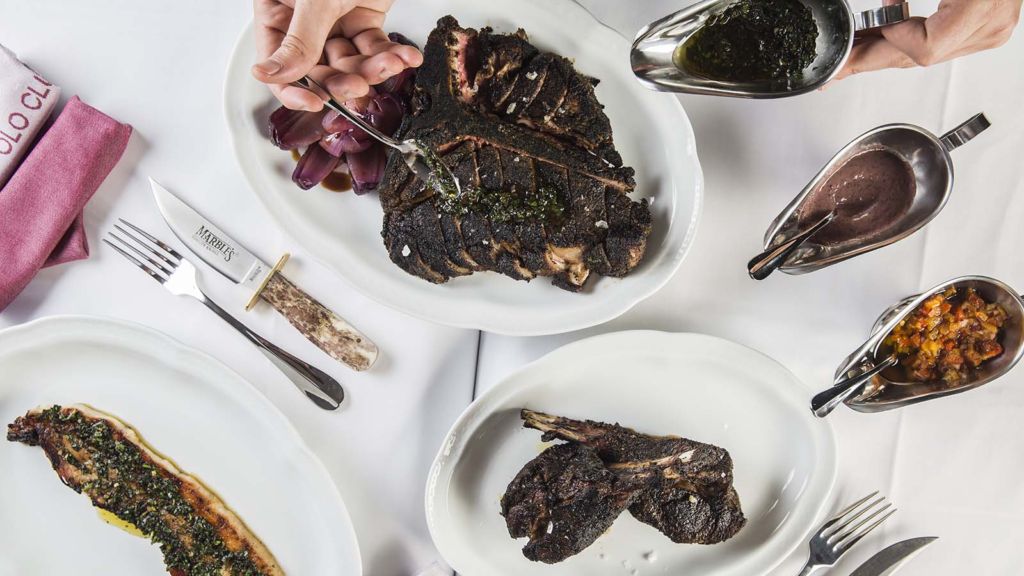 BUENOS AIRES POLO CLUB
When we crave meat, Buenos Aires Polo Club is always our first stop. The meat is of the finest quality, ingredients are fresh and the atmosphere is always relaxed at this restaurant. But what we love even more is the fun dining affair called "The Fiasco" on October 26, held at this dining spot. According to history, the Romans celebrated Bacchus with wine, songs, dances and more wine. Wild and untameable, The Fiasco promises to be more than a feast for the taste buds but an immersive culinary journey that will seal your October as an unforgettable month of the year. Make sure to book early for your spot!
For more details, visit www.thefiasco.com.
Buenos Aires Polo Club 7th Floor LKF Tower, 33 Wyndham Street, Central, Hong Kong, +852 2321 8681, www.bapoloclub.com

The Lounge at ZEST by Konishi
The newest dining hotspot on our radar is the Lounge at ZEST by Konishi. This luxurious bar snack, cocktail and spirit experience stands apart from the rest of your usual watering holes. We recommend a visit to watch the sunset to mark the end of a long day in the city. Have a glass of wine or cocktails with the bar serving complimentary house-made snacks from 5:00pm to 8:00pm. Explore the stylish space dedicated to the finest craft spirits and delectable cocktails that inspire a sense of place. Try the Instagrammable Quinine, inspired by the original gin and tonic that was created by British military officers stationed in India who would combine quinine with citrus and their daily gin ration, served in a frozen diamond-shaped glass.
The Lounge at ZEST by Konishi 28 & 29/F, 18 On Lan Street, Central, Hong Kong, +852 2715 0878, www.zestbykonishihk.com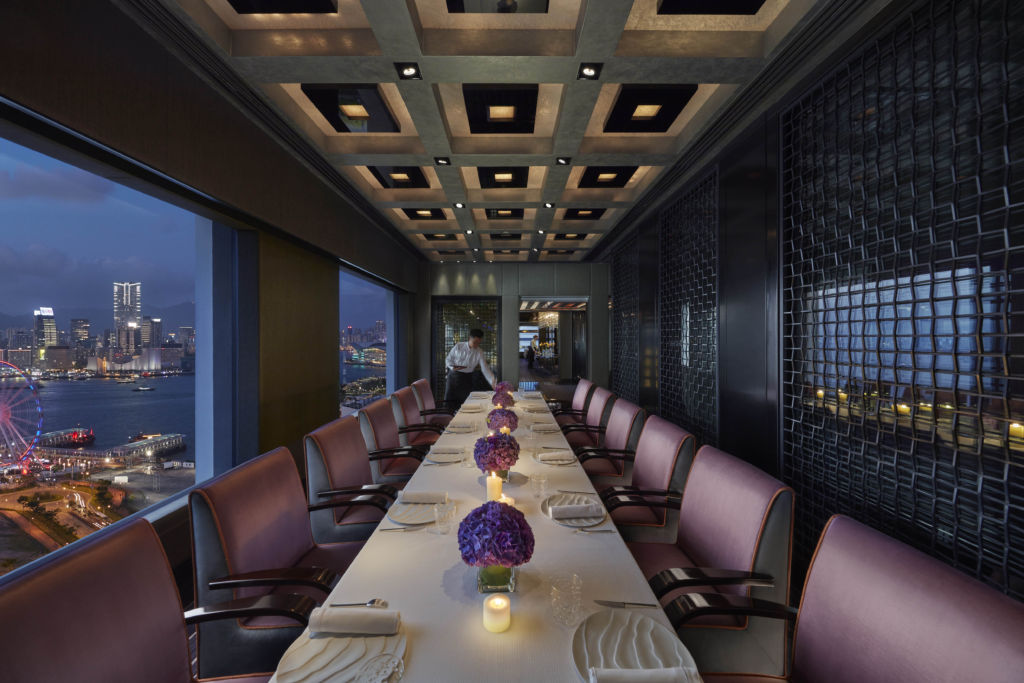 Mandarin Oriental, Hong Kong
Legendary chef Pierre Gagnaire returns to his two-Michelin-starred restaurant Pierre at Mandarin Oriental, Hong Kong from October 7 to 12. Indulge in exquisite signature dishes from his renowned Italian restaurant in Paris, Piero TT. The popular chef also recently launched his second Italian restaurant in Paris in February 2019, embracing his true vision of "la dolce vita", which means to live a good life.
Guests will experience a seven-course tasting menu personally created by Chef Gagnaire along with Jacky Tauvry, Chef de Cuisine of Pierre. You can look forward to Italian dishes that include veal and white truffle paste ravioli, blue lobster risotto, veal chop Milanese-style with artichoke salad, pecorino, and pine nuts, as well as tiramisu with burrata ice-cream flavored with Campari and lemon. It's priced at HKD $1,988 per person and worth every dollar!
Mandarin Oriental, Hong Kong  5 Connaught Rd Central, Central, Hong Kong, +852 2522 0111, www.mandarinoriental.com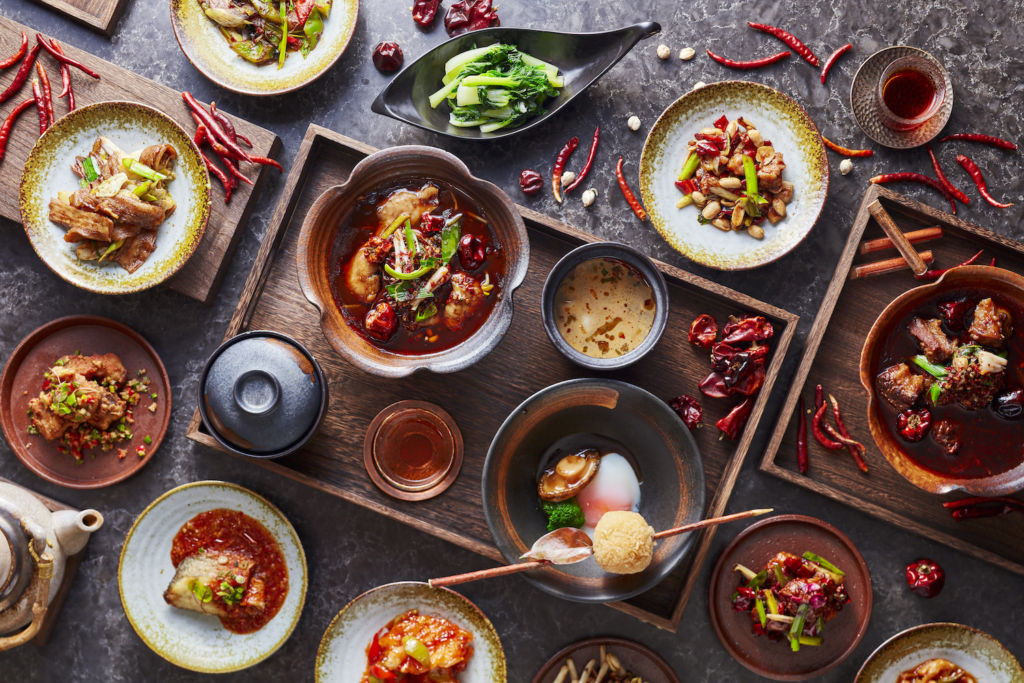 Sichuan Lab 
Spice up your October with a visit to Sichuan Lab. Launching a new menu to entice diners with more than 20 new items on the a la carte menu, sample the bold and fiery flavors of Sichuan noodles with dark refined soya sauce for only HKD $78. Try the stuffed buns with roast goose in red wine sauce and sweetened bean paste priced at HKD $68 for two pieces. Amongst the newly launched lunch sets, we love the Sichuan and Guangdong dim sum and fresh abalone set priced at HKD $218 per guest with a minimum of two orders. It consists of a dim sum platter of steamed shrimp dumpling with bamboo shoots, steamed pork dumpling, beef with bean sprouts, deep-fried honeycomb taro dumpling, and vegetarian bun.
Sichuan Lab Ground Floor, 28 Tai Wo Street, Wan Chai, Hong Kong, +852 3126 6633, www.facebook.com/sichuanlab
Tags
Related Posts