Take a day trip to Hong Kong's Tai O, a laid-back fishing village known for its stilt homes and pink dolphin sightings on Lantau Island. The Tai O Fishing Village is the single Hong Kong attraction closest to Macau by distance, in clear sight of the HZM bridge connecting the two SARs. The largest of all the island's 47 villages, Tai O has been called "The Venice of the Orient", although most travelers might not quite concur with the comparison. Rather than expecting a crumbling old-world city, prepare yourself for an immersive experience into Hong Kong's traditional culture, where you'll get a glimpse of the city's fishing heritage and surrounding industries preserved through the centuries.
Tai O straddles the main Lantau Island as well as a tiny isle about 15 meters from the shore. Until the mid-1990s, the only way to cross was through a rope-tow ferry pulled by elderly Hakka women. Right before the handover in 1996, however, this was replaced by a steel pedestrian bridge that you can cross today.
Why you should go
On weekends, many tourists trek to the far-flung west coast of Lantau to see a fascinating way of life preserved since the territory's pre-colonial days. Tai O is a historical home to the Tanka boat people, where life is all about the sea. Visit the houses built on stilts above the ocean, where sampans ply the dark-green waterways. Watch elderly residents dry seafood on traditional straw mats, as they have done for generations, or make the village's celebrated shrimp paste.
There's more than enough to do in Tai O if you plan on spending the day, from hiking the many trails around to eating the famous charcoal grilled egg waffle. There are Chinese temples to visit, boat trips to go on for dolphin watching (if you're lucky), local cuisine to munch on (giant cuttlefish!) and delicacies to take home (salted egg yolk and dried seafood). Allow us to take you through the best day out at Tai O Fishing Village!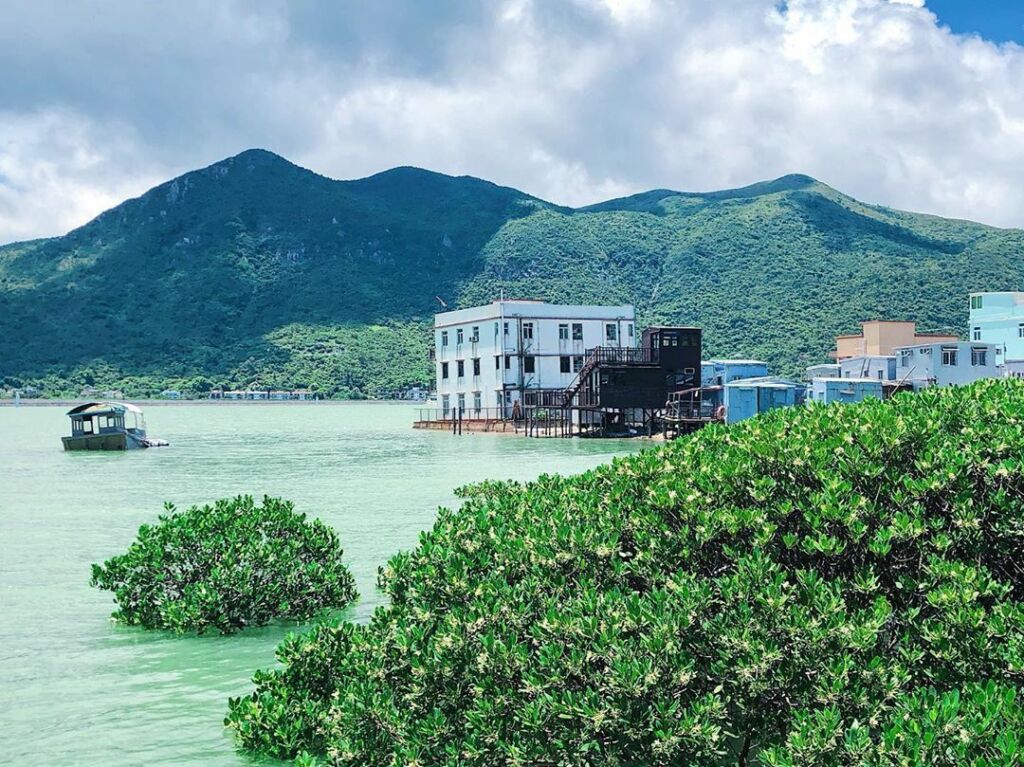 How to get there
From Macau, you can travel to Hong Kong via bus or ferry. Both will take you to Chek Lap Kok, home to both the Hong Kong Port and Hong Kong International Airport (HKIA).
From HZMB Hong Kong Port: Take Bus B6 to Tung Chung town center (Stop: Yu Tung Court). From there you can switch to Bus 11 to Tai O. If you want to add the Big Buddha to your itinerary, take Bus 23 to Ngong Ping and from there switch to Bus 11.
From Hong Kong International Airport: Take Bus S64 to Yu Tung Court or Bus S56 to Tung Chung Station, where you can switch to Bus 11.
From Hong Kong: Take the MTR to Tung Chung Station and switch to Bus 11 towards Tai O. You can also take the ferry to Mui Wo and take the same bus.
If you want to hike from Tung Chung: Instead of switching to Bus 11 in either of the options, head for the Tung O Ancient Trail. It's a lengthy but fairly easy coastal walk up to 14km from the Tung Chung Town Centre, best done on a cooler day. Give yourself around three hours to complete this, and reward yourself with yummy food at Tai O!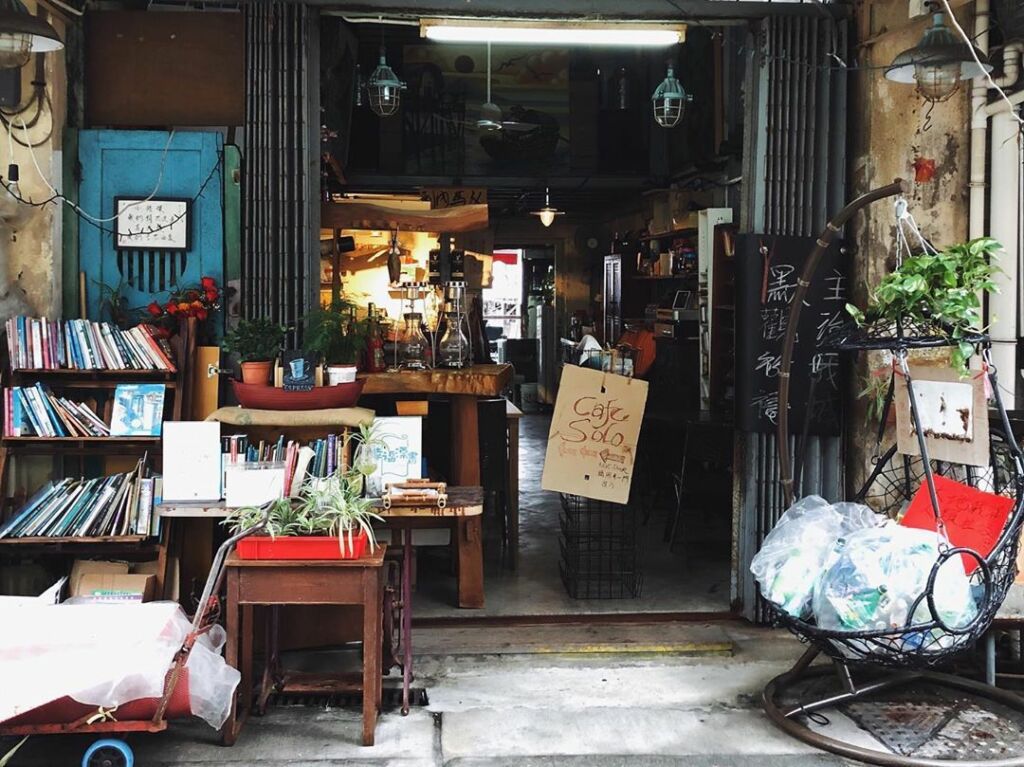 Where & what to eat in Tai O
Triple Lanterns Cafe
A favorite among tourists and locals alike, this atmospheric cafe by the water is known for its welcoming owner, honey lemon ginger tea, and delicious pizza.
Triple Lanterns Cafe 162-168, Tai O Tai Ping St, Tai O Tai Ping Street, Hong Kong, +852 9711 4727, www.facebook.com
Tai O Lookout
Situated in a beautifully restored building, this hotel restaurant draws guests for its unique location, perched on the coast with amazing views in a relaxing ambiance. It's a 15-minute walk away from Tai O's busier streets and can get busy on weekends, so brace yourself for slower service and somewhat steeper prices than in the main area.
Tai O Lookout Shek Tsai Po Street, Tai O, Lantau Island, Hong Kong, +852 2985 8383, [email protected], taioheritagehotel.com
Solo
Settle down for afternoon tea with fantastic views over the fishing village, where you can watch the dolphin boats go by. Soak in the sense of an undisturbed Hong Kong as you enjoy the well-reviewed apple crumble cake and satisfying coffee on the terrace.
Solo G/F, 86 Kat Hing St, Tai O, Hong Kong, +852 9153 7453, www.facebook.com/Solo-Balcony
Tai O Bakery
Looking to pick up a snack in between excursions? Grab the popular hot, light giant doughnut-bun rolled in sugar. You might have to get in line for it though!
Tai O Bakery 66 Kat Hing St, Tai O, Hong Kong +852 2985 8621, www.facebook.com/taiobakery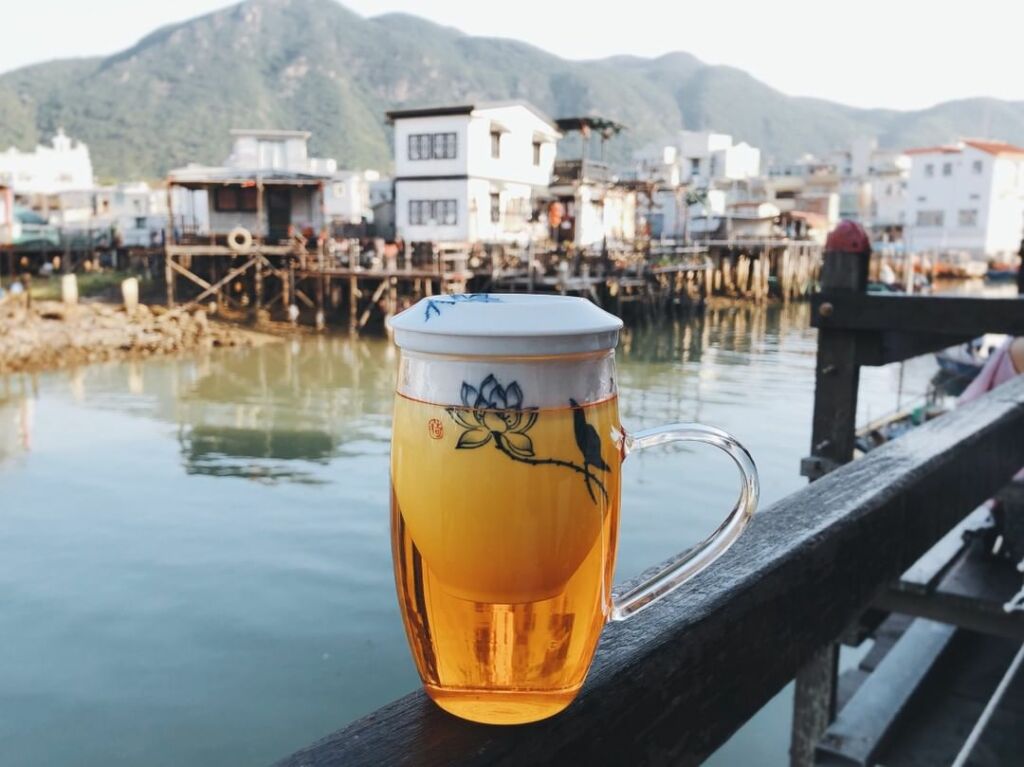 What to See & Do in Tai O
Go on a boat ride to see the pink dolphins
Book one of the sampan boat tour operators next to the bus stop, and hop on a 20-minute ride for cheap. This way you'll get a proper look at the houses on stilts and see how Tai O residents live their daily lives. The water is quite murky, though, and denser than the floating markets of Bangkok. According to local legend, there have been sightings of the Chinese White Dolphin in these parts, so keep your fingers crossed that lady luck be on your side. At the mouth of the river, you'll catch sight of the Yeung Hau Temple overlooking the South China Sea–a site to explore further later on.
Walk around the fishing village
Stroll around the maze of little shops selling dried seafood intermingled with cafes and restaurants. For culture and history buffs, you might want to first stop at the Tai O Rural Committee Historic & Cultural Showroom, before crossing the Rope-drawn Ferry Bridge. Stroll along the waterfront before heading to the Local Specialty Market at Tai O, where you can stock up on homemade shrimp sauce or shrimp paste. Make your way towards the historic Tai O Heritage Hotel, but not without passing the temples listed below.
Visit the old temples
Kwan Tai Temple: Said to be the oldest temple on Lantau Island, this Grade II historic building was originally constructed between in the late 1400s and restored in the 1700s Qing Dynasty style. It is dedicated to the God of War, Kwan Tai, and shares its wall and building space with the Tin Hau temple adjacent.
Hung Shing Temple: Along Shek Tsai Po Street next to the Hong Kong Shaolin Wushu Culture Centre, this temple was constructed in the 1700s and dedicated to Hung Shing, God of the Southern Sea.
Eat the street food
If you haven't already dug into the eats listed above, there's more to explore by way of your taste buds. Think spicy fishballs from Fuk Hing Hong, dried fish skin (or stomachs!), barbecued oysters, Chinese pizza, and more. If you have a sweet tooth, try the traditional "eggettes" (egg waffles), tea dumplings, or soft-chewy mochi stuffed with peanut or red bean paste. The latter can be traded for salted egg yolk–a Tai O specialty–or minced pork for a savory flavor. Yum!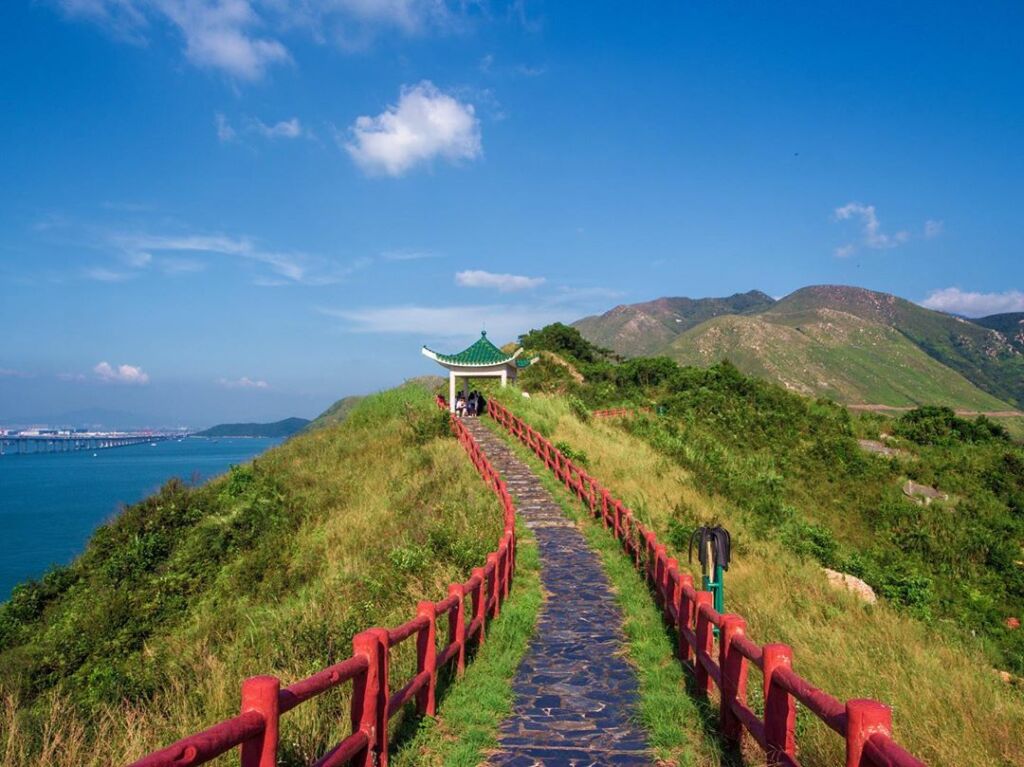 Hike one of the many outdoorsy trails around Tai O
If you've got the time or energy, it's 100% worth exploring the surrounding natural scenery around Tai O.
Short hike: For a shorter jaunt, hit up the Fu Shan Viewing Point, a popular sunset-watching spot. It overlooks the HK-Zhuhai-Macau bridge on one side, and the Tai O main village on the other. From the main street it will take 15 minutes. Stop by the Buddhist Yeung Hau Temple along the way and a small pavilion or observation deck with good views. Circle back towards Hung Shing Temple and Tai O Heritage Hotel.
Medium hike: If you want to take a dip, a trek through the forest will take you to either the Shui Lo Cho Stream Infinity Pool or Man Cheung Po Infinity Pool. Watch out for giant spiders overhead during the summer though! It's best to come early in the morning when there are fewer people.
Long hike: Kit yourself out to take on Lantau Trail Section 7–an amazing coastal walk taking you on the edge of Lantau Island past secret beaches. It's over 10km, although not particularly strenuous. Lantau Trail 6 also starts or ends in Tai O–a really beautiful one to combine with Section 5 through lush greenery, beautiful vistas, and the infinity pools. And then there's the Tung O Ancient Trail as earlier mentioned, connecting Tai O with Tung Chung.
Hopefully we've given you more than enough ideas to enjoy Tai O Fishing Village to the fullest in a day trip, or even a weekender if you plan on doing the hikes! Enjoy the excursion and don't forget to tag us on Instagram when posting about your visit! Have you been to Tai O before? What did you think? Did we miss anything on this guide? Let us know on our Facebook page if you have any comments or suggestions on this piece!
Photos from hkfiles.org and Tai O Heritage Hotel
Tags