There are too many things going on in the world right now so why is Valentine's Day such an important celebration? Life gets way too busy in Hong Kong and it's easy to take our loved ones for granted especially on Valentine's Day. This month, we are reminded to have fun, spend time with our loved ones and cherish every moment of our lives. Valentine's Day is just the perfect reason to celebrate and we rounded up the best restaurants in the city for you to enjoy and experience.
L'Envol
(Featured image above)
A true dining experience is a journey of discovery and L'Envol is the best place to bask in the beauty of love and life. Enjoy culinary magic in the form of an eight-course dinner menu priced at HKD $2,588 or if you want to dine early, you can opt for the five-course lunch menu priced at HKD $1,388. The L'envol menu will include a glass of Egly-Ouriet Brut Rose Grand Cru NV and a bespoke gift for the ladies for both lunch and dinner. This French dining location means "the flight" and it would definitely sweep you off your feet. Every angle of the space is elegant and sophisticated diffusing an air of romance with an authentic French dining date.
L'Envol The St. Regis Hong Kong, 1 Harbour Dr, Wan Chai, Hong Kong, +852 2138 6818, www.marriott.com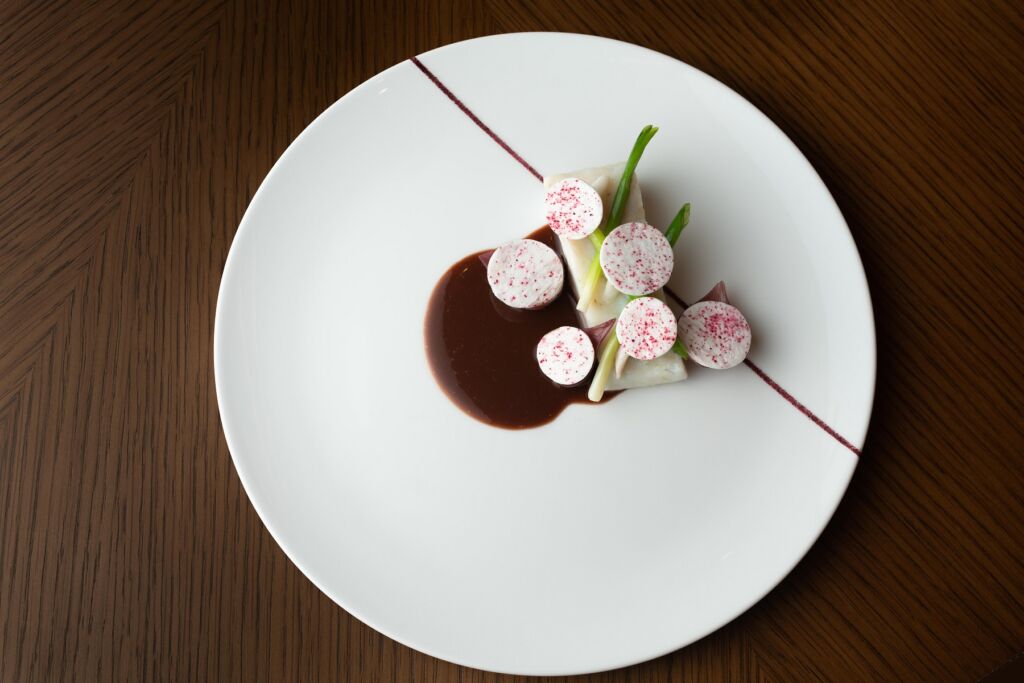 Amber
There's nothing we don't adore at the stylish setting of Amber. This Valentine's Day, head to The Landmark Mandarin Oriental, Hong Kong for an exceptional dining experience. Bound to be an unforgettable night, indulge in a meticulously crafted four-course menu priced at HKD $1,988 per person. The eight-course dinner priced at HKD $2,988 per person is always worth the splurge for that special person. It includes two glasses of Krug Grande Cuvée Champagne. Chef Richard Ekkebus and Pastry Chef Valentin Mille have joined forces to create a seasonal menu all in the name of love. Your evening will be completed with a home-made chocolate gift for the lady to cap off a memorable Valentine's Day date.
Amber The Landmark Mandarin Oriental, Hong Kong, 15 Queen's Road Central, Central, Hong Kong, +852 2132 0066, www.mandarinoriental.com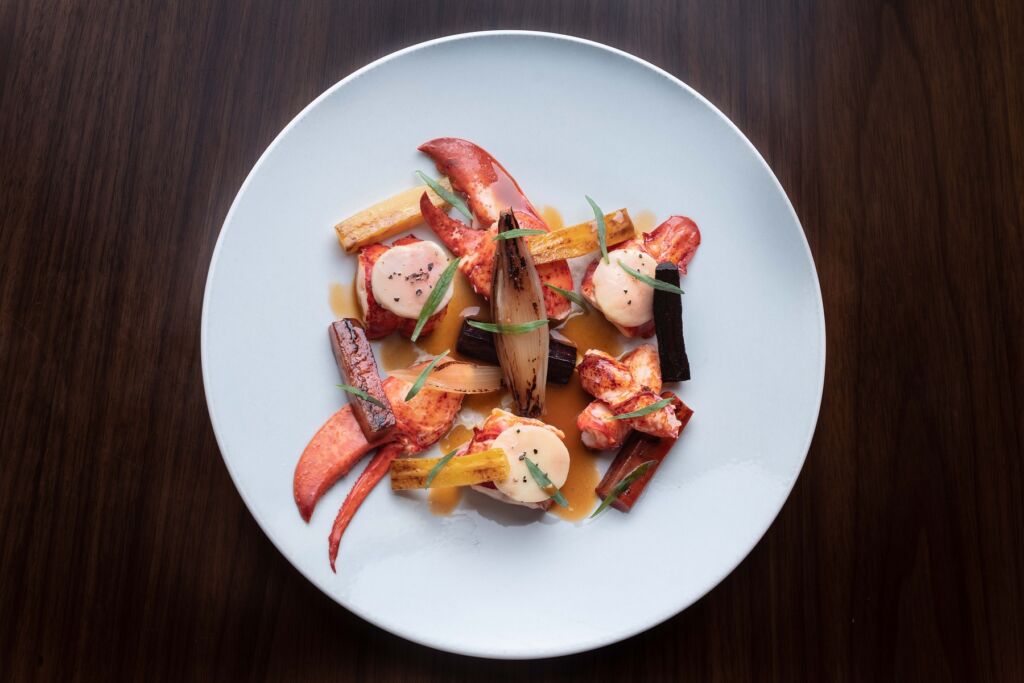 SOMM
If you want to avoid a more formal setting, SOMM is the perfect choice for a laid-back and casual meal with your beloved. You'll love the refined and relaxed mood at this magical place. The custom design tables fitted with cutlery drawers and walls lined with wines and sake are details which we felt were wonderful little touches. SOMM is actually a restaurant and bar led by sommeliers. Valentine's Day is all about celebration so prepare for a lively evening with exquisite champagne pairing four-course priced at HKD $1,988 per person. It includes three types of Krug Champagnes. Meanwhile, you can also try the six-course menu priced at HKD $2,988 per person. It includes five types of Krug Champagnes.
SOMM The Landmark, Mandarin Oriental, 15 Queen's Road Central, Central, Hong Kong, +852 2132 0066, www.mandarinoriental.com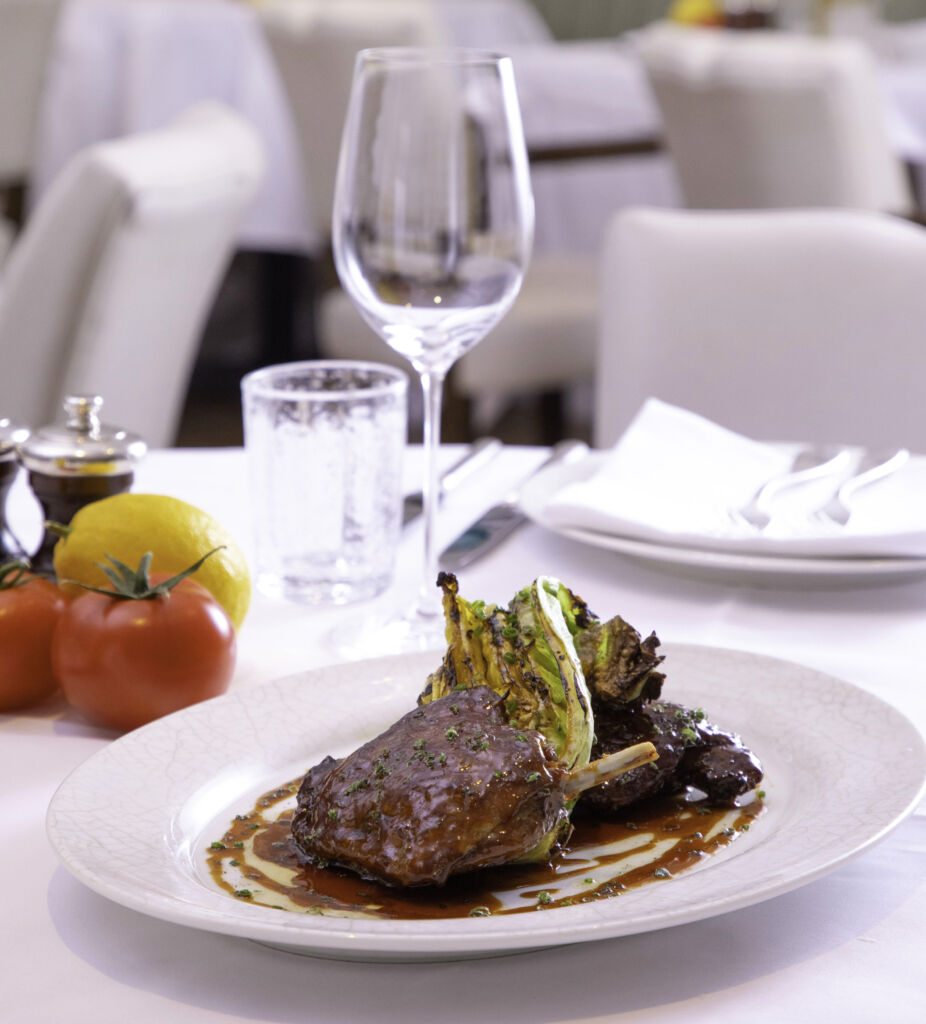 La Petite Maison
La Petite Maison serves up some sizzling romance even when it's not Valentine's Day. One of our all-time favorite dining spots, you'll be mesmerized by the specially crafted menu for date night couples and guests. It features six favorites from the menu and a new limited-edition dessert. It's priced at HKD $1,088 per person plus 10% service charge. With a beautiful and laid-back Mediterranean ambiance surrounded by beautiful colors, this place is always magical!
No celebratory meal is complete without the very best wine, and LPM will be offering two glasses of chilled Bollinger Rose to begin the meal and toast for each happy couple. We recommend trying LPM's refreshing new cocktail La Colombe Rose priced at HKD $120. The Valentine's menu and La Colombe Rose cocktail are available exclusively on February 10 to 15.
La Petite Maison Shop 1, H Queen's, 23-29, 1/F Stanley St, Central, Hong Kong, +852 2887 1113, www.lpmlondon.co.uk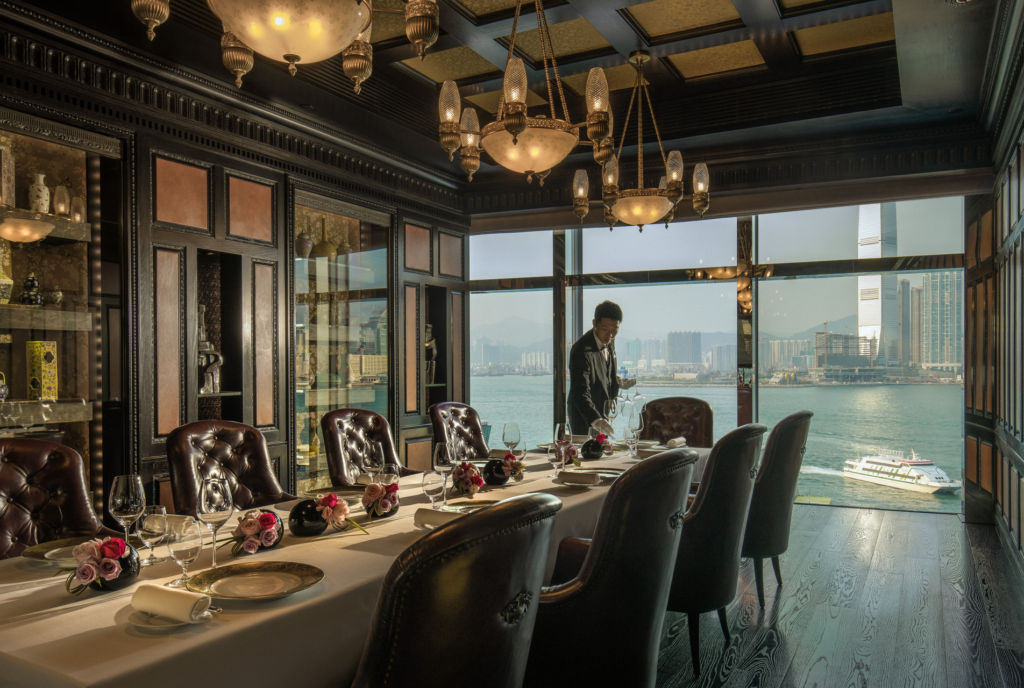 Caprice
For discerning diners with high expectations, Caprice is a perfect choice. This award-winning dining spot never fails to impress. If you're yearning the allure of Paris and the feeling of romance, you'll find it as soon as you step into the grand entrance of the dining spot. It also boasts stunning views of the harbor giving couples a beautiful sight while dining. On Valentine's Day, guests can partake in some scallop carpaccio with truffle jelly, celeriac remoulade, foie gras and eel terrine with sea urchin crackers, and more. The exquisite menu is priced at HKD $3,800 per person subject to a 10% service charge. Dining here is always a spectacular experience.
Caprice Four Seasons Hote Hong Kong 8 Finance St, Central, Hong Kong, +852 3196 8888, www.fourseasons.com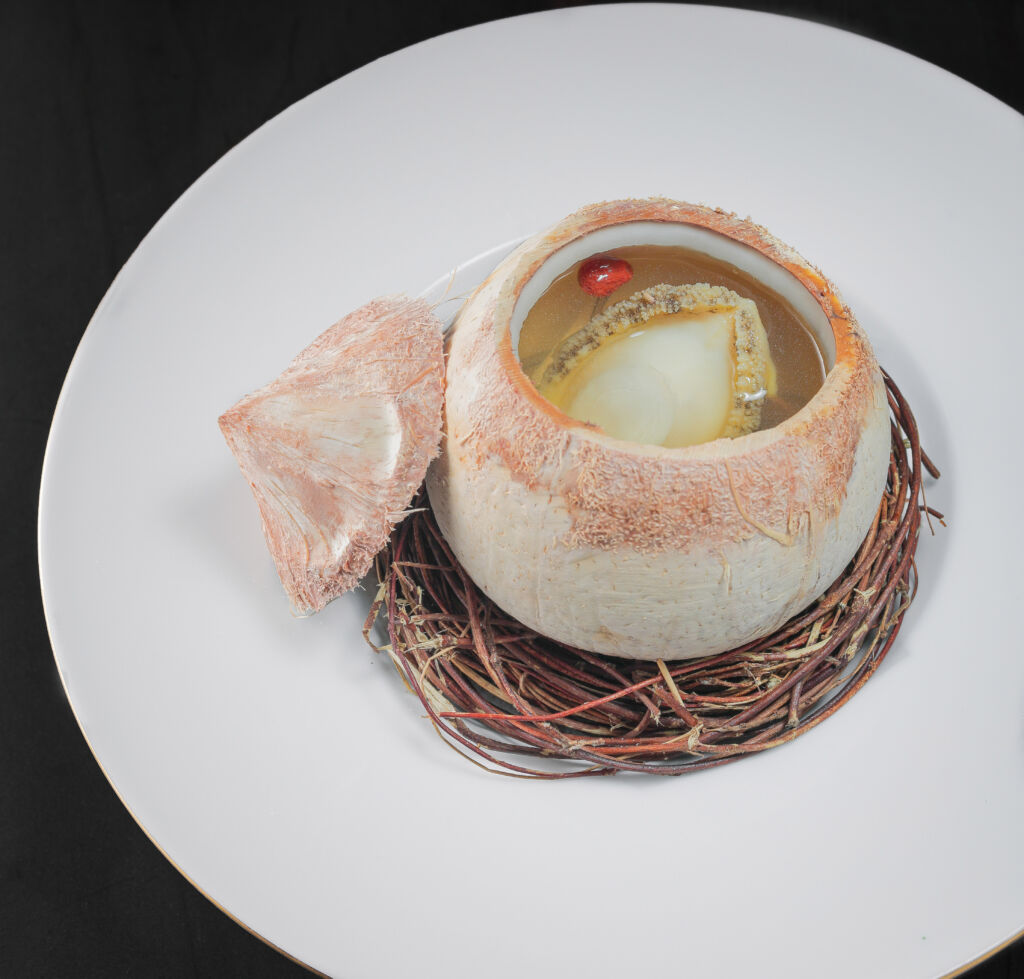 Rùn
Your other half deserves only the best on Valentine's Day. There's no room for disappointment at The St. Regis Hong Kong's Rùn. With culinary master chef Hung Chi-Kwong at the helm of this Cantonese restaurant, you'll dine in full satisfaction. On Valentine's day, sample the six-course dinner menu priced at HKD $1,314 per person. It includes signature dishes like the double-boiled abalone soup, kelp, goji, baby coconut, and the deep-fried diced Wagyu beef puff, black pepper sauce. Sate your sweet cravings with a special dessert in the form of the chocolate molten lava cake and double-boiled purple sweet potato, glutinous rice dumplings to symbolize true love and affection.
Rùn The St. Regis Hong Kong, 26 Harbour Rd, Wan Chai, Hong Kong, +852 2138 6808, www.marriott.com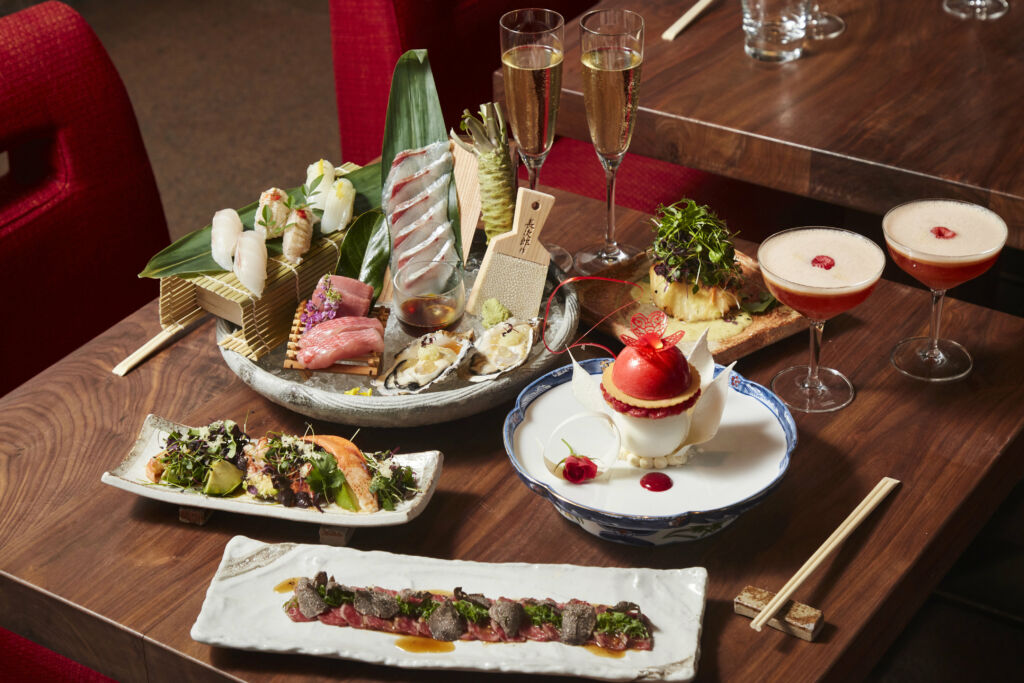 Zuma
One of Hong Kong's best dining hotspot takes Valentine's Day a notch higher with the ultimate tasting menu for Valentine's Day. It's priced at HKD $1,580 per person teeming with a range of enticing signature dishes. It features the finest seasonal ingredients and designed to reflect a lighter approach to dining. You'll love the Chilean sea bass with green chili-ginger dressing alongside tempting delicacies including Japanese oyster with yuzu and green apple.
However, the highlight is legendary pastry chef Eddy Lee's masterpiece signature dessert–a molten raspberry cake with white chocolate, lychee and rose parfait. For those looking to take the evening to new heights of decadence, Zuma's innovative bar team will mix up one of their signature raspberry and passion fruit martinis to accompany this exceptional menu. Book early at this well-loved dining location.
Zuma Level 5 and 6 Landmark Atrium, 15 Queen's Road Central, Central, +852 3657 6388, www.zumarestaurant.com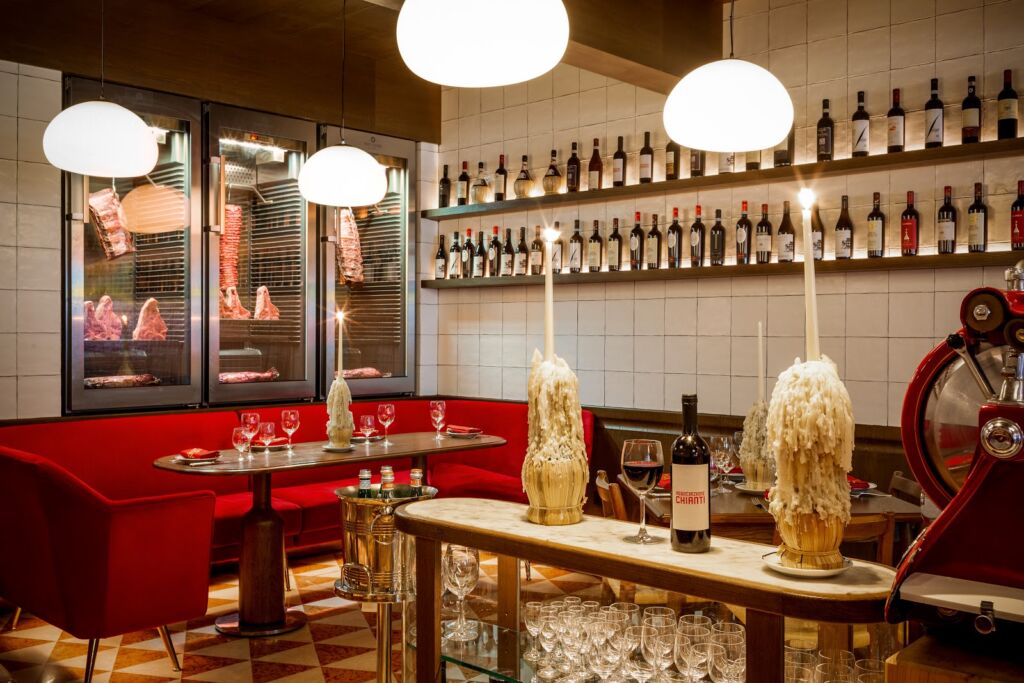 ASSOCIAZIONE CHIANTI 
There's no need to travel to Italy for a romantic spot on Valentine's Day. Savor the flavors of true soulful Tuscan trattoria at Associazione Chianti. This warm and lovely restaurant is the prime setting for a romantic and intimate date night, a perfect setting for two this Valentine's Day. Couples can dine à la carte and enjoy starters including pecorino al Fieno and insalata Cesare, before moving on to the rich and creamy tagliatelle and show-stopping controfiletto con l'osso, a thick-cut bone-in striploin. With a selection of sides including fagioli or spinaci, the ideal ending to this candlelit dinner experience comes in the form of one of Associazione Chianti's house-made desserts.
Associazione Chianti 15 Ship St, Wan Chai, Hong Kong, +852 3619 3360, www.associazionechianti.com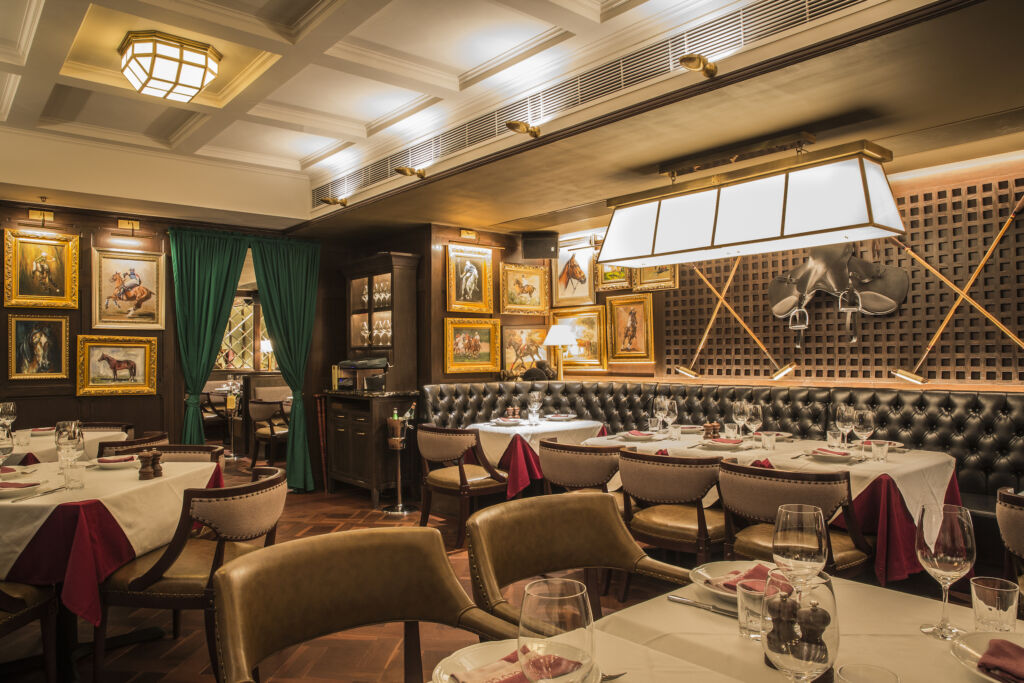 BUENOS AIRES POLO CLUB
There's nothing we don't love about the classic and sophisticated scene at Buenos Aires Polo Club. A wise choice for a location on Valentine's Day, expect a lavish and elevated dining experience with your wife, girlfriend or partner. The Argentinian steakhouse is the ideal backdrop for an intimate dinner with the soft lighting blended with rich mahogany woods and deep colors evoking romance. On Valentine's Day, order signature dishes including grilled bone marrow with oxtail Malbec jam or a selection of prime cuts of general pico black Angus beef, from the 10oz tenderloin to the 15oz sirloin. Choose from an extensive selection of Argentinian wines or let the sommeliers take care of the decisions and simply enjoy the company.
Buenos Aires Polo Club 7th Floor LKF Tower, 33 Wyndham Street, Central, Hong Kong, +852 2321 8681, www.bapoloclub.com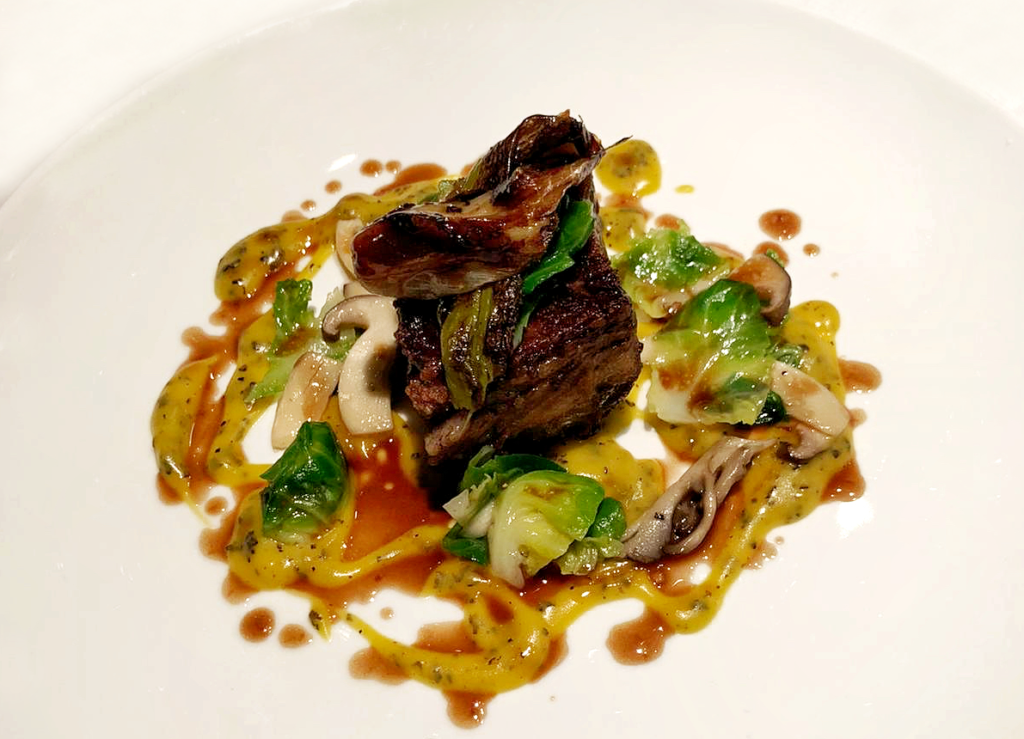 Arcane
Arcane is one of Hong Kong's best-kept secrets. Dine away from the bustling crowd of the city yet near enough for convenience. This restaurant, by multi-award-winning chef, Shane Osborn serves modern European cuisine with the finest produce from all over the world. For Valentine's Day, Arcane has prepared a romantic six-course tasting menu to set the mood with sumptuous fresh Japanese tomatoes with burrata, seared Hokkaido scallops, Cappaletti of cevenne onion, toothfish carpaccio, the famed slow-braised Wagyu short rib, and a delicate Japanese winter strawberries dessert to finish. The six-course Valentine's Day menu is priced at HKD $1,388.
Arcane 18 On Lan St, Central, Hong Kong, +852 2728 0178, www.arcane.hk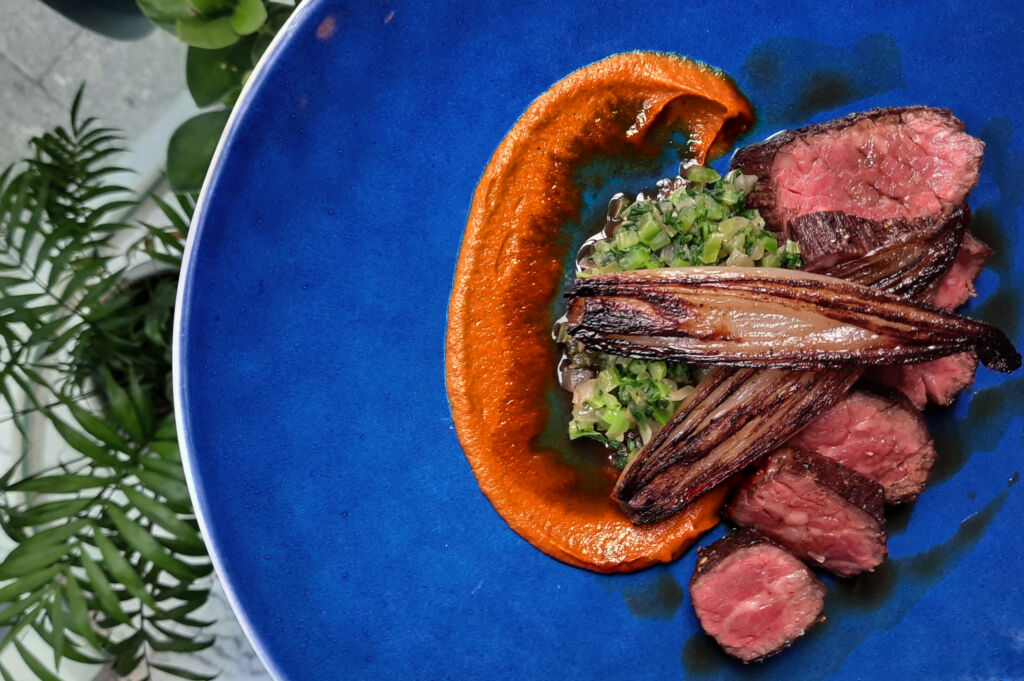 Cornerstone 
Good food and a heartwarming ambiance are what you need on Valentine's Day. Cornerstone is a lovely location no matter what the occasion may be. On Valentine's Day, they have prepared a special menu priced at an affordable HKD $588 per person. Indulge in a Jerusalem artichoke velouté, chestnut, pea, truffle, capellini, Brown shrimp, bouillabaisse, fennel. The wagyu bavette, pumpkin, mustard green, red wine jus is also flawless. You can cap off a beautiful meal with a taste of the cheesecake with mango, passionfruit, and strawberry. That's your special day all sorted out!
Cornerstone G/F, 49 Hollywood Rd, Soho, Hong Kong, www.facebook.com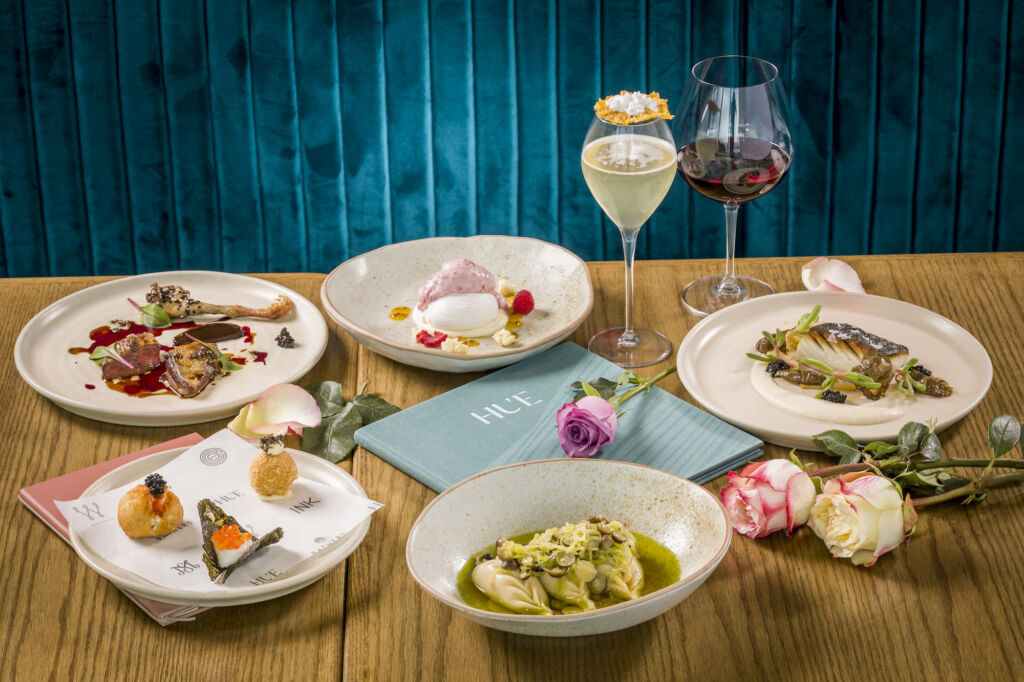 HUE 
Make your Valentine's Day a colorful celebration at the stylish location of Hue. Situated at the Hong Kong Museum of Art, this modern Australian restaurant offers exquisite panoramic views that perfectly complements your Valentine's Day dinner! Their Valentine's Day dinner set menu is available on February 14. The three-course dinner menu is priced at HKD $880 plus 10% per person. It is available for 6:00pm and 6:30pm seatings. Meanwhile, the four-course dinner menu is priced at HKD $980 plus 10% per person and is available for the 8:30pm seating. We love that all courses include vegetarian options. There is also a special wine pairing option priced at HKD $500 per person that will be available in the evening.
HUE 1/F Hong Kong Museum of Art,10 Salisbury Road, Tsim Sha Tsui, Hong Kong, +852 3500 5888, www.facebook.com/huedining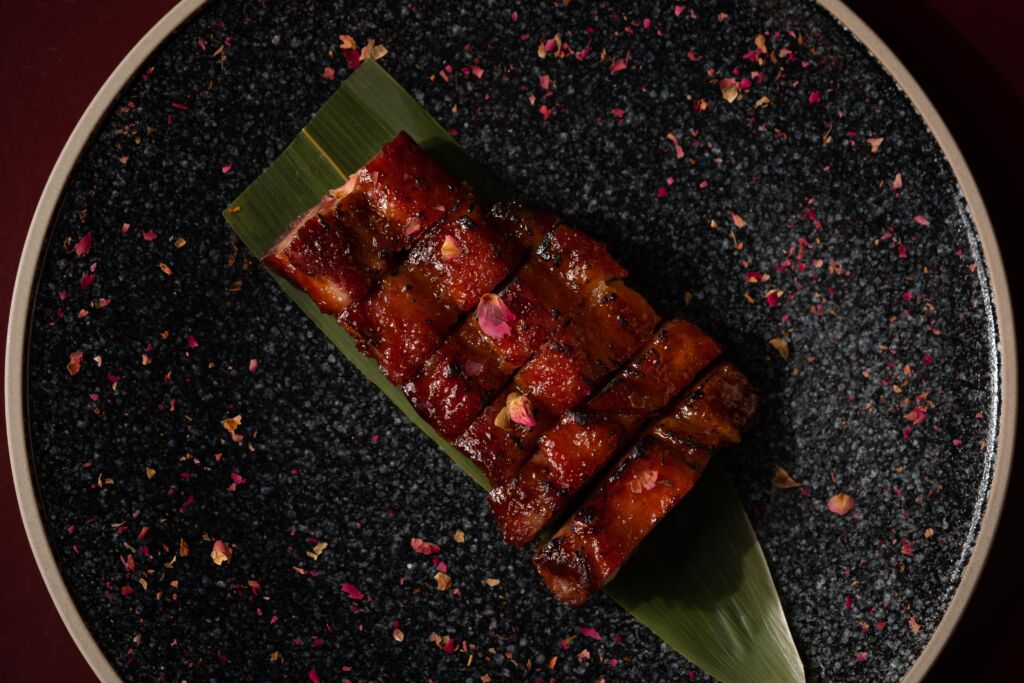 John Anthony
Old meets new at the contemporary Cantonese restaurant John Anthony. Immerse in a kaleidoscope of flavors on Valentine's Day with your special date. They will be presenting an eight-dish set dinner with two Valentine's Day cocktails included, priced at HKD $999+10% for two people. One of the best deals in the city, it's available from February 14 to 15.
The sumptuous set menu features exclusive Valentine's Day dishes such as the Iberico pork presa char siu with rose-infused yellow mountain honey and pan-seared Australian scallop, e-fu noodles with sakura shrimp sauce, as well as signature John Anthony favorites, including the pink rosé lobster har gao, and the dreamy plum mousse, cherry glazed plums, cookie crumble.
John Anthony Shop B01-B10, Basement One, Lee Garden Three, 1 Sunning Road, Causeway Bay, Hong Kong, www.johnanthony.hk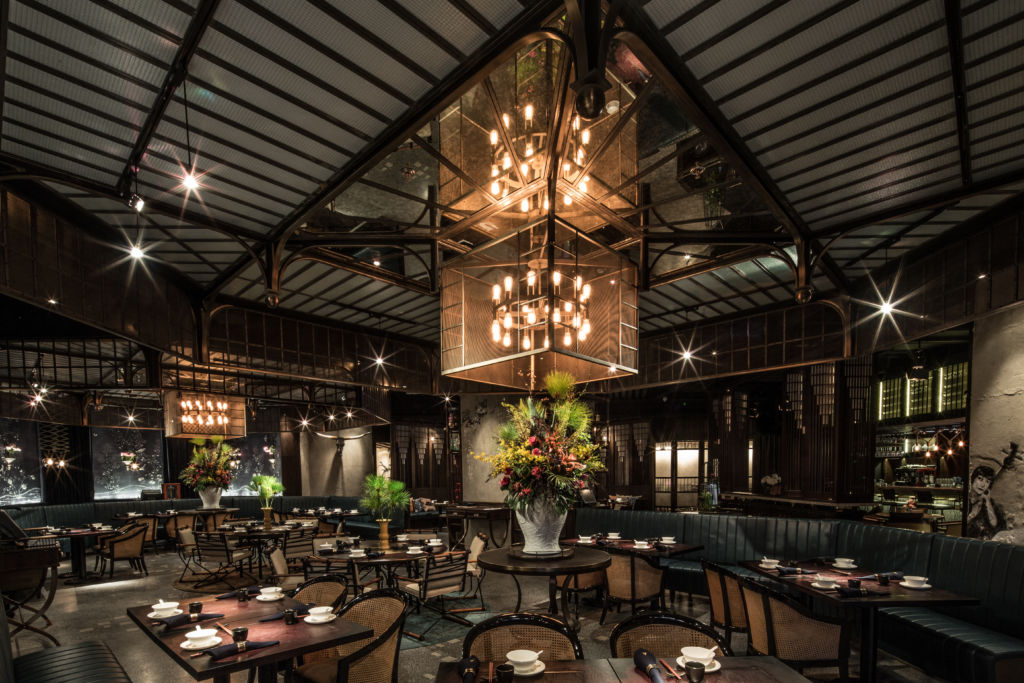 Mott 32
Valentine's Day is not just any ordinary date night. For many, it's a family gathering. It's often said that the best way to love your children is to love your wife and set a good example. Head to the award-winning Chinese restaurant Mott 32. They are offering a delicious nine-dish set dinner priced at HKD $1,480 plus 10% per person and it will only be available on February 14. The divine dishes include the foie gras with Chinese hwa tiao, the crispy roasted suckling pig with cucumber, melon, caviar, south Australian scallops, egg white, pumpkin soup, and the baked red date puff with red beancurd.
Mott 32 Standard Chartered Building, 4-4a Des Voeux Road, Central, Hong Kong, +852 2885 8688, www.facebook.com/Mott32HK
Tags