The Christmas tree tradition is an integral part of the festive holiday. While Germany is often referred to as the origin of the Christmas tree tradition in the 16th century, more historical debates actually trace it back to the symbolic use of evergreens in ancient Egypt and Rome. We're just glad that the tradition continues to this day and Macau is certainly a magical place showcasing unique and creative versions of this all-time favorite Christmas custom. Go on a tree hunt around the city for these stunning sights!
Shoppes at Four Seasons
(Featured image above)
Every year, the Sands Shoppes takes festive to another level of decoration dimension. This year in collaboration with Louis Vuitton, they have unveiled an exclusive Macau festive display that includes Christmas decorations and installations at Shoppes at Four Seasons. The illuminated installations comprise of stunning sphere-shaped fluorescent sculptures featuring Louis Vuitton's emblematic monogram design, along with three-meter tall graphic pop art animations highlighting a selection of the French fashion house's iconic pieces.
Showcasing a selection of the brand's iconic pieces such as the Twist bag, Archlight sneakers, and Damier Graphite Map leather goods collection, as well as the new Cœur Battant fragrance, it's an exciting sight not just for fashion lovers but for all guests. The installations and display will be on show until January 2, 2020, outside the Louis Vuitton store at Shoppes at Four Seasons.
Shoppes at Four Seasons Level 2, Estrada da Baia de Nossa da Esperanca, Cotai, Macau, +853 2828 2833, www.sandsresortsmacao.com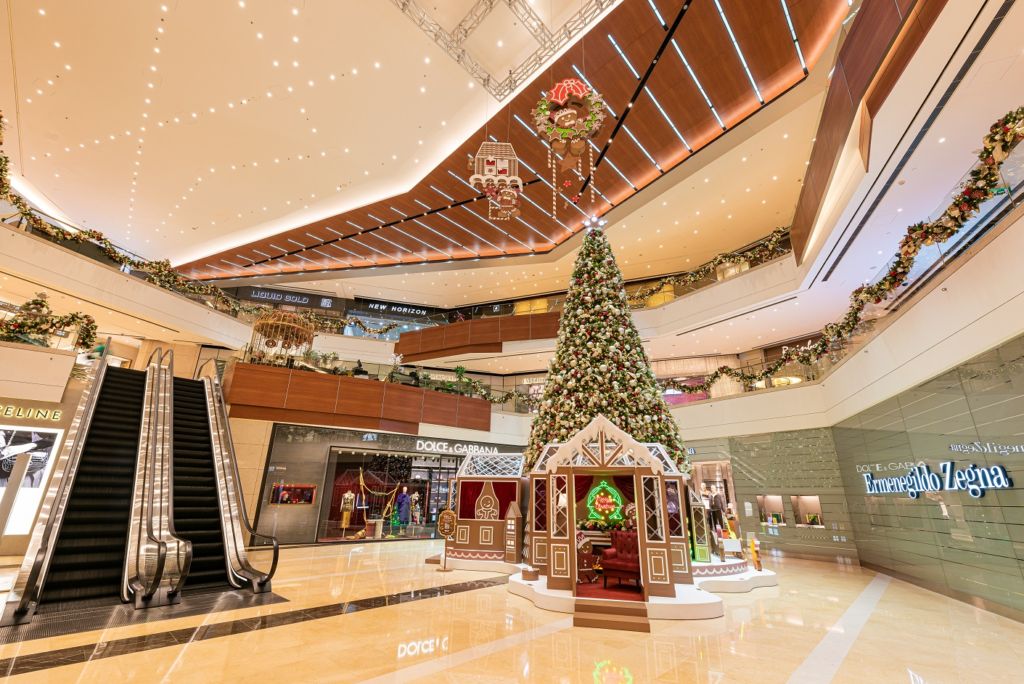 One Central Macau
Spice up your shopping with none other than the Gingerbread Man at One Central Macau. Explore a magical Christmas tree set-up until January  8, 2020, at this stylish location. The adorable Gingerbread Man is set to pay a visit to One Central Macau, touring around the atrium, pathways and outdoors to sparkle up the promenade as part of Macau's glitzy cityscape. The gingerbread house cum interactive studio swarming with Christmas lights is erected in the Atrium perfect for Instagram and photo opportunities with the whole family. Make sure to stop by while shopping up a storm!
One Central Macau Avenida de Sagres, NAPE, Macau, +853 2822 9838, www.onecentralmall.com.mo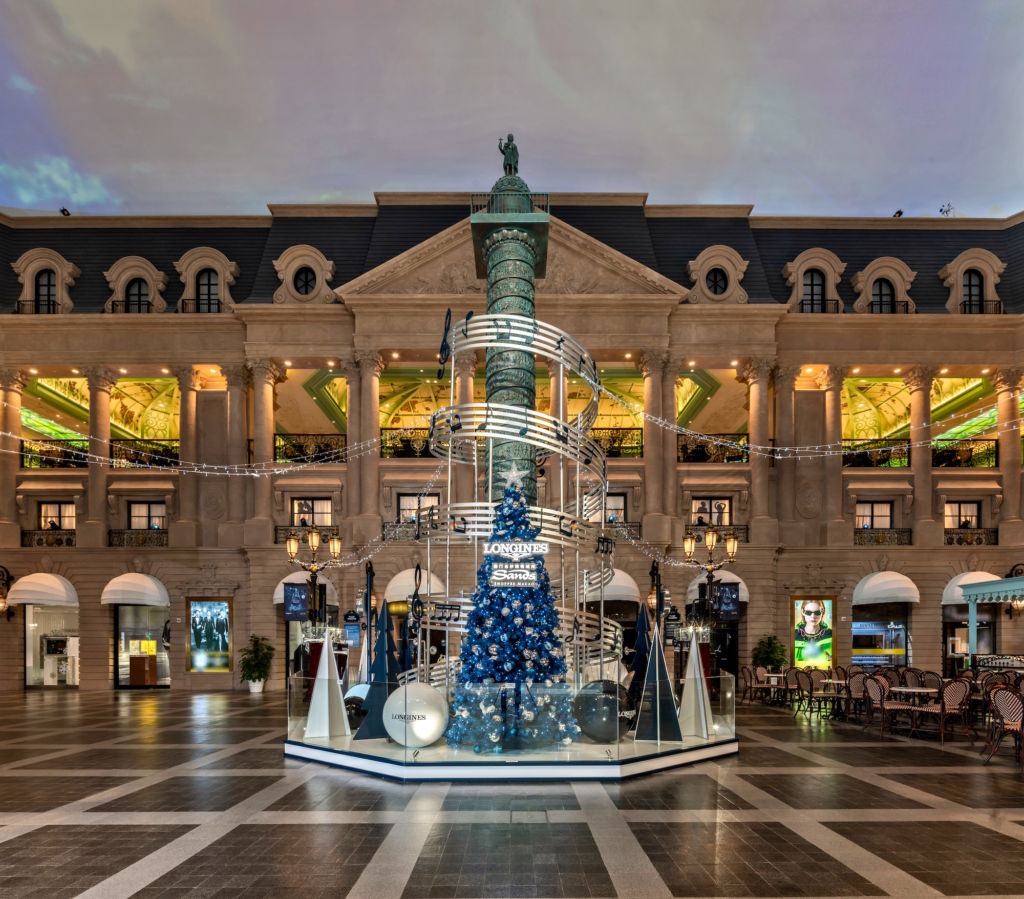 St. Mark's Square in Shoppes at The Venetian Macao
Every year the St. Mark's Square in Shoppes at Venetian Macao transforms into a magical scene and this year is no different. You'll find a spectacular festive music box and 13-meter blue rhombus Christmas tree of true beauty in collaboration with luxe brand Longines. It's positioned in the middle of the square for everyone to see. The carousel music box forms the base of the unique tree, which features exquisite Christmas themed décor including atmospheric LED lights and horse miniatures that symbolize Longines' equestrian heritage. Festive melodies will play from the music box every 15 minutes, while the horses on the ornamental base strike different postures. Actress Linda Chung has even officiated the lighting ceremony this year to the delight of many visitors.
 The Venetian Macao Estrada da Baía de N. Senhora da Esperança, s/n, Taipa, Macau, +853 2882 8888, www.venetianmacao.com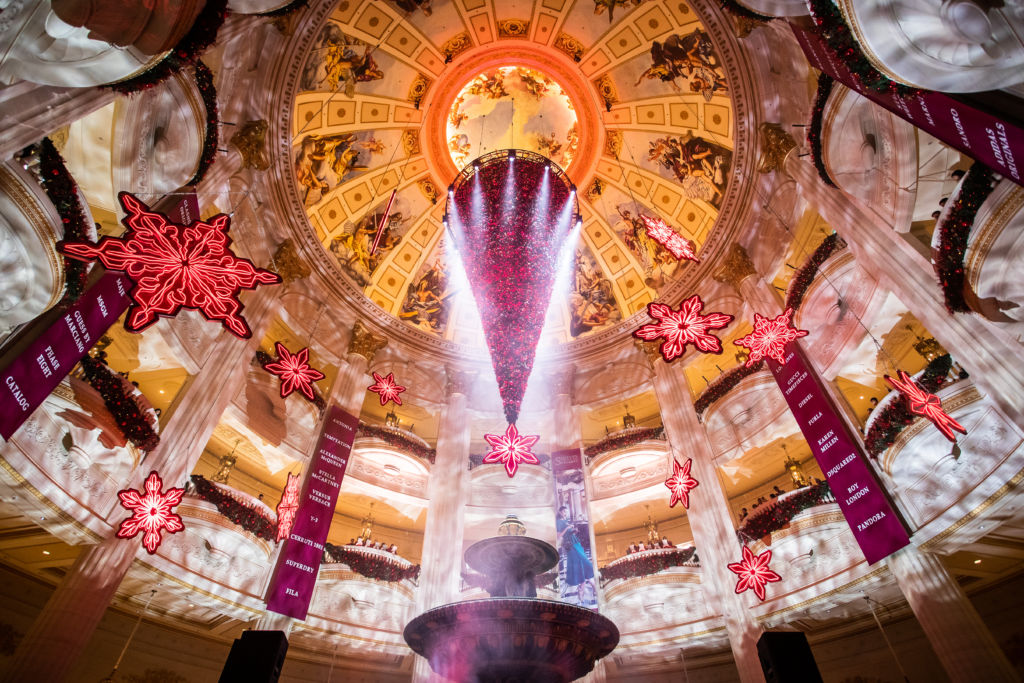 The Parisian Macao
The word stunning doesn't even begin to describe the 50-foot inverted Christmas tree which hangs from the ceiling in the lobby rotunda of The Parisian Macao. The magnificent tree is actually inspired by the one at the renowned Galerie Lafayette department store in Paris. If you haven't taken a selfie at this spot, then you're missing out on a cool Instagram Christmas post. Don't miss the Eiffel Tower's Grand Illumination Show Christmas Edition that runs throughout the festive season. There's truly so much to enjoy and entertain the whole family at the Winter Wonderland at Sands Resorts Macao.
The Parisian Macao Estrada do Istmo, Lote 3, Cotai, +853 2882 8833, www.parisianmacao.com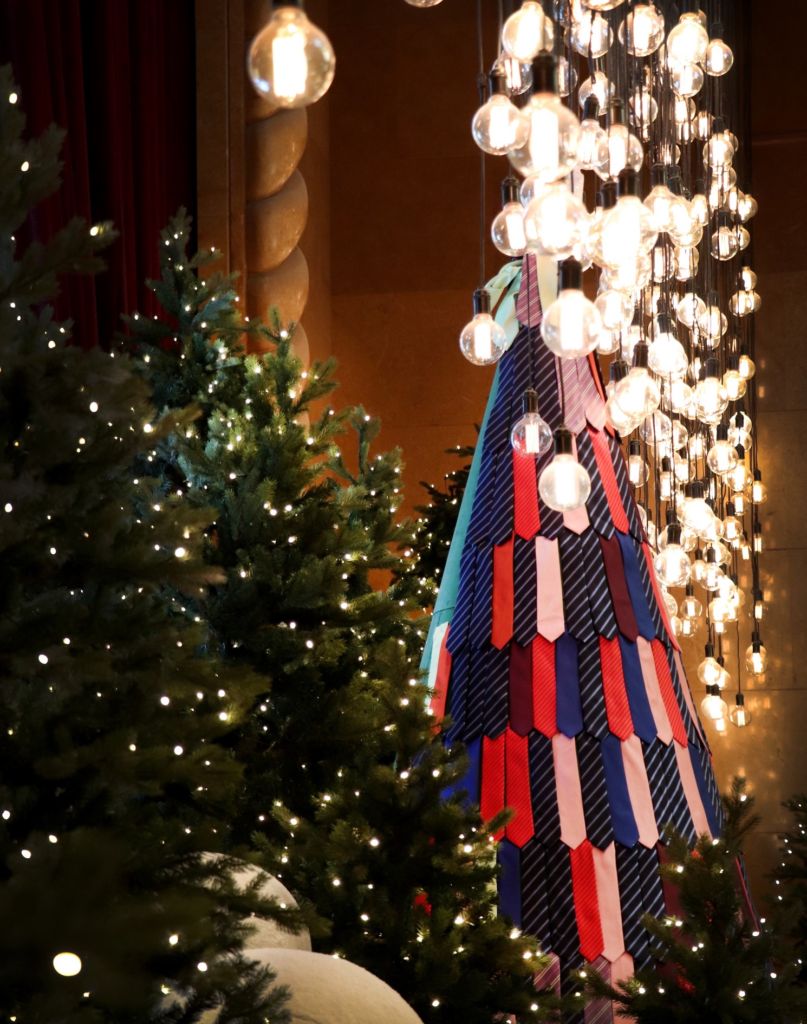 Sofitel Macau At Ponte 16
There's only one place in the city with a chic setting that never goes out of style–Sofitel Macau at Ponte 16! Feel the Christmas spirit in full force with a "Christmas Couture" themed setting at this gorgeous hotel property. The property brings to life the chicness of French haute couture, transforming the lobby into a fashion venue including two fantastic Christmas trees on site that are distinctively composed of elegant high heels and exquisite men's ties. It's a cool backdrop as you celebrate reunions and parties this festive season at Sofitel Macau At Ponte 16.
Sofitel Macau At Ponte 16 Rua das Lorchas e Rua do Visconde Paço de Arcos, Macau, +853 8861 0016, www.sofitelmacau.com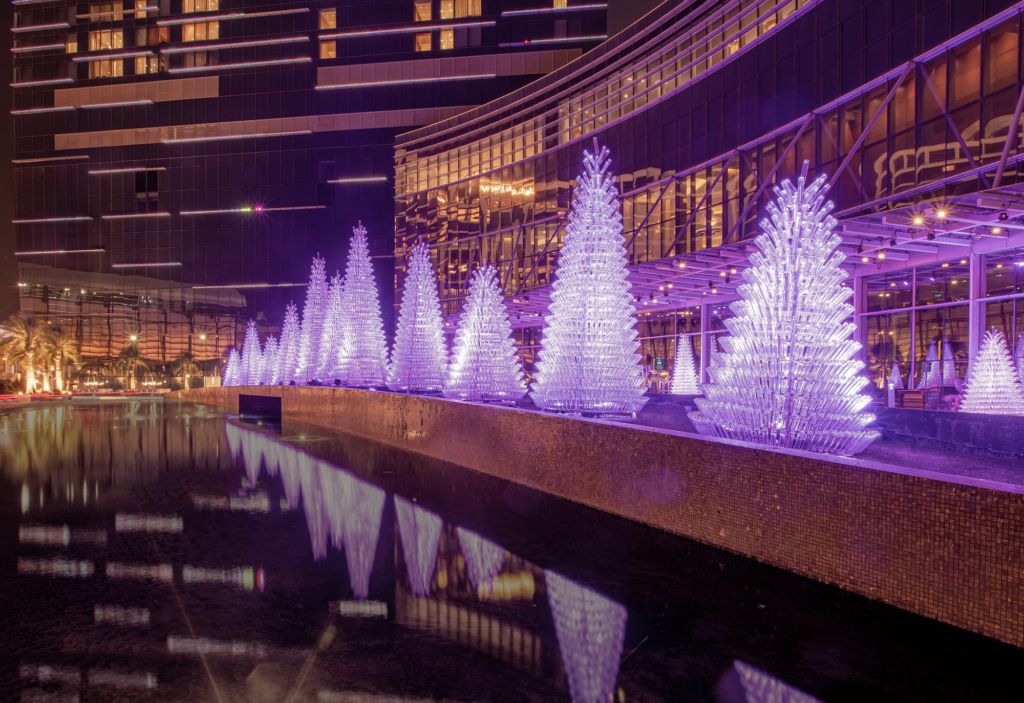 Grand Hyatt Macau
Grand Hyatt Macau is a great advocate of sustainability in the SAR! For this festive season, the hotel recreated eco-friendly trees to bring some light and joy to its outdoors. While bringing light and amazement to shoppers and Macau dwellers, it's always a wonderful reminder to care for the environment. Get your cameras ready and add this spot on your search for the most beautiful Christmas trees this year as part of your holiday activities with family and friends.
Grand Hyatt Macau City of Dreams Macau, Estrada do Istmo, Cotai, +853 8868 1234, www.hyatt.com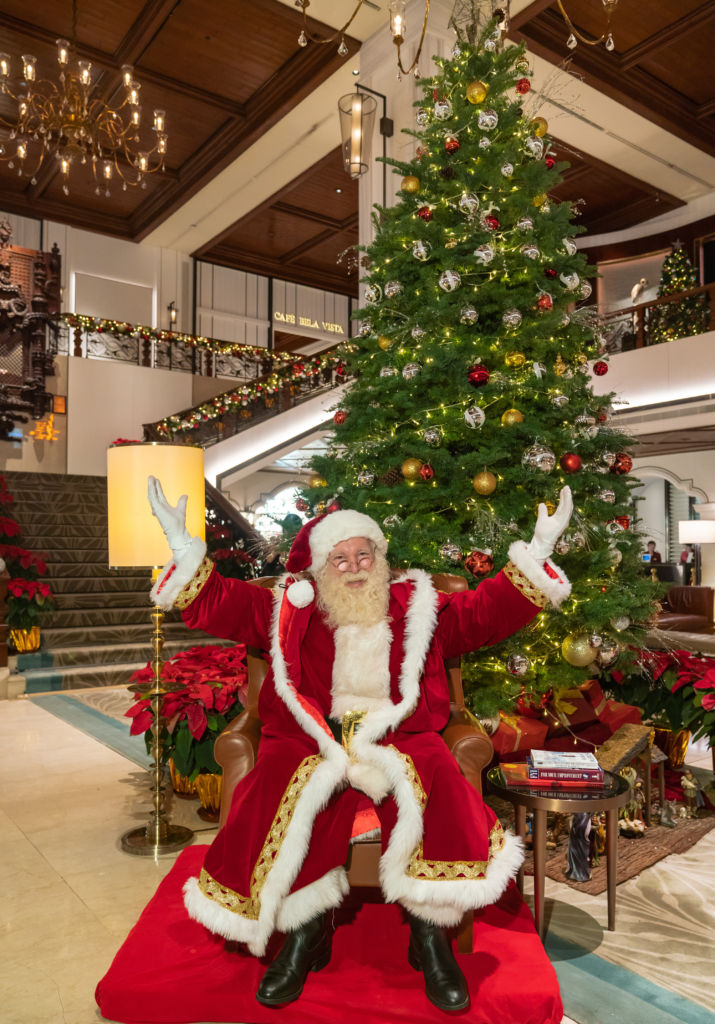 Grand Lapa, Macau
A Christmas tree that wows guests of all ages can be found in the lobby of Grand Lapa, Macau. Feel the magic in the air at this special corner of the property properly celebrating the festive season. Take the family for a delicious feast at Café Bela Vista or Naam Thai after having your photo taken at this cozy corner. It's the perfect bonding moment with your children and friends. Be enchanted by the sparkling lights that radiate hope and new beginnings for everyone.
Grand Lapa, Macau Avenida de Amizade, Macau, +853 2856 7888, www.grandlapa.com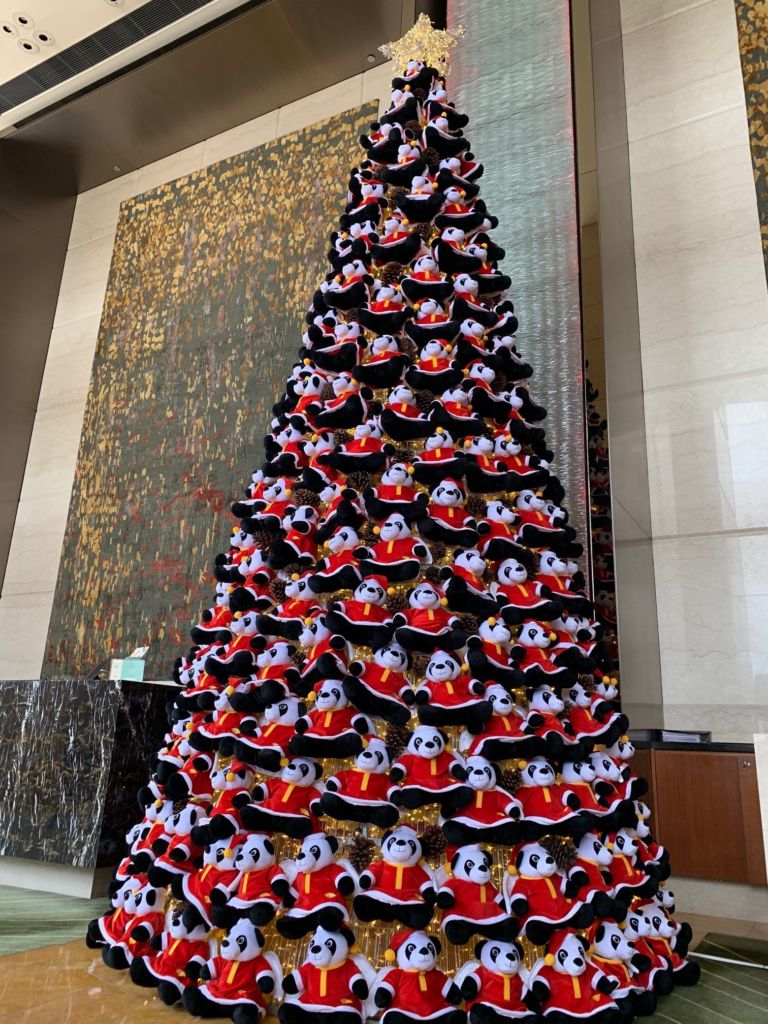 Mandarin Oriental, Macau
A Christmas tree for a great cause can be found at the Mandarin Oriental, Macau. The property always impresses guests with wonderful initiatives and charitable causes. This year, guest can take home these pandas at MOP $228 per panda and the net proceed will be donated to MINDSET. It is the Jardine Matheson Group's philanthropic initiative established to make a difference in the area of mental health.
Led by the Jardine Ambassadors, the MINDSET program aims to raise awareness and understanding of mental health issues and to change attitudes, while at the same time, providing practical support for charity initiatives in the sector. A large card replica of the panda will be provided for guests to write their special message which will replace every panda sold. This is one Christmas tree you need your kids to see and experience. After all, kindness is the best gift anyone could ever give this holiday season.
Mandarin Oriental, Macau 945 Avenida Dr. Sun Yat Sen, NAPE, Macau, +853 8805 8888, www.mandarinoriental.com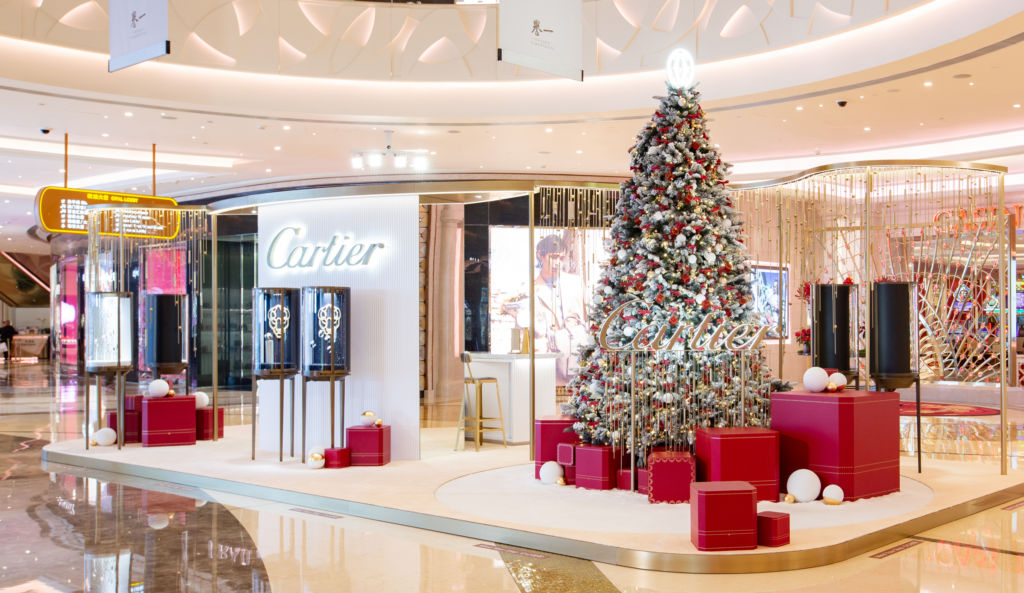 Galaxy Macau
There is a stylish corner at Galaxy Macau that's impossible to miss. All decked in the brand's signature color of red, make sure to stop by at the Cartier seasonal pop-up on the ground floor of the luxury resort complex. This is a subtle hint you can give your husband or partner for your Christmas wish. Highly visible beneath Cartier banners, the pop-up aims to engage customers with festive sights and sounds. The Christmas tree is intricately decorated while oversized renderings of the famous Cartier red boxes are scattered around like luxury Christmas gifts–all providing a magical backdrop for photo-taking. Cartier's Christmas pop-up is located at the Opal Lobby, Galaxy Macau from today until January 10, 2020. It will be open every day from 10:00am until 10:0pm.
Galaxy Macau Estrada da baia de Nossa Senhora da Esperanca, Cotai, Macau, +853 2888 0888, www.galaxymacau.com
Tags
Related Posts