For some people without a background in arts or history, visiting an art gallery can be an intimidating or daunting experience. But French native, Arthur de Villepin says buying art is not something to be feared. More than just the son of a diplomat and former Prime Minister of France, the dashing art-inclined gentleman and entrepreneur has certainly made his mark on the business world. With his new venture, he aims to bring together emerging artists and collectors by creating somewhat of an art revolution–he aims to provide a platform for local and international artists to showcase their talent and work. He talks the truth when it comes to purchasing art or starting your own art collection.
In this modern and evolving age of artworks, Arthur de Villepin believes that creative forces can have a life-changing impact on a person's life. As he shares his stories, he reveals what goes into the perception and purchase of art. He explains that when it comes to art, it's important to take your time, get to know the artist, ask questions, and dig deep inside your mind and heart.
Can you tell our readers a little bit about yourself and your background?
I've been here in Hong Kong for about eight years. I've lived in different parts of the world–born in America, lived in India and came back to France at the age of seven. I studied in the UK's University of Bath and after my internship in Hong Kong, I fell in love with the city and moved back as soon as I could, and I have lived here since. I became an entrepreneur soon after with the desire and motivation to start to my own company in wine and art. With this company, I wanted to be the bridge between Europe and Asia, and bring together the best of the region and promote it, whether it was lifestyle or art.
Where did your interest in art stem from? Did you always know you wanted to be involved in the art world?
I've never linked art and business before, but I was raised in a creative family. My mom and sister are artists and my dad is an avid collector of art. It came naturally to me as I grew up surrounded by artists in our home. I believe artists play a crucial role in society to guide us and make us question our thinking.
When did you start collecting art and what was the first piece you bought?
I bought my first painting five years ago by the artist Zao Wou-ki who was a family friend of ours. He was already quite famous therefore his work was expensive. I knew this and loved the piece which took me five years to pay off! Over the years I've collected other pieces as well with equal meaning to my life.
What was the original idea behind the creation of your Art de Vivre Collection, made up of ArtQube, Carré d'artistes, Meural and YellowKorner. Did you always intend to branch out in so many ways?
We want to introduce a new brand idea where we are a platform of brands that are unique in their sector. As a leading gallery featuring art, photos, and sculptures, we are one of the largest network galleries and providers of various forms of art.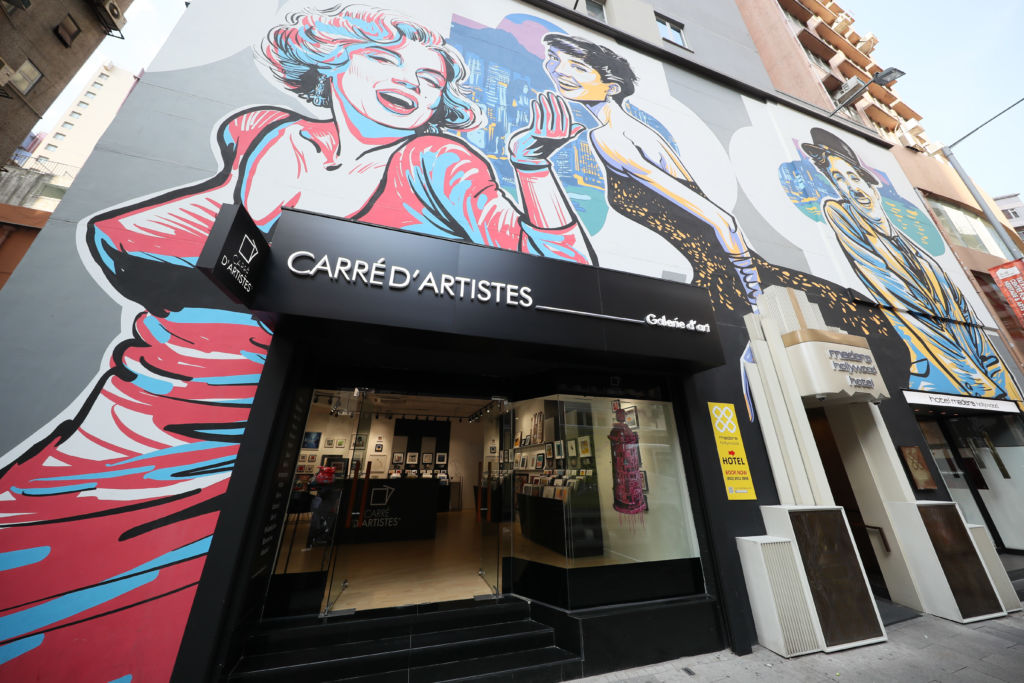 What is the ethos of Carré d'artistes? What makes Carré d'artistes unique?
It's very clear and I love it for being different than what exists already in the art market. It's completely complementary by itself to the other type of traditional art galleries. What's new is the coming together of fourteen artists at the same time. You will never see a gallery presenting 14 artists at the same time in one show. The main reason being normally that they want to focus only on one artist. We focus on the marketplace and people–not just artists for the elite or studios, but for everyone. The prices and styles are diverse where we've got classical, surrealism, and pop art mixed together. It's more laidback and not as rigid in terms of concept, but has familiarity and the feeling of welcomeness. We want to promote art that doesn't feel normal for the art market scene. We want to fill the gap between people and artists. I feel there's something to say with the right medium and right people.
You can purchase art on the website – this is such a contrasting way to purchase art given that traditionally you go to galleries. Is this another way to make art more accessible?
It's a very interesting debate. We have physical galleries and websites and I think that, yes, digital is an important part of our current society. Now art is accessible for many people but it's better if it's related to a physical gallery. For me, it's vital to note the mix of customers and artists, to connect emotionally with artists.
What's the best piece of advice you can give to anyone interested in buying art? How can they best get started and not feel intimidated?
Remove the rational knowledge you have and try to feel something with art. Be touched by what you are looking at. You could look at a hundred artworks and choose one that's not Monet or Picasso. If you don't feel something, then no one can force you. Remove the fuss and complexity–it's all about emotions. You don't have to like something just because it is famous. That is why nothing is more simple than photography, because of the colors and the way it quickly inspires. It's simple and that's why we introduced photography because of simple emotions. Find the emotion within and slowly build up this passion, towards the next artist and the next painting, but you have to start with a blank page–how you feel when you see it.
If you could meet one artist from the past, who would it be and what would you ask them about their work?
It's Michelangelo Merisi da Caravaggio for me. I think that he came at the moment when art was sublime and shook things up. At that time, art showed light, emphasis, and beauty–commissioned by cardinals, churches, and kings! When he entered he showed the truth with portrayals of violence, blood, poverty and sadness. I want to understand his mind, as he could feel the beauty and feel something greater in showing the truth rather than elevating what he was seeing.
There seems to be a French invasion of Hong Kong. As the second largest expat group in HK, what do you think is attracting more and more French people to come to Hong Kong?
French people are dreamers and we are characterized by the revolution–we want to change. We may be perceived as laid-back but we're hardworking. For the French, everything is possible. We want to be part of a moment that is greater than us and I think that must be the same for the French here in Hong Kong. (smiles)
Have you visited Macau? What are your impressions of the city and its emerging art scene?
I've been over to Macau but admittedly I didn't tour so much in search of art. I definitely think there's an effort from the government and private institutions to further the cause but there's still a long way to go towards that path. We should all remember that art is crucial, it's about how we create our society and how we enable our children to think deeply and go beyond.
With so many different projects and businesses, how do you stay balanced?
I don't take anything for granted. The key is to adapt to changing environments and different contexts. Stick to who you are and be true to yourself. Life moves quickly. The only real balance is to be yourself. I try to look inside myself for balance and not outside. I think to myself, okay, whatever happens, happens–as long as I stick to my instincts and to who I am,  I can't go wrong.
How do you see your brand in the next five years?
My vision is quite clear. It has two directions, the first is geographic expansion whether it be through Hong Kong and the Asia Pacific. The second is growing a portfolio of brands, artists, or companies that I think have a lot to say about lifestyle. We want to build a foundation of our credibility and reach.
---
Carré d'Artistes 53-55 Hollywood Road, Central. Hong Kong, +852 3709 0909, www.carredartistes.com/en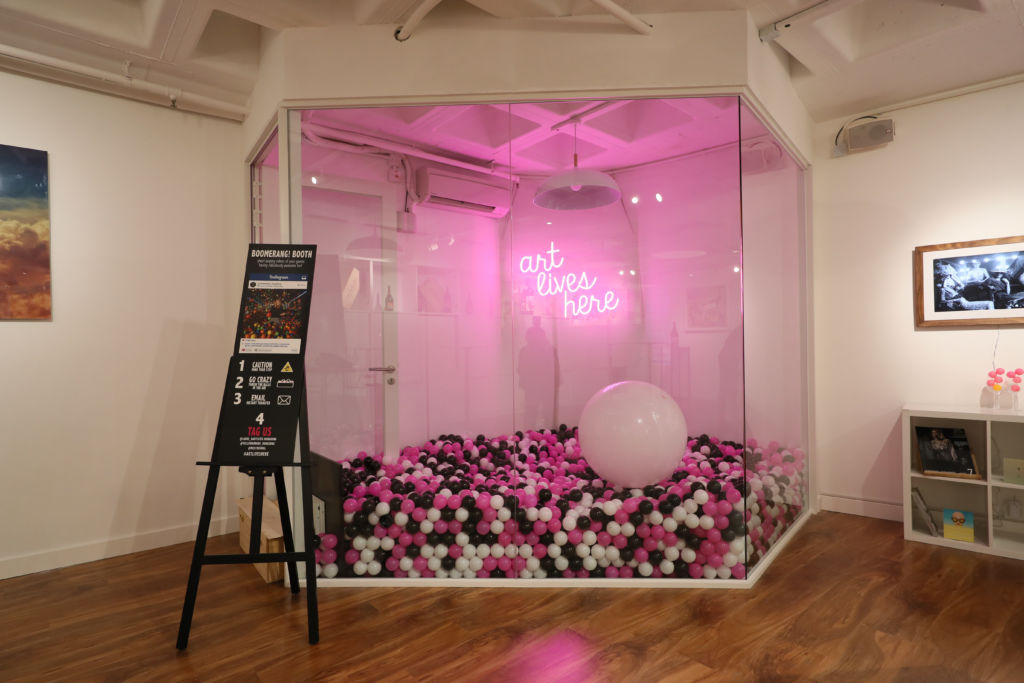 Tags
Related Posts