Lord Stow's Bakery is practically an institution in Macau – they've been producing the city's deliciously iconic egg tarts for almost three decades and have won countless awards and accolades. Their treasured brûléed Portuguese egg pastry has become a national snack for both locals and tourists, and yet they've remained humble, modest and resilient – consistently serving up about 20,000 of the tasty creamy morsels a day. We caught up with Eileen Stow to eat some tasty egg tarts and find out what makes the brand so special.
Lord Stow's has been around for almost thirty years with several sites in Macau and more in Hong Kong. What do you think has made it so successful? 
It's because we have retained the heart and soul of our business, with integrity, and kept our focus directed on the local customers.
What was it like when you left everything behind in the UK to come and support your older brother's business? 
I had everything to gain and nothing to lose. It was a laser-moment decision. I can still picture where I was when I made that decision.
What were your struggles during the first few months of moving to Macau? And has it grown to be your second home?
Frustration is never a comfy condition – I had to get to grips with the unfamiliarity of the place and my inability to communicate did not help. Macau is now my first home though. The city has been kind to me, kinder than I could ever have imagined. I like to travel, but I always look forward to getting home in Macau.
How have you adjusted to Macau's culture and its food? Do you have a favorite restaurant you always visit?
Generally, I adjusted with ease – I am anti-sharks' fin and the like, so do have an issue with that kind of thing. My favorite restaurant is currently closed at the moment but I am waiting for the Terrace at Pousada San Tiago to re-open!
How do you think Macau has evolved in its gastronomy industry? Do you think it deserves UNESCO's title as a gastronomic city? 
Nouvelle Cuisine has grasped "Cuisine Classique" – a years ago I felt frustrated that wasn't happening, and folks were replicating instead of creating. All that has changed now, yet the best traditions have remained with those they belong to. So I believe Macau deserves the title wholeheartedly! There are few places in the world with such a melting pot of recipes.
Egg tarts have grown to be an iconic Macau staple – how do you think it made its way to the top?  
We must thank our original local Chinese customers for that. They took Andrew's tarts to their hearts (excuse the poetry!) and took them to their family and friends in Hong Kong – they were proud something delicious had been born in Macau.
What was one piece of advice or saying from Andrew Stow that you have kept in your mind?
"You have to be able to put your head on your pillow at night."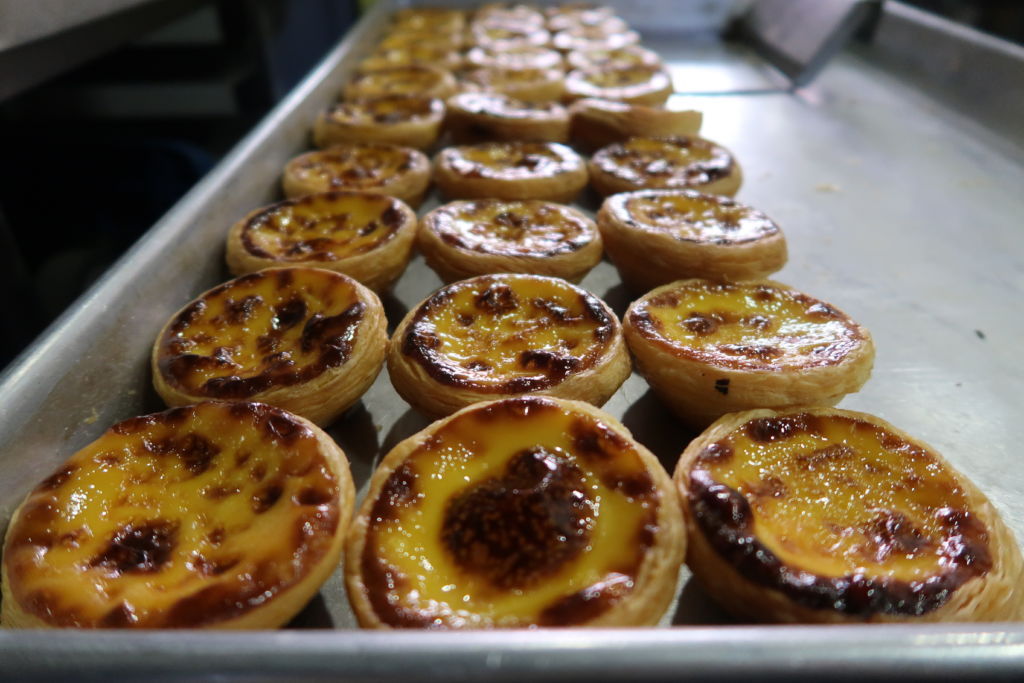 There are different variations of egg tarts. How does Andrew's version differ from the Portuguese ones? 
It is in the filling – Andrew's is an English-style custard, whereas the traditional Pastel de Nata is more of a Crème Patissiere which has starch added, usually in the form of flour, meaning it needs to be cooked through before placing in the pastry cases. The different methods produce two different textures of filling. Neither being better than the other – it is just a matter of your own taste. Portuguese people tend to prefer a darker brûlée on the top as well.
How has Lord Stow's Bakery evolved over the past few decades?  
We have a professional management structure, with staff training programmes covering all aspects of the F&B business. We particularly focus on employee care which, I feel, leads to customer care – I know that can be viewed as a bit of a chicken and egg situation! I think Audrey Stow is the future of this business.
Lord Stow's has multiple branches in Macau. Why is that you've chosen Taipa Village for one of the new venues?
It just seemed mad to Audrey Stow and I that we never opened there 20 years ago.  Things can stare you in the face, can't they?
With the business running successfully, what can we expect or see in the future or perhaps the next 10 years?
On the one hand, my retirement from day work will arrive in 2021. On the other hand, much of the same – "If it ain't broke, don't fix it!"
Over the past successful years of Lord Stow's Bakery, what moment or achievement are you most proud of?  
I was touched by how the team stuck by me when Andrew passed away. I have no words for that.
---
Lord Stow's Bakery (Rua Do Cunha) N.9 Rua do Cunha, Taipa, Macau, +853 2857 6580, www.taipavillage.com
Tags
Related Posts