Jason Kuok is the first and only certified Water Sommelier in Macau and Hong Kong, yes, Water Sommelier. Born and raised in Macau, the thrill of adventure took Jason to Dallas, Las Vegas and Honolulu. It was however during a holiday in Los Angeles that his interest and natural curiosity for water and the elements behind it were piqued.
Water is a basic need and the human body is comprised of nearly 60% of it. It is vital to consume enough water to keep us alive. And while we think that water is simply water and that it is tasteless, Jason debunks that myth and explains, "There is a world of difference in water depending on the terroir. It is defined as the geographical area that the water goes through before settling in an aquifer. The mineral composition of the water in each specific region comprises its unique blend. Calcium, Magnesium, Sodium, and Iron are the 4 prominent minerals that we can actually taste from water. Each has a different threshold, of course, water sommelier is trained to detect the slightest difference amongst it. The minerals mentioned will definitely have a drastic effect on your meal, your cup of coffee, wine, and tea".
With his natural curiosity, Jason noticed how the water tasted different because of mineral composition as the factor of dessert living was a huge aspect source of water. It was during his weekend trips to Los Angeles that he discovered the water tasted distinctively different as well. With a background in hospitality, he continues to explore the world of water.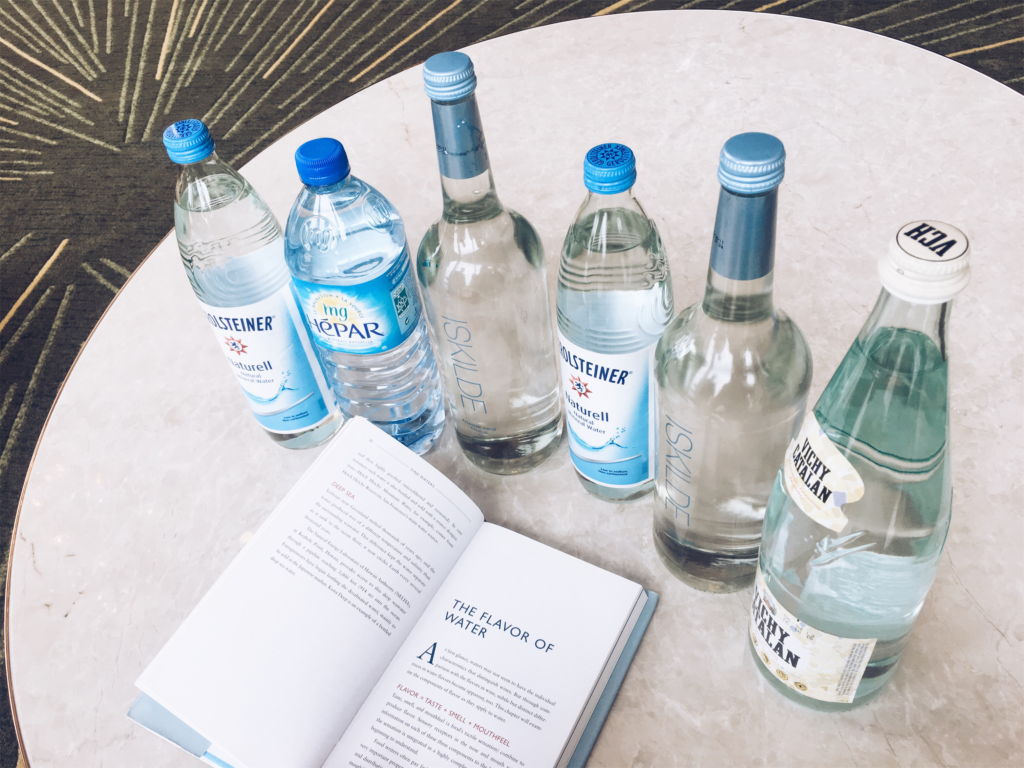 What exactly is a water sommelier? It's quite a new concept to many people.
Most people think water tastes all the same. We have a lot of choices out there and I think it's time for us to spread awareness in the region about the healthy way of water consumption and that's primarily what a water sommelier is all about.
How did you become a water sommelier? What brought you to this kind of path?
From time to time friends and acquaintances brought me water from all parts of the world from their trip because of my fascination. I also had a penchant for trying different brands from supermarkets. I tried tasting whatever options I could find. Then this German Academy came up on my research and I was certain that I wanted to be a water sommelier. I took the course in Munich in Germany and now I am the first water sommelier in Hong Kong and Macau.
What kind of training did you undertake to achieve a status as a water sommelier? Tell us about the course.
We had a class of about 13 to 15 people from all over the world. The first thing we had to do is be able to distinguish elements like pure calcium and magnesium as part of several activities and workshops. This was a course to identify and taste different waters and different compositions. We tasted carbonated water and learned to differentiate and taste the minerals. It was the proper education of water and all the elements that affect it. It was scientific and environmental studies that eventually led to my achievement as a water sommelier.
Do you think that the concept is geared mostly towards health-conscious people?
I believe it's for everybody. It's to help educate people and to know that there is more about water just like wine and that the origin of water affects its composition as well. Water has its own terroir water composition and weather that contributes to a particular taste of water. My mother is not a fan of milk and she has Lacto intolerance. I find that she lacks calcium so when it comes to water an everyday drink we opt for more calcium than others. The water usually originates from a volcanic region to have lots of calcium in it.
How is water classified? And how do you think should it be presented when dining?
We can categorize water in five ways. First is the still water or tap water, then we have distilled water that can actually be bad for you because of osmosis, then we have mineralized water like Bon Aqua and we also have natural water, and lastly carbonated water.
How do you consider pairings for water and food? And where do spirits come in the picture?
The temperature is crucial to drinking water. My personal preference is to have it at room temperature to be able to taste everything in terms of food. With pairings like seafood and sushi and anything light go for still water, for red meat and pork barbeque, I would go for bubbly so sparkling water is good to bring out the flavor. If you have a glass of red wine then you want to drink with something heavier as it cleanses the palates and prepares you for the next sip.
Who are the top markets in HK & Macau for such a new and innovative concept?
Well, I think water is a great source of revenue. At the moment we open a menu and its always Evian and Acqua Panna but with wine, there are a million choices out there. Water is the most simple beverage in the world and our body is comprised of water as well so this topic is for everyone.
What advice can you impart in terms of daily water consumption for regular people like us?
A woman and man have different needs in terms of water consumption as with the factor of a person's weight. However, 1.5 liters a day is ideal for both on an average scale.
What's the most basic pairing you can teach us when it comes to eating and drinking (lunch, dinner)?
We were taught how to create a water menu for a restaurant and I hope we can really do one here in Macau. With salad, I recommend with what's available Acqua Panna for salad as it has a neutral and balanced taste. For steak, you could opt for still water or San Pellegrino as it pairs well with red meat too. For dim sum, I would recommend still water, for noodles if it's fried, I suggest picking out something sparkling.
What do you love most about Macau? Where do you go for good/great water in Macau then?
There is a supermarket called Granmart in Taipa. They have diverse choices although not as extensive as Hong Kong but that's a good start. People usually grab a bottle of water when they buy but don't really check the components. You want to pay attention to Calcium and Magnesium as they are very important ingredients.
Why should people care about water in Macau?
The concept of drinking water is not only about drinking good enough of an amount. Some water replenishes your daily needs but others don't have any minerals in it and that's not a good thing for your body. We should all look out for the health and lifestyle of everyone that is why awareness is the first step in garnering that trust.
Tags
Related Posts