Breaking barriers in Macau, Paula Carion is a legend when it comes to karate. It took the athlete years of intense training to finally compete at the Asian Games but her persistence paid off. The three-time medalist won the bronze in 2014 and has been awarded an honorary title by the Macau government. She has been representing Macau in karate since 1998. In the male-dominated area of sports in Macau, Paula is a female role model for the city's younger generation. She talks with us about passion and perseverance in this beautiful story of triumph.
Can you talk a bit about your background?
I went to School of Nations and I also attended the Canadian College and Polytechnic Institute in Macau. I completed my degree in Chinese and English translation. I am also involved with events organization and several Macanese associations. I take part in promoting the Macanese community languages and more.
Tell us more about the organizations you're involved with.
I am involved in a few Macanese associations, one of which is the Associação dos Jovens Macaenses that reaches out to Macau's youth through various enriching activities. It's fairly new and was founded in 2012. I am the current vice president and we want to promote Macanese culture and customs. We want to offer a platform for the Macanese youth of Macau and give guidance on the path they might want to take in life.
I am the eighth generation of my ancestors in Macau. They arrived here in the early 19th century and I take pride in my heritage. I am involved with Dóçi Papiaçám Di Macau and participated in the Macao Arts Festival. I joined the group in 2006 to work backstage first as a translator and in 2007, I was given a role to act on stage. It's easy to grasp the patua language as long as you have basic knowledge of Portuguese and Chinese but it's not easy to communicate solely with it.
How do you prepare for a sporting competition?
Before I had my coach who came from Iran in 2002, we didn't have a systematic style of training. We just intensively trained prior to each event. It was just karate technique training but since his arrival, we did power training, resistance and stuff that is more scientific. We went from three sessions a week to six days a week training. It was nonstop. We train the same way before each competition. The training is my life and the goal is always to be ready.
You won three medals at the 2010 and 2014 Asian Games, can you talk us through that experience? How did you feel?
That was the highest level Macau could go to because we can't compete in the Olympic games. I was very nervous and I lost my appetite and I lost weight. It was easier in the beginning without experiences and achievements but as years passed by people paid more attention and the last one was very stressful because of the pressure. I had a pretty big injury six months before the games and the doctor said I couldn't compete, and I proved him wrong.
What is your support system?
My family has been very supportive. They let me do karate in my free time and that's very important for sports development. I know other younger players who have stress from family concerning the task of finding a good job or concentrating on your studies.
It's both a cultural thing and economics of it. Before the full time athlete scheme was implemented by the government, you didn't have any means to make money unless you won a minimal amount from a certain competition. So this new scheme is a good start and a way to develop the sports arena in Macau.
How can the government of Macau help improve the sporting scene?
I think by providing a program for players after they retire from competitions. As an athlete, you worry about spending your time as a youth. Can you imagine retiring with no other work experience than just sports? It's really challenging and we need more help in this kind of field.
Follow Ms. Carion on Instagram and Facebook: @pcpcarion, www.facebook.com/pcpcarion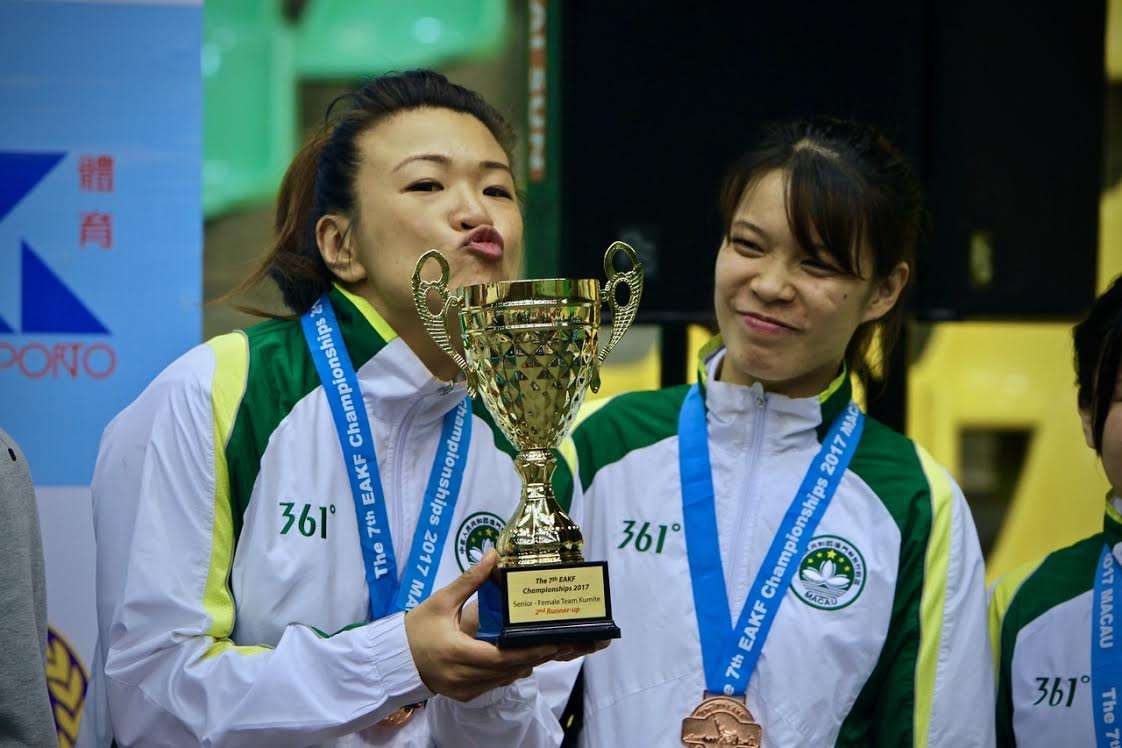 Tags
Related Posts