As the temperature cools down, it's the best season for outdoor activities! Too often we give ourselves excuses that doing exercise takes too much time, but the truth is there are some short and nice running paths just around the corner. Make the effort to get up 30 minutes earlier from tomorrow onwards for one of these stunning running routes.

Sai Van Lake
The locals call this route the "Half Orange" due to its shape. As my all-time favorite path, this route goes along the beautiful Sai Van Lake and under the Macau Tower. It is particularly gorgeous if you are here for a morning run as you will get to see the golden sunshine brighten up the sky of Macau.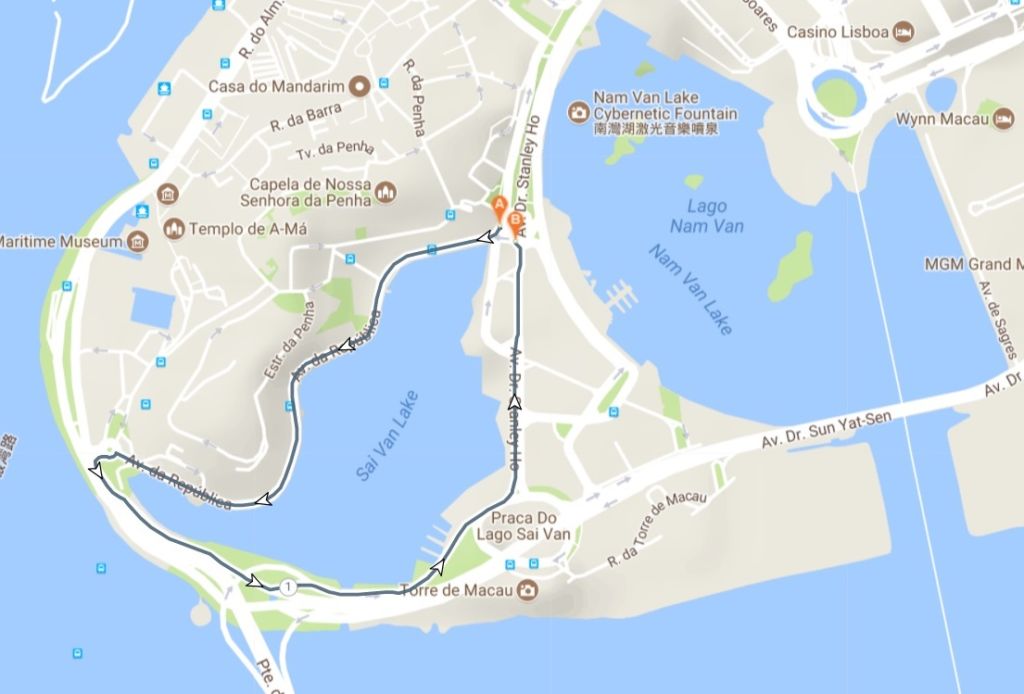 How to get there: Street parking available at point A and along the first kilometer. Bus 6B, 9, 16, 28B to Av. Republica or bus 9A, 18, 23, 32, N2 to Edf. dos Juizos Criminals do Tribunal Judicial de Base
Distance: 2.5 km
Time: 15 minutes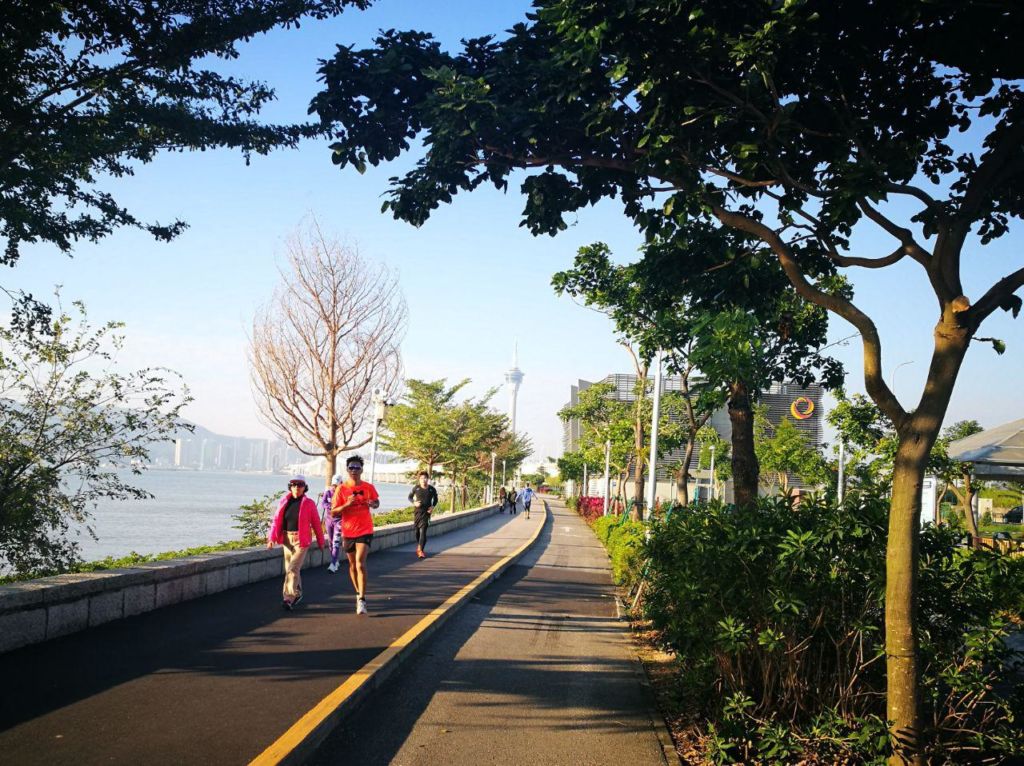 Leisure Area of Taipa Waterfront
This is probably one of the most well-equipped running paths in Macau with the wonderful view overlooking the coast of Macau peninsula, you may even extend your run to the "old bridge" (see route 5). During weekends, you may see families come for the playground and bike lane.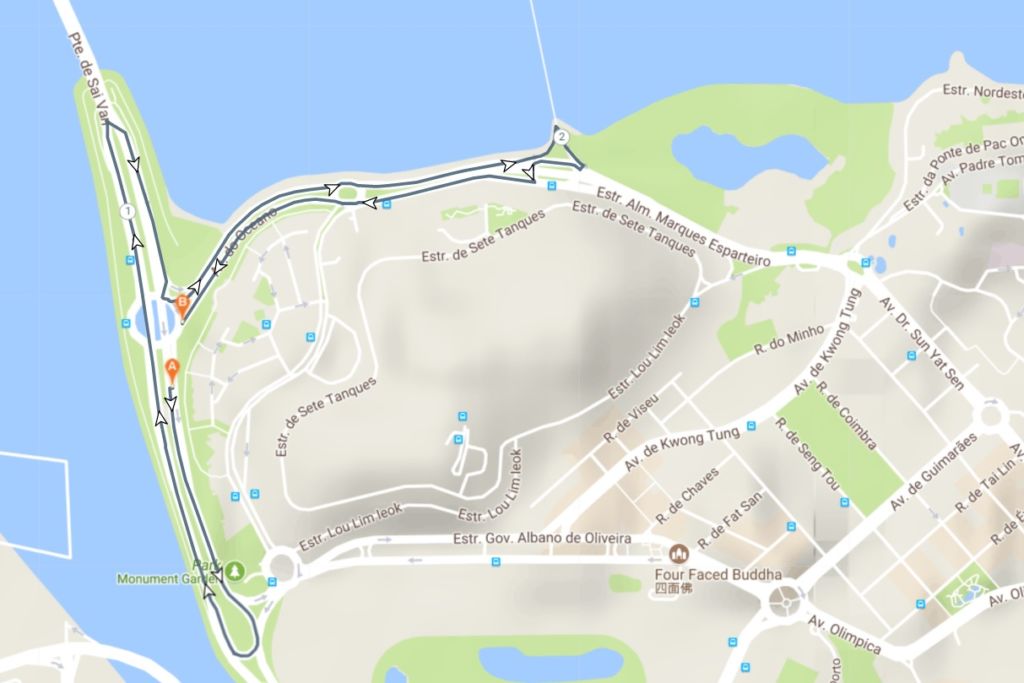 How to get there: Street parking available at point A. Bus 26, 52, MT4, N2 to Jardins do Oceano/ Rose Court or Ponte de Sai Van/ Av.do Oceano
Distance: 4.3 km
Time: 25 minutes
The Reservoir
The reservoir gained its popularity due to its convenient location. It is one of the most popular tracks in Macau. Come here in the evening after dinner and you may see all kinds of people walking or running in this closed circuit. This track is suitable for people of all ages, beginner or expert. If you'd like to avoid the crowds, be sure to come early.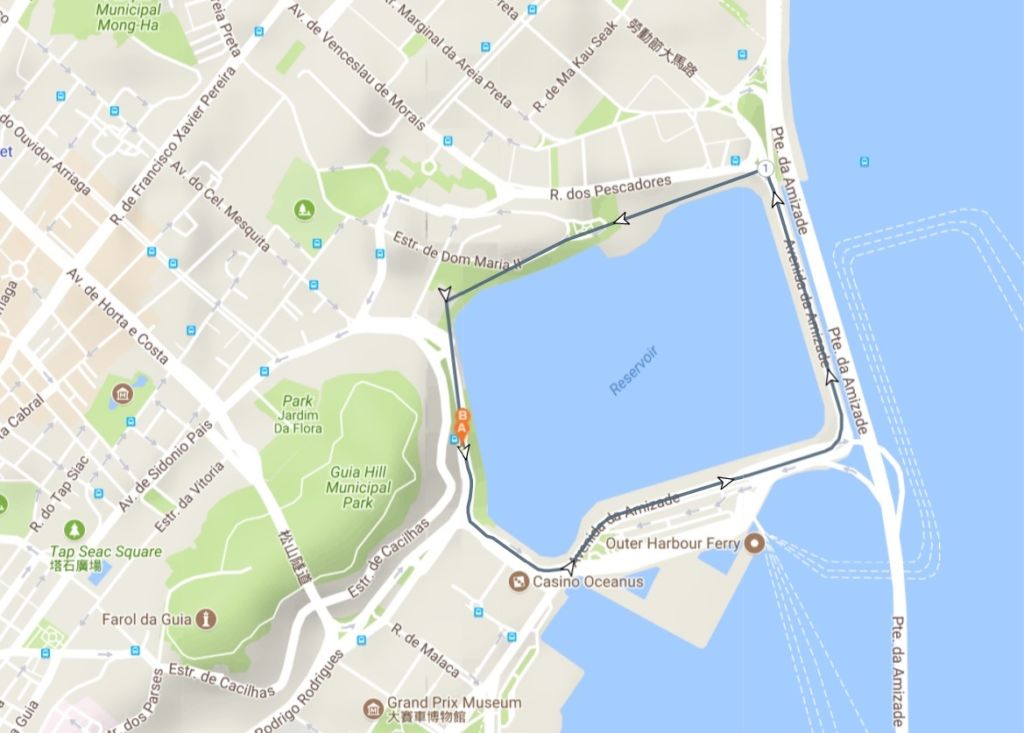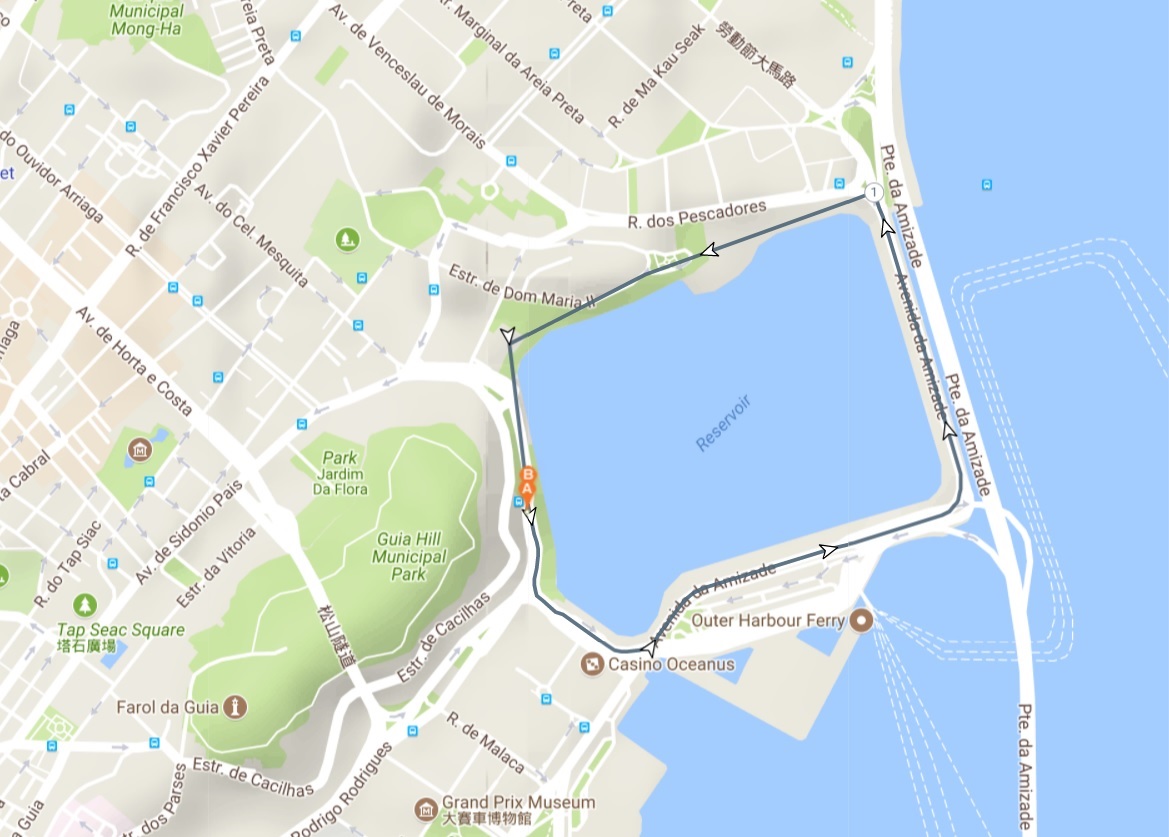 How to get there: Street parking available at point A. Bus 32 to Est. Do Reservatorio
Distance: 2.5 km
Time: 15 minutes
Guia Hill
As the highest hill in Macau, Guia Hill holds a special place within the local's heart. There are several ways to begin your run but my favourite one is to start from Jardim da Flora, where you work your way up through the steps and jog along the close route until you get back to the cable car station, where you can enjoy a relaxing journey downhill with the shortest cable car in the world!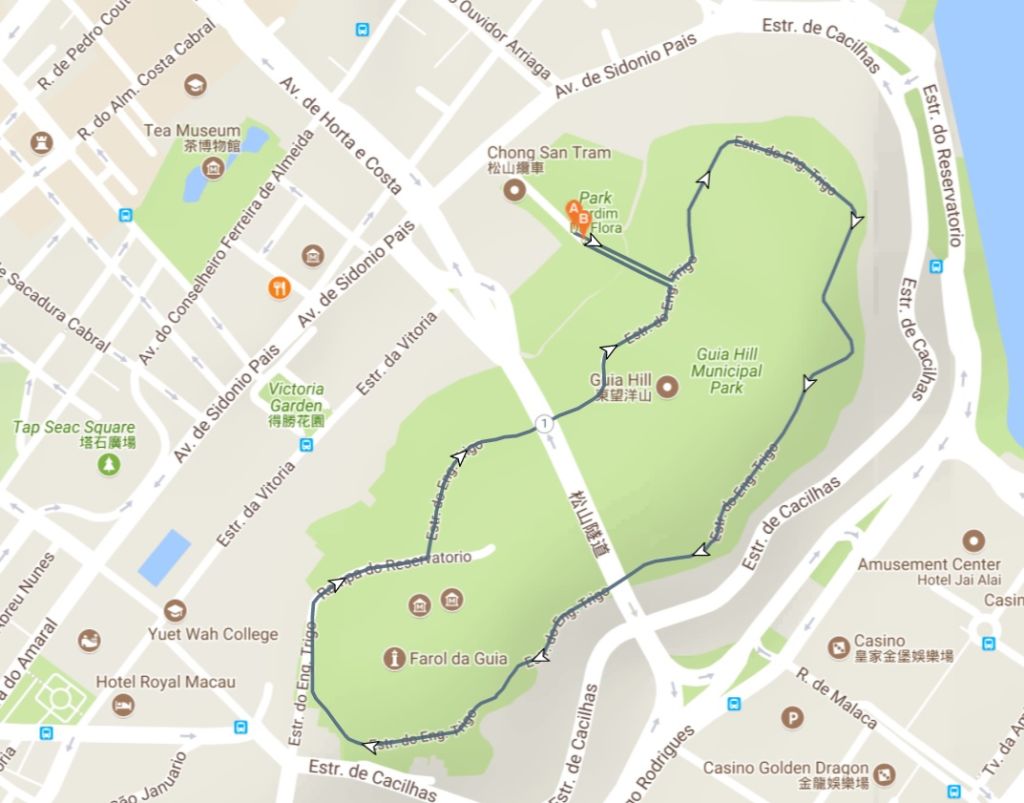 How to get there: Bus 18, 18B, 19, 22, 23, 25, 25X, 32, 56 to Jardim da Flora
Distance: 1.8 km
Time: 12 minutes

The Old Bridge (Ponte Governador Nobre de Carvalho)
This may not be a popular running route in Macau but it is definitely something worth trying. Begin your run from either side of the bridge against the traffic flow. You may get to experience the feeling of running on the sea! However, before you set off, remember to make sure that you are fully hydrated and have enough energy to finish the route, as it's a one-way track.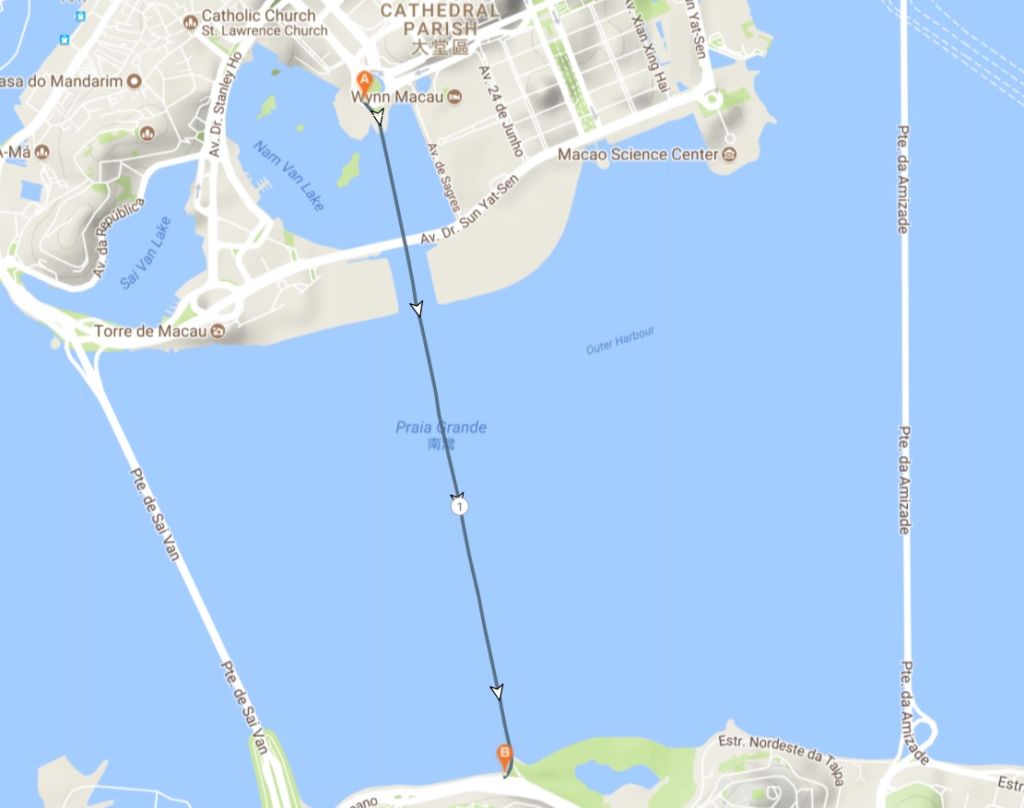 How to get there: No parking available. Any bus to Praça de Ferreira do Amaral.
Distance: 2.5 km
Time: 15 minutes
Happy running! Share your running pics with us and don't forget to hashtag! #BeActive
Share
Tags
Related Posts