Welcome to Macau's first tattoo shop where eight–and possibly more to come–different artists are gathered. Located in one of Macau's back alleys you will find Back Street 22, one of the coolest tattoo studios in town. Combining different styles and perspectives, Alley, Helen, Baron, and Mary inaugurated this space back in 2016. Their goal? To raise the bar on the tattoo scene in Macau.
Connected through the art of ink, all of them came together with the dream of providing Macau with a bigger and more diverse choice in the tattoo realm. There was a myth going around that getting inked in the city was super expensive. Thus, a lot of people shopped around, got tattooed for extremely prices, and then ended up having to get a cover-up done because the quality wasn't as good as they had expected.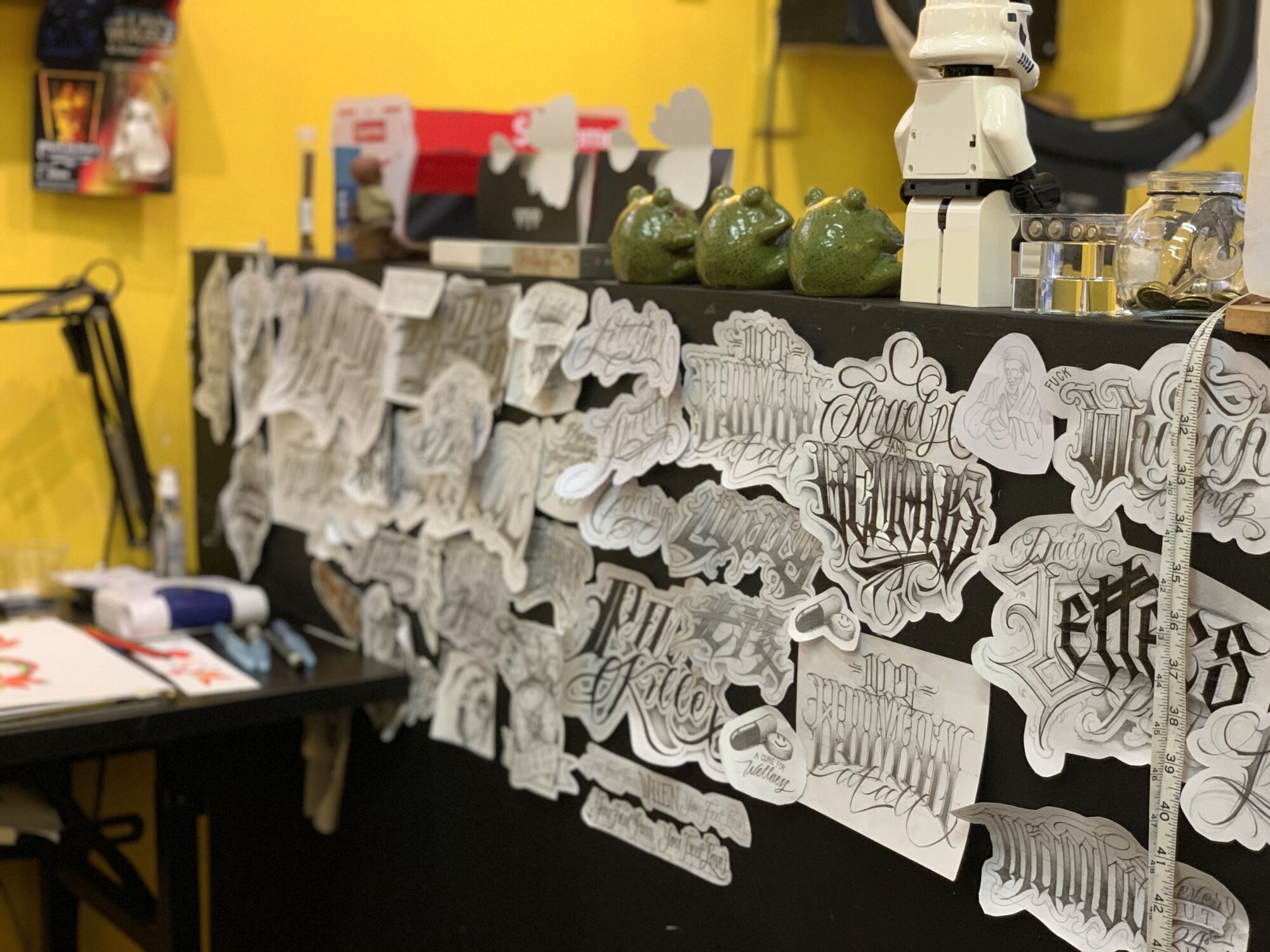 Now, Helen and Baron still remain, and they've been attracting young talented local artists pursuing, according to Helen, their will to "join local artists together". Currently, there are eight local tattoo artists working at Back Street 22, each one with their own different style. With Baron and Helen, Carly (fineline), Painting (illustration), Mary (realism) and ET (lettering blackwork) make up the rest of the team. Part of the gang as well, apprentices Adela and Peter add the styles abstract and Japanese–respectively–into the mix.
At Back Street 22, the goal is to create unique designs so that no two tattoos are the same. Rather than making money, what drives them is passion, dedication, and respect for the business. Helen attracts people with her old school designs and inspiration. Baron focuses on Buddhist-related works and dots…a lot of dots.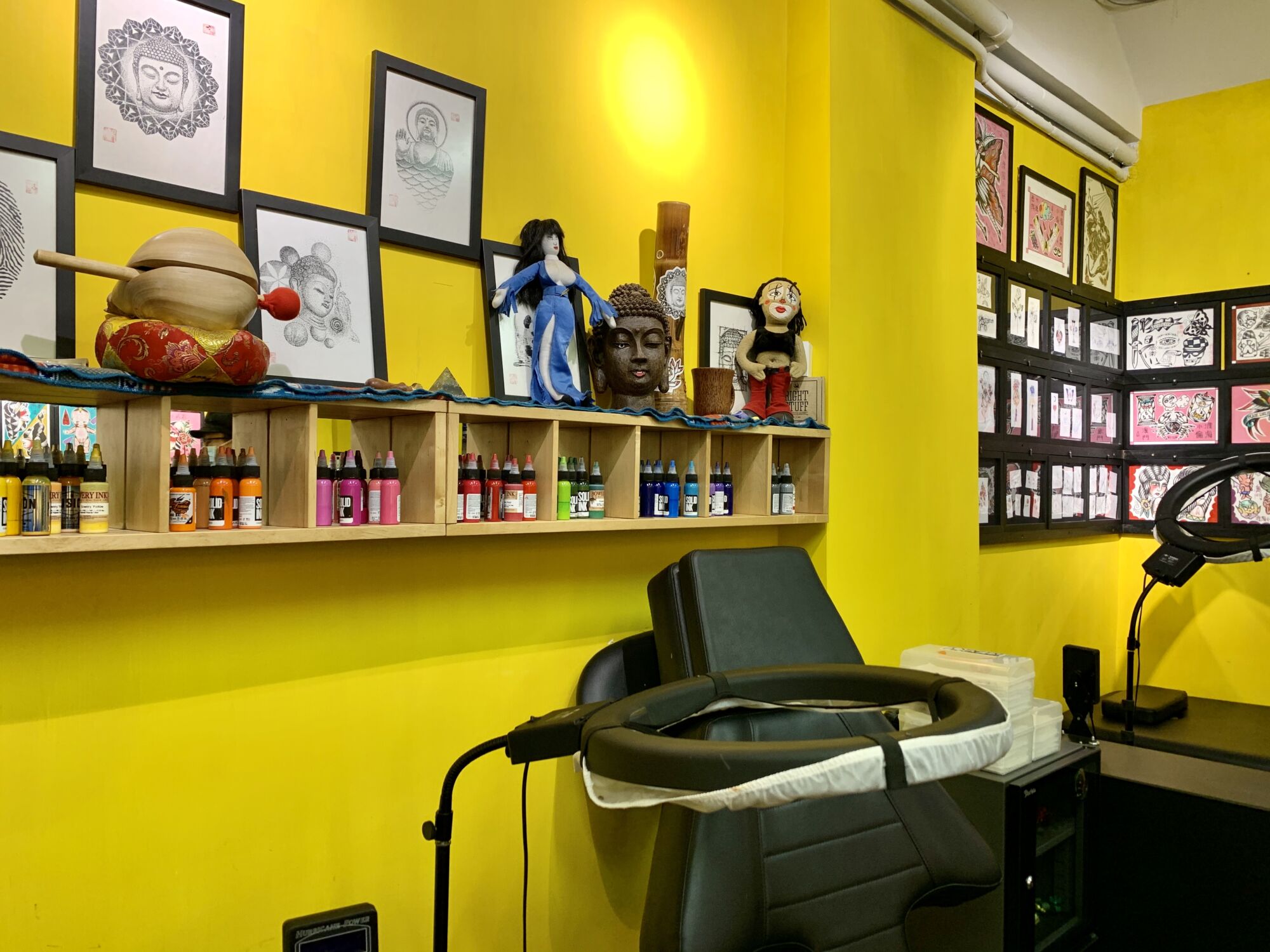 Besides wallet-friendly prices, the secret ingredient at this parlor is that your desired illustration, drawing or idea will be turned into reality by the hands of someone who knows not only what they're doing but also specializes in specific kinds of designs. Amongst the eight of them, there are tattoo artists for calligraphy, others for "dot style", abstract, fine line, illustration, realistic and Japanese style.
With a full studio, Adela stands behind the western bar-like swinging doors and adds, "The intention is that all of us know how to do everything, but each focuses on a specific style". She's been learning the ropes with Helen. Adela specializes in abstract designs. "When people send us a message (on Instagram) one of us will check the inbox and refer to the best artist for the job", she says.
Whichever design or concept you decide on going for, Back Street 22 will always offer you original and quality designs at a great price-quality ratio. In a studio where you can find different minds, designing together to improve the ink standards in town, there's simply no way things could go wrong. With an affirmation that's undoubtedly real, Back Street 22 is one of the best places to get inked at in Macau!
---
Opening hours: Monday–Saturday, 1:00pm–8:00pm
Back Street 22 22 Rua do Rosário, Macau, www.facebook.com/backstreet22tattoo
This article was originally written by João Pedro Padinha in August 2016 and updated by Leonor Sá Machado in May 2020.
Tags