Dr. Barbara Sturm is recognized the world over as an innovative German aesthetics doctor for non-surgical anti-aging treatments and skin rejuvenation. Her background in orthopedic research was channeled and put into Molecular Cosmetics–Dr. Barbara Sturm's brainchild for those of us who prefer uncomplicated yet highly effective skincare that's free from synthetic fragrances, parabens and mineral oils. Well-known celebrities who are fans of Molecular Cosmetics include model Rosie Huntington-Whiteley, singer Cher and actress Jennifer Aniston who all have one thing in common–looking flawless and their skin doesn't show their actual age! We sat down with Dr. Sturm and learned of her journey to creating her Molecular Cosmetics line and how to protect our skin against pollution. 
Can you tell us a bit about yourself and your background? And about your journey to where you are now?
At the start of my medical career I never imagined that I would end up creating a skincare line. I began practicing medicine in anti-inflammatory orthopedics working in a team that developed a treatment commonly known as the 'Kobe Procedure,' which used the patients' own blood proteins and healing factors to combat the inflammatory process and even help heal the joint tissue. I later recognized that joint tissue, which is mostly cartilage, is from the same tissue family as skin cells. This really sparked my fascination translating anti-inflammatory science into skin treatments.  Inflammation is a primary cause of premature aging, skin dysfunction and disease, and I became dedicated to addressing these problems of inflammation in skin.  My first effort was a blood protein-infused cream called MC1.
You're well known for inventing the vampire facials. For those who are unfamiliar with it, can you explain what it is exactly and why do you think it became so popular?
Firstly, I invented a procedure but I never named it anything. The "vampire facial" was something the public came up with. The normal injections with hyaluronic fillers provided great results, but I kept thinking that it would be a great additional anti-aging booster for the skin if we also started mixing it with the body's own proteins and other healing factors. These proteins activated the rejuvenating, anti-inflammatory and healing process in the skin, which led to great anti-aging benefits. At its simplest, my procedure involves a blood draw, and a heating, processing and high speed centrifuging of the blood to dramatically amplify the anti-inflammatory (Il-1RA) and other healing proteins. I then re-inject those proteins into the skin.
With so many products already on the market, what do you think is the problem with most skincare products out there?
In my opinion the two problems in the skin care industry are approach and ingredients. As to approach, some skin care companies will often put too much importance on marketing versus well-researched ingredients and you can end up with a product that doesn't function in the way it has been advertised. Skin care companies have had 100 years to innovate and make high performance skin care.  Instead, they have relied almost entirely on marketing. But marketing doesn't help your skin. 
As to ingredients, skincare products are often filled with unnecessary, aggressive and inflammation-triggering ingredients. This includes fragrances, acids, petroleum-based ingredients and harsh preservatives.
What inspired your molecular cosmetics line? How did that come about?

I studied medicine and sports and began my medical practice in anti-inflammatory orthopedics. There, I came together with a group of scientists and doctors who helped pioneer a treatment against osteoarthritis and inflammation using blood proteins.
I did case studies that show combining the patients' body own healing factors with the hyaluronic filler works better in the results right after treatment but also shows longer lasting results. This treatment plus the MC1 cream I had invented made me open my own clinic for molecular cosmetics and aesthetic injections. All my patients loved the cream and they kept asking me to recommend an overall skin regime. When I tested and couldn't recommend anything on the market, I decided to come up with my own products and created my first five product line that still exists today. 
Can you tell us more about purslane? Why is purslane extract such a key ingredient for you?
Purslane was one of my great ingredient "discoveries". Following the advice of one of my academic collaborators in 2002, I actually re-discovered purslane. It has been widely studied in dozens of clinical trials in the past decade for its anti-inflammatory, anti-oxidative, nutritional, wound healing and telomerase activating properties. Telomerase is sometimes referred to as the 'fountain of youth enzyme' and stimulation of telomerase production has been shown in a Harvard study to not only stop but also reverse the aging process. In another study, oral purslane successfully treated an inflammatory skin disease called Lichen Planus.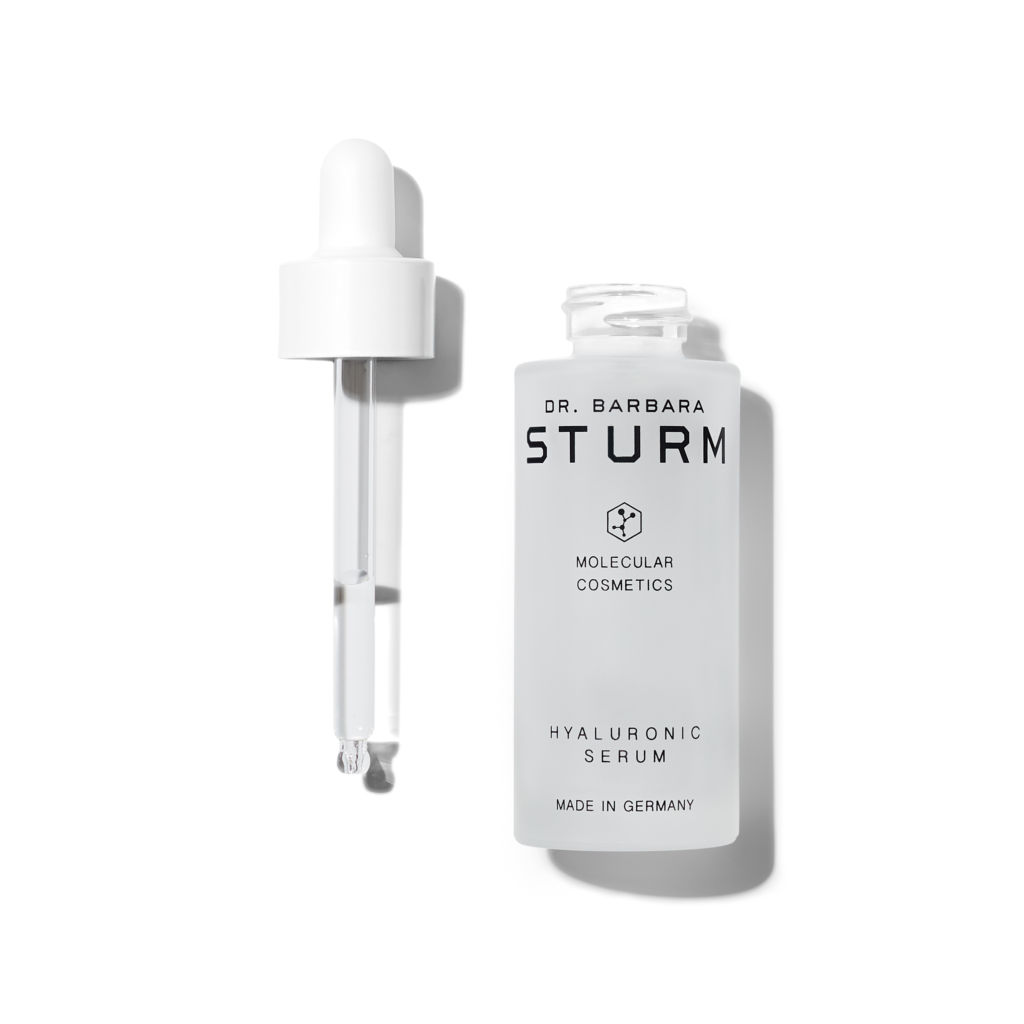 You have also spoken a lot on the topic of hyaluronic acid. How does hyaluronic acid benefit one's skincare routine? And how can we add it into our daily routine?
Hyaluronic acid is a remarkable, naturally occurring substance in our bodies. It has the ability to bind 1,000 times its weight in water, and has been clinically studied for its repair of the skin's natural barrier function, hydration, and other fundamental benefits.
My formulation of hyaluronic acid is a serum that mixes both long and short chain molecular weight hyaluronic acid. This allows replenishment of moisture reservoirs at both superficial and deeper skin layers. This formulation also weaves in a high dose of purslane. My hyaluronic serum should be applied to clean skin before anything else, particularly lipid-based products like moisturizer. And it can be used during the day, and travel, as a moisture boost.                  
Your anti-pollution drops are a game changer, especially in the more polluted cities in Asia. For those who aren't familiar with them, why did you develop them and what are a few ways they can help our skin?
Most people today understand the importance of SPF as a protective part of your skincare routine. The need for anti-pollution protection is much more poorly understood. Pollution, whether the source is industrial, automotive, or HEV light from our computer and phone screens, causes skin and health disease and dysfunction. We must protect our skin from these mobile, invisible, airborne dangers.
The Anti-Pollution Drops contain new ingredients such as alteromonas ferment extract, which have the ability to bio-adapt to the skin's surface and create a protective shield, making sure the air pollutants don't cause harm to the skin. All the above in combination with EDTA, which can deactivate the airborne heavy metal toxins (cadmium, arsenic, mercury and lead), provide our skin the protection it needs while also having a strong anti-inflammatory effect. The Drops protect the skin from environmental pollution outside as well as the strain that HEV light can put on it while we are indoors.
My Anti-Pollution Drops shield, strengthen and protect the skin against the ravages of pollution. Furthermore, you can support your body using oral supplements with ingredients such as adaptogens that help the body adjust to chemical and physical stress presented by pollution. These anti-pollution supplement I've developed also helps to repair damage and chelate toxic heavy metals we tend to ingest through polluted food and air.
The ideal anti-pollution product strengthens the skin barrier, provides the cells with strong antioxidants to protect them from free radicals, creates a barrier between the skin and the pollutants, neutralizes and binds toxic heavy metals and also helps the body to eliminate said toxins.
What's the biggest mistake people make with their skin, in your opinion?
The single biggest and most common mistake is to be aggressive with your skin. Aggression, whether from lasers, acids, fragrance or harsh preservatives triggers inflammation. Inflammation in turn will age your skin, and it will cause dysfunction.
If we can only add one or two items from your range into our routine what items should they be and why?
My products are like my children; I invented them for a reason and I don't have favorites. My hyaluronic serum is a particularly important step for maintaining the skin matrix, replenishing hydration, and promoting the natural skin barrier function. It's just a fundamental step! My Face Mask restores hydration and repairs the skin from the vagaries of life. Those are two products I can't live without.
---
Dr. Barbara Sturm products are exclusively available at JOYCE Beauty.
Dr. Barbara Sturm JOYCE beauty
Tags