To celebrate the opening of their first store in Hong Kong, which is also their Asia flagship, we went along to meet the founders of Malin+Goetz at the new outlet in IFC mall. The new 400 square-foot carries all the minimalistic and natural DNA the brand is known for, but it is also distinct because all their outlets each have a unique look to reflect local features.  The interior design was overseen by New York-based architect Andrew Bernheimer, and it was influenced by the city's 1970's architecture. We chatted to co-founders Matthew Malin and Andrew Goetz to find out why they chose Hong Kong as the launching pad for their brand into Asia.
Congrats on your opening in Hong Kong! How exciting. Can you tell us about why you decided to open your first Asia store in Hong Kong?
M (Matthew Malin): Currently we have stores in NYC, LA and London — all international cities with well-traveled clients. Hong Kong was the next logical step and gateway to Asia. Almost every customer we have met in the Hong Kong store knows our brand from one of the other cities.  
Can you tell us a little about your backgrounds?
A (Andrew Goetz): I come from the design world; having worked as the US Marketing Director for design manufacturer brand Vitra before we started Malin+Goetz.
M: I was overseeing sales at Kiehl's when it was a family business. Andrew was with Vitra, also family owned.
How would you describe the brand to someone who has never heard of it?
A: We are a luxury skincare brand that offers simple skincare solutions for face, body, and hair. Our products are formulated using natural ingredients and bio-technology and are great for those with sensitive skin.
M: Simple skincare solutions — we make skincare simple, starting with sensitive skin.  
What made you use your names in the branding?
A: All the other names were taken! But seriously, our names represent a formula for balance; a Ying and Yang, so to speak.
M: It was the original idea but not one we used until the last minute or as a last resort. However, chemists or pharmacists in apothecaries always hang their names over the door.  

Why'd you decide to make the products unisex?
A: We wanted to be able to use them ourselves. And we are proponents of equality; so it seemed odd to leave out one gender or the other.
M: We address skin issues with effective products, not gender or race.
The skincare market is quite a saturated market, what do you think makes Malin+Goetz stand out?
A: It is indeed quite saturated. We stand out because we make skincare easy. Time is the ultimate luxury, and our sophisticated customers in New York, London, LA and Hong Kong don't have time for a time consuming regimen every day. Our customers really embrace how easy it is to integrate our products into their lives, and how our products do everything we say they do. They appreciate our lack of hyperbole, and our honesty.
M: It is simple, starts with sensitive skin, it is unisex, and (now) has a recognizable iconic design.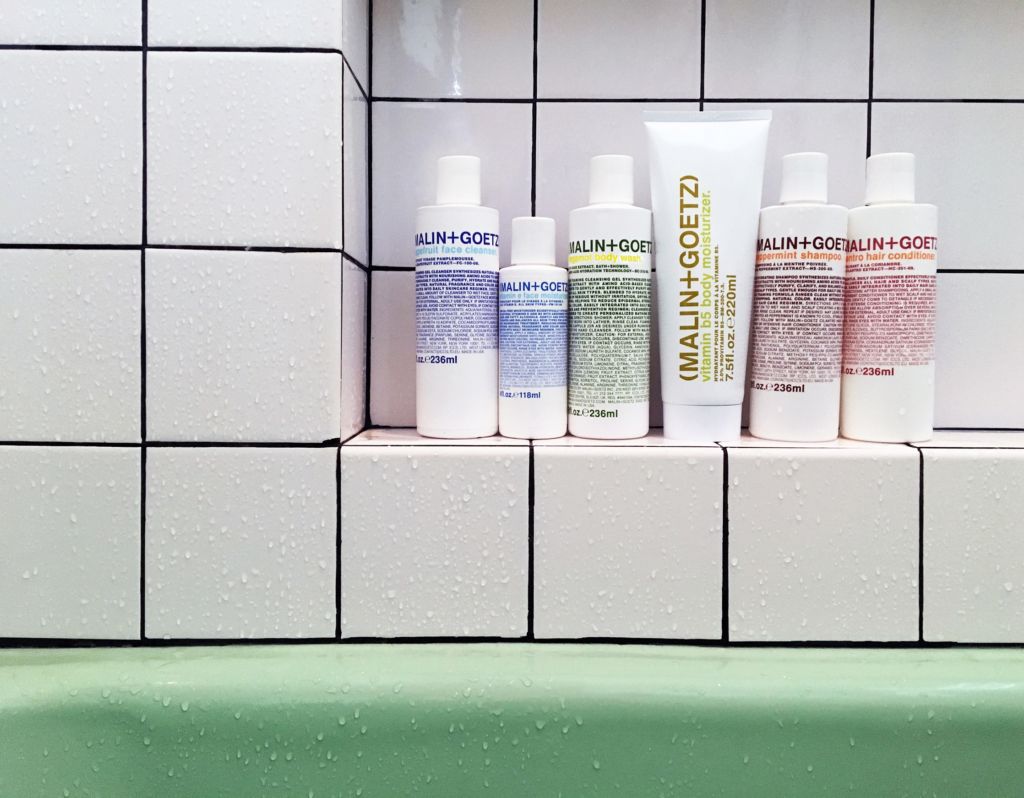 From your range, what is the top selling product? And what do you think will perform well in Asia?
A: Our Grapefruit Face Cleanser and Vitamin E Face Moisturizer are top sellers. Our Eucalyptus Deodorant has a cult following, and is a top seller also. Our Peppermint Shampoo, and Cilantro Conditioner are also top sellers. And our Dark Rum and Cannabis Fragrances and Candles are winners too. We suspect the same things will do well in Asia that do will in America and Europe. 
One of many things I love about your brand is the packaging – talk me through the design process of the product packaging?
A: We were inspired by late 19th and early 20th Century glass apothecary jars. We loved their simplicity and elegance, as well as their honesty. All the ingredients and percentages displayed right on the bottle. We wanted to create an updated contemporary interpretation. I think we did just that.
M: It is an old chemists label from a traditional apothecary bottle, made modern.   
What advice can you give a budding entrepreneur who wants to set up their own business?
A: Make sure you have a really great business partner that balances your own talents. And do something you absolutely love.
M: Be ready to work harder than you ever have in your life and fill a void in the market with a strong point of difference.   
Have you both had a chance to visit Macau? What do you know about it?
A: No, not yet, but very much looking forward to visiting! I know that it's a former Portuguese Colony with a rich architectural heritage, and there are a lot of casinos there now.
M: I have never been to Macau and hear it is like our Las Vegas. Next stop, mainland China!   
Will we see a shop someday in our city as well?
A: I hope so!
---
The new Malin+Goetz store is located at Shop 1080, 8 Finance St, Central, +852 2326 3678
In Macau, Malin+Goetz products are available from Galleria T at City of Dreams Macau The Shops at The Boulevard, City of Dreams, Cotai, +853 8791 8400, and other DFS stores in Macau
Share
Tags
Related Posts