Many of us, if not all, have heard the famous line "Florals? In Spring? Groundbreaking." said by the famous fictional character, Miranda Priestly in The Devil Wears Prada. Whether that was in awe or more likely uttered with pure sarcasm, florals instantly add a different vibe when added to clothes, shoes, accessories and everything in between. So what makes the florals a never-ending trend? Usually, florals are associated with the warmer season, however, with fashion's non-stop evolution, it has been a staple trend for all seasons all year long and fashionistas can't get enough of florals even during the colder months. Social media accounts are already teeming with blooming and blossoming outfit flex posts with this season's florals in soft pastel colors and vibrant hues, all of which are some variation of the garden theme. We round-up our top floral picks from fashion houses like Alexander McQueen, Balenciaga, Chloé, Givenchy, Gucci, Oscar de la Renta, Stella McCartney, and Zimmermann–all of which are curated to inspire every type of fashionista.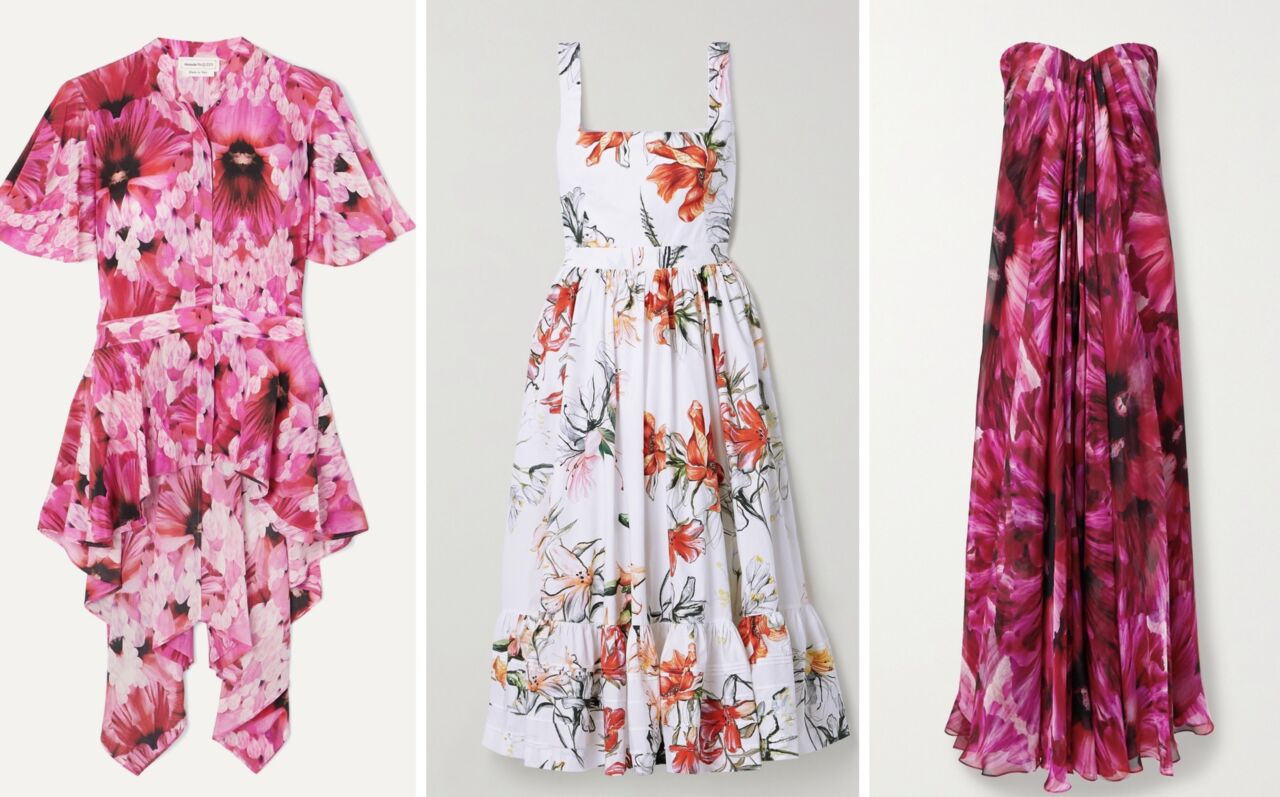 ALEXANDER MCQUEEN
Most floral pieces from Alexander McQueen play around with darker shades of pink. A bit unconventional compared to what we normally see for the floral trend, these pieces stay true to the brand's aesthetic of dark romanticism. Another inspiration for this latest collection is nature. Starting with the pink blouse, digitally printed with kaleidoscopic flowers, it introduces fluted and petal-like sleeves and is cut from wispy silk crepe de chine. The floaty peplum hem falls longer at the back, creating a blouse suitable from a day look to an evening look. Next, is a dress inspired by an endangered floral species, cut from lightweight cotton-poplin, it features an elegant squared neckline and nips in at the waist before falling to a full, tiered skirt. Lastly, orchids as seen as a signature of the brand, are patterned onto a fitted gown with a padded bustier for structure and falls fluidly to a floor-sweeping hem.
Alexander McQueen Shoppes at Parisian, Shop 305B, Galerie Vivienne, Level 3, The Parisian Macao, Cotai,+853 2877 0170, www.alexandermcqueen.com/hk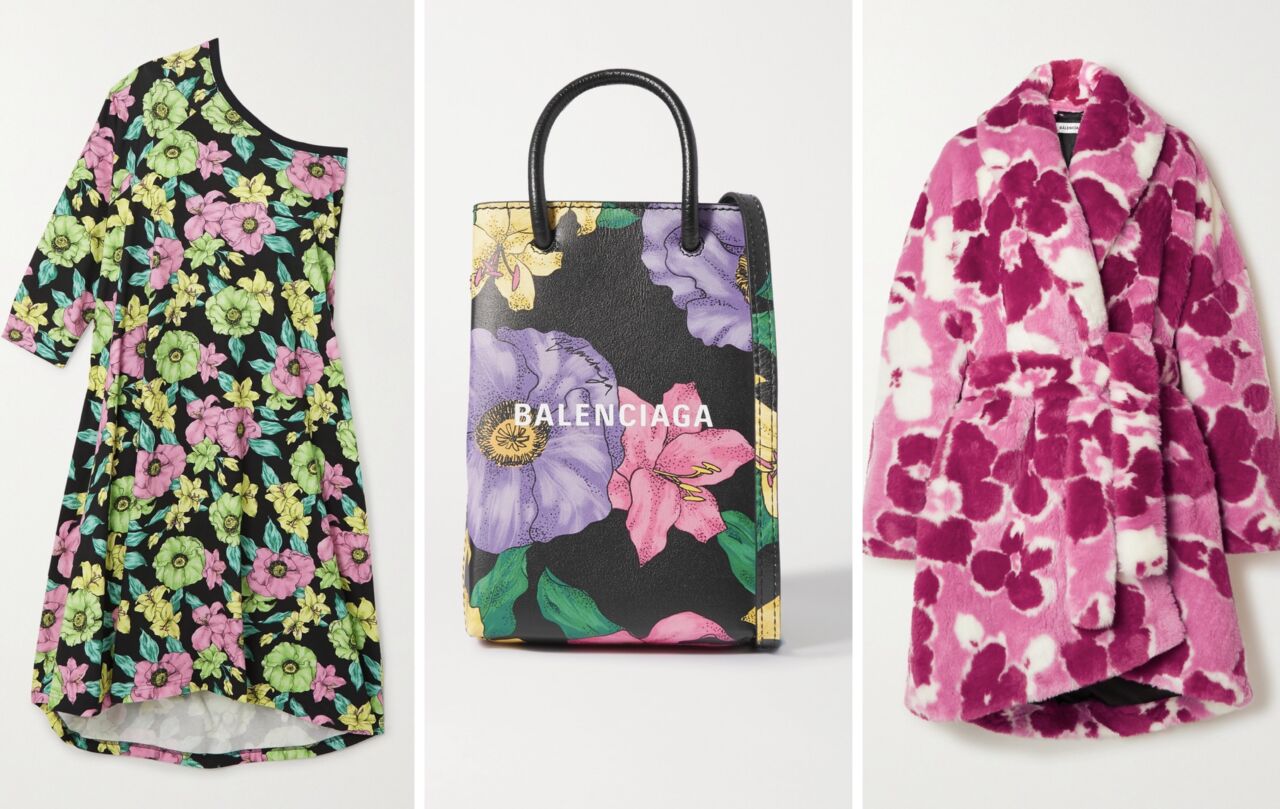 BALENCIAGA
Mostly associated with unconventional and imaginative streetwear, Balenciaga showcases a large number of florals on its dresses, handbags, robes and a lot more, to create an innovative take on the floral trend. The brand's approach to mini dresses is with the use of bold blooms and standout prints. It's cut from cotton-jersey and has an asymmetric one-sleeve silhouette that hangs loosely for a more street style vibe. Its coveted shopping bag is reimagined with vibrant florals to add a feminine pop of color that comes with detachable straps. Lastly, the oversized faux fur coat with a cocooning silhouette comes with printed graphic red and white peonies that will complete a standout ensemble.
Balenciaga Shoppes at Four Seasons, Shop 2810 & 2811, Level 2, Cotai, +853 2897 1080, www.balenciaga.com/hk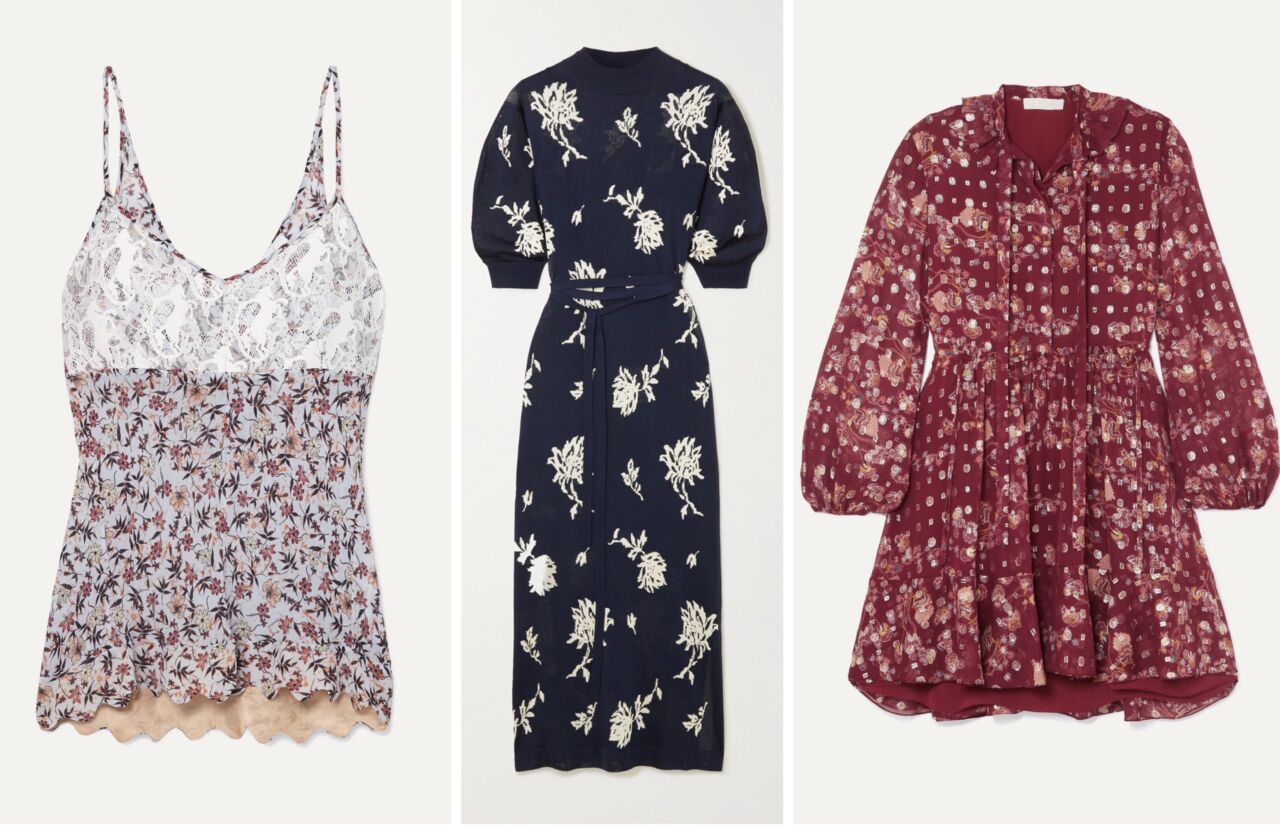 Chloé
Dainty and girly are the top characteristics of the fashion brand Chloé. With a hint of a bohemian vibe, their slim-fitting camisole is cut from fluid georgette printed with ditsy florals and paneled with white lace, that could be worn under a suit or as is. Sartorial and effortless feminine at the same time, the midi jacquard-woven dress is embellished with white blooms, underpinned by a detachable slip and has ties to knot at the waist. It also offers the option to create a slit by unbuttoning a couple of buttons along the side. Another one of the brand's dresses is the silk-chiffon mini dress printed with ornate florals and speckled with metallic threads. It also features the brand's signature romantic ruffles and pussy-bow neckline.
Chloé Shoppes at Four Seasons, Shop FSK 10, Level 2, Cotai, +853 2896 8018, www.chloe.com/mo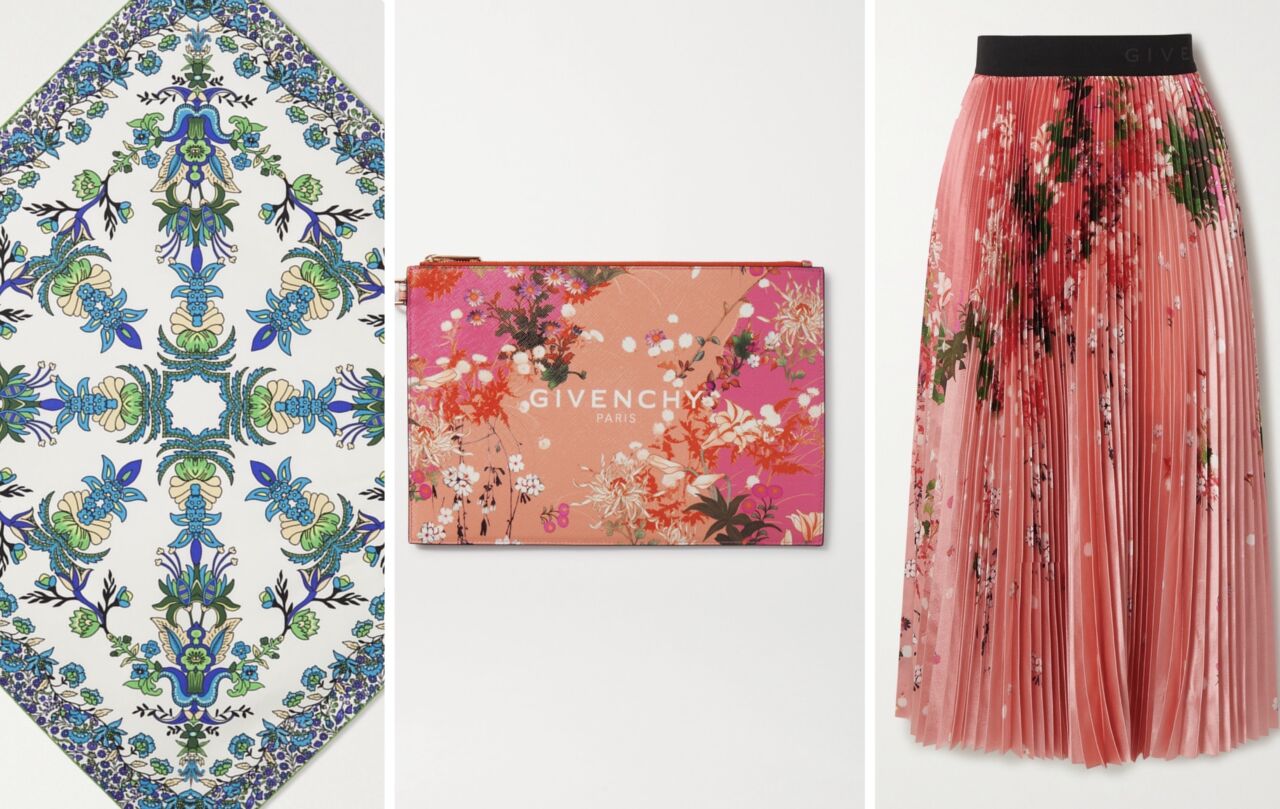 GIVENCHY
For Givenchy, the floral trend has made its mark on scarves, wallets and pleated skirts. Givenchy's floral scarf is made in Italy from lustrous silk-twill printed with florals in shades of blue, green and yellow. This is the perfect added-touch to a plain ensemble. The vibrant blooms on Givenchy's "Iconic" pouch will add a lovely pop of color to monochromatic outfits. Made in Italy from durable coated-canvas, it has a slender silhouette that'll easily slip under your arm. Lastly, its midi pleated skirt that is cut from lustrous pink satin is decorated with a pretty floral print making a perfect balance for its accordion pleats.
Givenchy Shoppes at Four Seasons, Shop 2808, Level 2, Cotai, Macau, +853 2899 9890, www.givenchy.com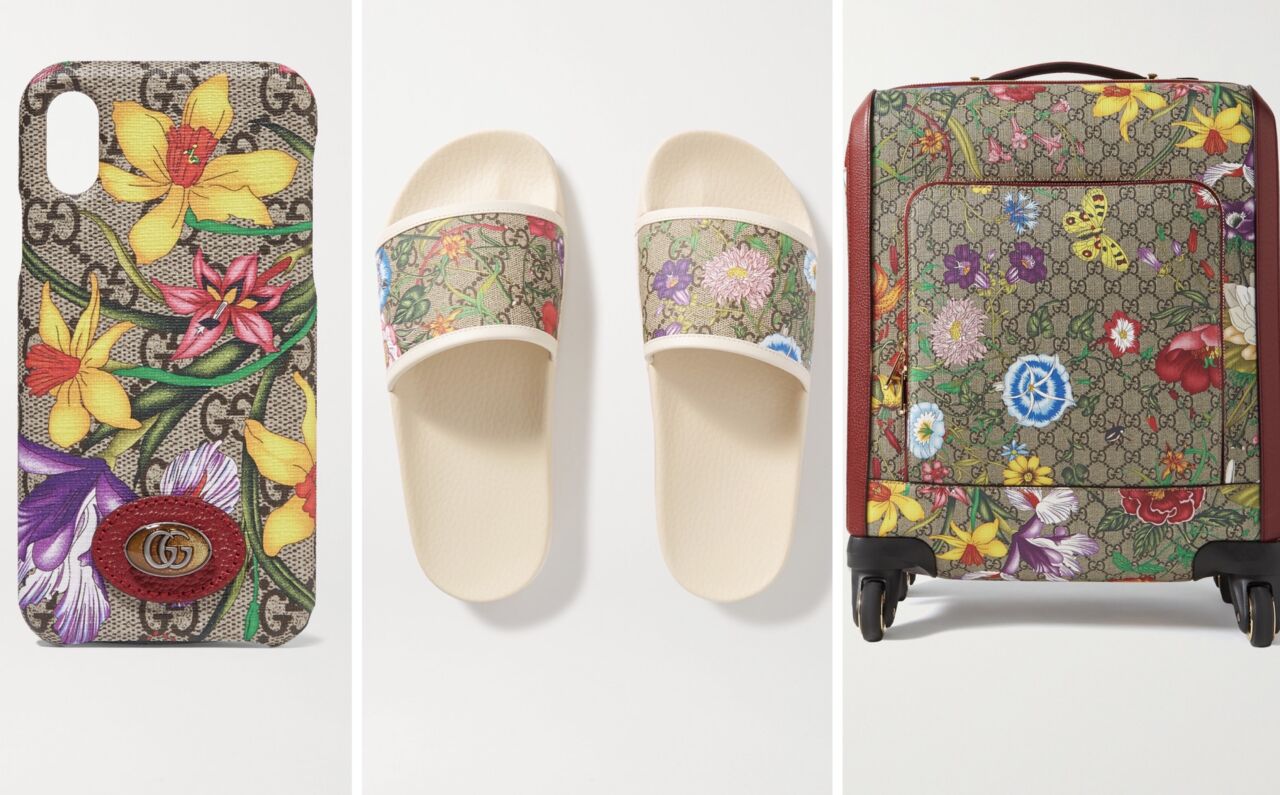 GUCCI
With the logo branding that revolves around the equally iconic shades of brown, red and green, Gucci spices up this signature combo with a dash of florals stamped on iPhone cases, slides and luggage bags. Specifically modeled for the iPhone X and XS, Gucci's phone case is made from the signature monogrammed coated-canvas that's printed with flowers. It's detailed with the iconic "GG" plaque atop a claret textured-leather trim and has raised sides for added protection. Drawing inspiration from the brand's archival motifs, the pair of "Pursuit GG" slides are made from rubber decorated with interlinked monogram lettering, plus a series of fresh flowers in bloom, trimmed with ivory leather. Called the "Ophidia" suitcase, Gucci's suitcase displays the brand's updated signature monogrammed coated canvas with an archival floral motif. It is made from burgundy textured-leather trims and opens to a compartmented interior with elastic straps and features 360-degree spinner wheels for easier handling.
Gucci Shoppes at Four Seasons, Shop 1108, Level 1, Cotai, Macau, +853 8791 8000, www.gucci.com/hk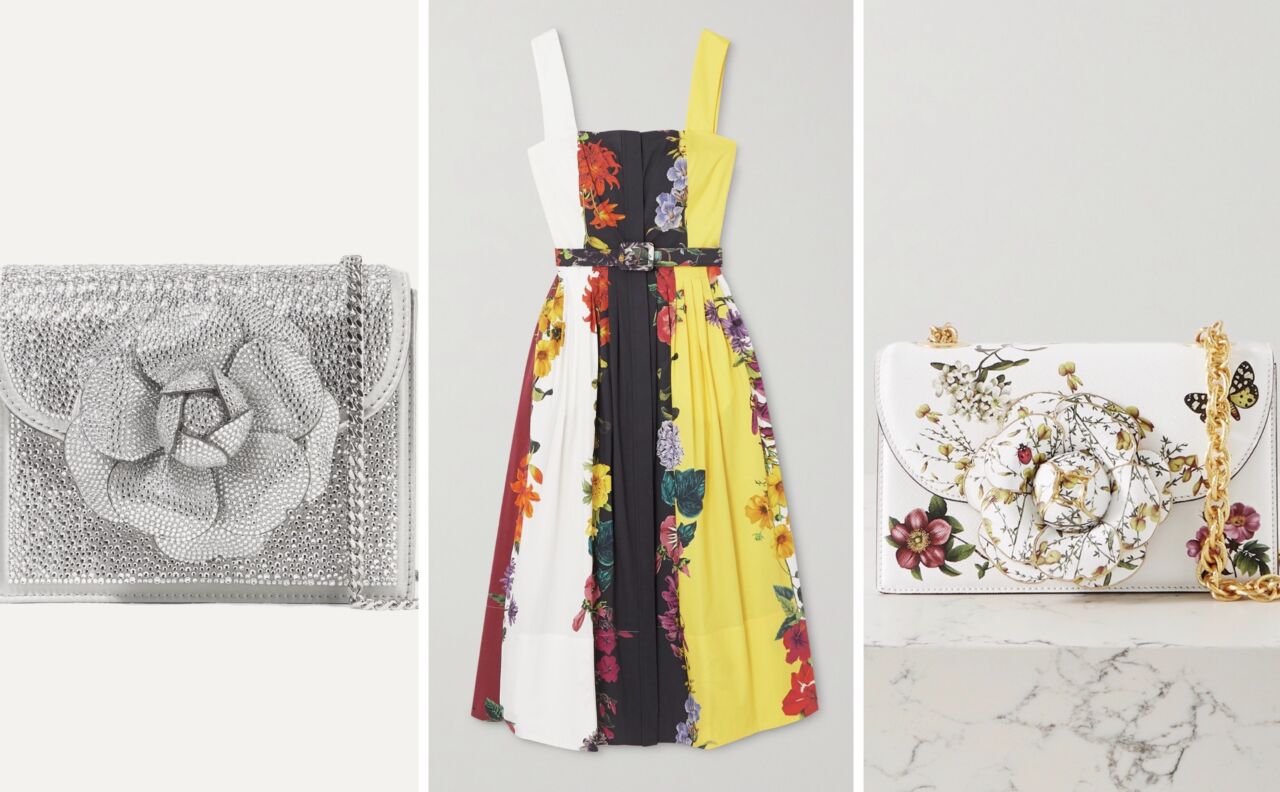 OSCAR DE LA RENTA
Couture fashion brand Oscar de la Renta makes an elevated version of the floral trend as seen on its handbags and dresses. Inspired by the brand's Latin American roots, the midi dress is a vibrant take on casual dress that is cut from stretch-cotton poplin and features a patchwork floral print. Two designs from its bag section stand out, the Tro crystal-embellished leather shoulder bag and the Alibi printed textured-leather shoulder bag. The Tro bag is perfect for parties or nights out. Made from supple leather, this style is covered in Swarovski crystals and topped with an oversized flower. With an obvious hint of Dominican flair, the Alibi bag is crafted from textured-leather in a structured shape printed with blooms, foliage and butterflies topped with a floral embellishment on the front flap that opens to a red-lined interior.
Oscar de la Renta www.oscardelarenta.com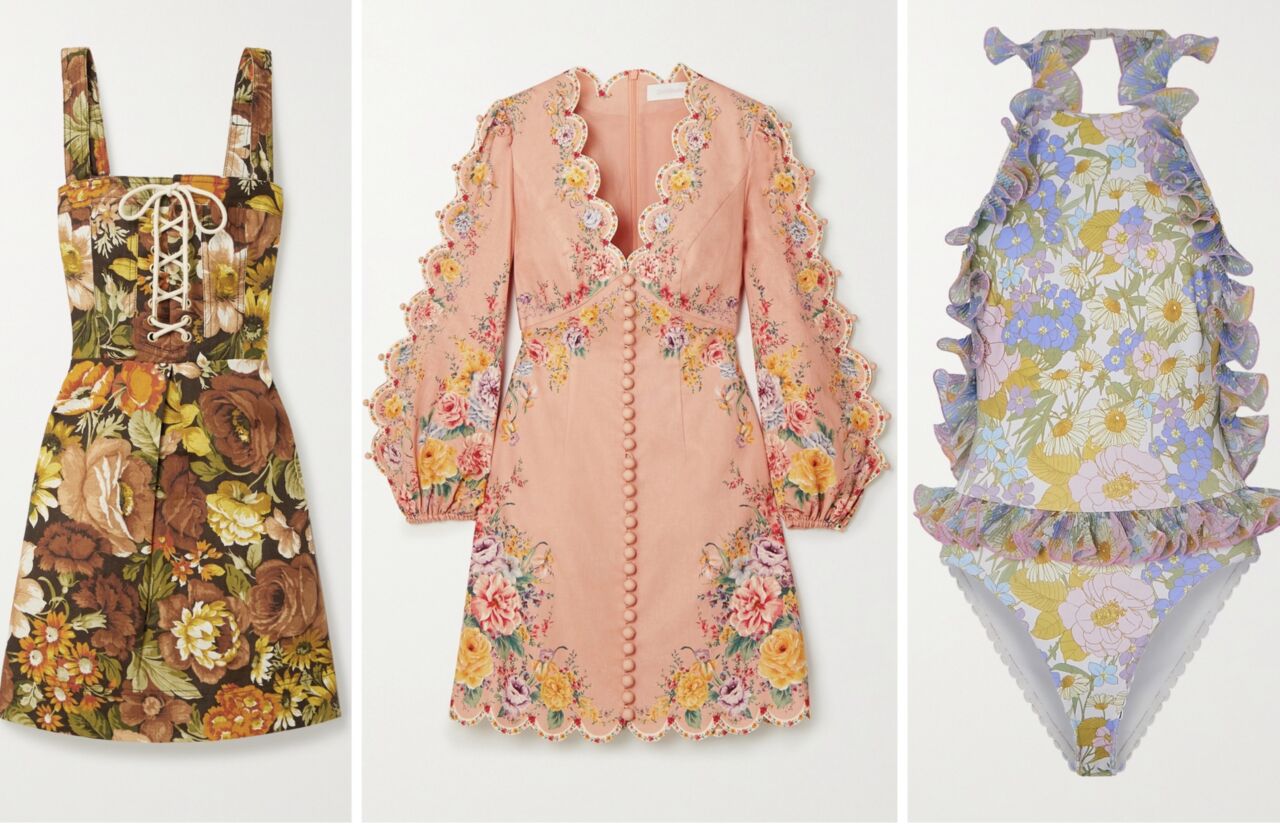 ZIMMERMANN
Classic modernity is the theme for Zimmermann's aesthetics of floral prints and patterns. The beautifully detailed "Bonita" mini dress is enriched with vintage floral prints for a romantic finish. Made from mid-weight linen, it has an A-line skirt and lace-up ties that create the perfect fit through the slim bodice. For the approaching warmer days at the beach, the "Zinnia" mini dress is cut from airy linen and cotton-blend in a slim fit, decorated with '70s-inspired blooms with scallop-edged blouson sleeves traced with dainty buttons. Lastly, Zimmermann's "Super Eight" swimsuit is printed with vintage-style wildflowers in violet, buttercup and pastel-pink hues. Designed with a flattering halterneck and low scooped back, it has frothy plissé ruffles and scalloped high-cut legs, perfect for summer body flaunting.
Zimmermann ifc mall, Lane Crawford, Podium 3, 8 Finance Street, Central, Hong Kong, +852 2118 2288, www.zimmermannwear.com
Tags
Related Posts