One of the most powerful and fiercest looking fashion statements for women are suits. Broad-shouldered, double-breasted and straight-legged, this trend has been on the rise in womenswear for several years. Today, as the suit trend evolves and adapts to modern times, variations like glittered, using loud prints and bold colors are making its way from everyday streetwear to corporate work attire. As seen in the recent fall/winter collections, it offers plenty of options that reject masculine shapes in favor of feminine lines such as couture-grade tailoring, relaxed silhouette with lapel-less tops and bottoms and blush and classic black suits that prove that suits with ladylike shapes do not necessarily mean you have to give up on the sneakers and boyish charm. Suits are the perfect way to rethink the style codes of the Pantsuit Nation as we gear up for another year of style.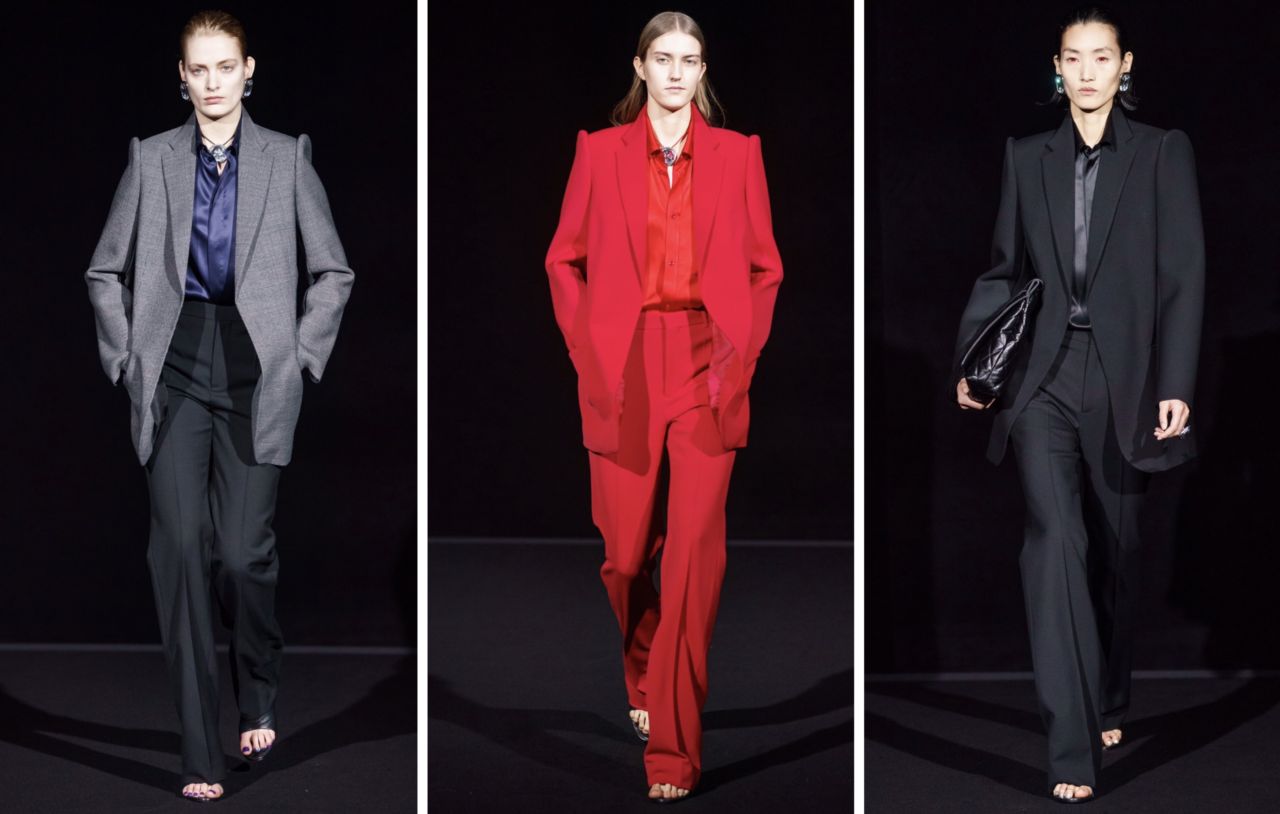 BALENCIAGA
The fall/winter collection from Balenciaga depicts the modern Parisian's chic street style and an ode to its customer and to people who actually go shopping for fashion, as described by the creative director for the brand, Demna Gvasalia. The collection is all about the minimal, cool tailoring with an upstanding, rounded shoulder head, the buttonless wrap-over cocoon coats and jackets and the run of solemn, minimalistic-chic pantsuits designed to please both men and women. For this collection, the approach is more simple and subtle to highlight the brand's signature's shoulder structure that caters to varieties of genders, ages, and accessory appeal.
Balenciaga Galaxy Macau, Ground Floor, Shop No.G100, Cotai, Macao, +853 2883 9801, www.balenciaga.com/mo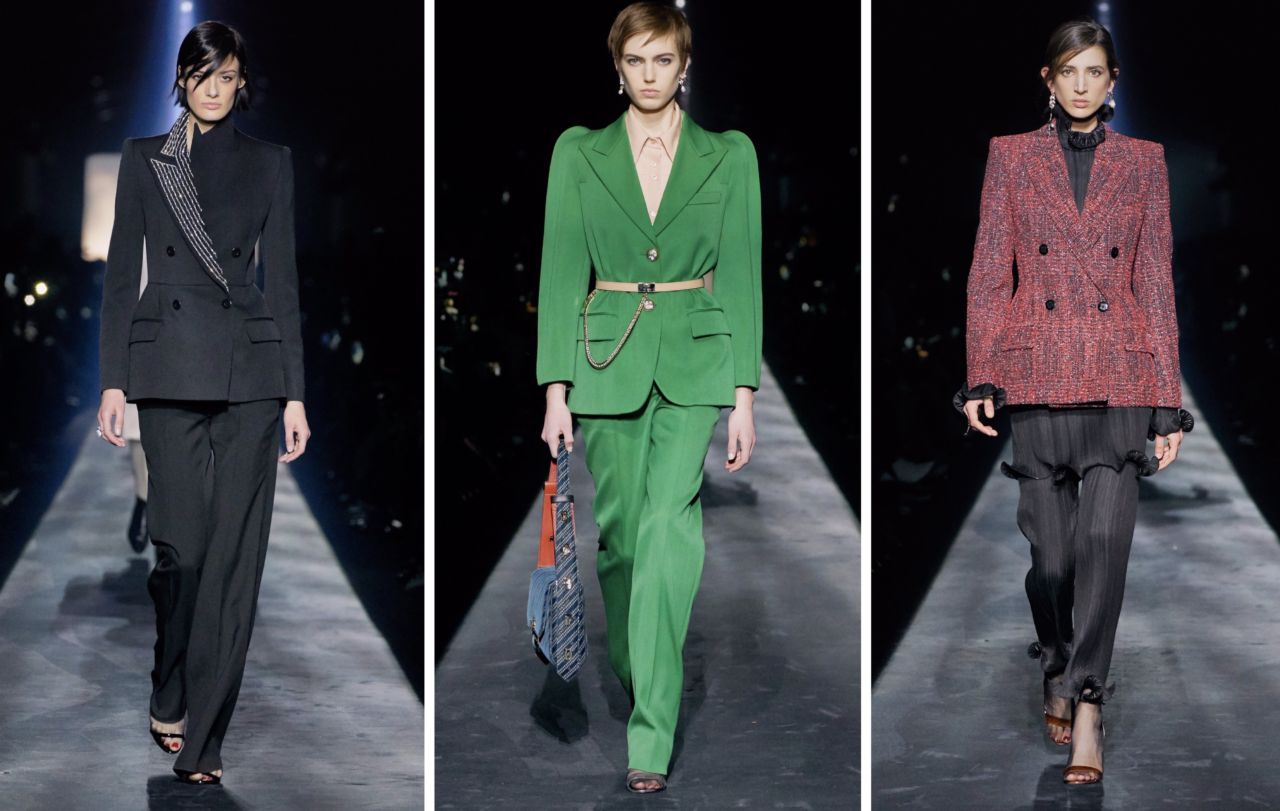 GIVENCHY
For Givenchy, suiting has emerged as its forte, having customers like prominent royalties and A-list celebrities. The brand experimented with a range of shoulder shapes, including a shrunken 90s shoulder, 40s-ish shape and most boldly, a sculptural, rounded style with exposed seams that spoke of audacious forms. Undoubtedly, Givenchy is not the place to go for a suit with any slouchiness. Plays on after-dark sparkle is also noticeable, handled with a good deal of meticulousness. The collection also shows an interpretation of volumes, topping a double-breasted corset jacket with a deep flounce of crinkled taffeta that explores the sense of exuberance and freedom.
Givenchy Shoppes at Four Seasons, Shop 2808, Level 2, Cotai, Macau, +853 2899 9890, www.givenchy.com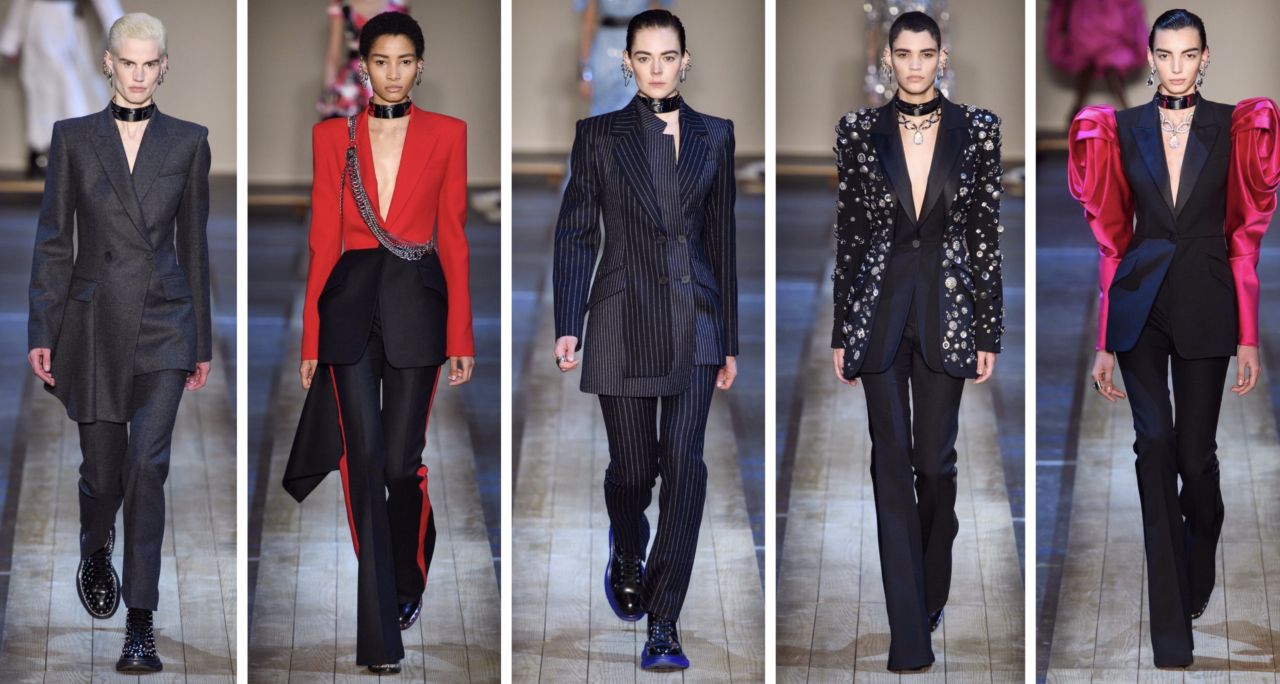 ALEXANDER MCQUEEN
Alexander McQueen's approach to suiting can be best described by having a theme of a dark romance, mostly in some combination of menswear gestures and fractured, thorny rose prints that are exquisitely realized–peerless and definitive. Sharp and inventive tailoring ring true to trouser suits with a strong but narrow shoulder in which a drape of wool flows from the nipped waistline. There are suits built of two different scales of pinstripes or checks, which look both classical and yet punk. There is a tuxedo jacket with an elegantly slashed shoulder, and another in black wool-silk with fuchsia satin sleeves, draped to resemble cascading flower petals. Clearly, the brand's aim is to showcase what a fashion house based in England can provide – and that is couture wear with a hint of an England DNA.
Alexander McQueen Shoppes at Parisian, Shop 305b, Galerie Vivienne, Level 3, Cotai, Macau, +853 2877 0170, www.alexandermcqueen.com/mo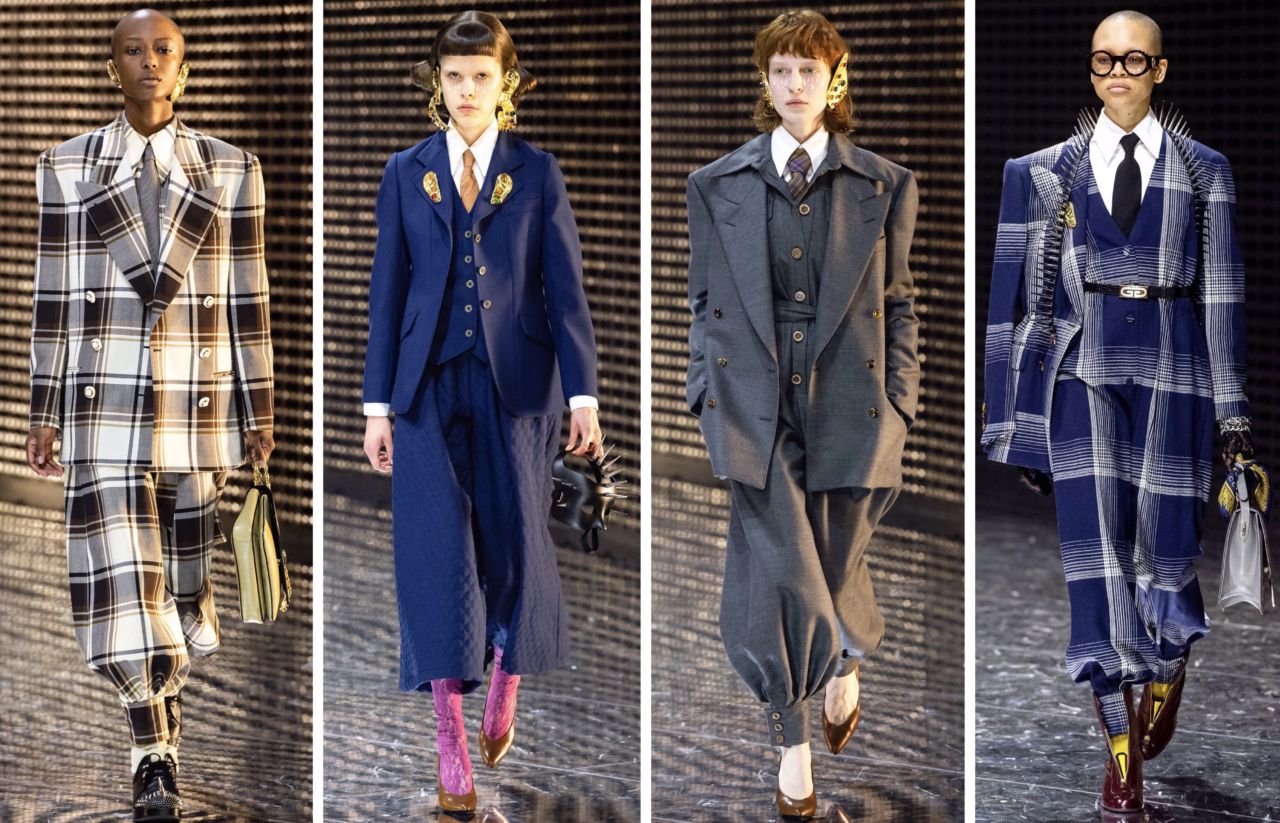 GUCCI
It has always been about orienting fashion towards individuality and blasting gender norms wide open for the fashion house Gucci. As explained by the fashion brand, their clothes are the means by which we become what we feel we are–an open possibility. The collection was as "full of little things" as always, many of them deeply personal, emphasizing the sober 40s tailoring of the old generation in jackets worn by men and women. Shoulders are sharp and waists nipped and trouser legs are full above ankles cinched with cord. Many of the pieces are purposedly unfinished, with basting stitches tracing seams or the outline of outsize lapels, and raw edges elsewhere. Pierrot collars, in contrast, seemed to speak of childhood whimsy and innocence, accessorized with mismatched gold and silver platforms and trainers from the laces like handbags. The overall vibe of the collection is eccentric that does not show restraint.
Gucci Shoppes at Four Seasons, Shop 1108, Level 1, Cotai, Macau, +853 8791 8000, www.gucci.com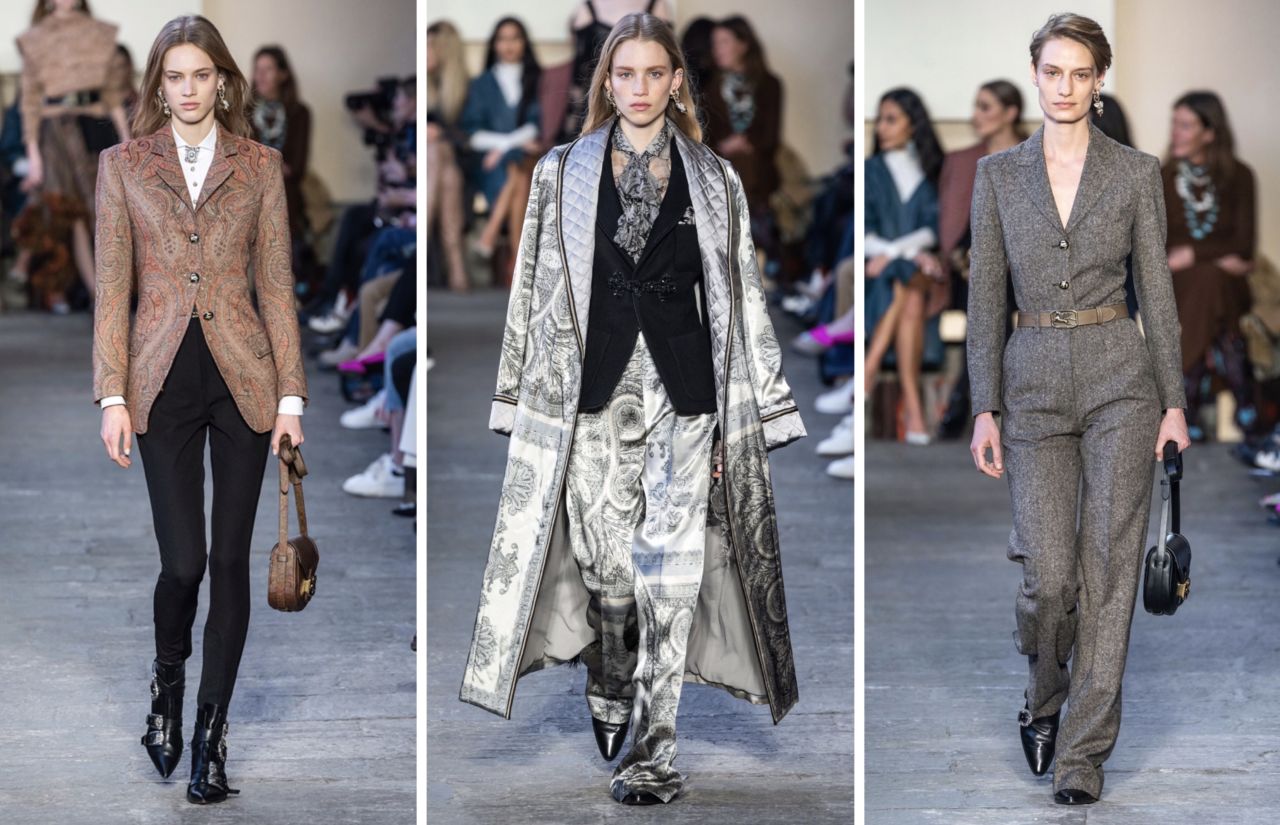 ETRO
As an Italian fashion brand, suits from Etro have silhouettes that are very true to the brand's heritage. Celebrating its 50th anniversary in the fashion industry, Etro continues to showcase clothes that have more personal touches over utility and trend in the form of a chartreuse velvet jacket, richly embroidered, nipped and peplumed and dripping in crocheted lace. The theme of the collection is, essentially, heritage disrupted by taking inspiration from the brand's family's archive of 18th-century paisley scarves. Into the luxe mix of paisleys, jacquards, and tapestries, there are also nods to Cool Britannia, both the 90s Britpop moment and the punk era.
Etro Shoppes at Four Seasons, Shop 1222, Level M/Shop2837, Level 2, Cotai, Macau, +853 2899 9976, www.etro.com
Tags
Related Posts