Name: Kathy Lam
Age: 25
Nationality: Chinese
Instagram: @kathylphotography
Our special feature Macau Street Style to highlight Macau fashion—follow our Instagram @macaustreetstyle for daily inspiration!
What does the word "fashion" mean to you?
For me, fashion is not only a popular style, but closely relates to culture, social vicissitudes, and history. Likewise, an expression that manifests the identity of people, revealing their personality, interests, and attitudes.
How would you describe your personal style?
Casual chic. My own personal style is a mixture of American street style and north European style. I tend to dress in dark and neutral colors instead of strong colors and patterns.
How do you get your daily dose of fashion information?
Mainly from Instagram and Pinterest, where I follow many awesome photographers, artists and bloggers for inspiration. I watch vlogs on YouTube sometime as well.
Does fashion allow people to express their individuality or does it force people to conform?
I think fashion allows people to express their individuality. However, the freedom of individual choice doesn't mean they are not affected by conformity. That much is evident in fashion, people always make a beeline for the hottest items promoted in magazines or other media.
Does the media (or the fashion industry) play some role in creating or continuing stereotypes?
I do agree that the media and the fashion industry continue stereotypes. They set unrealistic standards for people that contribute to many social issues. For example, they present the ideal women being skinny. Since the fashion industry is very fast-paced, people in the fashion world have to be materialistic. Some people feel the need to spend thousands of dollars on a piece of fabric even if they don't know well about the design.
How does Macau inspire the way you dress?
I get inspired from Macau's unique style which is a mixture of different styles such as some girlish designs with witty details.
What do you think of Macau's fashion scene? How can it be improved?
I would say Macau's fashion scene is in progress. It is mainly mashed up with Korean and other Asian regional styles. Somehow, there are many people in Macau who care too much about what the others think, but not what they actually want to put on. Everyone is special and perfect in his/her own way. Being confident and mindful of yourself, no matter you are fat or skinny, tall or short. I think it would be the best way to improve Macau's fashion scene.
What's your go-to outfit when you don't know what to wear?
For summer, cami top with denim shorts. It makes me more comfortable.
What is your favorite place to shop in Macau?
Definitely the Venetian, Zara is one of my favorite shops.
Who takes photos of your outfits?
One of my best friends who is doing photography as well took most of my photos, her Instagram is @maosa.
How much attention do you pay to fashion in terms of trends in the way you dress?
Not much, sometimes I read fashion magazines online. I look upon fashion as part of my lifestyle and I get inspiration from everybody in my daily life.
Which social media platform are you most active on? 
As I am a photographer, Instagram and Facebook are good platforms for me to share my story and photography work as well as get inspirations from all around the world. Here is my Facebook page: www.facebook.com/Kathylphotography.
Which celebrities have the best style to you?
Dua Lipa, MØ and Jenn Im, they are always a style inspiration.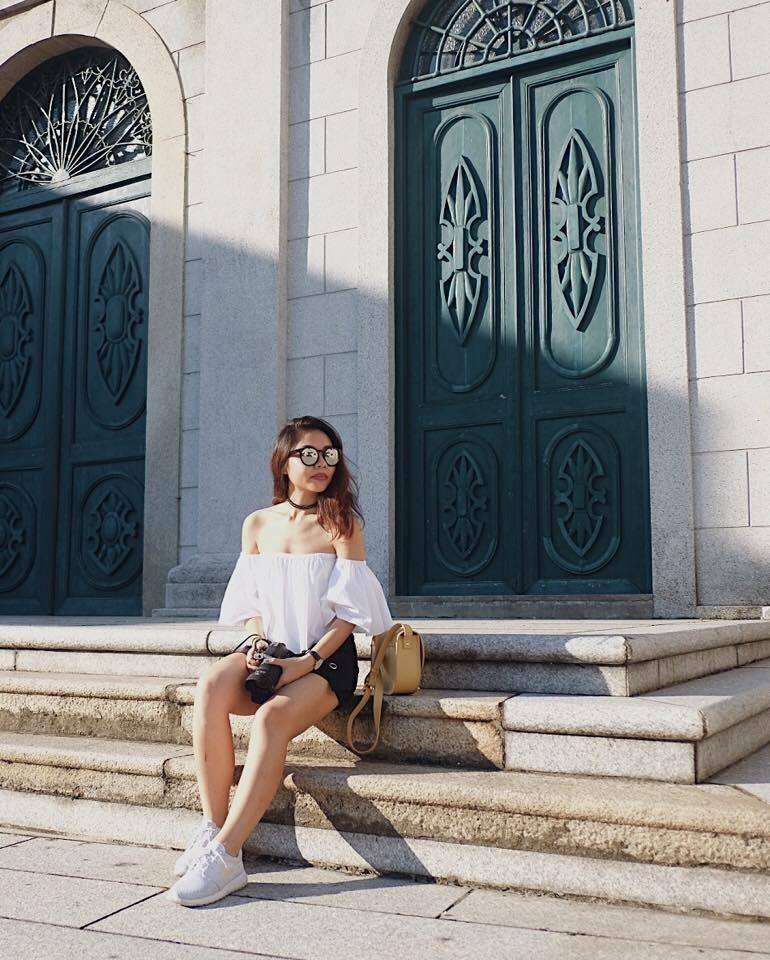 Tags