We all dream of vacations on secluded islands far from society and way from the riffraff. Well, luckily in Asia, this is more achievable than most places in the world, as there plenty of idyllic private island resorts scattered around the region. Check out these five top private island resorts where your dreams can become a reality (at least temporarily). 🏝 🏝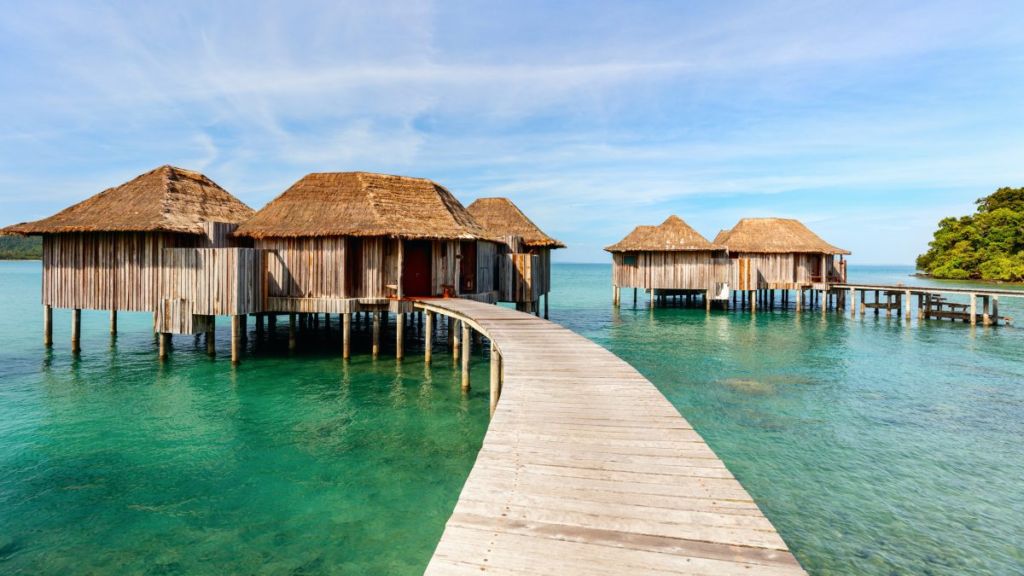 Song Saa – Cambodia
If wellness is a key priority for you during your secluded break, then Song Saa is the place to be. This Cambodian private island resort floats in the untouched Koh Rong Archipelago, and the resort is all about holistic respect for the nature. They have a 'wall-less' spa which allows guests to receive treatments amidst trees, and they have an all-organic menu of fruit and veg grown themselves. All the furniture in their Overwater, Jungle and Ocean View villas has been handcrafted by local artisans using re-purposed sustainable natural materials. This will be the luxury trip of a lifetime, and it sure as heck won't be a guilt trip! Your conscience and your soul will thank you.
How to get there: Fly to Siem Reap from Hong Kong with The Flight Centre, then from Siem Reap to Sihanoukville International Airport with Cambodia Angkor Air where the Song Saa driver will be waiting to pick you up!
For reservations, please email them and head to www.songsaa.com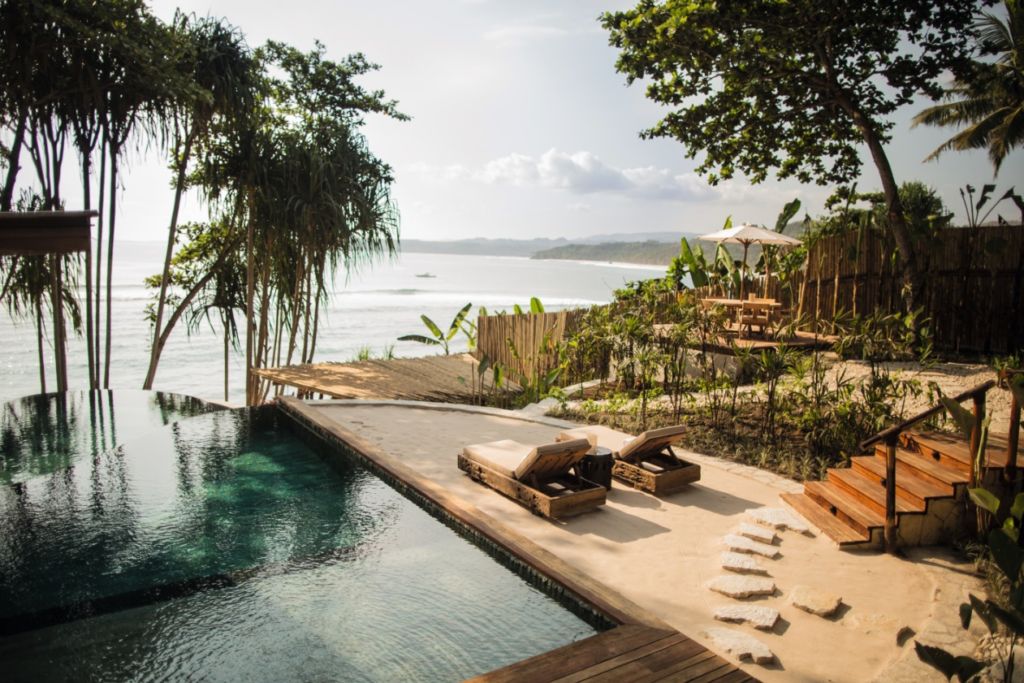 Nihi Sumba – Indonesia
If you are interested in eco-living and are cautious about your carbon footprint, worry no more – this sustainable private island resort in Indonesia is the place for you. Nihi Sumba is one of the few resorts in the world that grows almost all of its own food, that is dedicated to protecting sea life (turtles in particular), and runs entirely on biofuel (energy produced from organic material). While your conscience will be soothed here, you body will be as well – relax with some natural spa treatments, try a spot of surfing, yoga or even scuba diving. During all this you can sleep well, knowing that you're supporting local communities and eco efforts at the same time.
How to get there: Fly from Hong Kong to Bali's Ngurah Rai International Airport in Denpasar with The Flight Centre then from Bali to Sumba with Wings Air, bookable on the day in the airport. Most flights leave in the morning, so a one-night stay in Bali is usually necessary.
Need to know: All travelers to Indonesia need at least six months remaining on their passport and at least one full clean page for the visa stamp on arrival.
Book online at www.nihi.com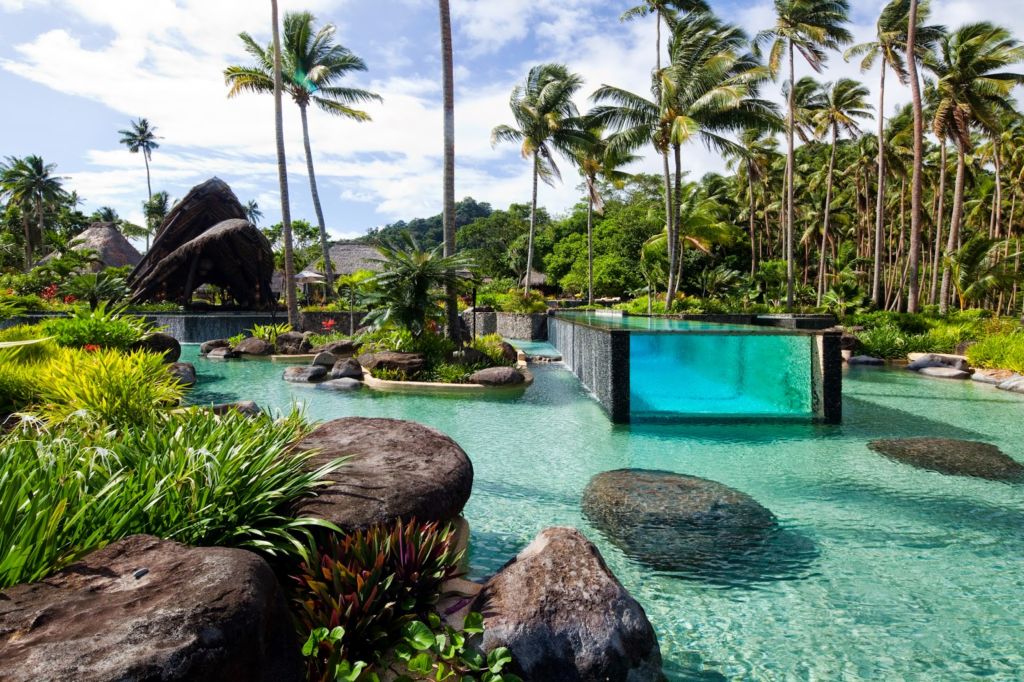 Laucala Island – Fiji
Laucala is the ultimate private tropical paradise. With only 25 lodges in total, this exclusive island resort is surrounded by towering palm trees, scenic beach panoramas and pristine white beaches. The most interesting and unique feature of this resort, however, is the pool. Designed to replicate a natural spring, you can pretty much do laps of the whole island – it's an 82-foot-long lap pool in a raised box, providing endless hours of fun. Your friends and family can see you and take photographs as you cruise through the glowing turquoise stream. If that wasn't enough, there is also an 18-hole champion golf course on the island – this resort is a truly unique way to experience northern Fiji!
How to get there: As Laucala is in Fiji's northern archipelago, its a one-hour flight from Nadi International Airport, and transfers can be arranged at the time of booking. To combine a trip to the resort with a trip to explore some other islands, check out our Fiji guide here, otherwise fly Hong Kong to Nadi with Fiji Airways.
Need to know: All resort rates are subject to 25% Local Government Tax – make sure you check to see if these are included during payment.
Book online at www.laucala.com

Phu Quoc – Vietnam
If you prefer a less developed and lesser-known vacation location, Phu Quoc is relatively private (although not exactly a privately owned island) that is mostly unknown by tourists and Vietnamese alike. To make it a truly secluded break, stay in the Phong Lan private villa. Located in the beautiful area of Rach Vem bay, this six roomed villa is 50 meters from its own private beach and comes with a maid, cook and driver. This is perfect for families, as you have the flexibility to explore and enjoy the island at your own pace with the comfort of helpful and friendly staff. You won't ever be stuck for things to do, as the island is brimming with waterfalls, jungle and sea sports to enjoy, as well as rich cultural and historical elements! For a semi-secluded family break, Phu Quoc is the perfect choice.
Phong Lan Villa: www.bookings.com
How to get there: Fly Hong Kong to Tan Son Nhat Airport, Ho Chi Minh City or Hanoi with The Flight Centre where there are around 10 direct flights a day to Phu Quoc International airport with Vietnam Airlines, Jetstar and VietJet Air fly.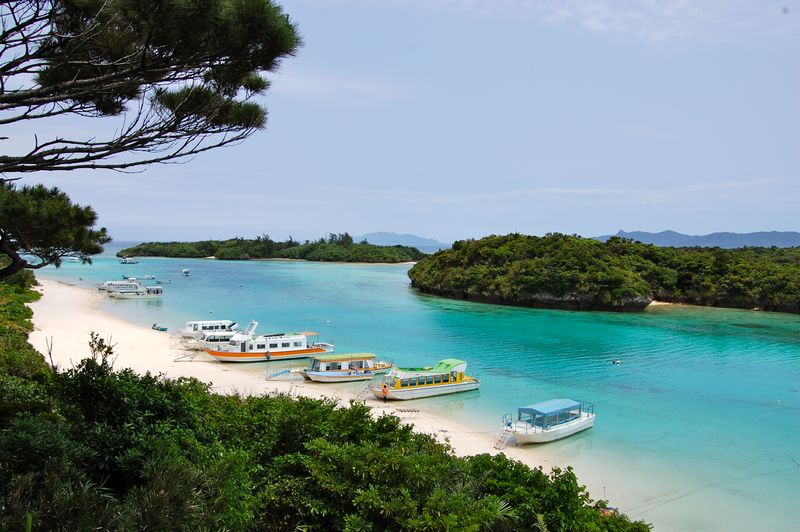 Okinawa Island – Japan
If you are the adventurous type that loves to travel, explore and move around a visit, this Japanese archipelago will keep you on your toes in your quest for that perfect secluded idyllic island. While there are many things to do on the main island of Okinawa, the beauty of this Japanese archipelago is best enjoyed using it as a base to visit the small tropical islands. Zamami Island can be reached by a 50-minute ferry, and is surrounded by a stunning coral reef and it's a popular spot for whale watching, whereas Ishigaki Island, accessible by speedboat, is a lesser known, sleepy gem of the area (see above image). Known as the 'Hawaii of Asia' a trip to these secluded islands has to be on the top of your bucket list! We recommend staying in Okinawa and using one of the many tour companies there to help you plan out an island-hopping trip, as the best routes can vary depending on the direction of the wind, for example. If you haven't quite left your backpacking days behind you, roll up your clothes and head to Okinawa!
How to get there: Fly direct Hong Kong to Okinawa with Cathay Pacific. Flight duration is around 2 hours and 45 minutes. Stay near Naha Port for easy access to the boats to the smaller islands. Visit www.visitokinawa.jp for more information.
Tags