In the sapphire blue waters of the South Pacific Ocean, Fiji boasts of 330 tropical islands to explore, that is not only picturesque and laden with luxury resorts, and are also world leaders in ecotourism. The natural landscape is enchanting in more ways than one, from the white sand beaches to lush vegetation, there really is something for everyone on one of these magical islands! Perfect for a romantic getaway, or even some quality time with the kids, Fiji is an up and coming destination with lots to offer!
When to visit
Fiji weather is unique as it stays pretty consistent all year round, meaning you can go for a trip whenever it is convenient for you. Between November and April, there is the possibility of a few tropical storms (that we are so familiar with ourselves in Macau), so it may be best to avoid these months. The high season runs between July and September when the islands are at their sunniest with the least rain, perfect timing to escape the humidity of Macau's summer.
Where to stay
Where you stay greatly depends on the sort of holiday you're looking for, as each island has its own unique qualities that will draw you to that destination. Whether you're looking for activities, natural wonders to explore or pure relaxation, as long as your looking for it in paradise, Fiji has a resort for you!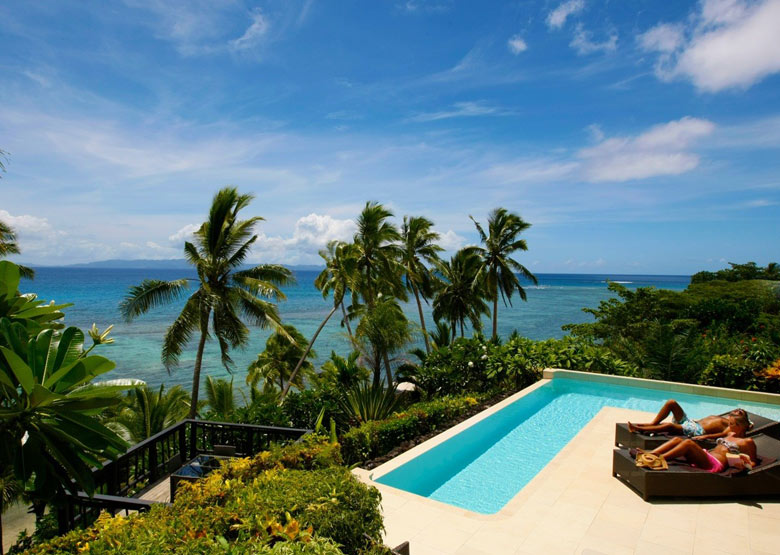 Taveuni – Palms Resort
The third largest island, Taveuni, is nicknamed the garden island as the Beuma National Park makes up more than a third of its land mass. If you like to be outdoorsy on your holidays, then this is the island for you, with diving beaches, a lush jungle, waterfalls, and wildlife to keep you busy from morning till night. Go diving at Rainbow Reef with over 1000 species of sea life, or hike the national park in search of tropical birds, cooling off in waterfalls as you go, the stunning nature of this island will leave you breathless.
Stay at the Taveuni Palms Resort to relax in an idyllic setting after a day of adventure. With deluxe villas set with decking that is literally on the open ocean, you can wind down with a glass of bubbly, watch the sunset and, if your lucky, even see passing dolphins from the comfort of your own private villa.
Taveuni Palms Resort 51M, Matei, Taveuni Island, Fiji, www.taveunipalms.com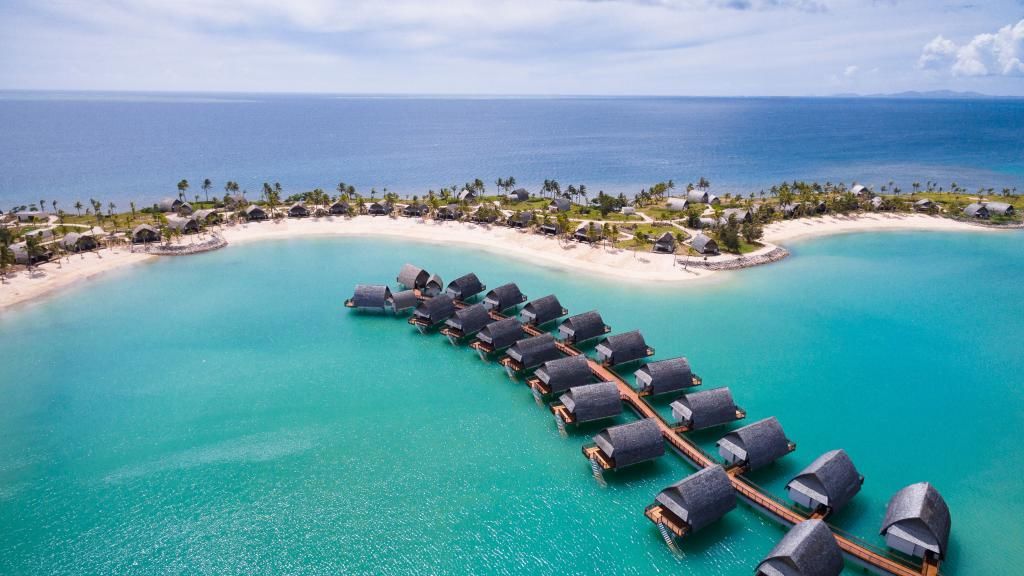 Momi Bay – Marriot Water Bungalows
If you dream of relaxation, of a holiday where not only is everything luxury, but it is also right at your fingertips, so that you can top up your tan, maybe read your book – if your feeling energetic – and want for nothing, then this resort is for you. The Marriot offers three on-site restaurants, a spa, and poolside cocktails, all a stone's throw away from blissfully peaceful floating bungalows. Though you definitely would not need to venture out, should you want to, the resort is close to Cloud Break (a killer surfing site) and Sigatoka River Safari (cruises down the iconic Sigatoka River to explore the natural landscape and life of the locals). A stay at Momi Bay is one that can be effortlessly enjoyed by all the family.
The Marriot Momi Bay Savusavu Road, Momi Bay, Nadi, Fiji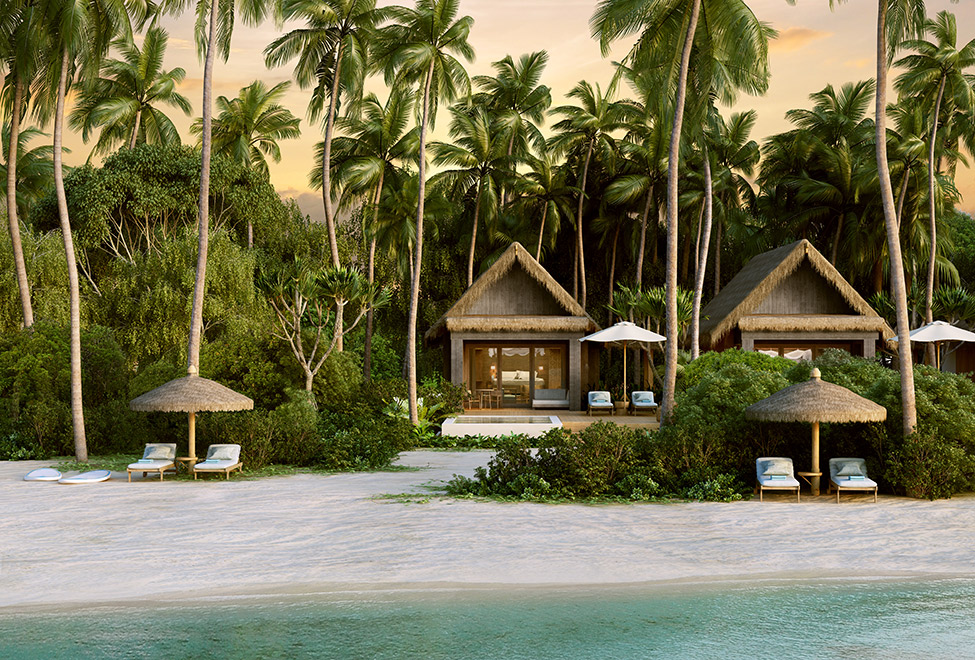 Mamanuca Islands – The Six Senses Fiji
The archipelago of the Mamanuca Islands is said to be the most picturesque, with fine white sand beaches stretching to calm warm waters, and coconut trees blowing in the wind. The Mamanuca Islands are perfect for sea lovers, with light water sport and boat trips being the favorite pass times here.
Stay at the Six Senses for not only a fully equipped, luxury resort but also a packed schedule of weekly activities and excursions. Take a day tour to the south island, where you can snorkel with sea life and enjoy a sunset bbq on the beach, or learn how to cook traditional dishes with ingredients from the resorts own herb garden. The list of activities is extensive, with something to suit all interests and abilities. Stay in hideaway suites for a private romantic getaway, or beachfront villa's if you can't bear the thought of being more than a few steps away from the ocean, all the accommodation are made from naturally sourced materials in keeping with the landscape. This resort has all natural charm of nature, with all the comfort of luxury.
The Six Senses Fiji The Six Senses Fiji, Malolo Island, Fiji, www.sixsenses.com
Top Tips
Most nationalities can stay for up to 30 days visa-free in Fiji, however, you must have your return flight booked upon entry and at least 6 months validity on your passport.
Fiji is malaria free, and does not recommend any vaccinations for visits, however as with any travel we advise to check with your doctor before traveling.
It gets very hot and humid in Fiji, so make sure you drink plenty of water! Tap water is safe to drink in most of the country but check with your resort first.
Arrange airport pick up with your chosen resort, which will usually be by boat.
---
Fly direct Hong Kong – Fiji with Fiji Airways for approx MOP $5,000.
Tags
Related Posts