Are you in need of a 'Seoulful' weekend getaway from Macau? South Korea just might hit the spot, with easy flights to Seoul–South Korea's bustling capital. We bring you a weekend itinerary to get a glimpse of Seoul, an amazing city. Although Seoul is a very large city as compared to Macau, transportation is quite easy, food is great and there are endless shopping options. Aye, aye weekend!
Day 1: Shop till you drop
Dongdaemun Design Plaza (DDP)
(See featured image)
We started by exploring a futuristic Seoul at Dongdaemun, where traditional buildings and cutting-edge modern architecture come together. The most eye-catching landmark, the Dongdaemun Design Plaza (DDP) co-designed by Zaha Hadid includes exhibition spaces, a walkable park on the roof and even restored parts of the Seoul fortress. This area is a fashion hub and all around you'll find shopping malls with great local designer shops and some international brands outlets and traditional markets to complete your shopping spree.
Continue to Myeongdong and immerse yourself in one of the top things South Korea is known for: cosmetics. In Myeongdong you will find all the popular Korean cosmetic brands with amazing promotions and discounts. The main street is full of beauty products from makeup to body products and of course, face masks. The street is lined with sales staff handing out free masks and you could spend hours here and in the evenings. They also have a small street food market that pops up. After retail therapy, make your way to the top of the N Seoul Tower to catch the sunset. Pro tip: The queue is the shortest for the tower at this time.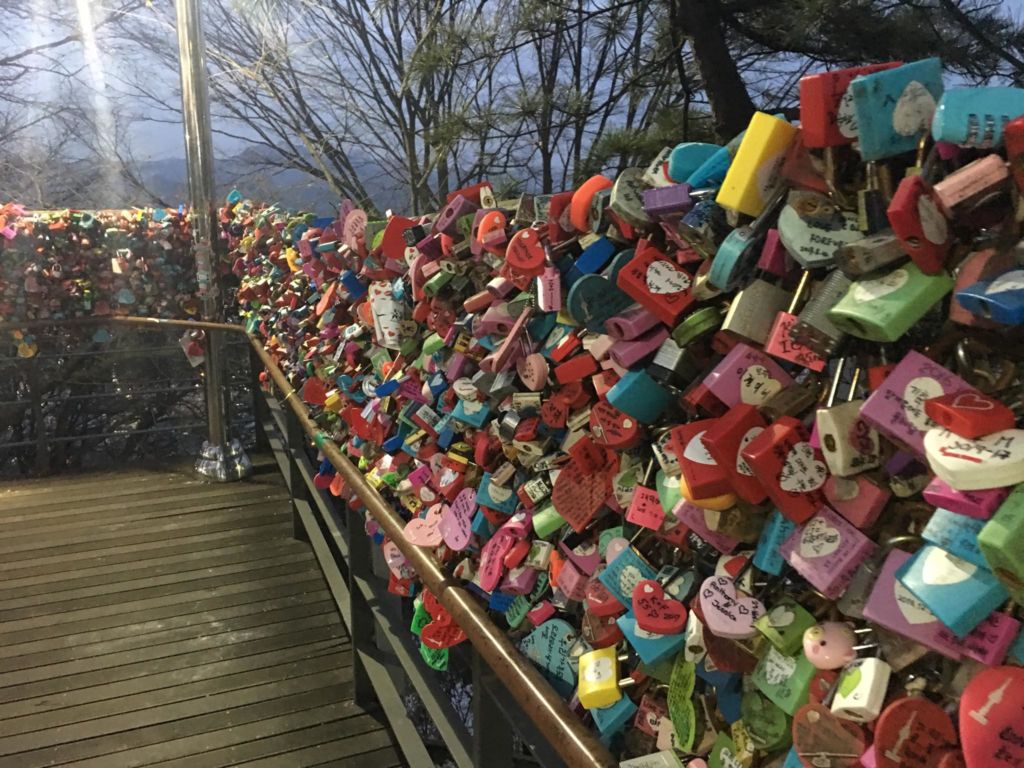 N Seoul Tower
One of the best things in Seoul is its amazing light. Take in the breath-taking views of Seoul and for those in love, lock your love among the many locks and messages around the tower. To make it more exciting, you can go up the Mount Namsan through cable car to the observatory and catch a glimpse of North Korea. After swearing eternal love, get to Gangnam, where besides tall buildings and designer stores, there are plenty of fine Korean restaurants (don't miss a traditional Korean BBQ). Most of all, this is the ultimate party district in Seoul.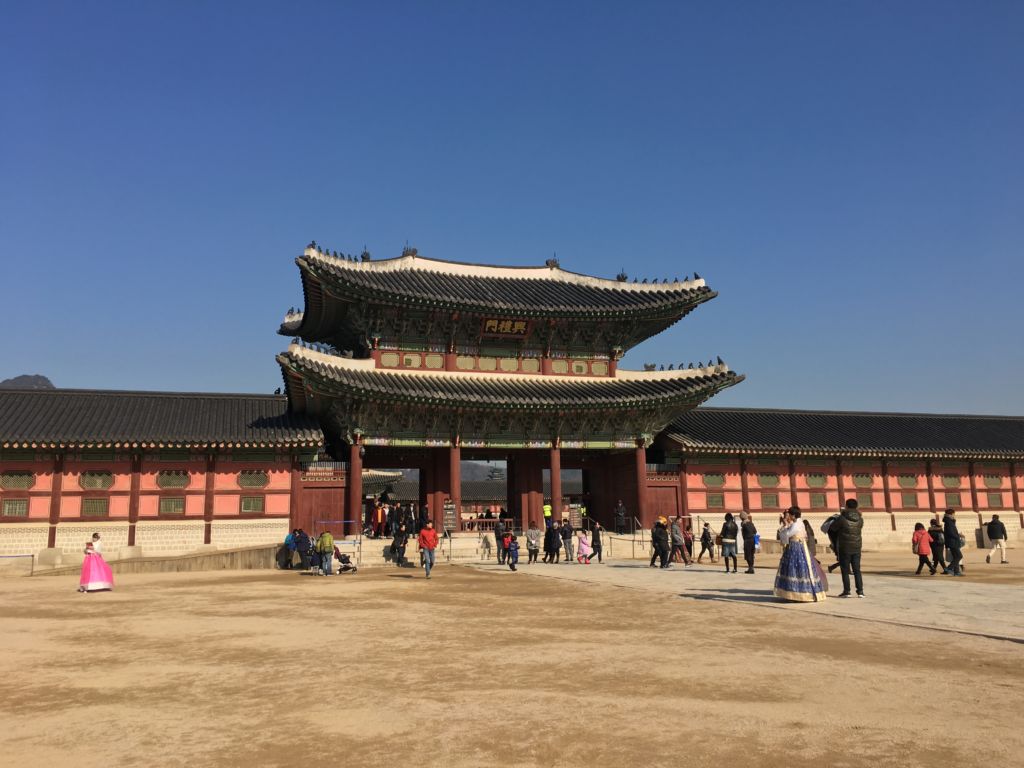 Day 2 – Immerse in Korean culture
National Palace Museum of Korea
To dive into the historical Seoul, we started our day at the Gyeongbokgung Palace, or Northern Palace, which is arguably the most beautiful and the largest of the five palaces in Seoul. Make sure that you check the changing of the guard's ceremonies at 9:35am and 1:35pm. It's a short but memorable sight.
Inside, besides the Royal Palace, you also can visit the National Palace Museum of Korea, south of Heungnyemun Gate, and the National Folk Museum on the eastern side of Hyangwonjeong. In such a bustling city, this is a peaceful haven, where you can go back in time and stay in tune with nature.

Fun fact: If you want to have a more authentic Korean experience, you can rent a hanbok (Korean traditional clothing) and enter all of Seoul's Palaces for free. This is why you will probably notice a lot of people wearing hanbok in traditional palaces. Besides its obsession with kimchi and bibimbap, Seoul is famous for its ginseng chicken soup, also known as Samgyetang and it's a must to make it one of your meals. For an authentic taste, drop by Tosokchon.
Bukchon Hanok Village
After exploring the historic Gyeongbokgung Palace area, visit the Bukchon Hanok Village. It is a traditional Korean village, which remains impeccably intact and an easy walk from the Palace. Take note to remain silent and try not to disturb the residents. On your way there, you'll pass by the quirky Kukje Gallery and the very stylish Samcheong-ro neighborhood, where many unique restaurants, cafés, and shops will lure you before exploring art museums and galleries.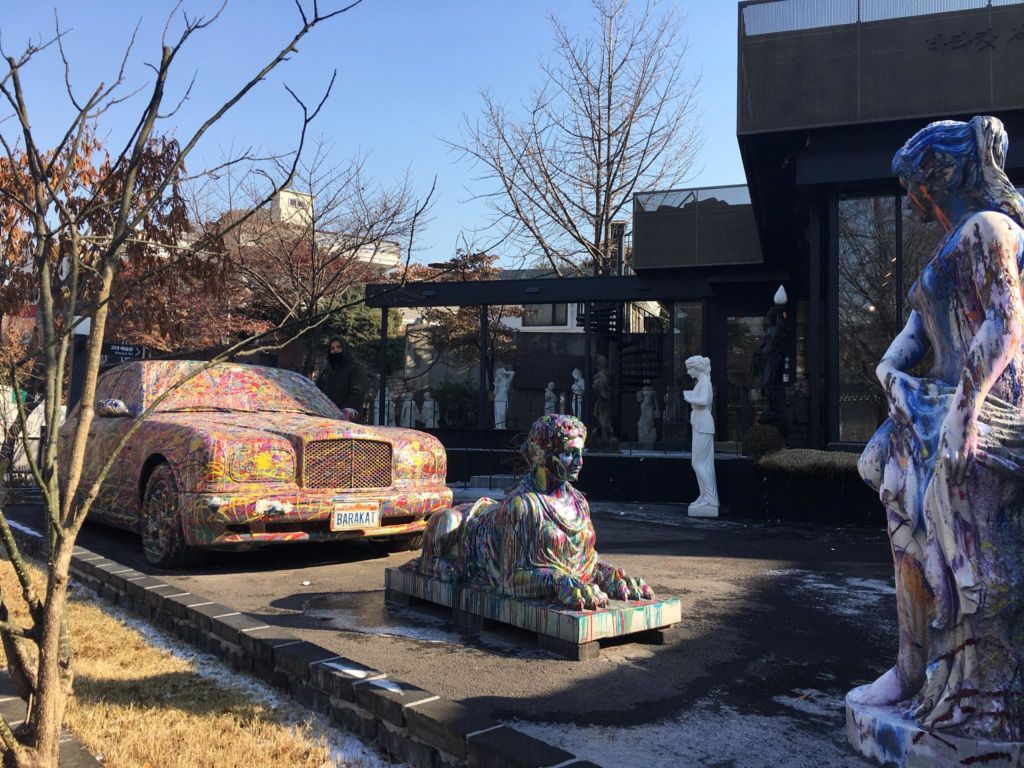 Another beautiful Hanok Village lies on the north side of Namsan Mountain – and we were lucky enough to find it covered in snow when we visited. Namsangol Hanok Village, also known as "A Village of Traditional Houses in the Namsan Valley" is the perfect escape from the busy city life: you'll feel like you're in a picture-perfect postcard.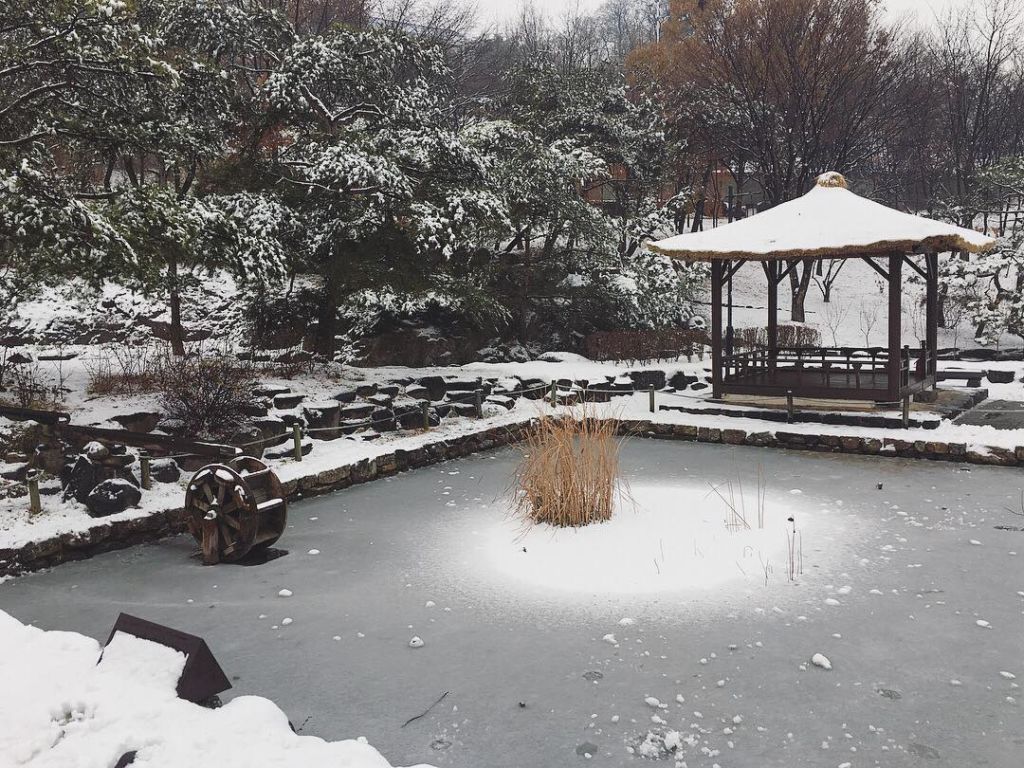 Namsangol Hanok Village
If later in the day you want to shop for traditional souvenirs, head over to Insadong and explore the hidden stores in the alleyways filled with real gems. There are also some great places to try traditional Korean dumplings. At the end of the day, relax in the Cheonggyecheon stream – especially refreshing on summer days, when you can dip your feet in the cool water.
Other things to do in Seoul
If you have more time, there are plenty more things to do in Seoul. Here are some tips:
Visit some of the many great museums around town: History geeks can the The War Memorial of Korea,  Seoul Museum of History, or the Seodaemun Prison History Hall; if you want to immerse in Art, the Leeum Samsung Museum of Art, the Hangaram Art Museum or the many great Art Galleries around town will make up for a great day.
Make a day trip to the Korean Demilitarized Zone (DMZ) and the Joint Security Area (JSA) to see the border that divides the two Koreas and learn more about the history of the country.
Visit a themed café in Hongdae. This is a hip and young area with several out-of-the-box places where you can enjoy a snack while petting an animal or engaging in art activities.
To fully experience Korean culture, explore the Noryangjin Fish Market, which is one of the largest fish markets in the world. Similar to the Red Market in Macau, everything is alive and swimming in tanks, and once fished you can take it to one of the restaurants around to and enjoy a fresh meal.
---
While a weekend is not enough to explore Seoul, three-hour flights operate from Macau regularly. Go explore now!
Tags
Related Posts