Amanjiwo is a magical hotel destination nestled in the heart of the Indonesian island, Java. Set against the backdrop of the Unesco-listed Borobudur, the property echoes design, service, and experience highlighting the location's spectacular historical and cultural essence. Famous for incredible sights, traditional encounters, wellness retreats, a visit to Borobudur is a pleasant 25-minute walk from Amanjiwo.
Macau Lifestyle meets Ian White who is the Regional Director of Aman Indonesia and General Manager of Amanjiwo and Patrick Vanhoebrouck, Anthropologist of Amanjiwo to delve deep into the spiritual and anthropological perspectives surrounding the Aman resorts in Indonesia. Find out why Amanjiwo offers a once in a lifetime experience for every traveler.
Can you tell us a little about yourself and how you both got started with Aman resorts?
[Ian] My union with Aman goes back to 1994. It's been a colorful journey the moment I fell in love with Indonesia and I fell in love with a Balinese girl. I was the General Manager of the Aman in eastern Indonesia as well as Hotel Bora Bora in French Polynesia. I've moved from Jordan to Indonesia and now I am the country manager at the property which began my life with Aman so it's been a nice journey for 17 years.
Aman has five properties in Indonesia, what makes this area of the world so appealing? What does the country have that you really can't find anywhere else?
[Ian] Aman Indonesia is important to the brand because of its original DNA. I think Indonesian hospitality just comes naturally with genuine humility and non-pretentious service so that's what makes some of the beautiful aspects of the service that we have exceptional. Indonesian culture is so deep, with historic elements that we portray in Amanjiwo. It's a very simple place in the world and most of our staff come from villages but the authenticity of people and service is just unparalleled. I think that's what brings guests back time and time againwhether it's taking our guests to the top of a volcano for breakfast or seeing the thriving whale sharks around the stunning marine reserve. It's a beautiful place with a very unique DNA attached to them. You will find things that will just blow your mind which is why I've spent so much of my life here.
[Patrick] As an anthropologist, I'm very aware of UNESCO world heritage sites. I've been hired for a few years now as an anthropologist but I've been in the country for about 20 years. I think the Aman properties in Indonesia are unique because you have the spice trade routes and natural beauty. You have the material heritage and the intangible heritage philosophies, arts, spiritualities and more. I think Aman was very clever to put their resorts at the backyard of a world heritage site.
[Ian] UNESCO has actually recently uncovered some unique cultures in Indonesia which are linked with Aman again called batik, which is what he's wearing which is now a UNESCO entity. But also phinisi which is a traditional Indonesian two to a three-masted sailing ship. It is now a UNESCO entity, same with "wayang"–shadow puppetry. 
Can you share more about what makes Amanjiwo in particular unique? Or what characteristics do you feel qualify this property as an Aman resort? I've read that it overlooks one of the oldest and largest Buddha sanctuaries in the world.
[Ian] If you took a drone image of Amanjiwo from the sky, you'd see no change from the year it opened to this day. It's as if time has stood still. The village stayed the same and that is extraordinary. You're still getting the raw natural hospitality through simplistic beauty and it's still real, untainted Indonesia. The locale, of course, is surrounded by ancient sites, making it very intimate and that's what makes it exceptional.
[Patrick] Amanjiwo has an amazing platform of design and architecture that reflects the environment. The integration of landscape to the property is evident.  This place is a natural labyrinth of Javanese culture and it's a true sanctuary in a sense that the property reflects Borobudur and all elements of earth, water, wind and fire.
Do you have a property within the Aman group that is special to you and why?
[Ian] Every Aman property is unique. Amanjiwo is quite special compared to the oter properties because of its amazing architecture. It's a reflection of beautiful minds and shapes. There is a connection with its surrounding and you can feel that during your stay.
[Patrick] I live on the property and walking to work every day, I see the great innovation that transpires on a regular basis. I believe the land does that to you. It has a certain power that inspires you to always tap into your creative side. It's almost like living in an amazing museum of wonder.
How would you describe the Aman experience to someone who has never stayed on the properties before? What can one come to expect when staying at an Amanjiwo?
[Ian] First thing you realize is the personality you get from the moment you step at Amanjiwo. What I love about our tour team is that everyone is so passionate about creating a home to come to. This is because at Amanjiwo, we don't want you to feel that you're just checking into a hotel.
Aman is famous for going that extra mile for guests, do you have any stories you can share with our readers?
[Ian] There have been a lot of those experiences for us. We went the extra mile for a guest who desired a deeper wellness journey. We were also sought out for a volcano hike for a very diverse and adventurous team and we managed to pull it off.
Patrick, you are the resident anthropologist at the Amanjiwo resort, what is your role working with Amanjiwo and what is a usual day like for you?
[Patrick] As an anthropologist, I come for lectures that fill up my whole day. The themes revolved around Borobudur and comprehensively surrounding the island of Java. I also talk about the spirituality and heritage of these kingdoms and introduce it to guests. If they want something deeper then we can also arrange spiritual tours. For guests who want to understand the essence behind our wellness concept or a meaningful understanding of wellness or learning the Balinese kingdoms, we have those as well.
What makes Aman's wellness experience unique?
[Ian] It's linked to the local community. We are connected in a sense that what's important in that area becomes the main part of our guest experience. And we're truly passionate about this integral part of our property. We want guests to understand the brand's harmonious locations and have a sense of the place. The community is our brand pillar and understanding history is very important.
Can you elaborate on the idea behind the spa brand?
[Ian] The chairman of Aman was passionate about wellness so that's why we ventured on it as well. He wanted the best and something truly organic. All the products were meticulously created and there is a certain spirituality to the ingredients that link to the overall idea of Aman. These products are available for sale inside the spas and you can also buy them online.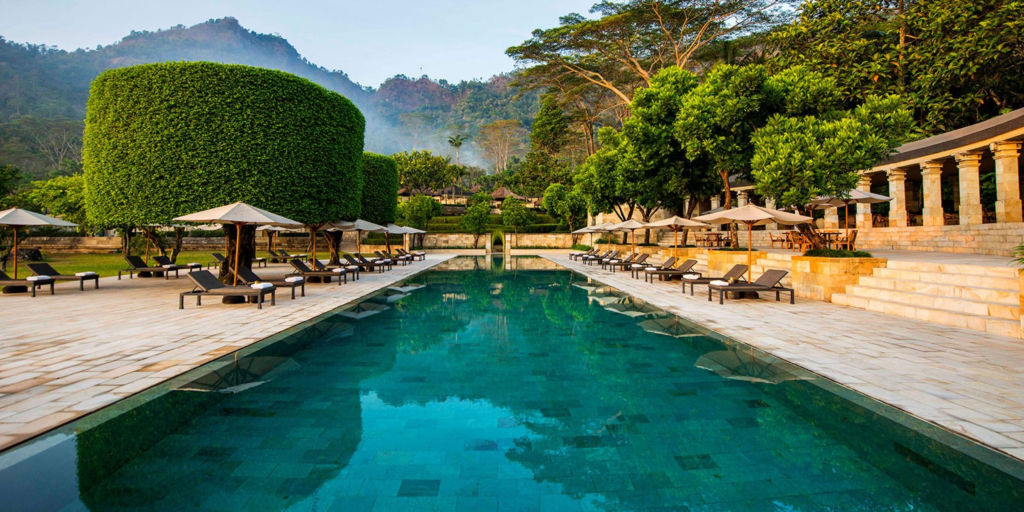 Why is anthropology so important to Aman and in general why should it be more important to all travelers?
[Patrick] For Aman, it's a choice and a strategy. When you see Amanjiwo, Amandari, and Amanwana, they are bound by culture and UNESCO heritage. The intangible arts, history, and culture elements amongst these hotels are all encompassing. It's as if there is a continuum between nature and the property. As an anthropologist, it's my duty to keep learning the history and heroes of the place. This is in order to inform guests on cultures, traditions, and attitudes and help guests and travelers understand things. I don't think it's important for all travelers to learn this but in my experience, after being informed, the majority of guests do feel a sense of belonging in time and space with their destination.
[Ian] If you took away the anthropologist from the hotel, who will answer the questions of guests? Amanjiwo is a unique destination because it gives them a bit of education and time to reflect.
When is the best time to visit Amanjiwo?
[Ian] The property is a fantastic place to visit the whole year round but my personal favorite is the monsoon season. The rain is actually beautiful and the farmlands are greener and more vibrant. It's more peaceful as well.
What are the biggest challenges of operating a luxury resort in a remote area where Amanjiwo is located?
[Ian] Meeting expectations of guests and continuing to recreate the guest experience are the biggest challenges. I maintain an annual calendar when I prepare myself for more creative ideas. I encourage everyone to come up with new cuisine, philosophy or activities too. At the start of the year, it keeps everyone motivated and excited. This is to keep up the innovating spirit despite any kind of challenge.
How do you think the luxury traveler has changed? How is it affecting the Aman group?
[Ian] I believe the Aman guests are getting younger and a lot more family-oriented. They have different expectations such as more tailor made activities and yet suitable for all ages. I also noticed that travelers are spending a shorter time and want everything a bit faster.
We focus on smart planning, getting to know what the guests want and have a creative understanding starting from the reservations so that helps with the whole anticipation. Many guests combine Aman properties together during their holiday. For instance, Amandari and Amanjiwo can be linked together for the cultural traveler or the Amanjiwo and Amankila for a romantic honeymoon. We also have a wellness cruise which focuses on the journey to wellness with unique rituals taking you through to idyllic locations.
What's coming up this year for Amanjiwo?
[Ian] We've planted different flowers around the property so that's something to look forward to. We've imported Australian bees and mixed with local Javanese so by June or July the honeycomb from the garden would be great. We're building a new food and beverage venue with tables on the grass overlooking the farmlands. We've also got a new volcano hike and new picnic sites so lots of exciting things to look forward to at Amanjiwo this year.
---
For more details, visit www.aman.com/resorts/amanjiwo
AMANJIWO Ds. Majaksingi, Borobudur, Magelang Central Java, Indonesia, +62 293 788 333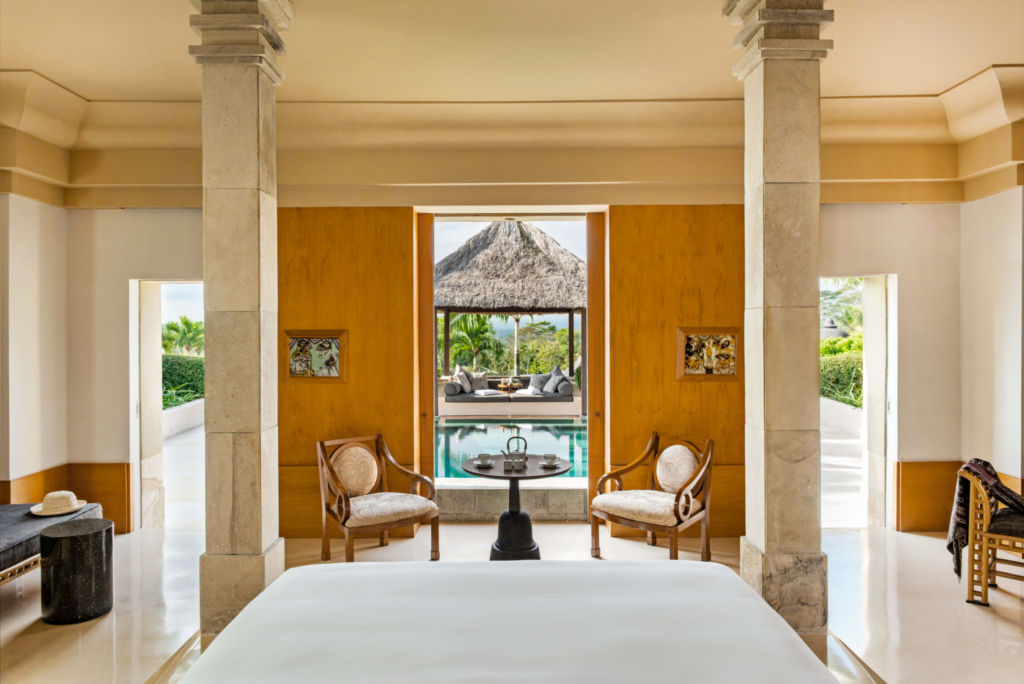 Tags