From fashion to hospitality, Versace took a leap with the first Palazzo Versace opening on Australia's Gold Coast. The second Palazzo, the Palazzo Versace Dubai, was completed in 2015 and is located on the foreshore of Dubai Creek. But what might be the most exciting Palazzo soon to rise in Asia is the Palazzo Versace Macau at Grand Lisboa Palace. The property is being built in partnership with Macau's largest casino operator SJM Holdings. Of the three Grand Lisboa Palace towers, Palazzo Versace Macau will be housed in a 20-story tower where its style, art direction, amenities, and furnishings would come from Versace. "Palazzo Versace will enrich Macau with a unique property aiming to provide an exclusive experience and become a destination within a destination," says Gian Giacomo Ferraris, CEO of Versace.
Gianni Versace who founded the prominent Italian fashion empire pays homage to Medusa, the Greek mythological figure on all of his creations. The iconic figure was reminiscent of  Versace's memories of childhood while playing in the area of Reggio Calabria. He wanted to manifest Medusa's powers to make people fall in love with his collections. The Versace brand eventually flourished for its innovative designs with symbolic flashy prints and bright colors becoming its defining style. Even celebrities and royals patronized his design, and after the death of Gianni, his sister Donatella Versace took over the enterprise together with brother Santo Versace.
As construction continues in the charming city of Macau, we take a sneak peek inside the other Palazzo Versace hotels to get a glimpse of beauty and luxury melded together to create a hotel destination set to capture the hearts of many.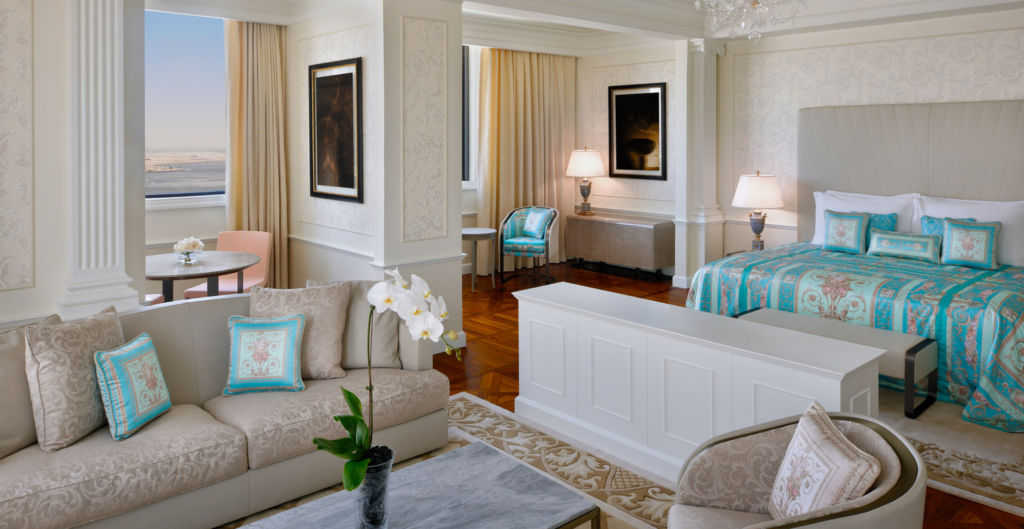 Palazzo Versace Dubai
Palazzo Versace Dubai has already cemented its position as one of the most Instagrammable hotels in the Middle East. Reminiscent of a 16th-century Italian palace, you'll also find subtle traces of Arabian architecture in tribute to the stunning city of its location. Fit for royalty, every corner hides elegant style from high ceilings to landscaped gardens, and a range of well-crafted Italian furnishings, the hotel lives and breathes the Versace lifestyle from the entrance to the exit. Be fascinated by exclusive designs and fabrics from Versace, extending to the lagoon pools and reflection ponds embodying a luxurious retreat for weary travelers.
Nestled in Jaddaf Waterfront and situated a few minutes away from major attraction in the metropolis, Palazzo Versace Dubai has combined the modernity and tradition of the Dubai Creek into its theme. You'll immediately spot the striking "Pietra di Fiume" design of the iconic Medusa and Greek décor at this property. It's safe to say that the Macau property might also embody the same concept so watch this space for more details.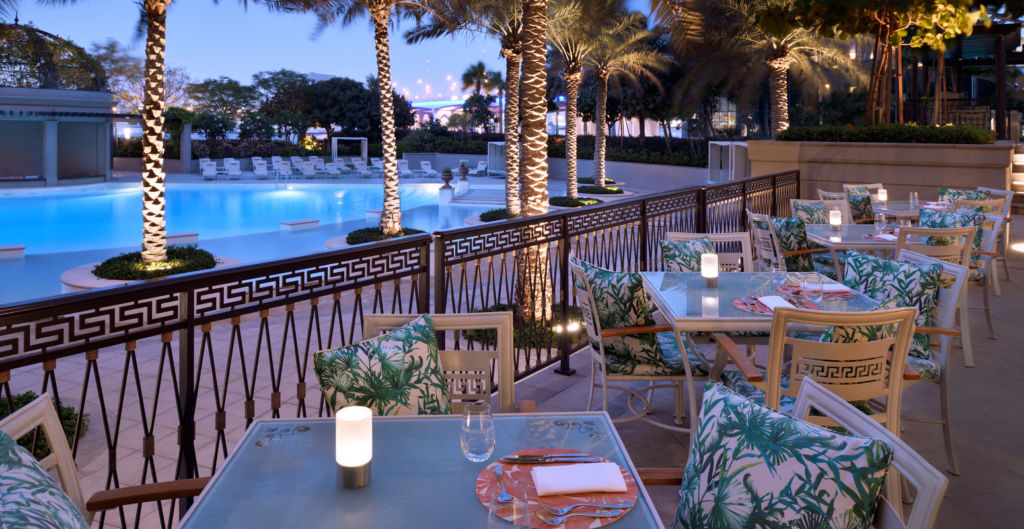 The hotel boasts 215 hotel rooms and suites, and 169 residences. Every piece of furniture and fabric is designed and tailor-made by Versace exclusively for the Palazzo Versace Hotel in Dubai. Each of the hotel's eight restaurants and bars is designed to have an alfresco terrace to reflect the heritage of Palazzos, so we can probably expect the same in Macau.
Palazzo Versace Dubai Jaddaf Waterfront, Dubai, United Arab Emirates,  +971 4556 8888, www.palazzoversace.ae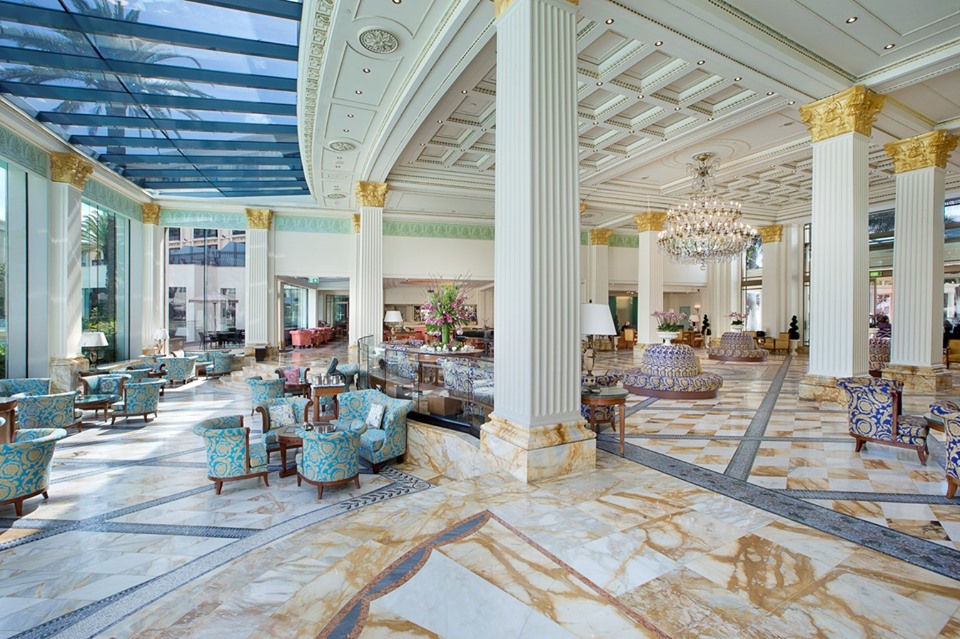 Palazzo Versace Gold Coast
Palazzo Versace Gold Coast is the world's first fashion-inspired hotel. Nestled in Gold Coast, Australia, famed for pristine beaches, surfing spots, and fun entertainment, it has all the ingredients of an unforgettable holiday for travelers of all kinds. You'll also find theme parks such as Dreamworld, Sea World, Wet'n'Wild, and more adventurous activities at this destination.
Epitomizing the world of Versace, Palazzo Versace Gold Coast takes pride in an exclusive waterfront setting, spectacular architecture, lavish accommodation and bespoke design by Versace. It is home to award-winning restaurants, an exceptional day spa, fitness and wellbeing center, a private marina, the Versace Boutique, meeting and event facilities and the first water salon cabana experience in Australia.
Palazzo Versace Gold Coast 94 Seaworld Dr, Main Beach QLD 4217, Australia, +61 7 5509 8000, www.palazzoversace.com.au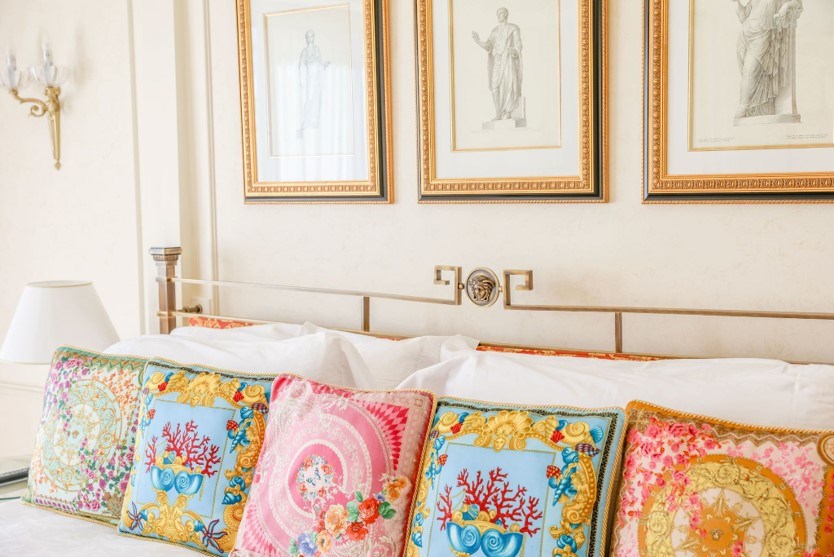 Grand Lisboa Palace will be home to Palazzo Versace Macau along with two more properties namely Grand Lisboa Palace, and Karl Lagerfeld Hotel luxury boutique hotel.
It's set to be the first Palazzo Versace in Asia. The world-renowned designer Donatella Versace is heading the creative direction of approximately 290 rooms in the property.
Sociedade de Jogos de Macau, S.A. (SJM) and China Duty Free Group Co., Ltd (CDFG) recently announced a collaboration to open CDFG's Macau flagship outlet at Grand Lisboa Palace which means shopping bliss for many guests in Macau.
CDFG's off-airport outlet will cover approximately 7,500 square meters on the first floor of the retail mall at Grand Lisboa Palace. It will feature a diverse mix of perfumes, cosmetics, watches and jewelry, apparel, shoes and accessories, grocery, travel items and more, gathering a host of celebrated international brands under one roof.
Grand Lisboa Palace's "Le Jardin de la Fantaisie" or Fantasy Garden retail mall will feature stylish design elements such as floating fashion balloons in the atrium. It's aimed to showcase the display of signature retail items, as well as a Catwalk Garden and a Fashion Boulevard, both serving as a retail thoroughfare and a venue for fashion and other themed events.
There's so much to explore including versatile MICE venues, an abundant number of wellness facilities, and a resplendent casino set to entice risk-takers and players from around the globe.
---
For more details, visit their website
Palazzo Versace Macau Grand Lisboa Palace, www.sjmholdings.com
Tags