A seemingly popular trend in the gastronomic sphere of Macau is a fashionable luxurious tea time experience in collaborative efforts between luxury fashion brands and restaurants. The latest to ride on the bandwagon is Wynn Palace Cotai, collaborating with world-renowned luxury label Salvatore Ferragamo.
Set exclusively at Wing Lei bar, the unique tea set draws inspiration from the fashion house's classical design elements resulting in a concoction of visually appealing and equally mouthwatering products. The set features an array of sweet and savory delicacies mirroring some of Salvatore Ferragamo's notable handbags and iconic pieces. At a glance at the items displayed masterfully in a multi-layered golden tray, one can't miss the Sofia Rainbow from its Spring 2018 collection, and the Classic Thalia handbag, replicated with fondant sitting atop a Vanilla Cheesecake and Chocolate and Coffee Tart respectively. The fondant can be a little too sweet for many so best to alternate sampling sweets and savories.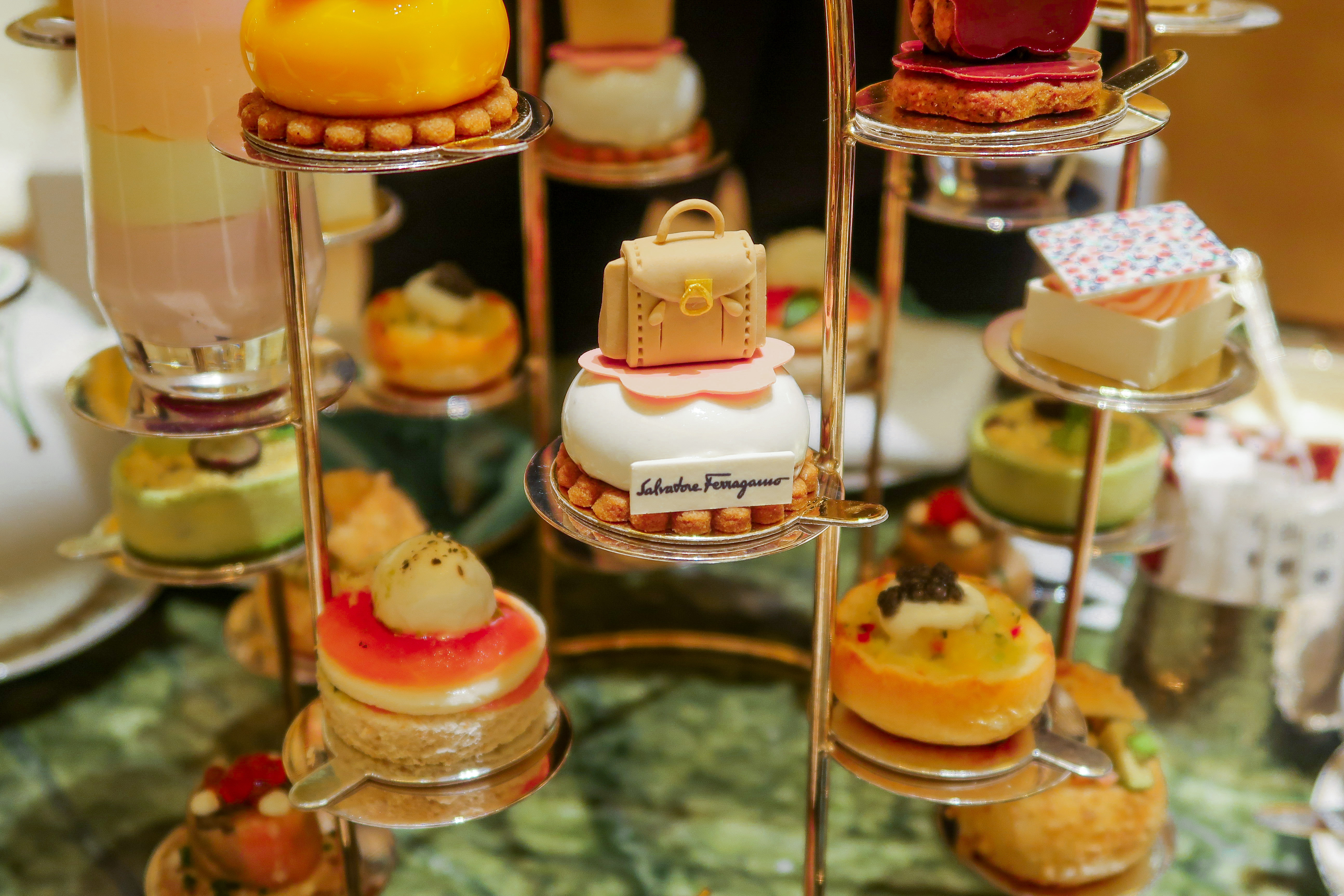 A nod to the brand's signature floral pattern, the Rose and Chocolate Chantilly treat features a silky rose cream with white chocolate flakes, crispy on the outside and soft on the inside. Another unmistakable shape is the brand's flower heel in the form of Gianduja Shortbread. It reminiscent of a French macaron with its deliciously addictive smooth and rich hazelnut paste sandwiched between two flower-shaped shortbread.
The icing on top of it all is the Amor Ferragamo Shooter, a surprising twist that tickles your visual and nasal senses. The refined flavors of blackcurrant, vanilla, campari, and jasmine blended into a mousse and beautifully layered in a tall shot glass, fashioning an edible version of Ferragamo's signature fragrance. Mind you, it smells exactly like it's counterpart perfume too.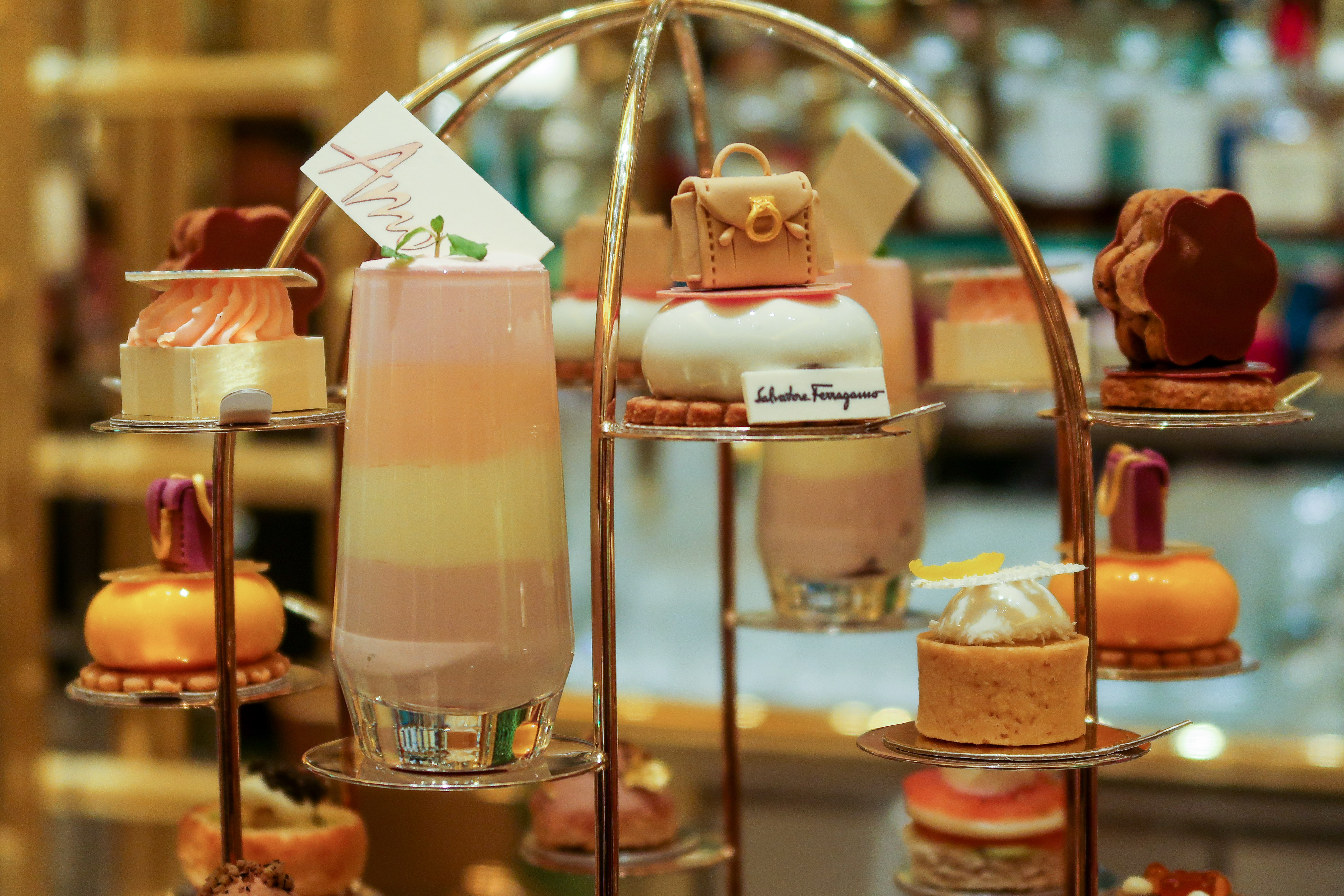 All these are crafted to perfection by Wynn Palace Executive Pastry Chef, Yoann Mathy, who's known for his constant pursuit of perfection. The French native has worked at some of the world's renowned Michelin-star awarded restaurants alongside another French chef and perfectionist Joël Robuchon. Having been with Wynn Macau since 2013, Chef Yoann is the brain behind some of the property's applaudable desert menus, recipes, and concepts.
In addition to all the sweet treats, the set comes with an assortment of savory items equally alluring and appetizing. Enjoy the palatable picks that are unique to this tea set such as the foie gras and truffle, lobster and avocado roll, and mini scallop quiche with caviar. Balance your palate with a handful of scones with clotted cream, orange marmalade, and red berry jam served on the side. Then down it all with coffee or tea of your preference.
Experience all this in the opulent Wing Lei bar. Adorned with an antique chandelier sourced exclusively from Italy and designed to resemble an ornate jewelry box filled with tasteful decor and lavish furnishings, it is the perfect setting for an elegant, high-end afternoon tea experience.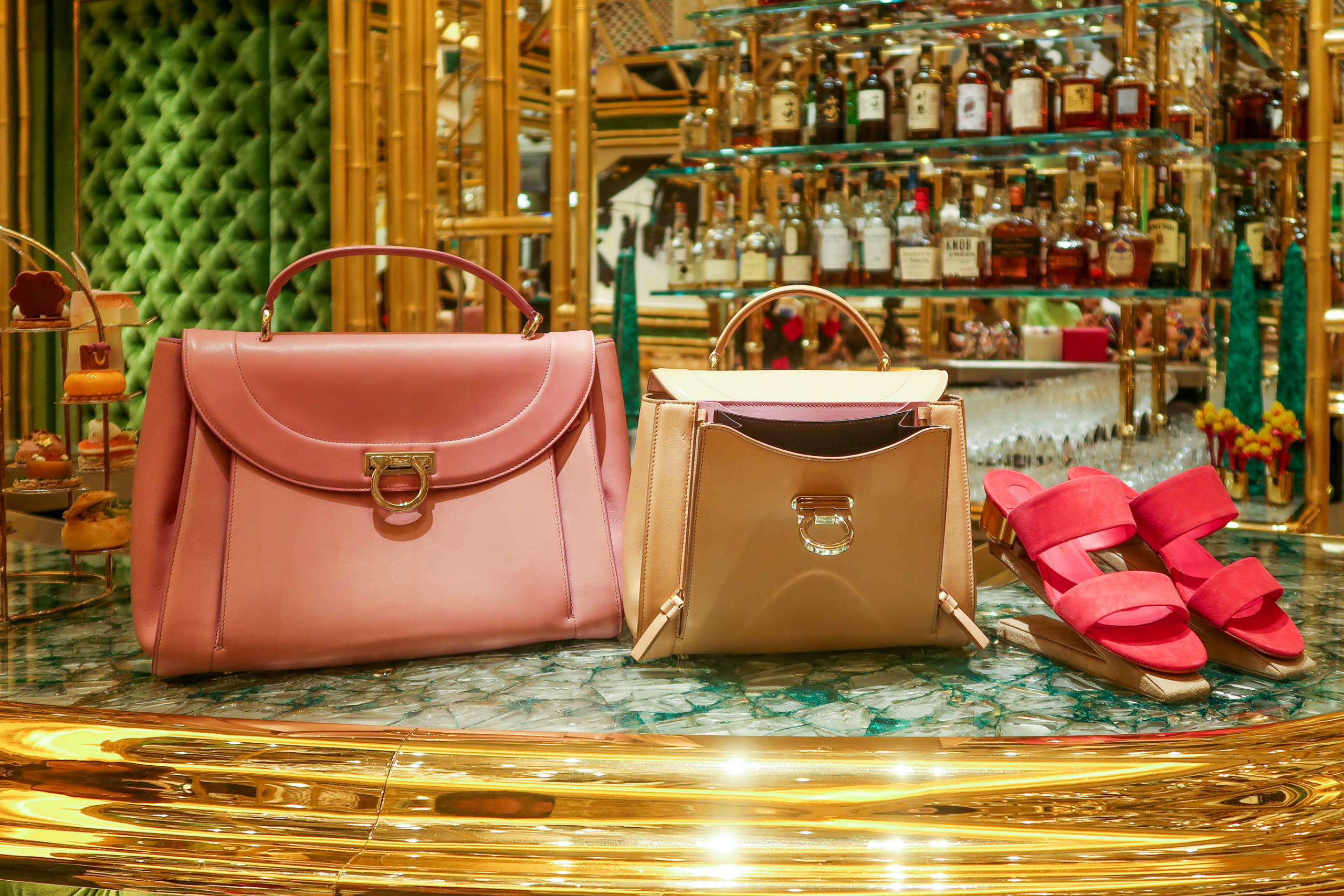 ---
The Salvatore Ferragamo x Wynn Palace Cotai Exclusive Weekend Afternoon Tea is available from April 14 to May 13 on Saturdays and Sundays for a limited time only. Diners are also in for a treat as a gift awaits them at the Salvatore Ferragamo store after experiencing the afternoon delight. Head to Wing Lei bar and try it while you can.
For dining inquiries or reservations, call (853) 8889 3663.
Tags