The Mid-Autumn Festival weekend in Macau is all about celebrating the special occasion with family and friends. Decked with colorful lanterns and a vibrant atmosphere teeming with the scent of delicious mooncakes, the city has embraced the festive atmosphere with events and activities for everyone of all ages. Don't miss the culinary extravaganza at the Michelin Guide Street Food Festival and our fabulous giveaway at The Tasting Room, City of Dreams!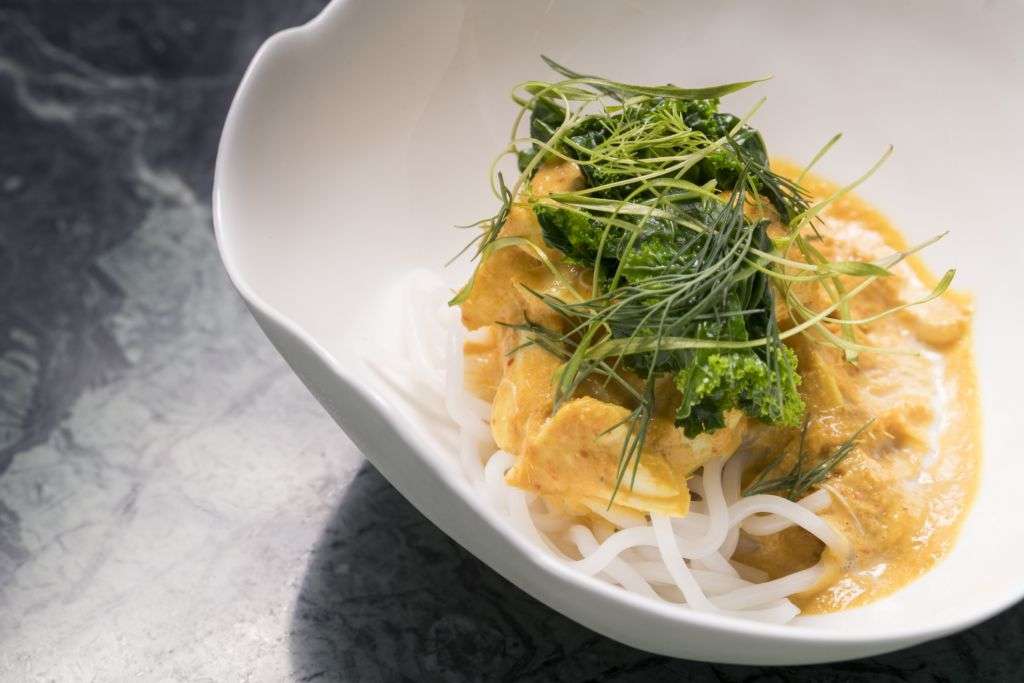 Michelin Guide Hong Kong Macau's first ever Michelin Guide Street Food Festival is set to debut in Macau's Studio City entertainment resort this October. From October 5 to 8, the four-day event will see chefs from Michelin-starred restaurants, celebrated Bib Gourmand and Michelin-recommended eateries across Asia serving their street food creations and signature delicacies.
The gourmet festival is free admission and will take place from 12:00pm to 8:00pm daily at Studio City's Macau Gourmet Walk, which resembles the historic streets of Macau. Food lovers will savor a myriad of flavors from some of Asia's top chefs under one roof.
Festival-goers can eat their way through signature dishes and one-off festival creations at value-for-money prices. Small plates start from just MOP $40 and can be bought with Street Food Coupons purchased at the event. A star-studded line-up of eateries from Singapore and Japan will be coming to Macau to cook for the very first time, including the world's first-ever street food stall to have been awarded a Michelin star, Hong Kong Soya Sauce Chicken Rice & Noodle from Singapore. The Michelin Guide Street Food Festival in Macau will truly be a unique dining experience for all food lovers to mark their calendars.
When: 12:00pm–8:00pm, October 5–8, 2017
Where: Macau Gourmet Walk, Studio City, Macau
How much: Free admission
For more details, visit www.guide.michelin.com.hk, www.studiocity-macau.com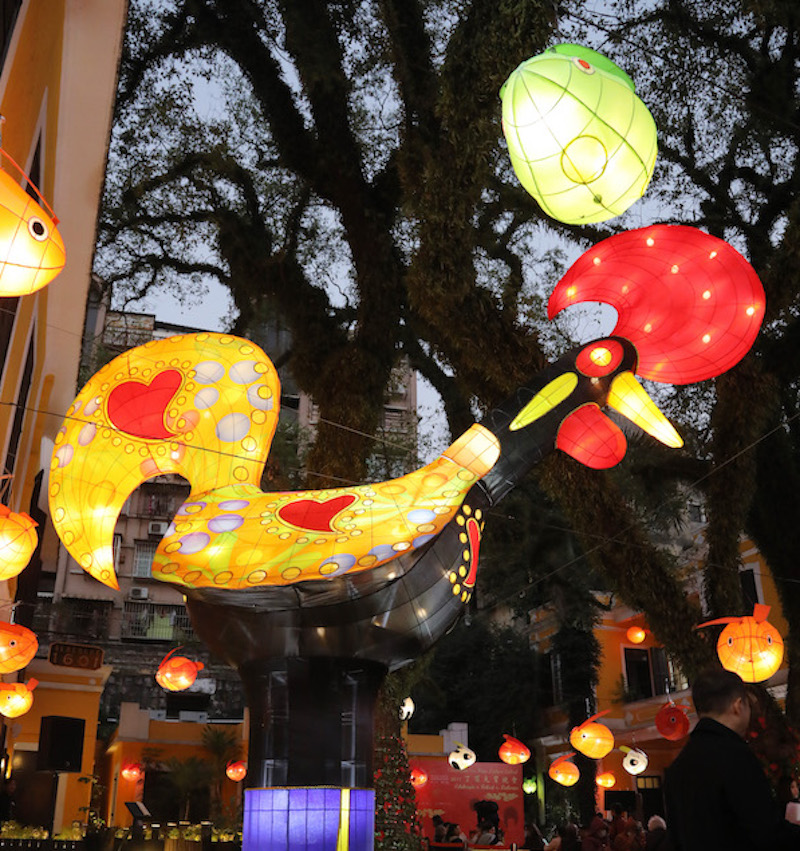 The Mid-Autumn Festival falls on October 4 this year. As one of the most celebrated festivities in Chinese culture, Albergue SCM is organizing the Celebration of Mid-Autumn Festival 2017 party with festive food and drink, lantern riddle solving, calligraphy demonstration and limited traditional rabbit lanterns for children (first come, first served!).
Meanwhile, "Celebration of the 68th Anniversary of the Founding of the People's Republic of China: Little Rabbit Lanterns—An Exhibition by Carlos Marreiros and Friends Part 13" will be held on the same day, showcasing creative rabbit lanterns created by local and foreign artists and designers. Works by students of the "Macau Creative Lantern Workshop" will also be exhibited. Open from October 4 to December 6, 2017 for viewing.
When: 6:30pm–9:30pm, Wednesday, October 4, 2017
Where: Patio, Albergue SCM, 8 Calçada da Igreja de São Lázaro, Macau
How much: Free admission
For more details, contact +853 2852 2550, +853 2852 3205, or www.facebook.com/creativealbergue.scm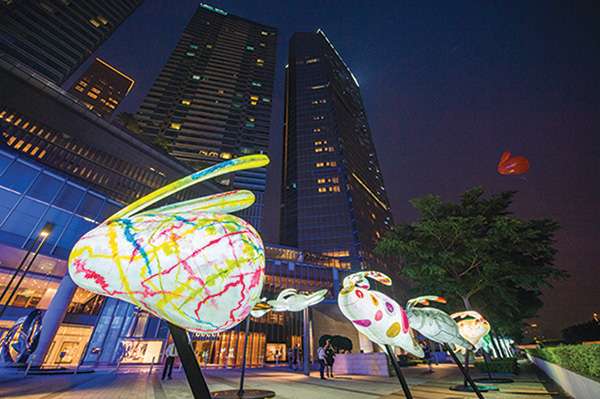 Anim'Arte Nam Van will showcase Macau's unique image with the blending of Chinese and Portuguese culture at the 2nd Macau Lantern Festival. These exhibits, together with the artistic rabbit lanterns at the Promenade of One Central Macau, embellish the moonlight and the festive atmosphere.
The design concept of the installations at Anim'Arte Nam Van is based on three elements: architecture in Macau, the culture of Macau, and the Mid-Autumn Festival. The eight neon illuminations outlined the theme of Mid-Autumn Festival, integrating the local landmarks and festival-related patterns such as rabbit, moon cake, and fruits certainly catch the eyes of residents and tourists. The 10 luminous rabbit installations along the Promenade of One Central Maca were designed by artists from mainland China, Portugal, Hong Kong and Macau. These installations will harmonize the beauty of the moon and the lanterns, bringing a happier environment for Mid-Autumn Festival.
When: October 1–31, 2017
Where:  Anim'Arte Nam Van, 744B Avenida Panoramica do Lago Nam Van, Macau, and Promenade of One Central Macau
How much: Free admission
For more details, visit www.whatson.macaotourism.gov.mo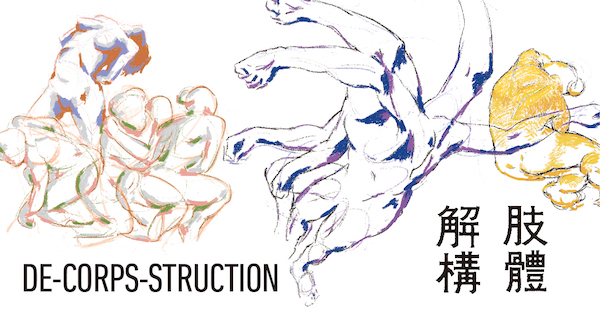 'DE-CORP-STRUCTION' SERIES
'De-Corps-struction' Series—a platform for innovative performing styles—presents works, exchanges, and events that explore the possibilities of the corps and deconstruct the nature of theatre performance. Reality and distance is a double bill with "Distance by Jojo Lam" and "Non-Reality by Oscar Cheong". In these solo performances, both artists question and reflect upon themselves, creating their own body aesthetics in the process.
When: 8:00pm, October 6–8, 2017
Where: Hiu Kok Experimental Theatre, Old Court Building, 12F A, Nam Fung Building, 82–86, Rua dos Pescadores, Macau
How much: MOP $150, MOP $180
For more details, contact +853 2855 5555 or www.macauticket.com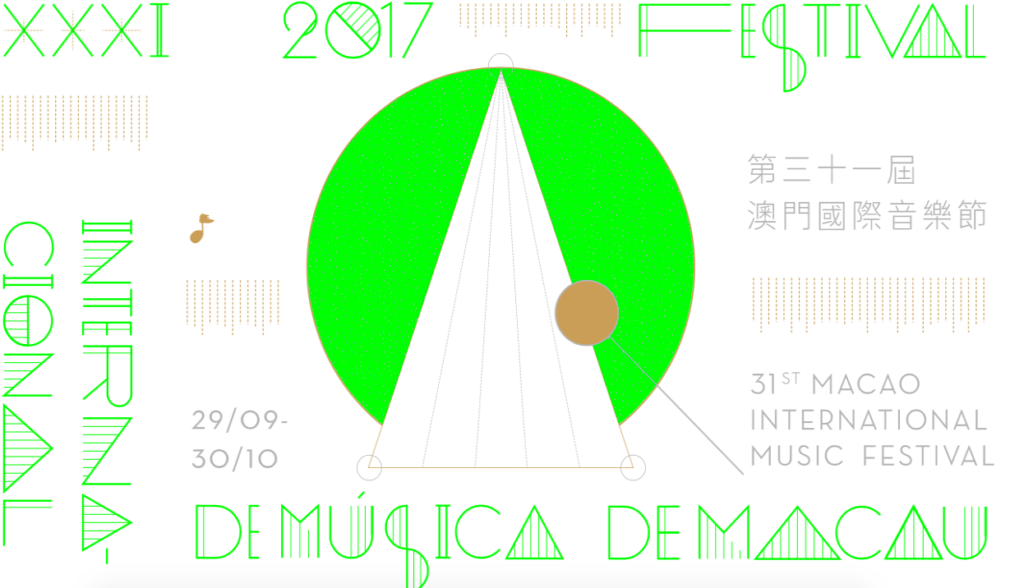 31ST MACAO INTERNATIONAL MUSIC FESTIVAL
This year's 31st Macao International Music Festival flourishes under the theme "Rising Stars". It aims to learn from the past and march into the future. Innovation is the key to art development. There are pioneers who create unique works in music history, such as Igor Stravinsky's avant-garde "The Rite of Spring", Niccolò Paganini's groundbreaking violin solos, and Gustav Mahler's large-scale "Symphony of a Thousand". Some have become classics while others defined an era, yet they all reflect the overpowering new talents and the radiant glamour of new models.
While savoring the beauty of classics, the festival gives off an overwhelming power of radiance to the Macao audience. Featuring works presented by dazzling young talents, a reinterpretation of classics, grand productions brought by internationally famous ensembles, and orchestras and the local productions, the festival journeys into a brilliant new era!
This year's festival features 17 programs. To commemorate the 150th anniversary of the birth of Umberto Giordano, the festival opens with Giordano's best-known opera "Andrea Chénier". A number of world-renowned ensembles and orchestras will appear on stage at this year's festival. The distinguished Vienna Philharmonic will perform a resounding finale, while the Deutsche Kammerphilharmonie Bremen will delight its audience with a night of Beethoven. Other famous musicians and ensembles include Chen's erhu family, rising jazz star Jazzmeia Horn, fresh electronic musician el fog, the acclaimed Coro Lirico Siciliano, the joyous South African ensemble Soweto Gospel Choir and Hong Kong singer William So.
When: September 29–October 30, 2017
Where: Macao Cultural Center, Dom Pedro V Theater, Old Court Building, Mount Fortress, St. Dominic's Church
How much: MOP $150–$1,500
For more ticket details, visit www.icm.gov.mo, www.macauticket.com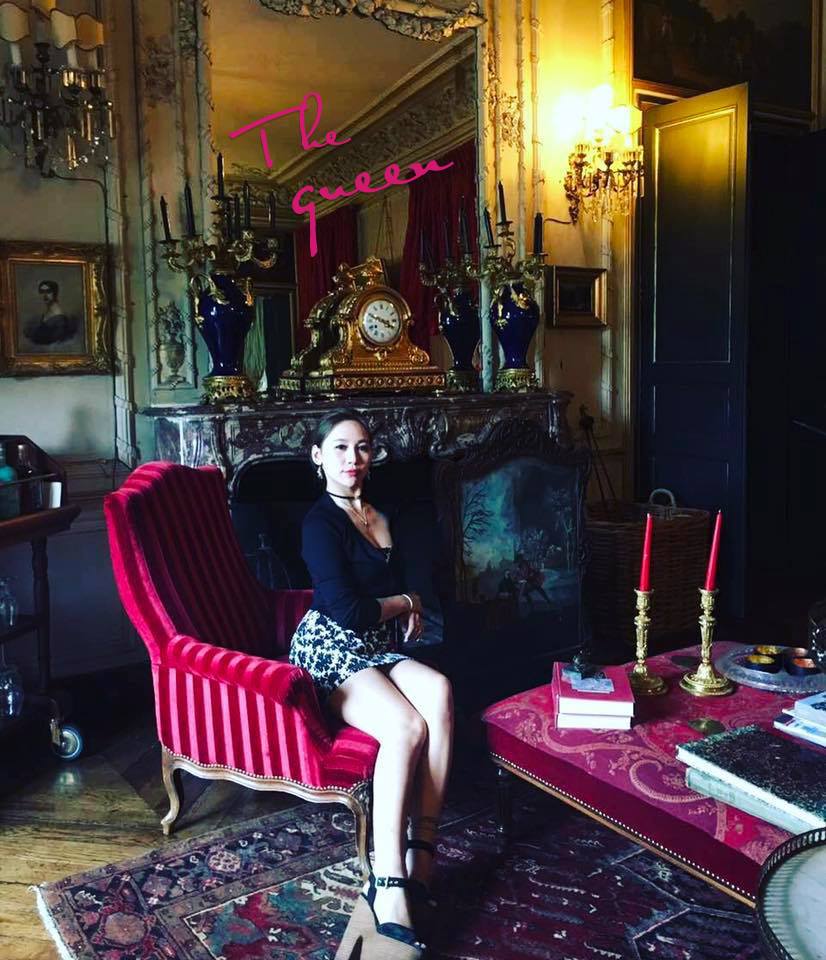 Add a little magic to the Golden Week with an enticing cocktail created by a winner of the prestigious "Cointreau Queen" competition, Moe from the cool hideaway Module Bar in Shanghai. The talented mixologist will be in town shaking up a cocktail storm all night.
When: Thursday–Saturday, October 5–7, 2017
Where: Vida Rica Bar, Mandarin Oriental Macau, 945 Avenida Dr. Sun Yat Sen, NAPE, Macau
For more information or reservations, please contact +853 8805 8928 or visit www.facebook.com/events/119815592037442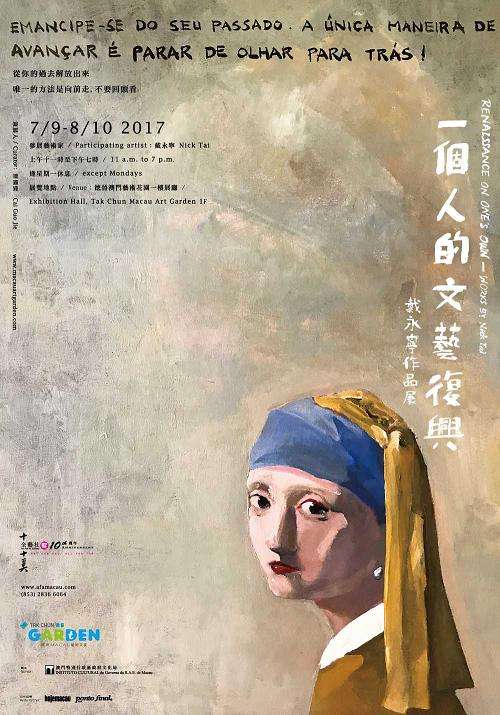 It's been several years since Macau artist Nick Tai had his last solo exhibition. After a period of settling, Nick has excelled in artistic development as well as his painting technique. Fifteen pieces of acrylic and oil paintings will be showcased in the exhibition.
With the exhibiting hall painted in burgundy, audiences may feel deluded into thinking they have entered a museum where famous paintings from Renaissance are showcased. In fact, they are derivative works of the famous paintings, interpreted by Nick Tai in his unique perspective, after incessant study, comprehension, and self-reflection, hence tells the story of a Renaissance on one's own.
When: September 7–October 8, 2017
Where: Exhibition Hall, Tak Chun Macau, Art for All, Art Garden, 265 Avenida Dr. Rodrigi Rodrigues, Macau
How much: Free admission
For more details, visit www.afamacau.com or +853 2836 6064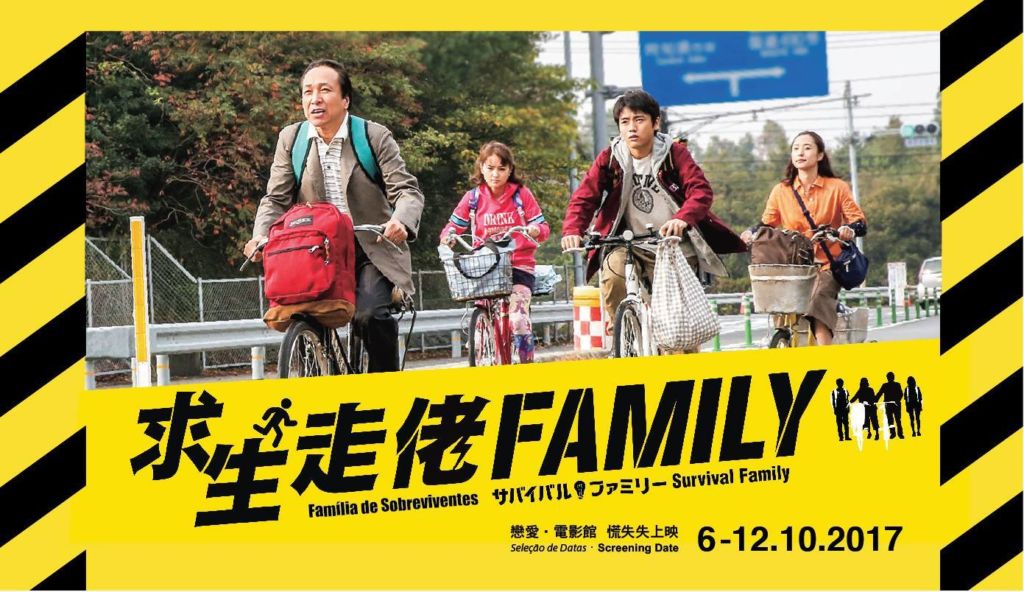 One day, a sudden battle for survival begins! The Suzukis are an average Tokyo household. Even when the mother tries to make conversation, the father is focused on the TV, the son on listening to music, and the daughter on her smartphone's SMS. They are a typical family, together but divided. But one day, the Suzuki household encounters a crisis. When they wake up in the morning, all the electrical appliances have stopped. They assume it's just their house, but soon find out the outage has occurred everywhere, not just in appliances, but also in trains, cars, gas, and water systems. The father, Yoshiyuki (Fumiyo Kohinata), makes the decision of a lifetime, "We're going to escape from Tokyo!" Is there a future for the family in this world without electricity? Can the father protect his family?
When: October 6–12, 2017
Where: Cinematheque Passion, 13 Travessa Da Paixao, Macau
How much: MOP $60
Full-time students and senior citizens aged 65 or above can enjoy 50% discount. Each purchase of 10 tickets or more can also enjoy 20% discount.
For more details, visit www.cinematheque-passion.mo, www.facebook.com/CinemathequePassion
---
•••
FANTASTIC GIVEAWAY FROM MACAU LIFESTYLE
•••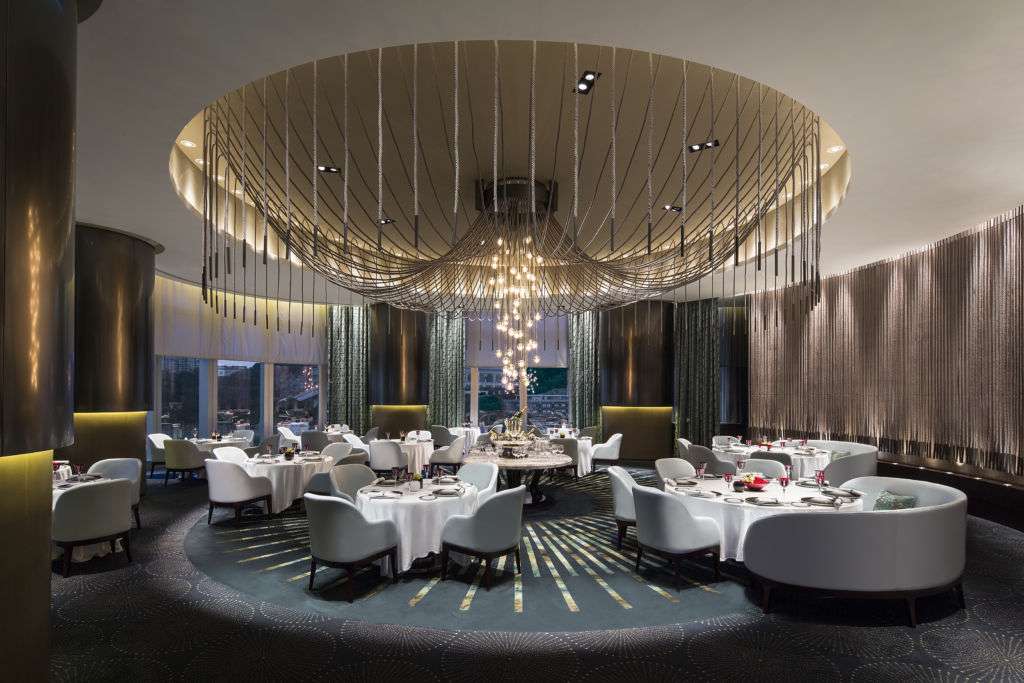 Indulge in an exquisite French fine dining experience at The Tasting Room. One lucky winner will have the chance to experience a 4-course set lunch for two that's worth MOP $1,100.
A visit to The Tasting Room is a culinary journey with Fabrice Vulin, as he shares the flavors that encapsulate the best of France, and ingredients that reflect the changing of the seasons. He shares the intricate flavors that encapsulate the best of France, and ingredients that reflect the changing of the seasons. Living a philosophy of always letting his ingredients shine and striking the perfect balance between flair and flavor, you can revel in the delights of nature and the craftsmanship in a dining experience to remember.
To enter this exciting giveaway, you need to take four simple steps:
Like this post on our Facebook Page
Tag a friend on the comment box
Share this post on your Facebook page and make sure it's in public view setting
Send us a screenshot on Facebook chat of #3
Good luck!
Please see terms and conditions below:
Winners must be able to pick up prizes in person and must be redeemed according to the correspondence.
The prizes are as stated and are not transferable. No cash value will be provided.
The prize is not valid in conjunction with any other offer, promotion, competition, voucher or loyalty card.
Macau Lifestyle reserves the right to alter, amend or foreclose any of the competitions without prior notice.
Tags