February was short and sweet as we celebrate the last weekend of the month. Go down the memory lane at Lilau Square for a nostalgic evening or party the night away at our favorite spots in the city! Whatever you choose to do, make sure you're creating special memories in Macau.
Enjoy a glass of champagne inside the most expensive townhouse ever for sale in Macao. The Lilau mansion will open its doors to public to celebrate Lilau Square's long heritage with an array of free programs, including special events, live painting, concerts, tours of the building, sculpture and jewellery exhibitions, and educational, fun-filled activities on all floors, with a live concert on an outdoor Roof Terrace that overlooks Mandarin House museum.
When: February 26, 2017
4:00pm – 8:00pm
Where: Largo do Lilau No 37., Lilau Square
How much: Free Admissions

COPACABANA – BRAZILIAN CARNAVAL AT PACHA MACAU
Together with Casa do Brasil em Macau, Pacha Macau brings the spectacular Brazilian Carnaval to Macau!
When: 10pm, Saturday, February 25
Where: Pacha Macau, Studio City Macau, Estr. Flor de Lotus, Macau
How much: At the Door: MOP $100, including 1 drink

At 17 years old, Chace is China's dance music prodigy.Catch him back in Macau for his headline show at Club Cubic!
When: 10pm, Saturday, February 18
Where: Club Cubic City of Dreams
How much: MOP $250
WATCH OUT THIS WEEK!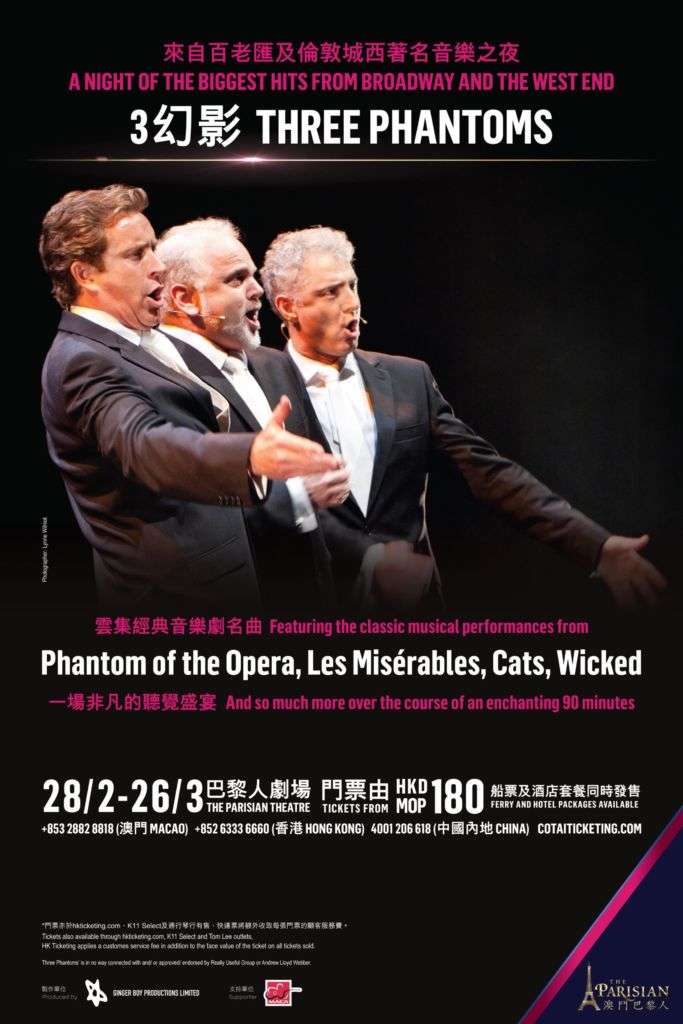 The Parisian Macao will be rocked, charmed, romanced and haunted when Three Phantoms, a musical theater show featuring songs from some of the most well-known musicals in the world of theatre, comes to The Parisian Theatre.
When: Feb. 28 – Mar. 26, 2017
Where: The Parisian Theatre, The Parisian Macao
How Much: MOP $480, MOP $280, MOP $180
•••
ONGOING EVENTS AND PROMOTIONS
•••
AD LIB – RECENT WORKS BY KONSTANTIN BESSMERTNY
HUGO TEIXEIRA: TRANSIENCE: DAREDEVILS AND TOWERING WEBS
LOVE OF MACAO – PHOTOGRAPHS BY LEE KUNG KIM
WHAT HAPPENED LAST NIGHT? – WORKS BY TIFFANY TANG
Tags