Macau is teeming with the hottest exhibitions and artists throughout the city, so join your friends and family and soak up the culture and art in the city! Check out the Fuerza Bruta show at MGM Cotai, exhibitions by local artists or book tickets for a Luso cinema festival at Cinematheque Passion. Read on and find out what to do this July in Macau!
(See featured image above)
Macau plays a key role in connecting and developing the cultures of China and Portuguese-speaking countries. Last year, the China and Portuguese-speaking Countries Film Festival was enthusiastically introduced, becoming a part of the arts-development project "Encounter in Macao – Arts and Cultural Festival between China and Portuguese-speaking Countries". The festival aims to broaden local audience's vision of Chinese and Portuguese films.
This year, the festival returns with an engaging programme to draw the interest of the Macau audience to Portuguese films, and of the Portuguese community to Chinese films. In addition, a session of local filmmakers' works is presented. This year's festival consists of more than 20 films screened in three sessions–"Classics' Review", "New Vision of China and Portuguese-speaking Countries" and "Olá Macao", complemented by post-screening talks and sharing sessions.
When: July 4–17, 2019
Where: Cinematheque Passion, 13 Travessa da Paixão, Macau
How much: Each ticket costs MOP $60
For more information, check their website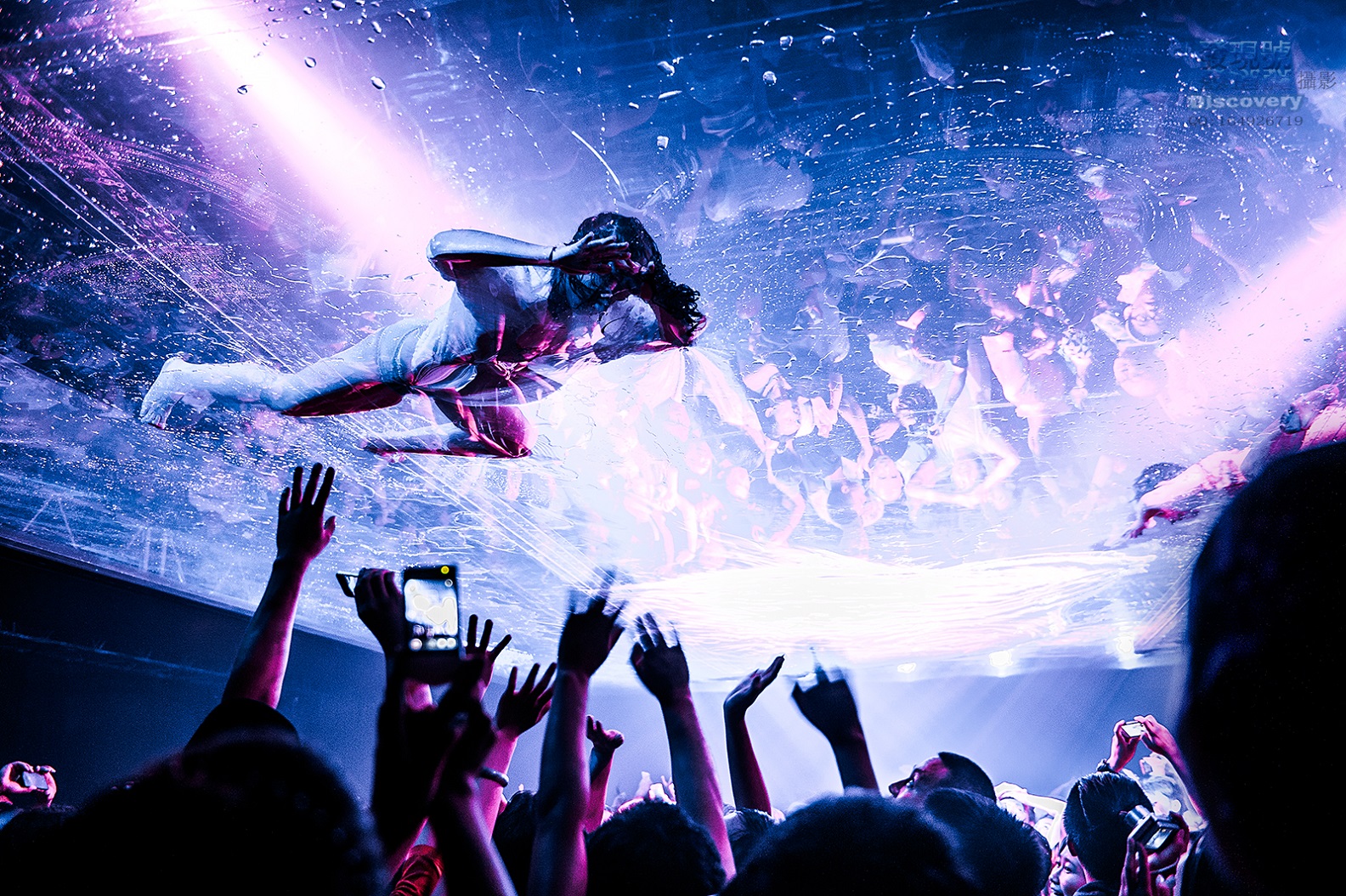 As a trendsetter in Asia's entertainment landscape, MGM stages the unconventional Fuerza Bruta Wayra at MGM Theater, the immersive theater party experience that has swept across the globe. Arguably one of the world's craziest theater show, this Argentine theatrics is an extraordinary, three-dimensional standing show pumping your adrenaline, stimulating your senses and electrifying your body every second.
For the first time in Macau, Fuerza Bruta Wayra unwraps the outside-the-box theater and party surprises at MGM Theater. The standing show redefines the show rules with no rigid stage or seating arrangement. The audience are at the center stage of the show–just interact with performers! Wherever you are in the theater, you are fully submerged in the 360-degree view and surrounded by shock waves of the theater's mind-blowing visual effects and lighting. Fuerza Bruta Wayra Macau is a footloose sensory journey. Speak loudly. Run wildly. Take videos casually. Snap selfies smoothly. Be ready to welcome performers coming out of nowhere and from all directions, or react to unexpected scenes.
When: June 14–August 4, 2019
Wednesday–Friday: 8:30pm, Saturday and Sunday: 5:00pm and 8:30pm
Where: MGM Theater at MGM Cotai, Avenida da Nave Desportiva, Cotai
How much: MOP $488 per person
For more information, call +853 8802 3833 or send an email to [email protected]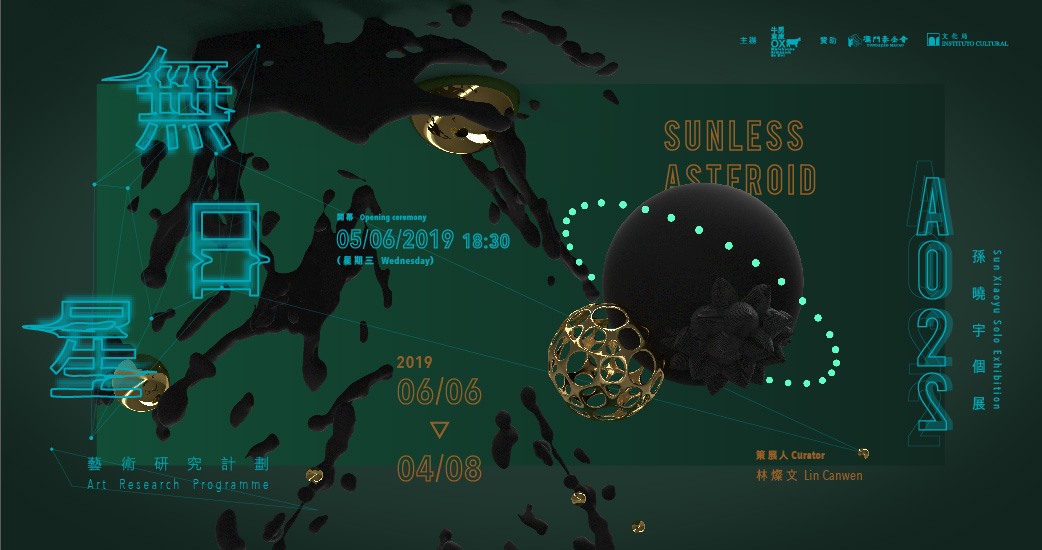 Sunless Asteroid, codenamed AO22, is a planet that was once named Macau (AoMen) in 1998. After the solar system collapsed, the asteroid lost its star and has since been traveling around the universe. On AO22, there is no day and night, the semi-fluid black sand contains soil and water; there is no sleep and yet the low clouds composed of mercury are filled with high-level oxygen; on the bright yellow skyline we can see layers of paradisiacal mirages made by human colonists on this dead asteroid. After much blending of colonial and immigration histories, an "insulation law" has been imposed–only men without an identity are considered in existence. And because of this, this faint light spot turns into a totem symbolizing supreme happiness and uprising emancipation, or an eternal taboo on the meaning of life. For aeons, mysterious legends about AO22 have spread inside and outside the quadrant, and countless creatures have rushed to it but never came back.
This time Ox Warehouse presents "Sunless Asteroid AO22", a solo exhibition by Sun Xiaoyu, an artist with a MA from the School of Intermedia Art, China Academy of Art (CAA). The exhibition features her latest work, No Destinations produced during her residence at Ox Warehouse in Macau, based on which a visual world of images called Sunless Asteroid is created. This space is intended to serve as a gateway to another world. All visitors to the space will read an autobiographical novel by an AO22 smuggler and participate in a pre-departure identity degaussing ceremony. The exhibition attempts to reflect on the future of human spiritual conditions by raising a metaphor of a cosmological view imaged on earth.
When: June 5–August 4, 2019
Where: Post-Ox Warehouse Experimental Site, 15 R. do Volong, Macau
How much: Free admission
For more information, call +853 2853 0026, send an email to [email protected] or check the event's Facebook page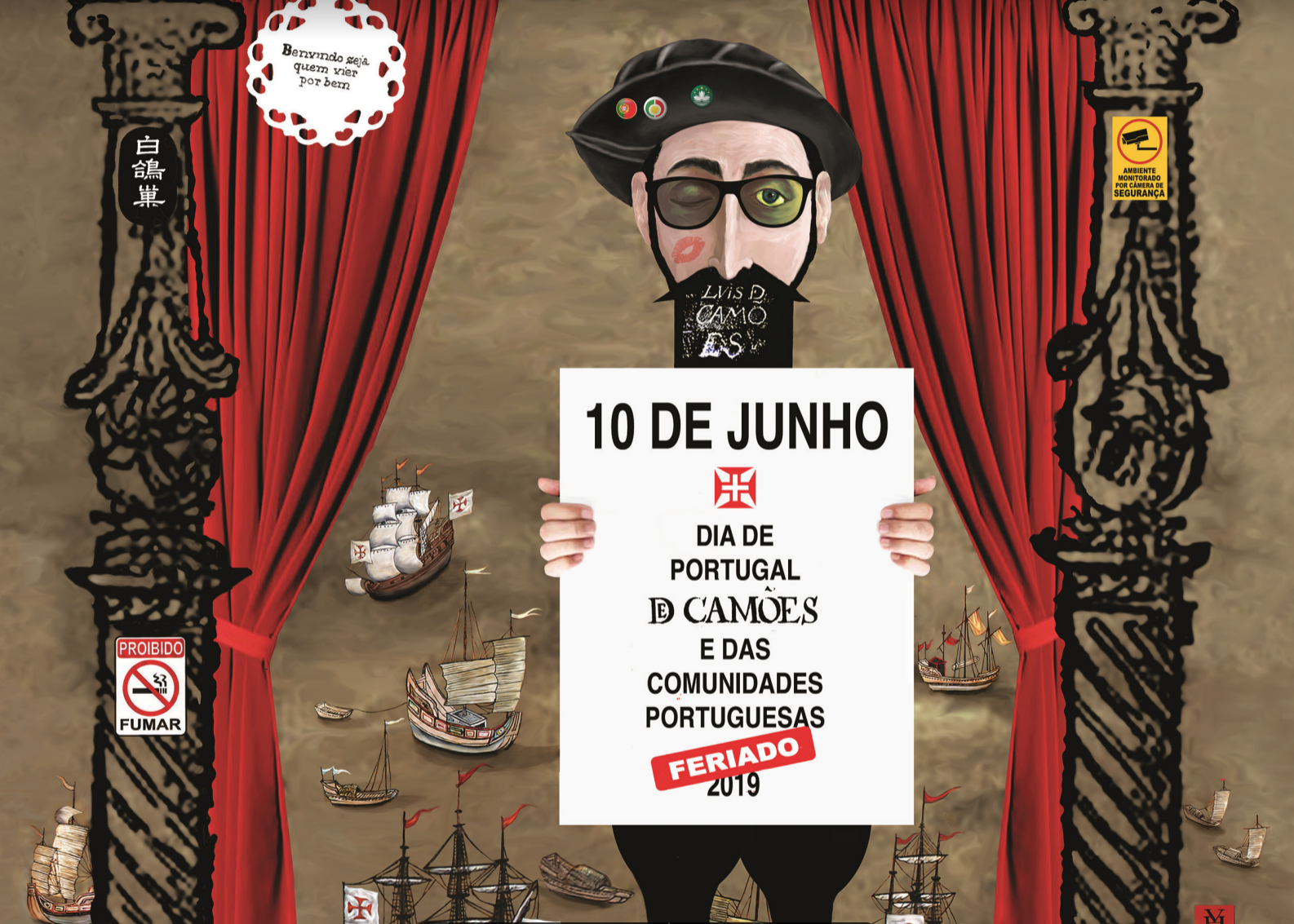 June 10th marks the Day of Portugal, Camões, and the Portuguese communities. The things commemorated are respectively: the National Day of Portugal; the Day of Camões, celebrating the life of Portuguese poet Luís de Camões; and the recognition of the Portuguese diaspora around the world. In Macau, events marking these three things take place over the course of more than four weeks and feature performances, exhibitions and food.
This year's highlights include: a concert by maestro and composer Rui Massena; the Portuguese Gastronomy and Wine Festival 2019; the ballet "Whispers of Pedro and Inês," and a piano concert and recital of poems by Camilo Pessanha, a writer who lived in Macau for most of his life.
When: May 15–July 7, 2019
Where: Several locations, including Macao Cultural Centre, Dom Pedro V Theatre, Albergue SCM, Orient Foundation
How much: Free tickets distributed by Casa de Portugal em Macau
For more information, call +853 2872 6828, send an email to [email protected], check the event's official website or full programme here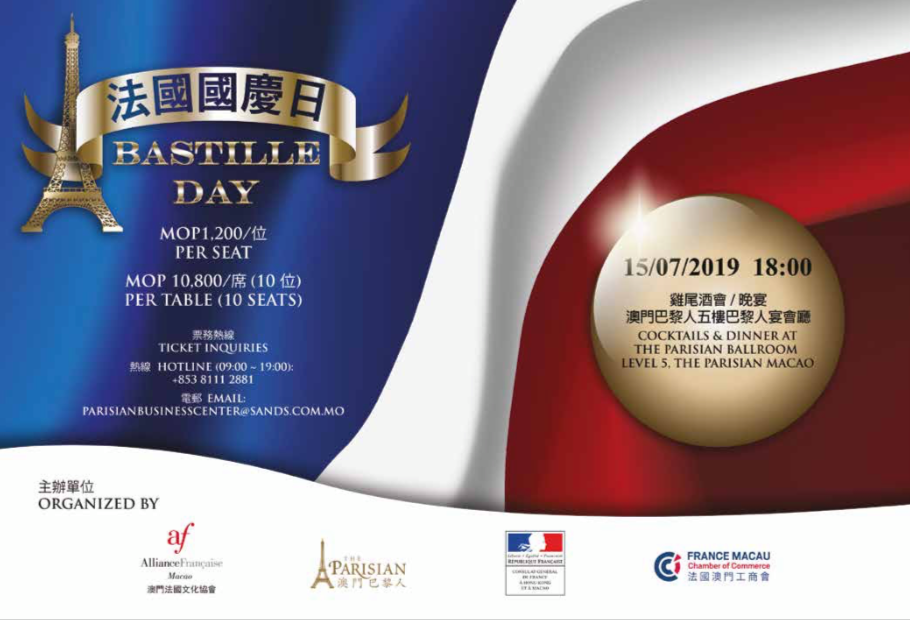 Celebrate Bastille Day at The Parisian Macao
This year the Alliance Française de Macao celebrates Bastille Day, on July 15, at the Parisian Macao! The grand cocktail reception will be followed by a sumptuous four-course gourmet dinner by Chef Emmanuel Soulière. There will also be French art acts and live performances, and a showcase of Napoleon Bonaparte's genuine personal belongings in the presence of Jean-Pierre Chalençon, a Napoleon collector and television personality. Reserve your place, tout de suite!
When: July 15, 2019
Where: Cocktail Reception Venue – Level 6, Pool Deck, The Parisian Macao, Estrada do Istmo, Lote 3, Cotai
Dinner – Level 5, The Parisian Ballroom
How much: MOP $1,200 per person, MOP $10,800 per table (10 seats)
Dinner MOP/HKD/RMB 1,200 per person; MOP/HKD/RMB 10,800 per table (10 seats)
For more information and booking, call +853 8111 2881 or email to [email protected]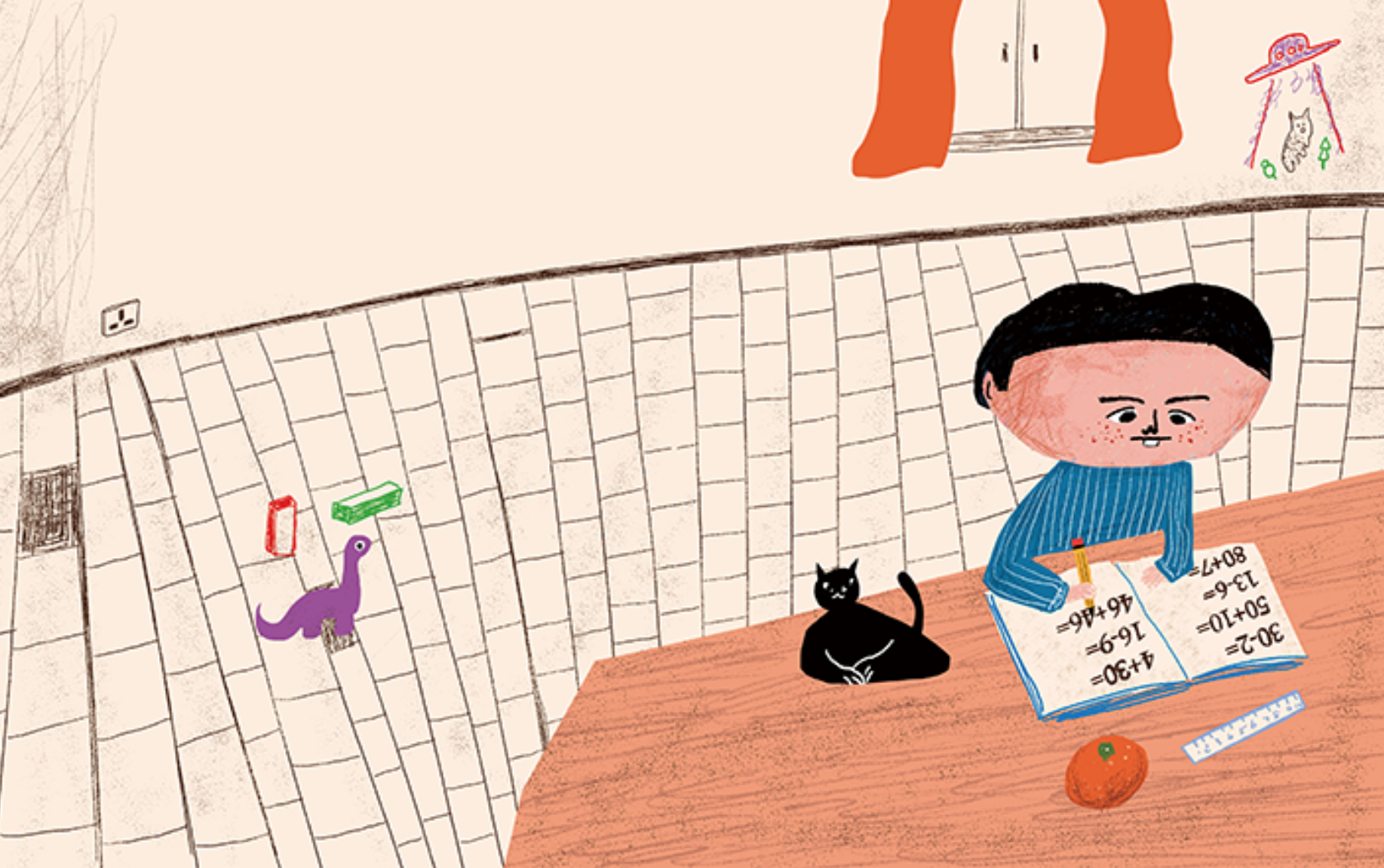 Taipa Village Cultural Association is proud to present the first solo exhibition entitled "What Are You Thinking? Picture Book by Un Chi Wai"created by talented local illustration artist Un Chi Wai. The exhibition showcases a self-published picture book which interprets a distraction status–a normal phenomenon occurred in everyone's daily life including both children and adults. Purposely, the story board of this picture book has an open ending subject for the reader's own interpretation and imagination, hence making it also an entertaining reading experience for both children and grown-ups.
When: July 24–September 30, 2019
Where: Taipa Village Art Space, 10 Rua dos Clérigos, Taipa Village
How much: Free admission
For more information, check their Facebook page, call +853 2857 6118 or send an email to [email protected]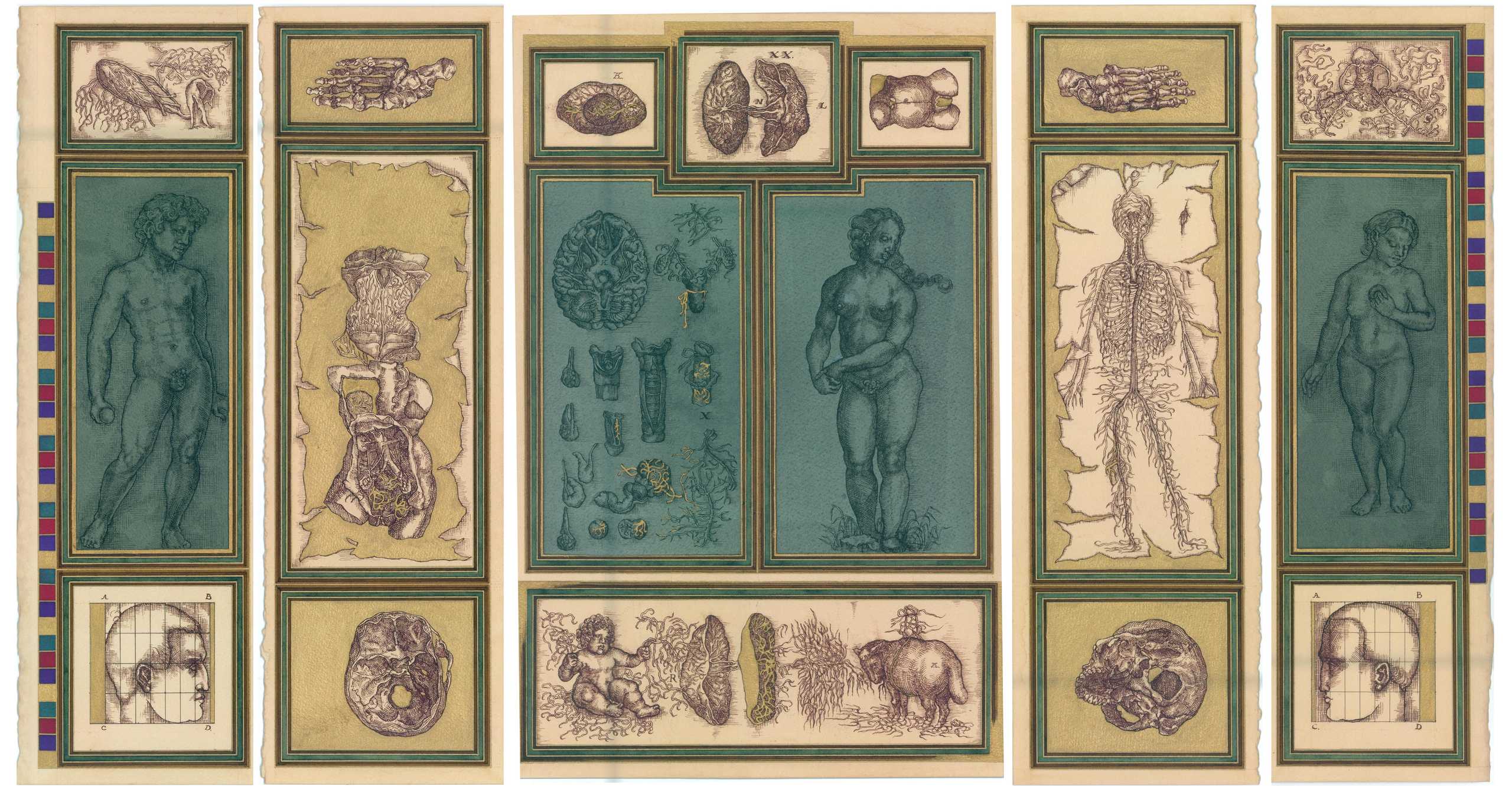 As early as the summer of 2016, when the Art For All Society moved to the Macau Art Garden, the first exhibition was that of Zhang Ke. At that time, Zhang Ke established a form of artistic expression that looked like the inner pages of ancient Western religious handmade books. Over time, In Zhang Ke's works, the skills of hand-painted pen drawings become more and more sophisticated; the collage images are slowly receding.
In this exhibition, a total of three works were drawn in the form of an altarpiece. This form itself has a sense of sacredness. The expectations of oneself are also drawn on the altar, and the artist borrows this form to gain strength. At the same time it is a statement of the eagerness to be understood. On a deeper level, it doesn't matter whom you might choose to confide, these works are just saying and reaffirming the choices she has made for her life—live as an artist and be understood.
When: July 8–August 2, 2019
Where: Macau Art Garden, 265 Avenida do Dr. Rodrigo Rodrigues, Macau
How much: Free admission
For more information, call +853 2836 6064, send an email to [email protected], or browse through their website
Tags
Related Posts