Asia's 50 Best Restaurants is considered one of the most prestigious awards-giving body in the region. From the top tier of Asia's dining scene to the newcomers stealing the show, the awards authority is illustrious as it is meticulous. This gathering of the creme de la crème of the culinary world is one of the anticipated events of the year and what a spectacular affair it truly was with Wynn Macau and Wynn Palace successfully hosting the annual big reveal.
An influential group of more than 300 leaders in the restaurant industry across Asia cast their votes and revealed the winners of Asia's 50 Best Restaurants. Making their way into the prominent list for the first time is Wing Lei Palace earning a place on coveted Asia's 50 Best Restaurants list. Helmed by award-winning Executive Chef Tam Kwok Fung, Wing Lei Palace rapidly rose to popularity for its renowned authentic Cantonese dishes with an innovative flair. Meanwhile, the three Michelin-starred Chinese restaurant Jade Dragon's inclusion came as no surprise having been previously conferred on the list. The majestic setting of both restaurants and A-list service both set the standard for fine dining institutions in Macau. Congratulations to both teams as we laud their great talent, synergy, and hard work for representing our beautiful city.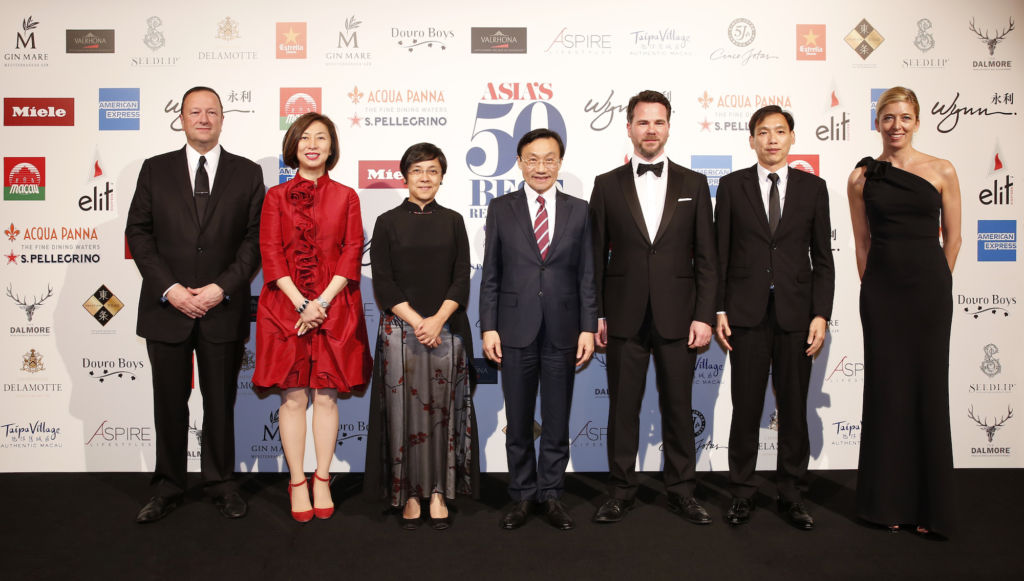 Delving beyond the glitz and glamor of the awards, Wynn Macau also played host to Asia's 50 Best Restaurants' #50BestTalks forum, where leading chefs and culinary professionals shared their insights around the theme–Vital Ingredients. These sessions were great conversation starters exploring the latest industry trends regarding sustainability, inclusiveness, equal opportunities, and diversity. It was a fantastic chance for the property to weave the hot topic of sustainability into forum intervals, lunch and the awards ceremony after party with innovative snacks that were sustainably created.
One of the significant aspects truly admired by many was Wynn Macau's creative collaboration with highly acclaimed culinary artists – Anthony Sousa Tam of ROOT; Florita Alves of La Famiglia; Raymond Vong of Henri's Galley and Eileen Stow of Lord Stow's Bakery. Together, they presented The Chef's Feast, which showcased authentic Macanese and Portuguese dishes. It was a testament to the camaraderie amongst chefs with an aim to uplift the gastronomic scene of the SAR. The palate of guests indulged in a unique blend of Chinese and Western cultures in Macau allowing a taste of the city's rich and diverse food culture.
Here's the full list of winners for 2019:
1. Odette, Singapore
2. Gaggan, Bangkok
3. Den, Tokyo
4. Suhring, Bangkok
5. Florilege, Tokyo
6. Ultraviolet by Paul Pairet, Shanghai
7. Mume, Taipei
8. Narisawa, Tokyo
9. Nihonryori Ryugin, Tokyo
10. Burnt Ends, Singapore
11. The Chairman, Hong Kong
12. 8 1/2 Otto e Mezzo, Hong Kong
13. Mingles, Seoul
14. La Cime, Osaka, Japan
15. Belon, Hong Kong
16 Gaa , Bangkok – New Entry
17. Indian Accent, India
18. Il Ristorante — Luca Fantin, Tokyo
19. Bo.lan, Bangkok
20. Le Du, Bangkok
21. Amber, Hong Kong
22. Nahm, Bangkok
23. Sazenka, Tokyo – New entry
24. La Maison de La Nature Goh, Fukuoka, Japan
25. Sushi Saito, Tokyo
26. L'Effervescence, Tokyo
27. Jade Dragon, Macau
28. Paste, Bangkok
29. Fu He Hui, Shanghai
30. RAW, Taipei
31. Shoun Ryugin, Taipei
32. Jaan, Singapore
33. Les Amis, Singapore
34. Vea, Hong Kong – New entry
35. Ministry of Crab, Sri Lanka
36. Wing Lei Palace, Macau – New entry
37. Neighborhood, Hong Kong
38. Lung King Heen, Hong Kong
39. Nouri, Singapore – New entry
40. Waku Ghin, Singapore
41. Toc Toc, Seoul
42. Locavore, Bali
43. Toyo Eatery, Manila – New entry
44. Seventh Son, Hong Kong – New entry
45. Quintessence, Tokyo
46. Dewakan, Kuala Lumpur – New entry
47. Sugalabo, Tokyo
48. Sorn, Bangkok – New entry
49. Corner House, Singapore
50. Ta Vie, Hong Kong
Congratulations to all the winners of Asia's 50 Best Restaurants 2019 and we look forward to dining at these amazing places very soon!
Tags