This is the first weekend of November and with the weather in Macau being great, it's time to fill up your weekend calendar with fun things to do! There are lots of dining experiences waiting for you and free entrance exhibitions are also all over town for everyone to enjoy. Read our selection of the best things to do this weekend, call up your friends and family and have a great time!
(See featured image above)
Wild is the music of autumnal winds amongst the faded woods. Indulge your senses with an exceptional menu of autumn-inspired dishes featuring game and wild mushrooms while dining under the dazzling starry sky at Galaxy Macau. At this pop-up culinary event in The Glass House at Galaxy Hotel, savor the best of the seasons' game from Europe including Scottish Highland red deer, black grouse from Cairngorm, wood pigeon, red leg partridge and more paired with specially selected wines. Complete the dinner on a high note with the symphony of hazelnuts, Alba white truffle and chocolate tobacco paired with double cask Macallan whisky.
When: Monday and Tuesday, November 11 and 12, 2019
Where: The Glass House, 2/F, Galaxy Hotel, Galaxy Macau, Cotai
How much: MOP $1,288
10% service charge applies
For more information and reservations, call +853 8886 2221 or check their Facebook page
Click here for menu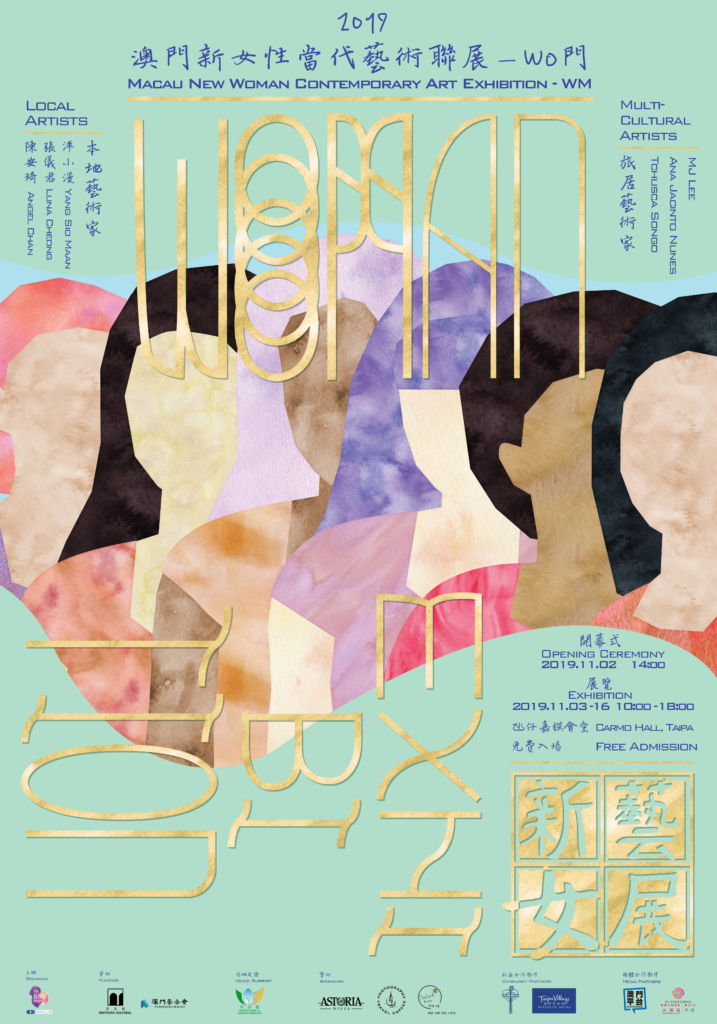 2019 Macau New Woman Contemporary Art Exhibition – WM joint exhibition brings together six outstanding female artists who are local and multicultural artists. They are Yang Sio Maan, Angel Chan, Luna Cheong, MJ Lee, Ana Jacinto Nunes and Tchusca Songo. In the opening ceremony, there will also be a keynote speech and an artist sharing, which will have invited guest speaker Yao Feng, hostess Wendi Song and artist Cecilia Ho from the art exhibition last year.
The theme "WM" ("Wo Mun" in Cantonese) is a homonym of the word "Woman" in English and the word "We" ("Wo Men") in Mandarin. Under the constraints of the social system and cultural influences, the majority excessively magnify certain traits of a particular gender while ignoring the existing homogeneity in between males and females. This exhibition, which conveys the commonality of "WE" as humans, aims to promote equal opportunities for people of different genders. In addition, the word "Mun" ("Wo Mun") which means "Door" representing "Macau" ("Ou Mun" in Cantonese) as the carrier, to convene and nurture the participating artists (three local artists, as well as three multicultural artists, staying in Macau) in exchanging ideas and inspiration.
When: November 2–16, 2019
Where: Carmo Hall, Avenida de Carlos da Maia, Taipa
How much: Free admission
For more information, check the event's Facebook page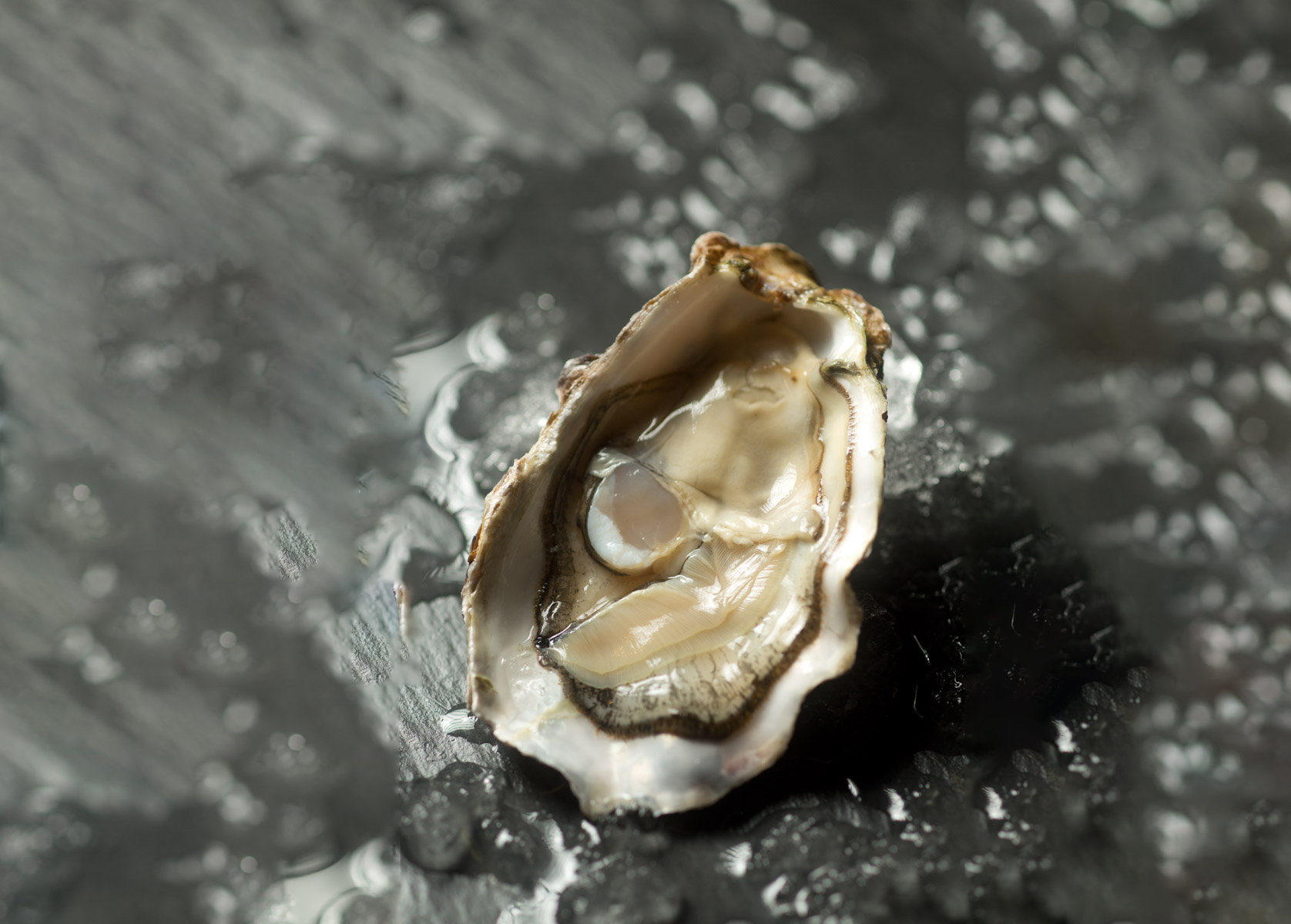 What better than pairing freshly shucked oysters from different countries with a bottle of exceptional wine! However, this promotion is time-limited so gather your friends and family to have this delicious seafood in the freshest of environments, and enjoy it with great wines served at Vida Rica Bar.
When: 6:00pm–10:00pm, November 4–8, 2019
Where: Vida Rica Bar, Mandarin Oriental, Macau, 945 Avenida Dr. Sun Yat Sen, NAPE, Macau
For more information and reservations, call +853 8805 8928 or send an email to [email protected]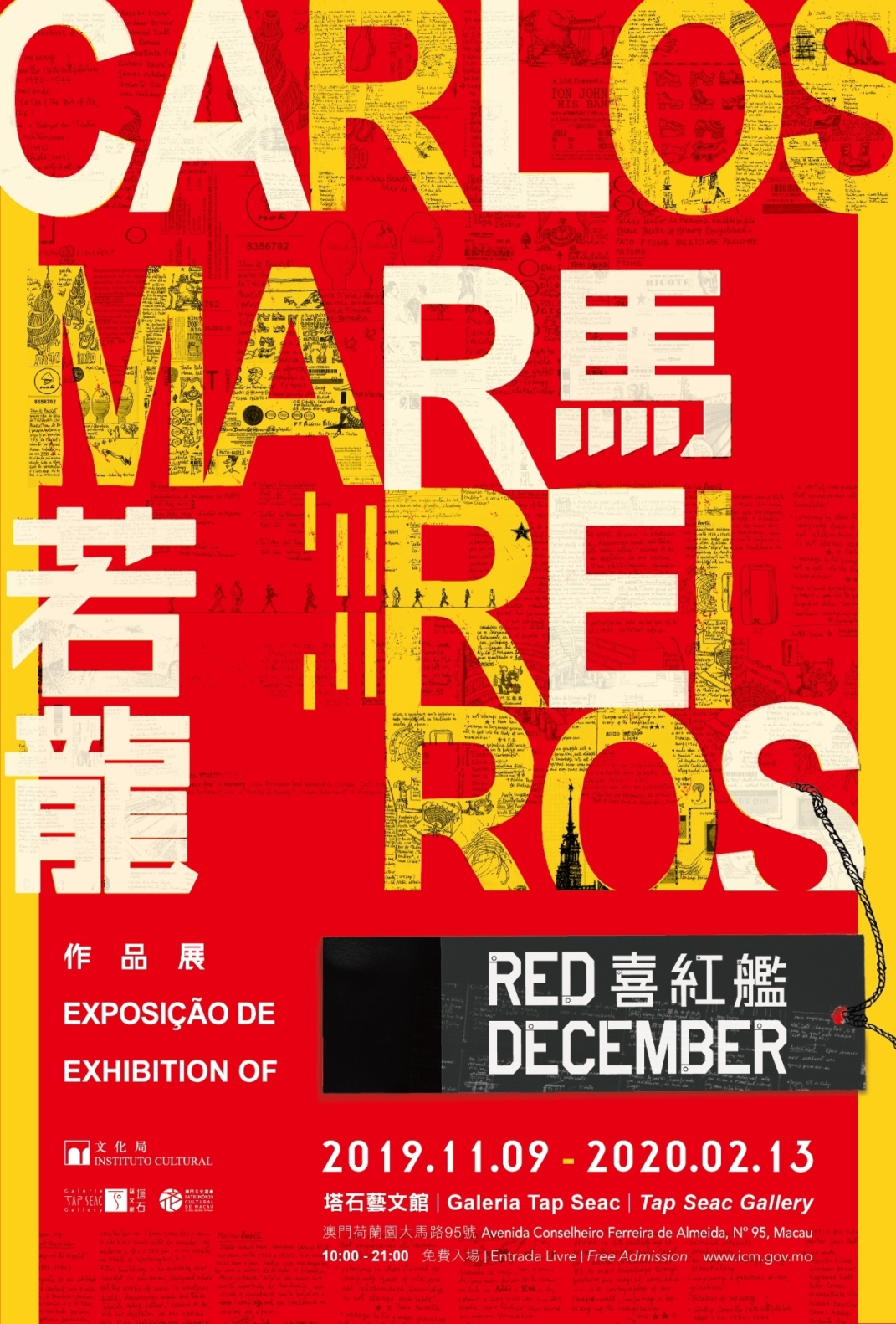 "Red December" – Exhibition of Carlos Marreiros, organized by the Cultural Affairs Bureau, opens to the public on November 8, at the Tap Seac Gallery. This exhibition features artist Carlos Marreiros' latest large-scale artwork "Red December" and a series of paintings from his sketchbooks. "Red December", a large composition embedded with detail, depicts a scene where Chinese and Western historical figures from different periods of time gather together and indulge in pleasant conversations with each other.
The work visualizes the utopia in the artist's mind, where different cultures exist harmoniously in an inclusive society. In addition, the paintings from his sketchbooks give an account of the artist's creative and reflective processes over the years, allowing the audience to take a close look at his sources of inspiration and traverse his creative world which features both Chinese and Western cultures. "Red December" is on until February.
When: November 8, 2019–February 13, 2020
Where: Tap Seac Gallery, Praça do Tap Seac, Macau
How much: Free admission
For more information call +853 8988 4000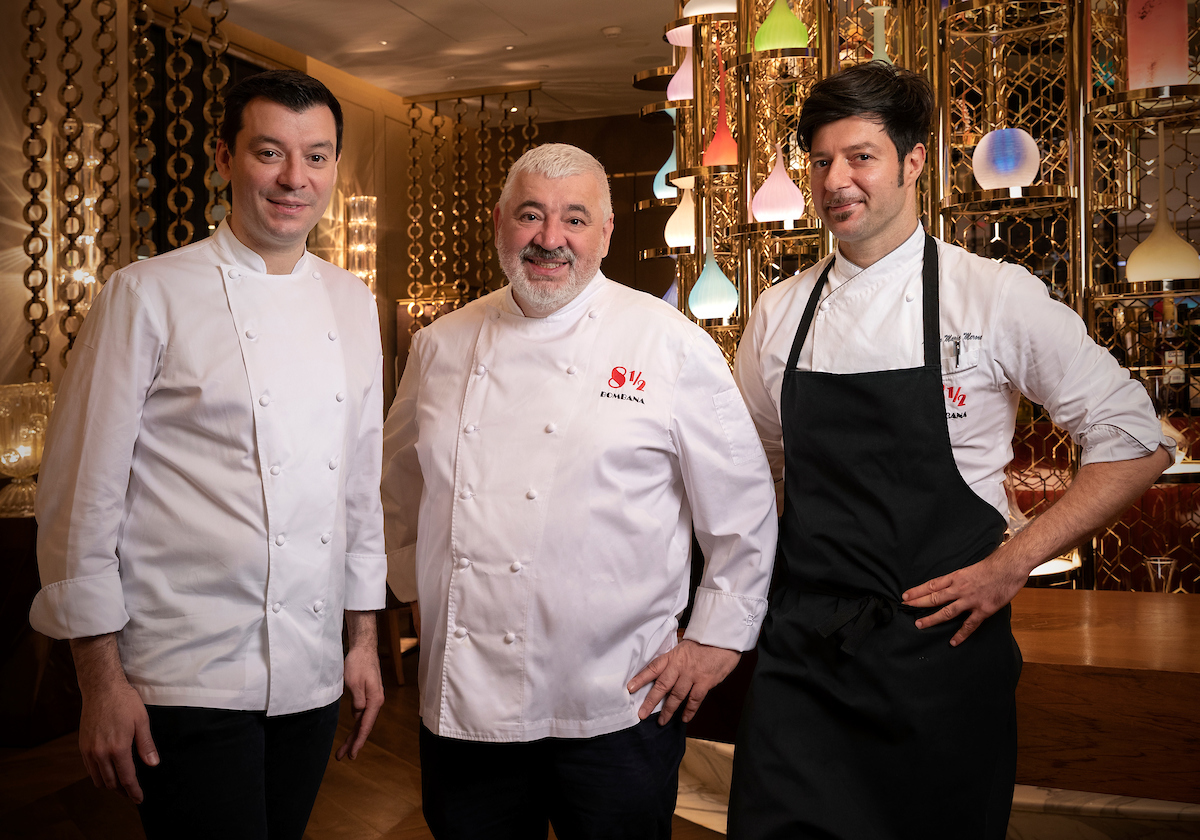 Executive Chef Antimo Merone of one Michelin-starred Italian restaurant 8½ Otto e Mezzo Bombana Macau welcomes two Michelin-starred chefs–the legendary "King of White Truffles" Chef Umberto Bombana and Executive Chef Riccardo La Perna of 8½ Otto e Mezzo Bombana Shanghai to present a fascinating night with a culinary gem: white truffles.
Highly esteemed as the "diamond of the kitchen" among gastronomes, the white truffle is one of the most celebrated and prestigious ingredients of the season, and the finest of white truffles come from Alba in the Piedmont region in Italy during late fall and early winter. Bringing together their combined expertise, the three chefs will present a luxurious tasting menu with white truffles from Alba.
When: 6:00pm–10:00pm, Friday, November 8, 2019
Where: 8½ Otto e Mezzo BOMBANA, 1031, 1/F, Galaxy Macau, Estrada da Baía de Nossa Senhora da Esperança, Galaxy Macau, Cotai
How much: MOP $2,680 per person
For more information and reservations, call +853 8886 2169 or check their website
Click here for menu
All prices subject to 10% service charge

Organized by Art For All Society (AFA) and Orient Foundation, AFA Autumn Salon 2019 opens to the public on November 3. This year will be the 10th anniversary of the Autumn Salon which began in 2010. After the artwork selection by the jury, this time there are 78 artworks from around fifty Macau local artists presented in the exhibition.
The selected artworks include oil painting, watercolor, drawing, sculpture, photography, printmaking, installations, and others. All participants are now working and living in Macau with different backgrounds. This year not only the young and potential artists but also artists who are playing a central role in Macau's contemporary art scene has participated in the exhibition. It's a good chance for artists to learn from each other to achieve complementarity. Just as in the past, the awarded artworks of the 8th "Orient Foundation Art Award" have been selected, the winner of "Orient Foundation Art Award" is to be given an opportunity to visit Portugal for a one month art exchange program, and the result is being announced in the opening ceremony of "AFA Autumn Salon 2019".
When: November 3–December 1, 2019
Where: AFA Macau, Tak Chun Macau Art Garden, 265 Avenida Dr. Rodrigo Rodrigues, Macau
How much: Free admission
For more information, +853 2836 6064, send an email to [email protected] or check their website

Every year around November, the Macau Food Festival–located in the rotunda opposite the Macau Tower–attracts local residents and visitors tempted by delicious Asian, European, Mainland Chinese, and local delicacies. Liberally salted with exciting live entertainment, games and beer competitions, this food fest has become a firm favorite for its uninhibited, relaxed and welcoming atmosphere of street stalls, booths, and tents. The event is organized by the United Association of Food and Beverage Merchants of Macau.
When: November 8–24, 2019
Where: Sai Van Lake Square, Largo da Torre de Macau, Macau
How much: Free admission (each dish has its own pricing)
For more information, call +853 2857 5765 or check here

Cinematheque Passion and Goethe-Institut Hong Kong team up for the fourth time to present the German Film Festival [email protected] 2019 from October 19 to November 13. The festival features ten recent thought-provoking German works, two "Macao Special" films and four compelling works from director-in-focus Volker Schlöndorff, followed by a talk that will explore the artistic practice of this German film maestro.
Adapted from a real-life event, opening film Balloon transports the audience back forty years when Germany was split between the East and West. Portraying a family that plans to escape East Germany to the West in a hot-air balloon, this compelling film depicts people's hope and fight for freedom.
When: October 19–November 13, 2019
Where: Cinematheque Passion, 13 Travessa da Paixão, Macau
How much: MOP $60
Full-time students and senior citizens age 65 or above can enjoy 50% discount
Tickets are available from Saturday, October 5, 2019 onwards
For more information, call +853 2852 2585 or check their website
Tags